Love letters to Tokyo
We find out why people really love coming to Tokyo and what they want to do while they're travelling around the capital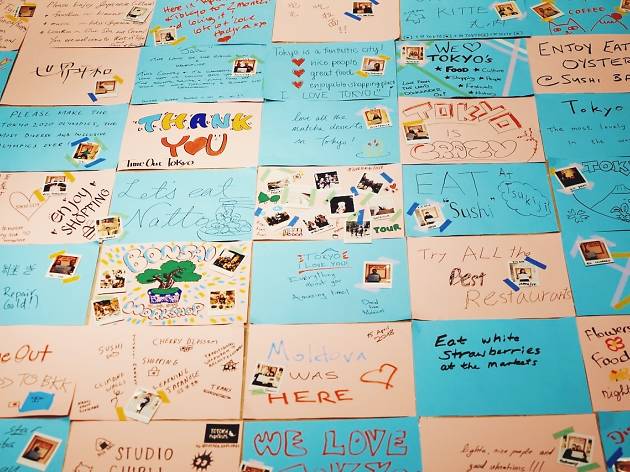 We received an overwhelming number of messages from both travellers and Tokyoites alike during our Love Tokyo Lounge event the other week where guests from across the globe shared their thoughts on the city with us. What seemed to be a common theme through everyone's message is their love for our city, and the endless list of things they want to explore and discover while in the capital. From eating till your heart's content at some of Tokyo's top restaurants to taking in the best sights in the city, it seems like everyone is in a Tokyo state of mind.
So, to share a bit of love with the rest of you, we've put together some of the most thoughtful notes, or, we'll call them love letters in this case, to hopefully inspire your travels through our great city.
What do you love about Tokyo?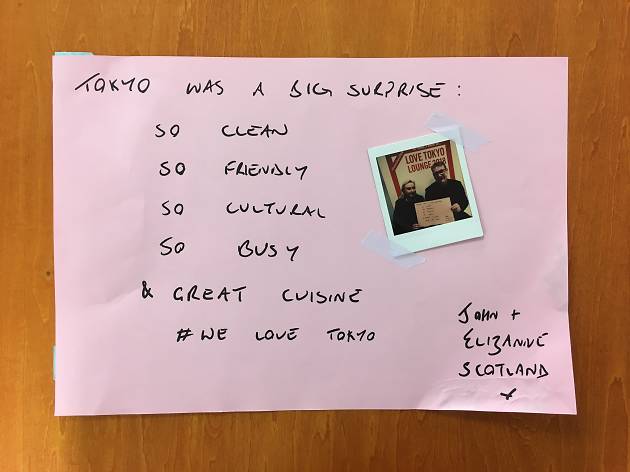 東京は大きな驚きでした!とても清潔で、みんなが優しい。文化に深みがあって、賑やだし、食べ物もおいしい。
スコットランド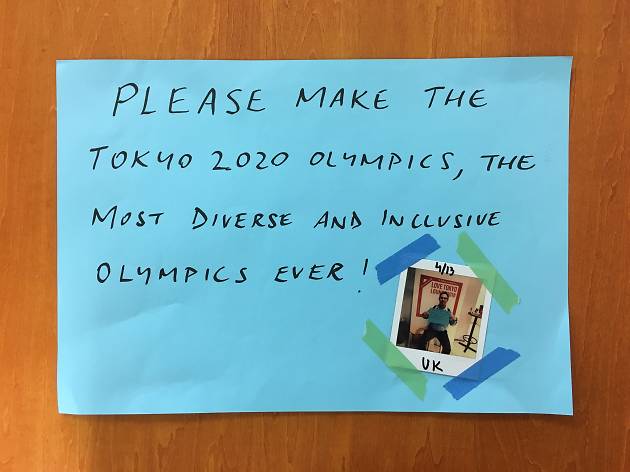 2020年のオリンピックを、今までで最も多様でマルチカルチュラルなオリンピックにしてください。
イギリス人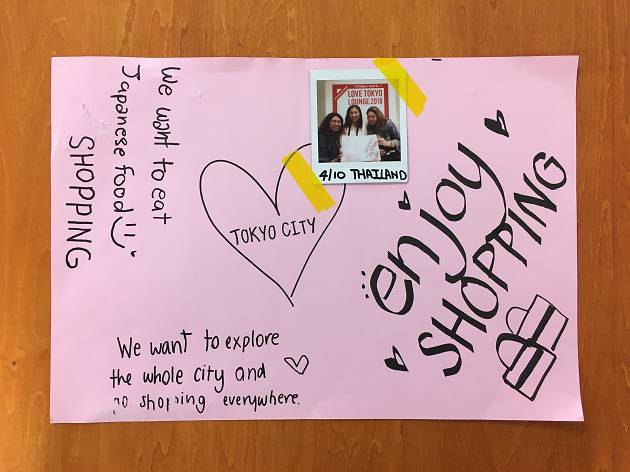 和食食べたい!買い物したい!東京のすべての観光名所を歩き回りたいし、ショッピングをしたい。
タイ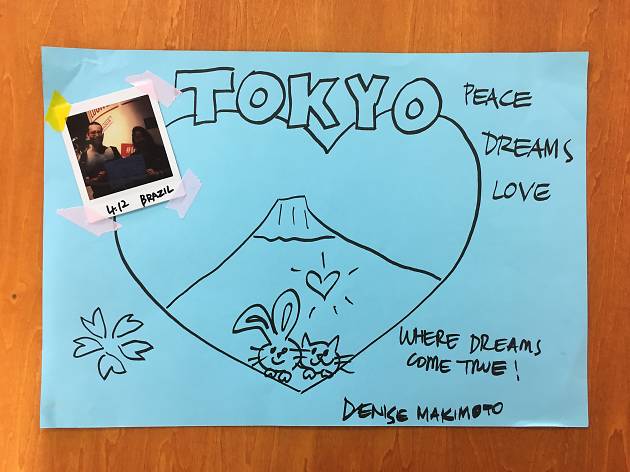 東京は平和で夢があって、愛がある。東京は夢の叶うところ。

ブラジル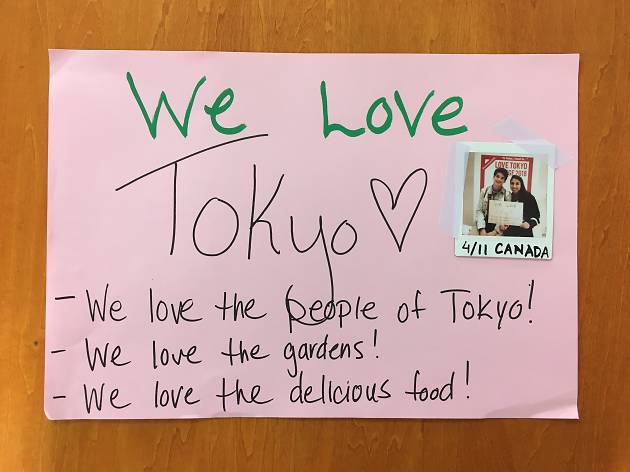 東京が大好きです。東京の人々、庭園、美味しい食べ物が好きです!
カナダ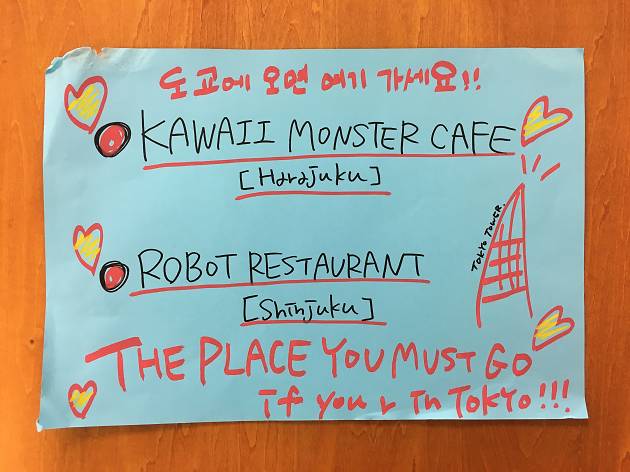 東京の必見スポットはかわいいモンスターカフェやロボットレストラン、東京タワーです。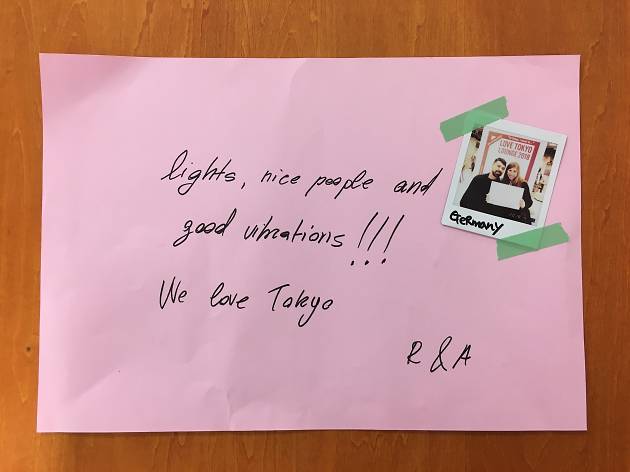 光り輝く街のネオン、優しい人々、良いバイブレーション。東京が大好きです。

ドイツ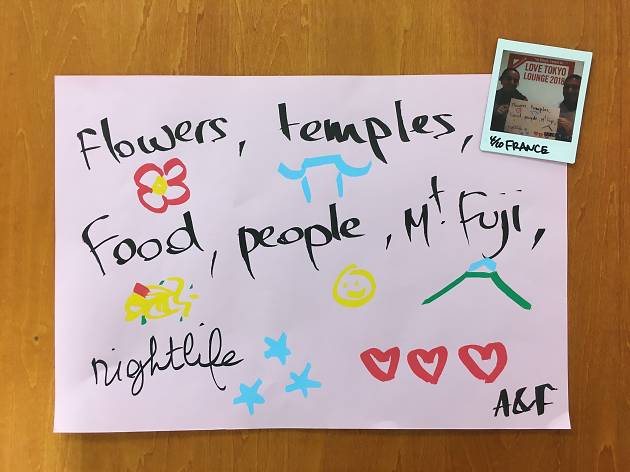 お花、お寺、食べ物、人々、富士山、ナイトライフが好きです。
フランス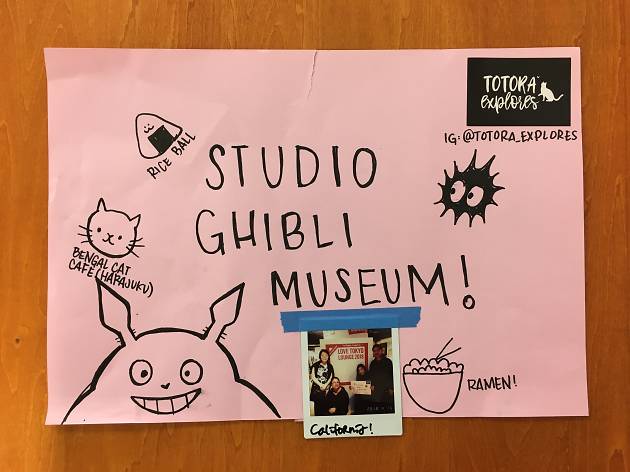 三鷹の森ジブリ美術館、おにぎり、原宿乃ヒョウ猫の森、ラーメン。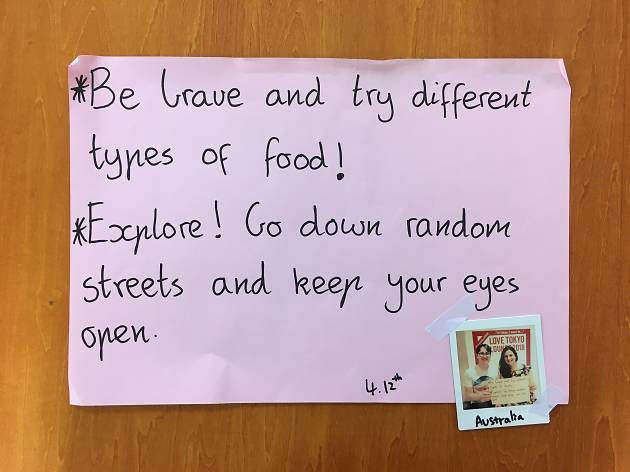 勇気をもって、様々な食べ物を食べてみて!冒険してみて!狭い路地に入って、目を開けると、またほかの面白いところが出てくるかもしれない!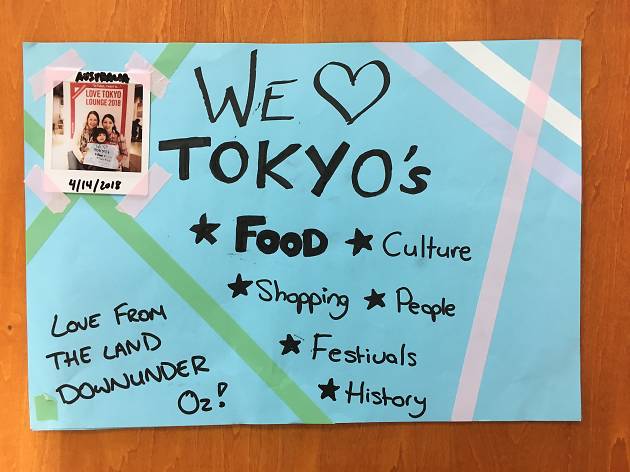 東京の食べ物や文化、買い物、人々、祭り、歴史が好きです。

オーストラリア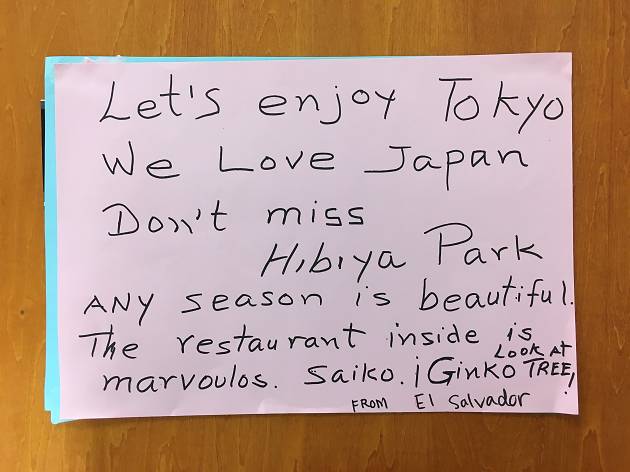 東京を楽しもう。日本が大好きです。日比谷公園がおすすめです!どんな季節でも美しい風景が見られます。園内のレストランも素晴らしいです。イチョウの木を見上げて!最高だよ!

エルサルバドル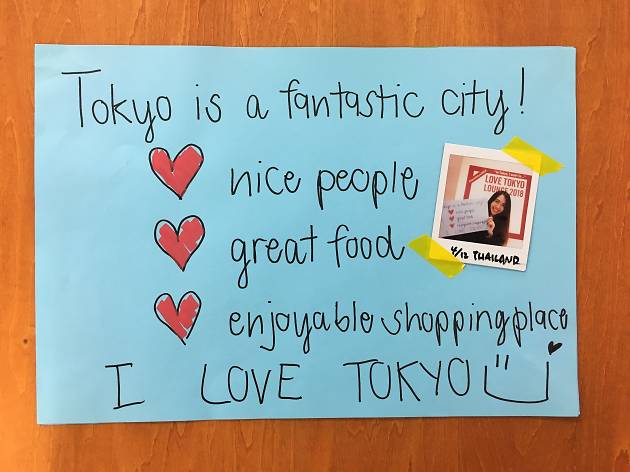 東京は素敵な都市!人々が優しい、美味しい食べ物、楽しめるショッピングスポット。東京が大好きです。

タイ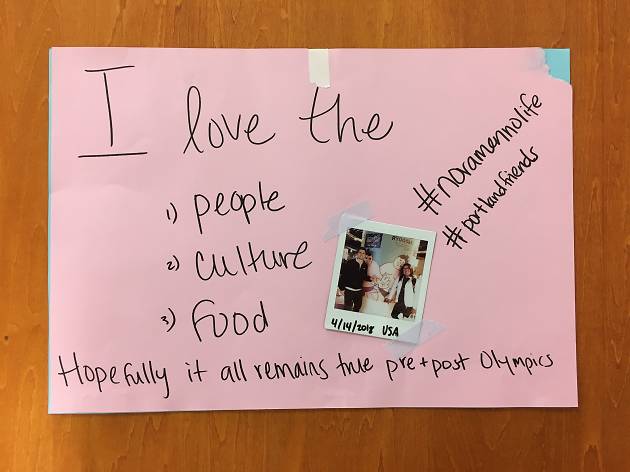 東京の人々、文化、食べ物が大好きです。オリンピック前の東京もオリンピック後の東京も、変わらずに続いていくといいなと思います。

アメリカ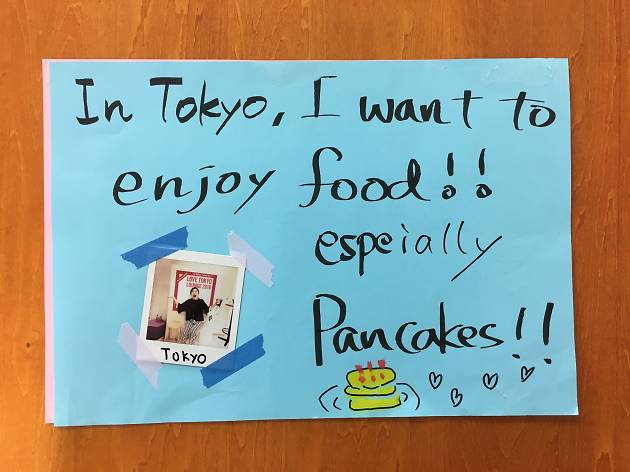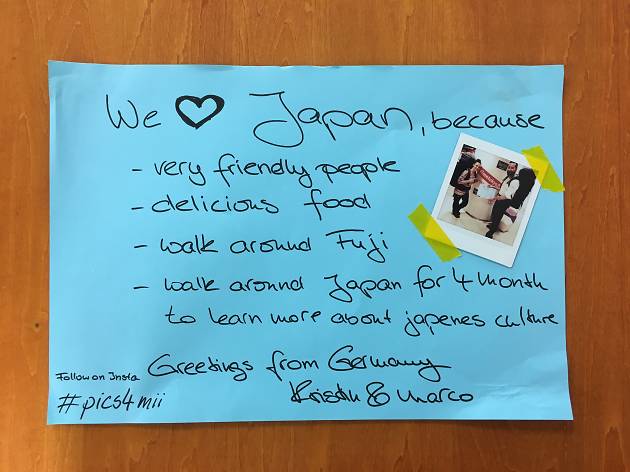 日本が大好きです。優しい人々、美味しい食べ物。富士山周辺の散歩が好きです。日本文化を勉強するために約4ヶ月バックパッカーとして日本を旅行する予定です。

ドイツ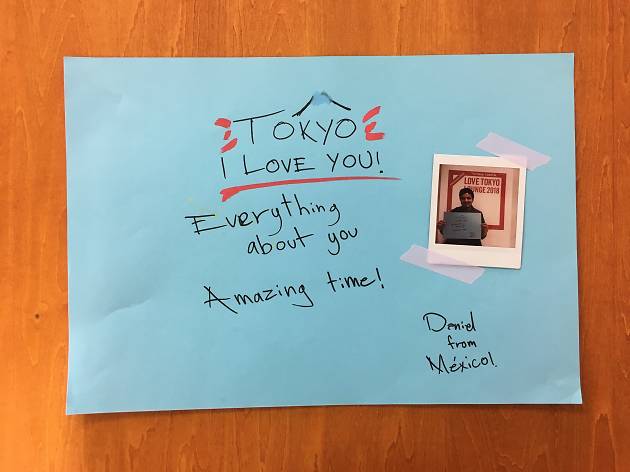 東京が大好きです。全てが好きです!楽しかったです!

メキシコ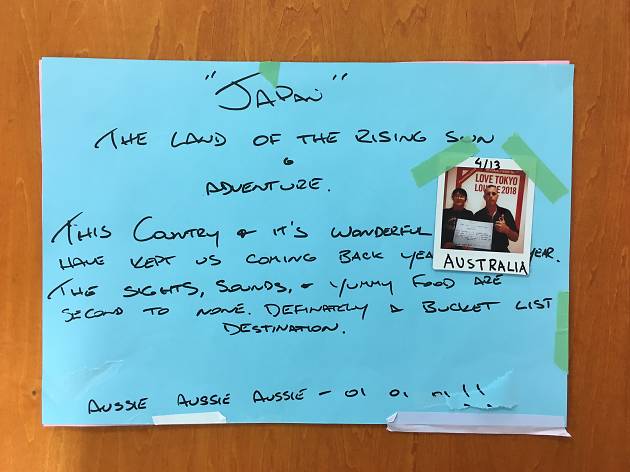 日本には毎年旅行で戻って来ます。観光名所や都市の音、美味しい食べ物は日本独特!必見国のひとつです!

オーストラリア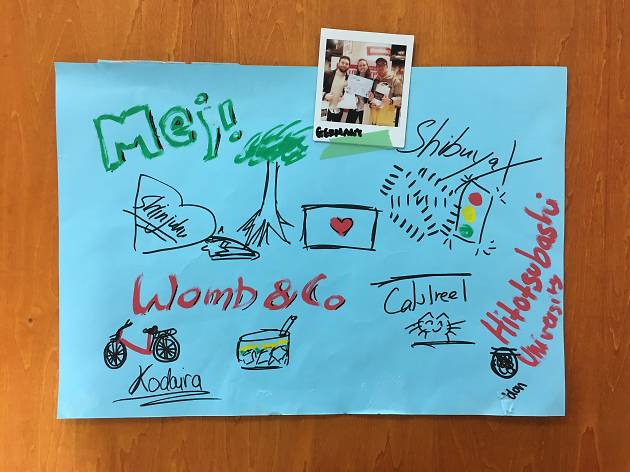 明治神宮、新宿、渋谷、WOMBクラブ、キャットストリート、一橋大学、うどん、小平。

ドイツ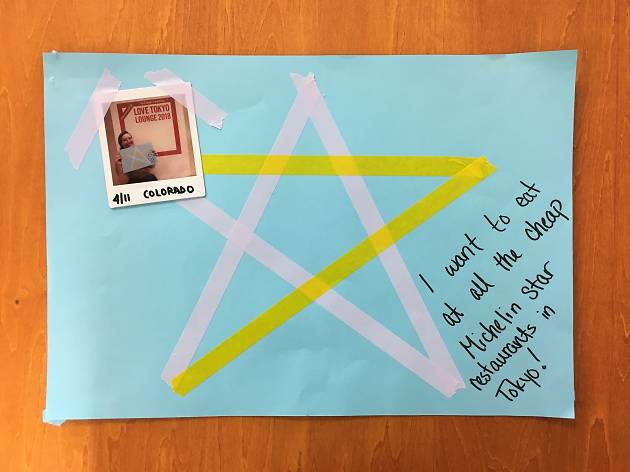 東京の安いミシュラン星レストラン巡りしたい。

アメリカ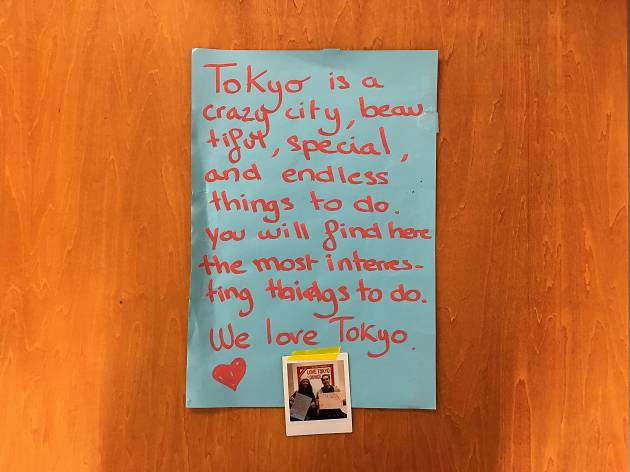 東京はクレージーで美しい。特別な場所です。いつでも面白いことができる都市。東京が大好きです。
Explore more of Tokyo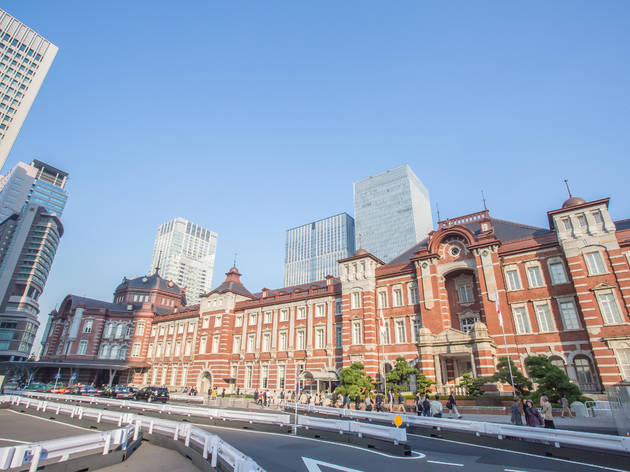 From the obscure to the obvious, your time in Tokyo starts here
More to explore