The 100 best restaurants in Tokyo you have to try
Feast your eyes on the best restaurants in Tokyo: from hearty cheap eats to modern Japanese cuisine and Michelin-starred stalwarts. Get ready for the culinary adventure of a lifetime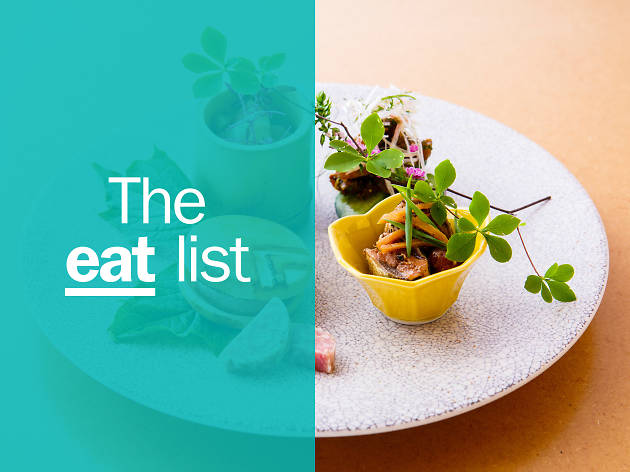 Setting the criteria for our list of the 100 best restaurants in Tokyo was the easy bit. Anywhere we felt compelled to revisit again and again was instantly in. The Time Out team visited the newest joints in town and revisited the greats, so we knew which restaurants truly deserve their place in our list.
We're excited to give you Tokyo's top 100 restaurants, presented in no particular order. In the list below – surely the ultimate guide to the best restaurants in the city – you'll find it all: the best new openings, classic cheap eats, Michelin-starred establishments with starched linen napkins, modern Japanese innovators, smoky yakitori haunts, family-run izakayas… But it's not all just Japanese food; we've also included cuisines which our local chefs have perfected and made unique, such as French-Japanese food and pizza (yes, really).
What they all have in common is that they serve some of the best dishes in Tokyo for any budget, with service befitting the setting. In short, if you're looking for a great meal, you've come to the right place.
Eaten somewhere on this list and loved it? Share it with the hashtag #TimeOutEatList. You can also find out more about how Time Out makes recommendations and reviews restaurants here.
Genre: Gyoza
For most gyoza fans, the dumplings are meant to be washed down with beer – but the good folks at this hip Aoyama joint are going against the grain by pairing theirs with wine. Both their meat and vegetable gyoza are made without any garlic, which apparently makes them supremely vino-friendly. Excellent homemade sauces with flavours such as Provence herb and white miso add to the French fusion feel...
Genre: Gyoza
Gyoza – the ravioli-like fried dumplings that are usually filled with minced pork – come in many forms in Japan, having long ago diverged from their Chinese predecessors (called jiaozi). They can be tiny and served as side dish, often with ramen; large and filling; and have a delicate or robust dough wrapper. Anda takes gyoza a little further, by colouring the dough with the powder of roasted brown oats. Together with a tight wrap and steaming instead of frying, the Anda version looks like coloured tortelloni pasta. The fillings might also make you think they're not 'real' gyoza – pork and daikon is to be expected, but how about pickled Chinese vegetables with the flavour of curry powder, just one of four variations...
Genre: Gyoza
The humble, ubiquitous gyoza is one of the most delicious snacks in Japanese cuisine. It's commonly served as an accompaniment to ramen or as a quick and cheap meal – but if you're looking for quality gourmet-style dumpling, this little joint near Iidabashi is the place to go. Okei has been in business for over half a century, and its chef-owner Hitoshi Umamichi makes some of the best gyoza around. The wrappers and fillings are still made by hand and with the original recipe that paved the way for the restaurant's opening back in 1954. It's the way gyoza should be: the skin is chewy on top and fried till golden and crispy at the bottom; the filling, a mix of Chinese cabbage, ground pork and garlic chives, are just dripping with juices...
Genre: Burgers
There are only three food items on Henry's Burger's menu: hamburger, double hamburger and fries. This is a good thing. Too many restaurants make the error of over-complicating this most satisfyingly simple of fast foods. Henry's Burger, named after the owner, who spent some of his childhood in California, benefits from a less-is-more approach to burgerology. With the gimmicks out the way, the focus is on the natural flavour of the wagyu...
Genre: Sandwiches

A store of two halves, during the day King George is a sandwich shop where the focus is on simple, healthy snacks and drinks, while at night it becomes a cocktail bar – and with the owner a former mixer for Moët, you can expect some quality blends. His skills even seep out into the daylight hours, when the iced coffee is shaken, not stirred...
Genre: Burger
If you've always thought the world needs better fish burgers, then this new Nakameguro joint might be of interest. Run by chef Shinya Kudo, who previously worked at Ginza sushi temple Harutaka – owners of two Michelin stars – Deli Fu Cious is found an eight-minute walk from the station in the direction of Ikejiri-Ohashi. Opened in late December 2016, it boasts a dazzling menu dreamed up by the former sushi artisan: check out the Konbuzime Fish Burger, the Saikyo Grilled Fish Burger or the inventive Boiled Conger Tempura Dog. Using only sushi-quality ingredients, Kudo cooks everything to order, so there's no need to worry about soggy or stale burgers...
Genre: Steak

Opened at the tail end of 2015 to great acclaim, this Nishi-Azabu steakhouse offers quality Japanese meat (sourced from the owner's pre-existing butcher's shop) alongside a few Italian trattoria staples. The wine list is focused on Italy, there's a short but sweet pasta menu, and the appetiser list features beef carpaccio and a caprese salad. While the Italian cooking is impressive, most people come here for the meat...
Genre: Steak

Enter through the butcher shop – what a brilliant concept for a steakhouse. Nakasei is, above all, a purveyor of the finest quality aged Tajima beef: they welcome a new cow every couple of weeks, butcher the poor thing and hang its meat to dry anywhere from six weeks to six months, depending on the part. At the butcher's quarters – pristine, like a surgeon's operating room – you can buy around 20 cuts...
Genre: Pizza

It's a rare day when there isn't a line on the pavement outside this Nakameguro pizza restaurant, which has been luring diners from all over Tokyo since it opened in early 2010. Pizzaiolo Hisanori Yamamoto picked up a string of trophies in Naples on his way to opening his own shop – and that seems to be where he got his sense of aesthetics too...
Genre: Pizza

Susumu Kakinuma was churning out perfect margheritas and marinaras long before Tokyo's current pizza boom started. The middle-aged chef spent a year eating his way around Italy's best pizzerias before returning to Tokyo and opening one of his own. That shop, Savoy, lasted a decade and spawned a couple of sister branches before Kakinuma closed it and transformed it into Seirinkan...