88 things to do in Tokyo
Discover the city with our ultimate checklist of the best things to do and things to see in Tokyo, from museums and tours to restaurants and bars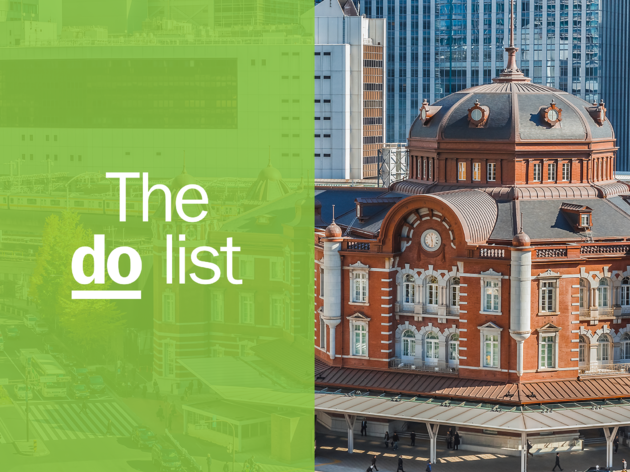 We get it: Tokyo can be overwhelming. From the observatories, the city seems to go on forever, and to make things more confusing, there isn't a discernible centre for Tokyo. So where do one even start exploring? We say, start with this ultimate checklist, where we have compiled the best things to see, do and eat in one of the world's greatest cities.
Whether you're into Tokyo's robot citizens, cutting-edge architecture, sensational art scene or world-famous restaurants that would make any chef weak in the knees, there's always something going on in the city. So get out there and enjoy them.
Done something on this list and loved it? Share it with the hashtag #TimeOutDoList and tag @TimeOutEverywhere.
You can also find out more about how Time Out selects the very best things to do all over the world, or take a look at our list of the 50 best things to do in the world right now.
Don't miss: Take our readers' survey now and stand to win USD100 Amazon gift cards
What is it? The Tokyo outpost of famed Dover Street Market, set in upmarket Ginza.
Why go? Embodying 'beautiful chaos', Ginza's Dover Street Market is a multi-brand concept store offering a truly unique shopping experience. Plus, it was created by a Tokyoite extraordinaire: Rei Kawakubo of Commes des Garçons.
Don't miss: The one-off designer collabs, and the often creative window displays.
What is it? One of Tokyo's finest fabric shops.
Why go? Dealing in everything from traditionally dyed fabric to the latest in textile technology, Nuno is synonymous with superb craftsmanship.
Don't miss: Their selection of clothing and accessories, all made with their signature textiles of course.
What is it? Free observatories inside both the North and South towers of Shinjuku's Tokyo Metropolitan Government.
Why go? Free. Observation. Decks. In. Tokyo. Need we say more? Plus, Kenzo Tange's domineering building is worth visiting purely to have a good look at its spectacular edifice.
Don't miss: Sunset, when you can see the sun setting over Mt Fuji in the distance – if the weather is clear.
What is it? A rather high-quality shop of outdoor brand The North Face
Why go? The brand's stylish yet functional outdoor gear is elevated to new levels inside the swanky Tokyo Midtown Hibiya complex – normcore has never been this cool.
Don't miss: Their exclusive collaborations with fashion brands, some of which can only be found here.
What is it? A mecca of hip hop culture in Japan, hidden away in Shibuya.
Why go? It's been a fixture of the hip hop scene since its opening in 1997, with well-known Japanese DJs spinning hip hop tunes mixed with a little R&B and reggae on a regular basis.
Don't miss: Weekend nights, when the club attracts more than 1,000 people on average.
What is it? A hip new hostel that blurs the boundaries between mere accommodation and local hotspot
Why go? There's a restaurant, a bar, a coffee stand, and they even host casual lounge parties. It might just be one of the best one-stop places to hang out in eastern Tokyo.
Don't miss: The rooms, if you do need somewhere to crash. Dorms start at a mere ¥3,000 a night.
What is it? The flagship store of Elle Café right on the main road in Aoyama, which hosts both a take-out, a café and a restaurant.
Why go? The menu is chock-full of healthy(ish) things, including freshly baked organic loaves. The restaurant upstairs serves prix fixe meals produced by super chef Melissa King, a favourite of Madonna and the Obama family.
Don't miss: Their range of gluten-free sweets – Tokyo's celiacs collectively did a little dance when the café opened, and the goodies are non-celiac taste-approved as well.
What is it? A casual, very relaxed sarnie shop around the corner from Yoyogi Park.
Why go? Its Australian surf atmosphere, the pop art on the walls and the free wi-fi are all nice, but this spot also just happens to bake some of the best bread in the area.
Don't miss: The whole-grain, fully vegan baguettes, which can also be had with filling such as chicken and avocado, all-veg and BLTE.
What is it? Freeze-dried food manufacturer Amano Jitsugyo's physical shop
Why go? They carry everything from miso soup to Japanese-style curry, all in rock-hard, moisture-free form. Perfect for emergency supplies.
Don't miss: The store's free hot water supply, so you can 'cook' your space food right then and there.
Restaurants, Middle Eastern
What is it? A small joint near Ebisu dealing in a rarity for Tokyo: falafel, hummus and more Middle Eastern staples.
Why go? Run by an affable Israeli, it's one of the better options for Middle Eastern fare in the city – and it's priced pretty competitively too.
Don't miss: Their lunch deals. That includes the falafel set lunch, which starts with a small cup of soup and moves on to Israeli salad, hummus, tehina, falafel, pita and fries.
What is it? A multi-storied arcade full of everything Tokyo's otaku could wish for – and more.
Why go? These days, the diehard otaku prefer Nakano Broadway to Akihabara for their fix – whether that involves manga, collectible figurines, video games or, er, replica machine guns.
Don't miss: The shop on the fourth floor selling original sketches. Also, the non-otaku offerings, such as artist Takashi Murakami's cafe and bar Zingaro, and the entire basement food section.
What is it? A public bathhouse in offbeat Uguisudani.
Why go? Occupying four storeys, this next-generation public bathhouse opened in May 2017 and has already become a hot property among the capital's bathing aficionados. Note no tattoos are allowed, though.
Don't miss: The in-house restaurant, which serves excellent post-bathing fodder.
What is it? The world's first yakitori restaurant to earn a Michelin star.
Why go? Toriki is renowned for letting only the freshest product touch its charcoal grill. Reservations are hard to come by, but seats sometimes open up on weekdays after 9pm.
Don't miss: The ultra-moreish 'chigimo' liver, which is hard to find even at other poultry-based establishments.
What is it? Traditional amezaiku maker Ameshin's branch inside the Tokyo Skytree complex.
Why go? One of Japan's traditional crafts, Amezaiku is the art of making tiny candy sculptures from hot, molten sugar. The results are both very intricate and adorable.
Don't miss: The artisans at work. Using a special pair of tiny scissors, craftsmen produce detailed chiselled treats, often in the shape of animals, right in front of your eyes.