Spring 2019 issue out now: discover regional Japan in Tokyo, sake bars, jazz clubs and Hiroshima
Also: beautiful bento lunch boxes, Tsukiji nightlife guide, footbath cafés, craft workshops and more. Read it now for free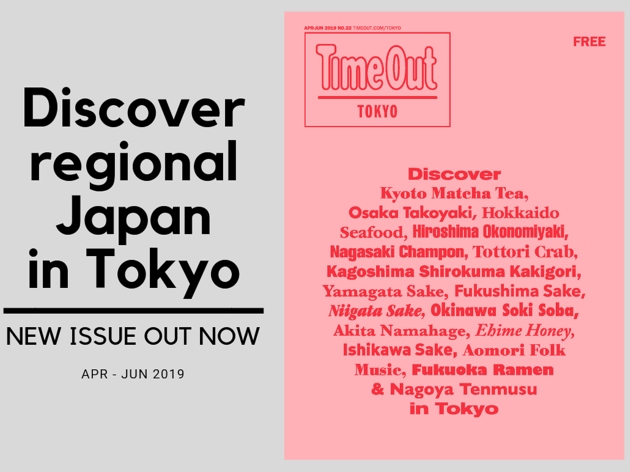 From the courtly refinement of Kyoto to the street smart vibes of Osaka and the tropical flavour of Okinawa, Japan is an amazingly diverse country, with 47 prefectures having their own unique customs, culture and cuisine. Oh yes, the amazing regional cuisines, which keep travellers salivating on every step of a Japanese journey, from the seafood mecca of Hokkaido in the cold north to Fukuoka, the birthplace of the globally famed tonkatsu ramen in the southern Kyushu prefecture. The good news is that you can easily experience the best of regional Japan right here in Tokyo. Just think of our city as a Japan taster…
[You can get a copy of the magazine for FREE at these locations starting March 30. Don't worry if you're not in Tokyo; the digital edition is available for download now.]
Being Japan's capital and by far its biggest city, Tokyo has it all: a diverse range of all the country's top regional specialities, be it food and drink, culture or event arts and crafts. Here's how you can experience the full breadth of Japan without leaving Tokyo.
Tried one sake and you've tried them all, right? This couldn't be further from the truth. Rice type, rice polishing rate, type of yeast and more factors can affect the character of the resulting sake. Here's a sake guide to make you a connoisseur in no time.
These specialist restaurants and cafés are so popular in their home prefectures they've opened up shop right here in Tokyo. Bib gourmand-rated gyoza from Kyoto, sushi from Hokkaido, ice cream from Okinawa…
After a long day of sightseeing, go rest your feet at these dedicated footbath cafés. It won't bust your budget, we promise.
Tokyo is one of the top music cities in the world, and these jazz bars and clubs are here to prove it.
Since the famed seafood market left for Toyosu, Tsukiji has gone from a place buzzing at sunrise to a place that gets going after sunset, with a host of restaurants and bars opening late into the night.
After the devastating atomic bombing of World War II, Hiroshima has risen again to become a beacon of world peace, and one of Japan's top tourist destinations.
For all this and much more – craft workshops, gorgeous bento, lamb restaurants, family-friendly museums, guide for photography lovers in Tokyo, etc – pick up your FREE copy at any of our distribution points in the city, download the PDF version here, or get the mag delivered by placing an order here.
Looking for our previous issues?