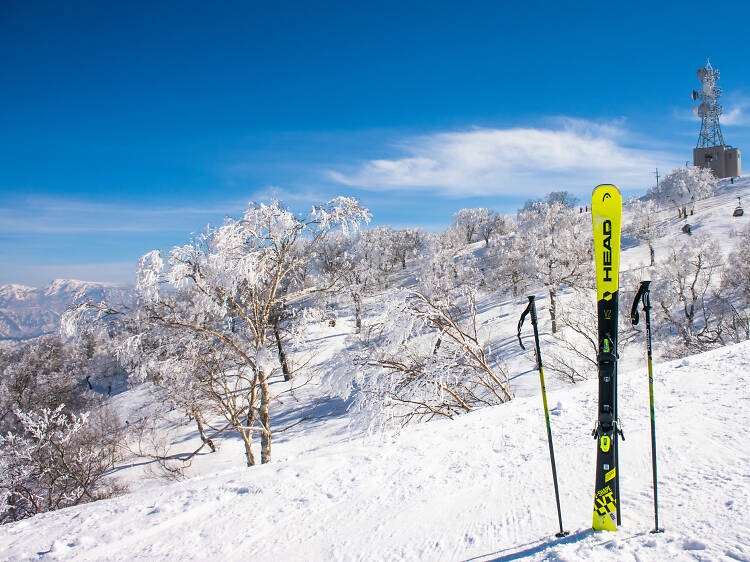 Photo: Umarin Nakamura/Dreamstime
Nozawa Onsen
A popular winter-sports destination, Nozawa Onsen is located in the mountainous region of Nagano prefecture. The sprawling ski area stretches over 297 hectares and is blessed with soft, powdery snow from late November to early May.
There are 36 different slopes catering to both beginners and advanced skiers. The gentle slopes of Uenotaira, easily accessible via the Hikage and Nagasaka gondolas, are perfect for first-time skiers. At the base of Hikage, which is connected to the Nozawa Onsen village by the Yu Road walkalator, you'll find a ski and snowboard school, plus playgrounds and fun activities ideal for families with kids.
Yamabiko, on the other hand, is home to the Skyline Course, a 4,500m-long run for intermediate skiers, stretching from the summit towards the base along mountain ridges. Experienced thrill seekers should head for the Schneider course instead, where they will surely enjoy the steep and bumpy snow run. Not into skiing? Not to worry: you can always go for a zip-line ride or a snowshoe walk through the drift-covered forest.
Getting there
Hop on the Hokuriku Shinkansen from Tokyo Station and get off at Iiyama Station in Nagano prefecture – the journey takes about one hour and 40 minutes. Then board the Nozawa Onsen Liner, a bus that brings you directly to the village in 25 minutes. A free shuttle bus runs between Nozawa Onsen and the ski resort (15-20minutes one way).
Don't Miss
At the end of your frosty adventure, go warm up in one of the 13 Soto Yu facilities in the village. These communal baths are famous for their mineral-rich alkaline water and wooden structures that resemble architectural designs of the Edo period (1603-1868).