1/2
Photo: Kamzoh/Pixta
Nozawa Onsen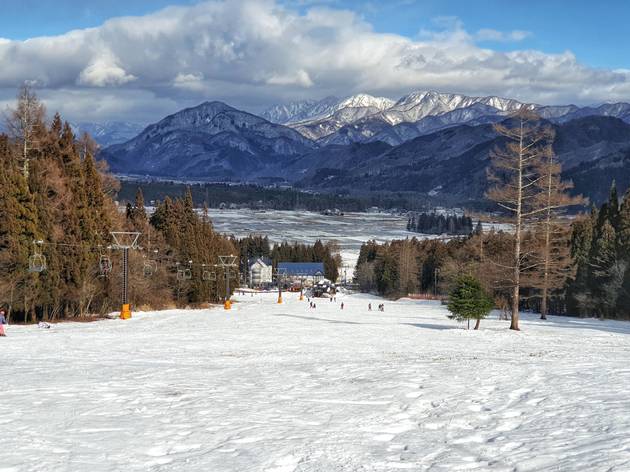 2/2
Photo: Andi Winata/Unsplash
3 best ski resorts near Tokyo
Looking to plough through powdery slopes this winter? These idyllic ski villages are easily accessible via train or bus from Tokyo
Whether you're a skier or snowboarder, it wouldn't be right to spend a winter in Japan without hitting the slopes and taking advantage of the fresh powder. Tokyo might lack the snow (and the slopes) for serious winter sports but luckily we're never too far from snow-topped mountains in colder regions like Nagano and Niigata, which make for perfect weekend getaways.
These ski resorts are not just for the active and the adventurous as many of them are also onsen (hot spring) destinations in their own right. However, if you're all about the steep slopes and après, Hakuba is the perfect scene for snowboard fanatics who also love a good party. Nevetheless, here are the best spots to make a beeline for when the weather turns cold.
RECOMMENDED: Prefer a warming winter getaway instead? You'll love the hot spring resort town of Hakone
Let it snow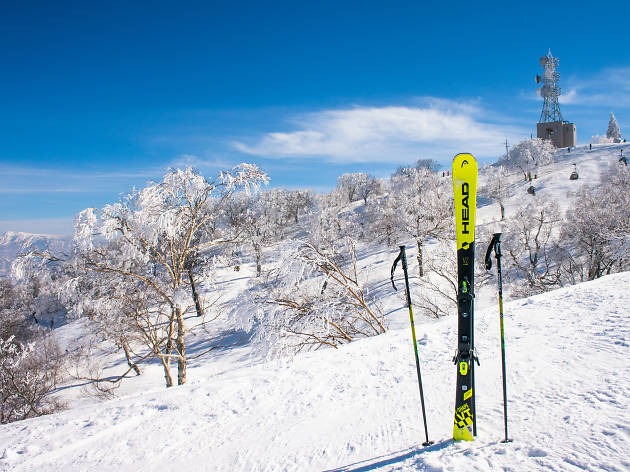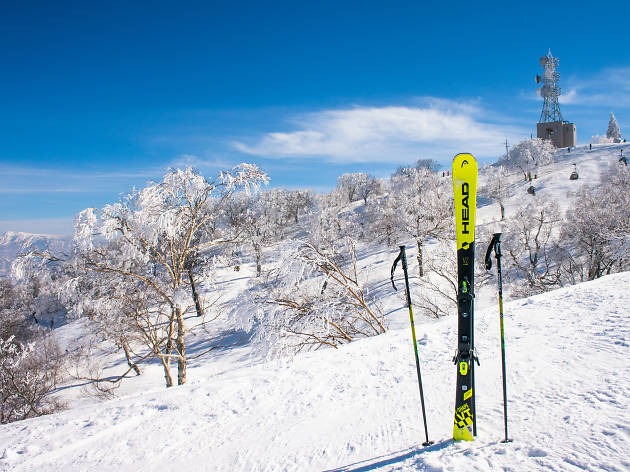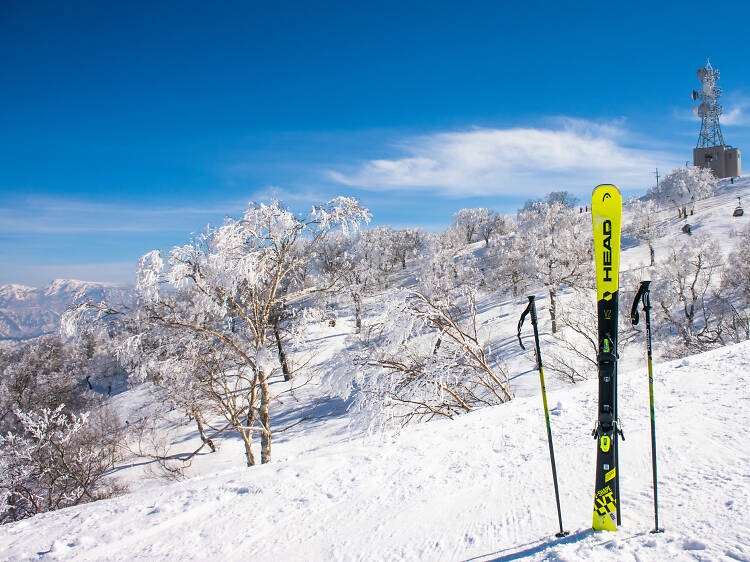 Photo: Umarin Nakamura/Dreamstime
A popular winter-sports destination, Nozawa Onsen is located in the mountainous region of Nagano prefecture. The sprawling ski area stretches over 297 hectares and is blessed with soft, powdery snow from late November to early May.
There are 36 different slopes catering to both beginners and advanced skiers. The gentle slopes of Uenotaira, easily accessible via the Hikage and Nagasaka gondolas, are perfect for first-time skiers. At the base of Hikage, which is connected to the Nozawa Onsen village by the Yu Road walkalator, you'll find a ski and snowboard school, plus playgrounds and fun activities ideal for families with kids.
Yamabiko, on the other hand, is home to the Skyline Course, a 4,500m-long run for intermediate skiers, stretching from the summit towards the base along mountain ridges. Experienced thrill seekers should head for the Schneider course instead, where they will surely enjoy the steep and bumpy snow run. Not into skiing? Not to worry: you can always go for a zip-line ride or a snowshoe walk through the drift-covered forest.
Getting there
Hop on the Hokuriku Shinkansen from Tokyo Station and get off at Iiyama Station in Nagano prefecture – the journey takes about one hour and 40 minutes. Then board the Nozawa Onsen Liner, a bus that brings you directly to the village in 25 minutes. A free shuttle bus runs between Nozawa Onsen and the ski resort (15-20minutes one way).
Don't Miss
At the end of your frosty adventure, go warm up in one of the 13 Soto Yu facilities in the village. These communal baths are famous for their mineral-rich alkaline water and wooden structures that resemble architectural designs of the Edo period (1603-1868).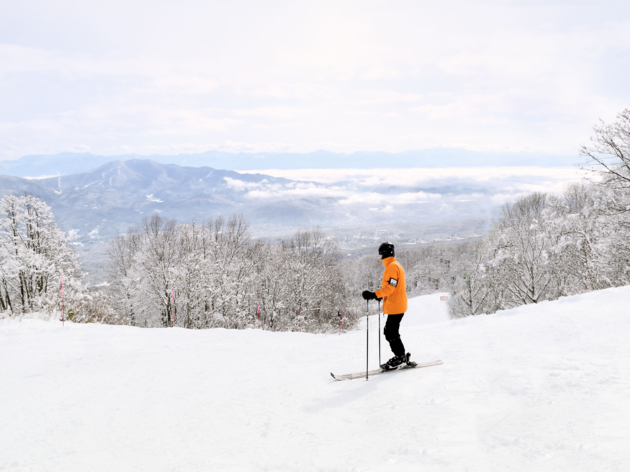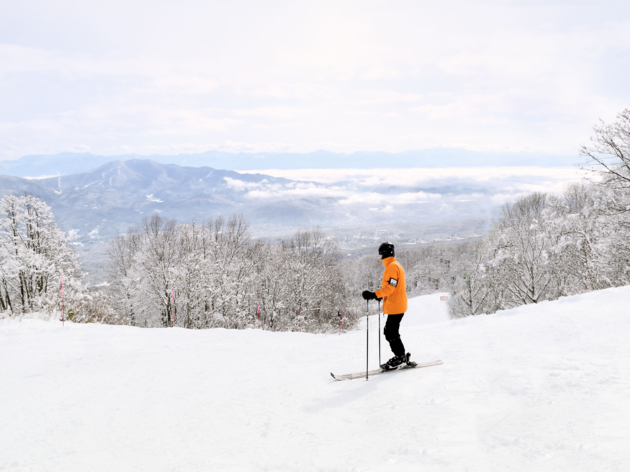 Photo: Michellemealing/Dreamstime
The mountainous Myoko Kogenin Niigata is made up of nine main ski resorts including Myoko Akakura, Myoko Suginohara, Myoko Ski Park, Madarao Kogen and Tangram Ski Circus. They are all connected, with Akakura village acting as the central point, where you'll find most of the accommodation. The attraction here goes beyond its ample snowfall and plentiful options for skiing and snowboarding – Myoko Kogen is also home to seven natural onsen (hot springs).
The abundant snowfall, which averages around 14 metres a season, is the result of obliging geography. Moisture is swept in from the nearby Sea of Japan and is cooled down rapidly by the surrounding mountain peaks. As such, this resort, one of the oldest in Japan, is home to some of the longest (Myoko Suginohara) and steepest (Akakura Onsen Ski Resort) ski runs around.
The wide variety of resorts offers something for everyone, from newbies to advanced skiers seeking challenging runs and adrenaline. Akakura Onsen Ski Resort is a great all-rounder as it offers gentle slopes as well as mogul routes and the aforementioned steep run. Seki Onsen, on the other hand, is popular among intermediate skiers looking to plow through tons of powder.
Getting there
From Tokyo, Myoko Kogen is reachable in three to four hours. The most popular route is to catch the direct shinkansen from either Tokyo or Ueno Station to Nagano Station. From there, the local Kita Shinano line will take you to Myoko-Kogen Station in about 45 minutes.
Don't miss
Myoko Kogen is a bather's paradise as it's rare to find so many different types of onsen in one location. The hot springs here – Akakura, Shin-Akakura, Ikenotaira, Suginohara, Myoko, Mushi and Seki onsen– are prized for their water's unique colours and properties. The water ranges from clear (rich in minerals) to cloudy white (rich in sulphates to help alleviate high blood pressure) and even black (known to soothe dry skin).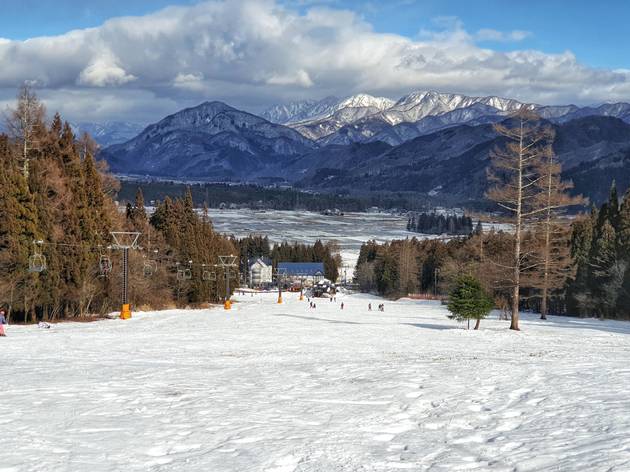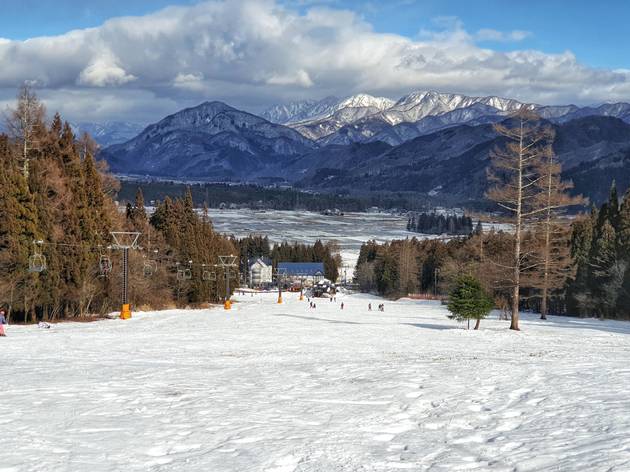 Photo: Andi Winata/Unsplash
Roughly 250km from Tokyo is the valley of Hakuba. This famed ski destination in Nagano was the host of the 1998 Winter Olympics and has grown to be an ever-popular destination for keen skiers and snowboarders looking for the best resorts to tear up the slopes every winter.
The valley has ten different ski resorts and each winter sees approximately 11 metres of snowfall. Some resorts even have slopes that are open after dark, where you can ride freely on uncongested, well-lit trails in case you didn't catch enough powder in the daylight. For beginners, there is an array of international snow-sports schools in the area where both children and adults can take lessons in skiing and snowboarding.
As one of the most international ski destinations in Japan, Hakuba has a wide range of cafés, restaurants and bars to refuel in after a packed day on the mountains. If you fancy changing up your routine and taking on activities off the slopes, head to Hakuba Tsugaike adventure park which is open year-round. Some of the obstacle courses open in the summer will also be operating during the winter along with snow tubing and snow-biking courses.
Getting there
Take a shinkansen from Tokyo Station to Nagano Station, then head to the east exit of Nagano Station to take a bus to Hakuba. The entire journey will take approximately three-and-a-half hour.
Don't miss
Hakuba is well liked by young party lovers who appreciate a rowdy après sesh and many of the 50-plus cafés offer nightlife entertainment even after the slopes have closed.
More things to do in winter
Escape the city chaos – the prefectures around Tokyo boast great beaches, onsen resorts, organic farming, hiking and vineyard tours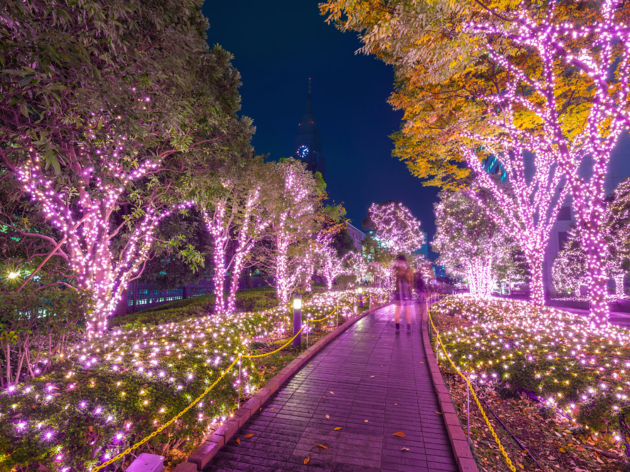 Enjoy the city at its most sparkly – when Tokyo switches on its festive lights and illuminations come autumn and winter
From snowy mountains to a white onsen town, there are plenty of places to make the most of the chilly season