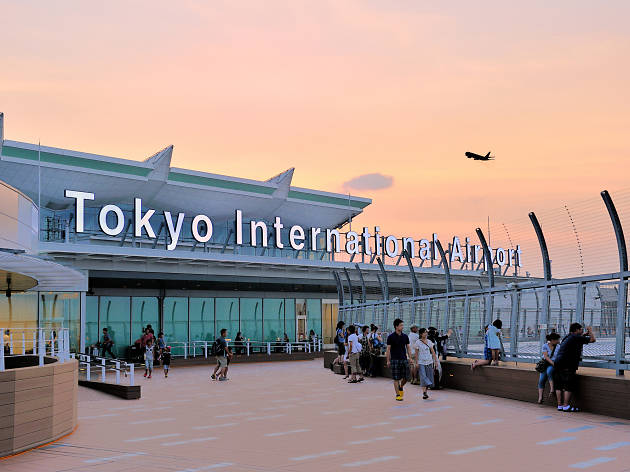 How to get to and from the airport
All the airport navigation tips you need when flying to or from Tokyo
Narita International Airport
Whizz to major Tokyo stations in around 60-90 minutes on the Narita Express for about ¥3,000. Trains leave every 30 to 60 minutes. Check the website for the full list of station stops.

Get tickets
JR East is offering foreign customers discounted N'EX round-trip tickets to and from Narita International Airport to major stations in the Tokyo area. These can be purchased by anyone with a non-Japanese passport and saves you a third off the usual fare to Tokyo Station. Simply present your passport at the JR East Travel Service Centre to receive your discount. ¥4,000 for adults over 12; ¥2,000 for ages 6-11. Note that there's no discount for one-way tickets.
The proud winner of the Japan Institute of Design Promotion's Good Design Award in 2010, the Keisei Skyliner is the fastest of Japan's older (non-bullet train) rail lines and is capable of reaching Ueno Station from Narita International Airport in 41 minutes. All seats are reserved (¥2,470).
Get tickets
When purchasing your Skyliner ticket, use the Keisei Skyliner e-ticket online reservation service, where you can purchase your ticket for the special price of ¥2,200 (one way, ¥1,100 for children; round-trip ¥4,300/¥2,150) – available only to foreign visitors (you'll need to flash your passport).
The Keisei Skyliner & Tokyo Subway Ticket allows you to kill two birds with one stone, giving you a one-way or round trip ticket from Narita Airport to Tokyo plus unlimited rides on the Tokyo Metro and Toei Subway lines for 24-72 hours. The six price options range from ¥2,800 to ¥5,400.
They may be a bit slower (and more crowded) than the options above, but local trains are a fair bit cheaper too. The trip from Narita to Tokyo Station on the JR Sobu clocks in at 95 minutes (¥1,320), while the Keisei Limited Express will get you to Nippori Station in 75 minutes (¥1,030).
Several companies operate routes from Narita Airport to various locations in central Tokyo, to nearby prefectures and as far as Kyoto and Osaka. The bus fare varies depending on your destination, but you can get a one-way ticket to Shinjuku for ¥3,100.
If you're heading downtown, the Access Narita bus will schlep you to Tokyo Station and Ginza in around 90 minutes for a reasonable ¥1,000 (¥500 for children,
accessnarita.jp/en/home
, pay on board), while a trip to Tokyo Station on the Keisei Bus will set you back ¥1,000 (¥900 if you book your seat in advance) and takes the same amount of time.
Whatever you do, don't take a taxi from Narita. Fares are well over ¥20,000 and travel can be even slower than on a bus.
Haneda Airport (a.k.a. Tokyo International Airport)
Keikyu line trains run regularly to and from Shinagawa Station (¥410), only 15 minutes away, where you can transfer to different trains and access all parts of Tokyo. You can also catch the Tokyo Monorail to Hamamatsucho Station (¥490) and change to the JR line there.
Get tickets
Consider buying the Welcome! Tokyo Subway Ticket (¥1,200-¥1,900, ¥600-¥950 for children,
http://www.haneda-tokyo-access.com/en/info/discountticket_welcometokyo.html
), which includes a one-way ticket between Haneda and Sengakuji Station plus unlimited transfers between all Tokyo subway lines (validity varies depending on which price ticket you choose). You can also opt for a version that includes round-trip tickets between the airport and Sengakuji Station (¥1,500-¥2,200/¥750-¥1,100).
The Keikyu Bus stops at a number of major hotels and sightseeing spots. Prices vary depending on destination, but a one-way ticket to Shibuya is ¥1,030 and the trip takes about 50 minutes. Tickets can be bought at the counter in the international arrivals lobby (second floor).
http://hnd-bus.com/
Fares to central Tokyo areas including Shibuya, Shinjuku, Tokyo and Ueno are around ¥7,000 (pre-book for a flat-fare discount).
Need a ride?
Getting your own set of wheels isn't actually that complicated, as long as you know the rules
Bookable tickets
Trains and highways are the main ways to access Tokyo's airports, Narita and Haneda. If you're a first timer to Japan, the expansive train system will certainly be overwhelming, especially after you get off a long flight. Avoid the trains altogether with these options that pick you up from the airport and drop you off in front of your hotel.