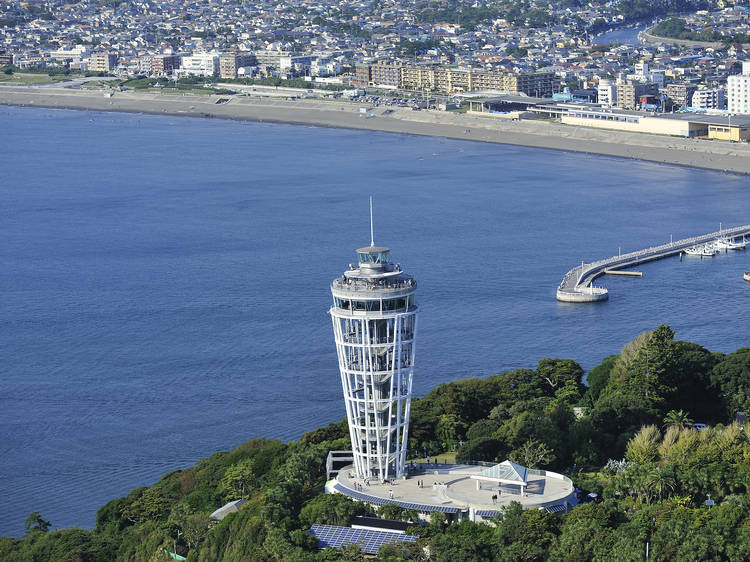 Photo: Enoshima Sea Candle
Enoshima
The island of Enoshima lies off the Shonan coast on the western side of Kanagawa, and is connected to the mainland by a bridge (open to cars and pedestrians). Home to a wealth of cultural monuments, cute cafés and sightseeing activities, Enoshima is one of the best-known spots in Kanagawa. When the weather's clear, you can even see Mt Fuji from the island.
Confusingly the island's must-see Enoshima Shrine is actually three different shrines spread out across the island. The main one is located on the route to the picturesque Enoshima Sea Candle observation tower. While making your way around the island, stop off at the Iwaya Caves inside the cliffs on the southern coast. Visitors can walk through the caverns, but don't forget to turn around and enjoy the gorgeous view out over the ocean.
How to get there: The most convenient access is through Enoshima Station, which is just under 40 minutes from Yokohama Station via the Tokaido Main and Enoden lines. If you're coming from Tokyo Station, the train trip will take about an hour and 10 minutes. From Enoshima Station, it's just a 20-minute walk to the island. From Shinjuku Station, you can get to Katase-Enoshima Station in just 70 minutes. Enoshima is a 12-minute walk from there.