Heads up! We're working hard to be accurate – but these are unusual times, so please always check before heading out.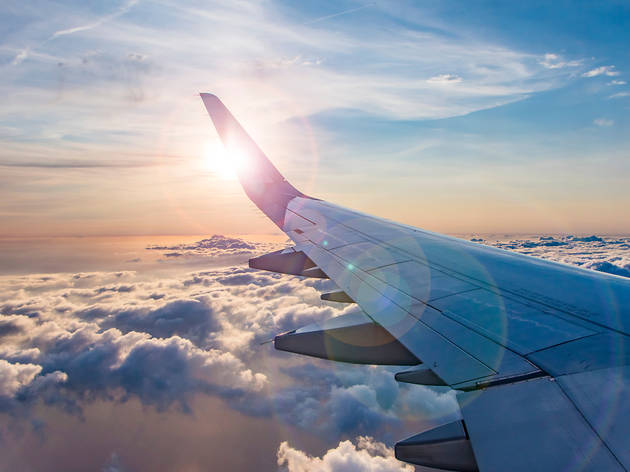 I've taken 140 flights in the past year. Here's what I've learned
As CEO of a travel company, I've been flying for work throughout the pandemic – and it's shown me what the future of travel could look like
This week is one year since the WHO declared Covid-19 a pandemic. To mark what we're calling the Pandemiversary, Time Out is looking back at the past year in cities around the world, and ahead to what the future may hold.
I've been flying pretty much constantly for the past year. Having taken more than 140 international flights during the pandemic for work, it's been surreal to see the world shut down, then open up, then ebb back and forth and settle somewhere between the two.
I'll never forget the eeriness of April 2020. There was a genuine fear of flying. Most flights still operating were for repatriation; people were desperate to get home. I flew through Los Angeles, Dubai, Abu Dhabi and London that month, and it would have been fair to describe those cities' usually-bustling airports as ghost towns.
In May, planes were still empty. But there was growing optimism as the northern hemisphere approached summer. Through June and July, I headed on work trips to Lombardy in Italy, which only a few months previously was considered one of the early epicentres of Covid-19. Cafés were desperate for business, but there was a sense that the worst was over. We all kidded ourselves into thinking so, didn't we?
During the second and third waves at the tail end of last year, restrictions quickly came back into force, and travel was pretty much back to square one. Since then, there hasn't been any substantive reopening of borders outside of perhaps Dubai, Tulum and the Maldives.
So, now what? Let me run you through a few things I've learned from a year of flying during Covid-19, and what I think the future holds for air travel.
Deep-cleaning and mask-wearing can foster a false sense of security
To start with, airlines have been pushing incredibly hard to win back confidence. With complimentary sanitary wipes, facemasks and comprehensive cleaning regimes, it certainly seems that every airline has been doing its bit to help curb the risk of in-flight transmission.
For me, real standout carriers have included Qatar Airways, Etihad and All Nippon Airways. All three have all continued to offer a full service to passengers without compromising on safety, and have led the way in terms of cleaning protocols and distancing during boarding.
And yet, other airlines have had to make deep cuts during the pandemic, making in-flight service pretty much non-existent. While many carriers have spent millions of dollars on PR vaunting their deep-cleaning regimes and mandatory mask-wearing, such practices can foster a false sense of security. I've witnessed some incredibly scrappy deplaning and lots of non-socially distant boarding over the past year.
Now more than ever, it's worth doing your research before you book a flight. Some airlines require PCR tests taken within 48 to 96 hours before you fly. But again, this could give a false sense of security, as other passengers may still contract Covid-19 after taking a PCR test and before travelling.
Some airports may also test on arrival. But be careful here too: I have seen some dreadfully managed on-site testing facilities with zero distancing.
For many of us, flying far from home will remain an intimidating prospect for the foreseeable
As for how travellers' behaviour might change in future, I don't think international travel will return to 2019 levels until 2025 or 2026. There has been a seismic shift in our habits, and too much damage has been done. Cuts are so deep that it will take years to regain ground. Airlines worldwide have been retiring large swathes of their fleets and job losses will take the industry several years to recover from.
International flight prices will increase and capacity will be reduced. The availability of cheap long-haul flight deals will drop, and there will be much less competition, particularly at the budget end of the market. Flying far from home will remain an intimidating prospect for many for the foreseeable future.
But (and it's big but), I think travel will bounce back later in 2021 – it's just we'll likely be sticking a little closer to home.
The focus will be domestic and regional. As they were last summer, road trips and 'staycations' will inevitably be a strong trend over the coming months. And while Europeans will travel less to the USA and Americans to Europe, I expect there to be more travel within the USA and within Europe for the next few years. People are seriously wondering what's nearer to home, and with that, travel and its feeder sectors should begin to rebound towards the end of the year.
By July or August, I can foresee countries setting up 'travel bubbles' with neighbours and other nations slightly further afield, depending on their rates of vaccination. For all of us afflicted by constant wanderlust, that's really great news. But until then, we've all got a brilliant excuse to get out and explore what's on our own doorsteps. The rest of the world can wait.

James Asquith is the CEO and founder of Holiday Swap. He documents his travels on his YouTube channel.
Find out more about flying right now
From the airport to the cabin, we look at how safe it is to fly right now – plus how you can protect yourself.