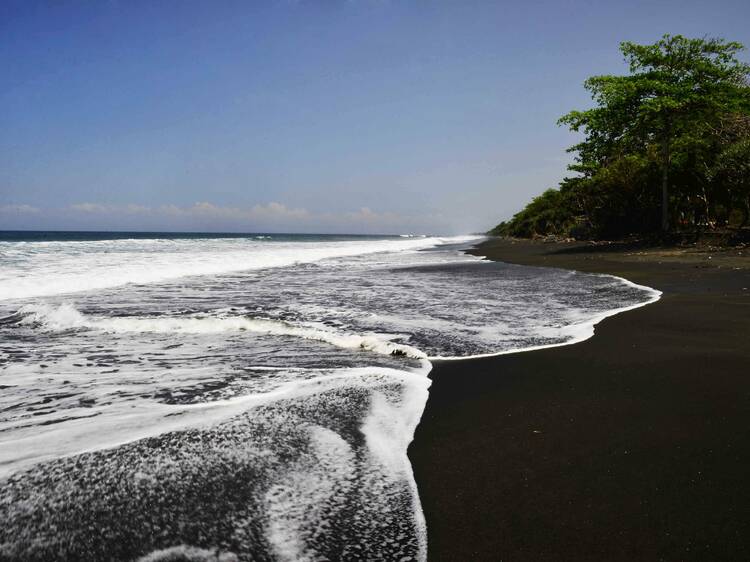 Photograph: markeveleigh.com
Chosen by Mark Eveleigh
'Overcrowded, overdeveloped and over-exploited, or the most beautiful island in the world? There's a Balinese belief that everything – good and bad, life and death, beauty and ugliness – is in a state of perpetual balance. Sometimes two apparent opposites can be true at the same time.
'In 25 years as a travel journalist I've lived in many parts of Asia, Latin America and Africa. But there's a good reason why, these days, I choose to make the four-hour drive from Bali's airport, leaving the crowds behind and heading out to the island's "wild west". Often, when I'm heading to my local pointbreak to surf with Balinese friends, I still gasp at the unbelievable beauty of dawn in West Bali. The bronze rays of the sun glinting on flooded terraces. The neon patchwork of young rice plants. Foamy waves rushing up a black volcanic beach.
'I was raised in England so it's not surprising that I'd choose tropical climes for a winter destination. Things are changing rapidly here but, for the moment at least, I still believe that Bali deserves its reputation as the world's most beautiful island.'
Mark Eveleigh is a novelist and travel writer. His book 'Kopi Dulu: Caffeine-Fuelled Travels through Indonesia' was published by Penguin Random House SEA in August 2022.