The 15 best restaurants in Tucson
The best restaurants in Tucson prove that the town deserves its title of World City of Gastronomy: Tucsonans know food.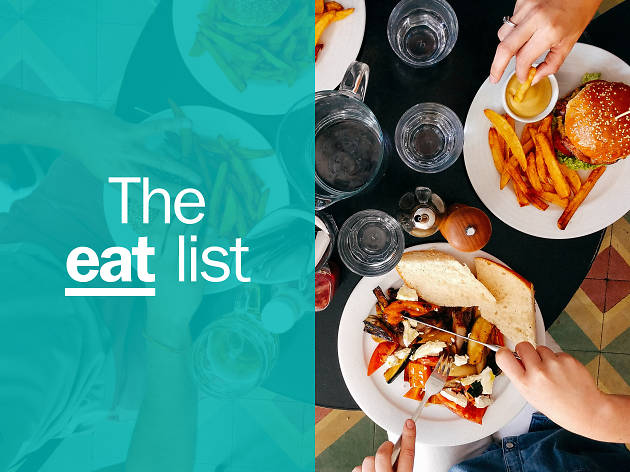 Did you know that, back in 2015, Tucson was named a World City of Gastronomy by UNESCO, the United Nations Educational, Scientific and Cultural Organization? The official designation only confirmed what Tucsonans already knew: the city knows how to feed its people and the people love to eat. After all, Tucson's agricultural history stretches back 4,000 years, the longest of any city in North America. Because of its unique positioning just sixty miles north of the U.S./Mexico border, the area features an abundance of Mexican fare, but local eateries also celebrate the diversity of the city, with residents who hail from all over the world and shape not only the culinary scene but the variety of things to do around town as well. In addition to the variety of flavors, gastronomical purveyors are committed to buying their ingredients from local producers and celebrating local foods on their menus with items like prickly pear iced tea and nopales fries—and you should make it a point to taste them all. Without further ado, here are the best restaurants in Tucson.
Best restaurants in Tucson
1
Photograph: Courtesy Yelp/Judy M.
What is it: The Little One is an offshoot of the very popular upscale restaurant Café Poca Cosa—each is managed by a different Davila sister. Sandra runs The Little One, where she serves Mexican food with a twist, offering diners a fresh, unique flavor palette in a down-home environment. A warning: the restaurant only accepts cash and doesn't have a website.
Why go: The Little One is open for breakfast and lunch on weekdays and their specials, many of them featuring fire-roasted veggies, change daily. Try one of the aqua frescas they make to order every day like the ginger, jalepeno and mint flavors. Oh, they won't let you leave until they give you a hug. It's like being at your auntie's house—you know, the one who can really cook.
Price: Average
2
Photograph: Courtesy Yelp/Paul H.
What is it: Seafood in the desert? At the Kingfisher, absolutely! The seafood here is always fresh and the menu rivals top-notch seafood spots in coastal cities. Try the macadamia nut crushed Hawaiian and one of the hand-crafted cocktails like the "Every Cactus Has Its Thorn."
Why go: The dim lighting and rounded leather booths will make you feel like you stepped on the set of Mad Men. It's a great spot for date night or for a group celebration.
Price: Pricey
3
Photograph: Courtesy Yelp/Teresa L.
What is it: Taqueria Pico De Gallo is a Tucson institution and the best local place for tacos (which is saying a lot!). Step inside the marigold building and up to the counter to order the carne asada, fish and chicken tacos made with mouth-watering thick homemade corn tortillas.
Why go: In the summertime, stop by for a raspados—shaved ice covered with fresh fruit and ice cream—or order a refreshing horchata.
Price: Bargain
4
Photograph: Courtesy Yelp/Hannah M.
What is it: Cup Café is in the historic Hotel Congress, a beating heartbeat of downtown Tucson. Order the delicious drunken fish tacos or munch on acclaimed app the Heartbreaker, which features goat's milk brie, artichoke hearts, roasted garlic, apple and slices of toasted baguette.
Why go: Sit on the patio at the very place where notorious criminal John Dillinger was tracked down while hiding out in 1934. After dinner, wander down the hall to Club Congress, a hotspot for Tucson nightlife, showcasing bands and DJs. You can also opt to sip on a beer in the adjoined taproom adorned with cowboy art, a Wurlitzer jukebox and home to a selection of local brews.
Price: Average
5
Photograph: Courtesy Yelp/Melissa R.
What is it: One of Tucson's newest breakfast joints, TallBoys' motto is "breakfast AF." They serve breakfast all day long on 4th Avenue—always an ideal spot for eating, drinking and shopping. Sit in a booth or grab a seat at one of the window counters for prime people-watching.
Why go: Order the tall boy tots—a heaping bowl of tater tots covered in green chile, avocado, bacon, chipotle cream and pesto, topped with two eggs. Pick out from the large selection of the namesake tallboys in the cooler or order one of the signature cocktails like the TB smash with whisky, mint, ginger and simple syrup, served over crushed ice.
Price: Average
6
Photograph: Courtesy Yelp/Tim L.
What is it: Discover Parisian elegance and seasonally-inspired rustic European cooking just a short walk from downtown Tucson.
Why go: The Coronet radiates elegance, from the ornate iron archway that invites you onto the patio to the tiled mint and black floor bar to the beautiful white ceramic dishes and latticed chairs. A favorite brunch spot, The Coronet serves decadent dishes like eggs Florentine that go down nicely with mimosas or orange blossoms.
Price: Pricey
7
Photograph: Courtesy Yelp/jessica r.
What is it: Over twenty years ago, Amanuel Gebremariam opened Ethiopian restaurant Zemam's in a small rented house that he converted into a restaurant. The eatery is named after his mother, whose recipes were the inspiration for the menu. Gebremariam recently added a second location to his roster: Zemam's, Too.
Why go: Zemam serves a wide selection of vegetarian and meat dishes on a shareable platter with injera flatbread (diners with allergies can per-order a gluten-free variety of the flatbread). People stop by to enjoy the space's coziness as well. Want to bring your own bottle? The staff will uncork it for you for just $1.50.
Price: Average
8
Photograph: Courtesy Yelp/5 Points Market & Restaurant
5 Points Market & Restaurant
What is it: Set at a five-pointed intersection across from the "Ugly But Honest" car shop and Five Points Flowers is the 5 Points Market & Restaurant. The staff's commitment to using local ingredients makes this a beloved destination for both locals and tourists.
Why go: Sit outside on the patio and soak in the sun or opt for the indoor section and take in the artwork made by a rotation of local artists. In addition to daily specials, the staff serves a selection of delicious desserts. Have one with the turmeric-infused golden milk. You are guaranteed to love it.
Price: Average
9
Photograph: Courtesy Yelp/https://www.yelp.com/biz_photos/boca-tacos-y-tequila-tucson?select=sGzwZ9DG0Yky-pT59hRzmQ
What is it: Considered by many to serve the best tacos in the city, Boca Tacos y Tequila offers 24 varieties of the food: from traditional standards (carne asada and calabacitas) to more eclectic options (AM taco with hash browns and eggs or a taco with octopus).
Why go: For the salsas! Chef Maria José Mazon is constantly inventing new flavor profiles and she serves five different salsas with your tacos or chips at any given moment. Past options have included ones made with blueberry, balsamic vinaigrette, basil and serrano peppers. Chips are fried to order and come to the table piping hot.
Price: Average
10
Photograph: Courtesy Yelp/Roland W.
Reilly Craft Pizza and Drink
What is it: Arguably the best pizza in town, the thin-crust deliciousness comes with a variety of toppings, from ricotta to squash and even crispy Brussels sprouts. Tell the bartender which spirits you usually fancy and he'll make you a delicious cocktail to boot.
Why go: Once Reilly Funeral Home, the space, now renovated, is fit with vaulted ceilings, exposed brick walls, hardwood floors and antique chandeliers that add to the overall pastoral elegance. After eating, sit outside in the beer garden or head downstairs to the Tough Luck Club, a speakeasy-inspired bar with a stone wall, black leather booths and a rustic wooden bar.
Price: Pricey
11
Photograph: Courtesy Yelp/Bianca A.
What is it: Tucson is home to some amazing kitchens and some of them just happen to be on wheels. Geronimo's Revenge owner and chef Jeronimo "Mo" Madril uses local and seasonal ingredients to craft signature menu items like the Tucsano, a Sonoran Cubano with carnitas, crispy ham, mayonnaise, mustard, lettuce and thick homemade pickles on a torta roll.
Why go: Experience Tucson-inspired comfort food. Every Thursday through Sunday, the food truck is outside Che's Lounge, a beloved Tucson bar where you can take in local music and culture.
Price: Bargain
12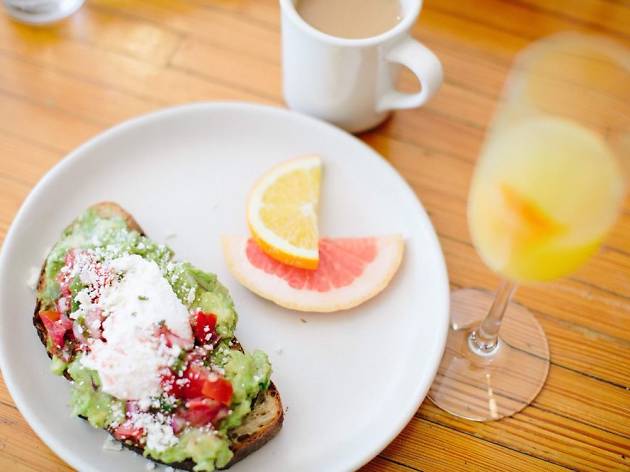 Photograph: Courtesy Yelp/Hannah M.
What is it: Designed in 1964, this striking asymmetrical modernist gem was a longtime home to two other diners until it was remodeled and reopened in 2016. All menu items are cooked from scratch and feature sophisticated takes on diner favorites.
Why go: Welcome Diner is all charm—from the natural sunlight that comes through the windows that line the building to the baby blue vinyl booths and the friendly wait staff. Sometimes, everyone in a large party orders their very own Bumblebee—fried chicken, local honey, house mustard and b&b pickles—because no one can stand to share such deliciousness.
Price: Average
13
Photograph: Courtesy Yelp/Susan G.
What is it: Here, find the best burgers in the city, right in the hard of downtown Tucson.
Why go: All of the burgers here are made from 100% grass-fed, open-range-raised beef from ranches in Arizona. Try the blake, served with homemade hatch chile mayo, roasted green chiles and sharp cheddar, and enjoy the crispy thin-cut French fries served with every burger.
Price: Average
14
Photograph: Courtesy Yelp/Dillon F.
What is it: A restaurant serving regional Mexican cuisine from six different areas, situated in the courtyard of Mercado San Agustin and Joesler Village.
Why go: Seis brings Mexican street fare to Tucson with flavorful, colorful plates at reasonable prices. Try a variety of street tacos and the delicious iced cochata—a blend of horchata and iced coffee.
Price: Average
15
Photograph: Courtesy Yelp/Mark A.
What is it: Situated in a beautiful oasis, Mercado San Agustin, Agustin Kitchen puts a new spin on modern American and classic French cuisine. Featuring handcrafted cocktails and menus with local ingredients, Agustin is an absolute must-visit.
Why go: Because, in addition to great food, the spot offers one of the best happy hours in town. An Old Fashioned will cost you… six bucks! Check out the shops and ambient courtyard before you eat.
Price: Pricey