15 awesome things to do in Tucson
A desert landscape, phenomenal weather and a bustling art scene make the best things to do in Tucson very exciting
Nestled in the valley of four mountain ranges, Tucson is one of brightest gems of the Sonoran desert. Many visitors stop by to explore the beautiful outdoors—a landscape of saguaros, barrel cactus and prickly pear that they have only ever seen before on the silver screen. But Tucson also teems with a whole lot of artists, musicians, writers, dancers and acrobats that add to the city's exciting art scene. Tucson wasn't named a World City of Gastronomy for nothing—and this extends not only to restaurants but to our coffee roasters and microbreweries as well. Clearly, we love bragging about our town, and this list of best things to do in Tucson should make it very clear why.
Done something on this list and loved it? Share it with the hashtag #TimeOutDoList and tag @TimeOutEverywhere.
Find out more about how Time Out selects the very best things to do all over the world.
Best things to do in Tucson
Photograph: Courtesy Yelp/Ken S.
1. Arizona Sonora Desert Museum
What is it: This is the one place every Tucsonan takes family and friends upon their arrival. The Arizona Sonora Desert Museum is a zoo, natural history museum, aquarium, art gallery and botanical garden all rolled into one.
Why go: On both paved and dirt walking trails, explore the many ecosystems of the Sonoran desert bioregion. Don't miss the hummingbird aviary—you can see these jewel-toned beauties up close! On hot days, look under the bridge for snoozing javelinas, the local version of pigs. Note: the Arizona Sonora Desert Museum is not to be confused with the nearby International Wildlife Museum, which actually plays host to taxidermy animals.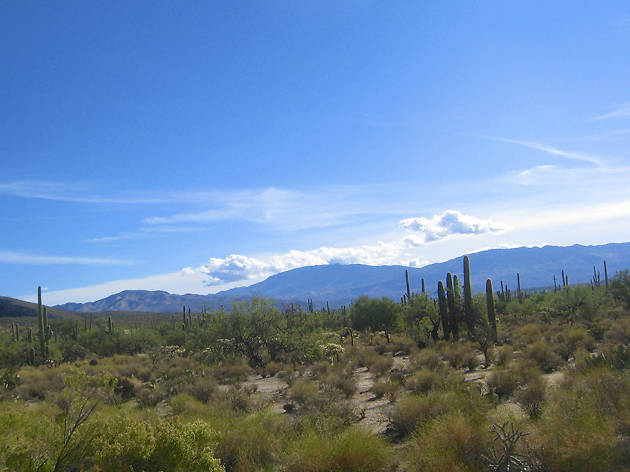 Photograph: Courtesy CC/Flickr/Henry T. McLin
What is it: A short drive from the heart ot the city, Sabino Canyon is home to cresting mountains, deep canyons and trails that lead to seasonal swimming holes. Hiking aficionados will love it here.
Why go: The city is a hiker's dream: the eternal sunny skies and moderate temperatures are ideal for walking adventures. In addition to Sabino Canyon, you might want to head to either the East or West part of Saguaro National Park, which also feature a plethora of trails to explore.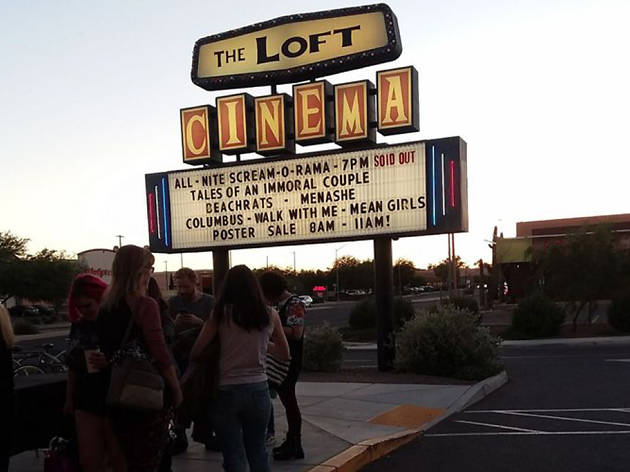 Photograph: Courtesy Yelp/Micaela L.
What is it: Open since 1972, Loft Cinema is a Tucson treasure. Renovated in 2017, the members-supported nonprofit theater screens new, independent and foreign films, documentaries, classic art films and cult favorites on three screens, two of them fully accessible to wheelchairs and all equipped with hearing loop induction services.
Why go: In addition to showing a diverse array of films, the Loft hosts signature screening events, filmmaker Q&As and also partners with dozens of community organizations to host special events on relevant issues. The Loft hosts two film fests every year, an international film fest each fall and a free children's festival in the summer. Talk about a movie lover's paradise.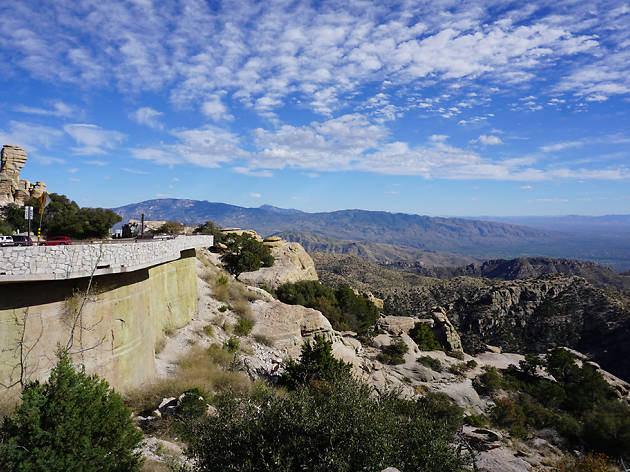 Photograph: Courtesy CC/Flickr/Nelo Hotsuma
4. Mount Lemmon Scenic Byway
What is it: The Mount Lemmon Scenic Byway is one of the most picturesque drives in Southeast Arizona. Winding roads lead you up to the top of Mount Lemmon, in the Santa Catalina Mountain Range.
Why go: As the locals say, "It's always cooler on the mountain." Mount Lemmon features seasons—changing leaves, falling snow—that just don't happen in the valley. The views are breathtaking, whether you go for a hike or stay in the car. If you make it to the top of the mountain, stop at the Mount Lemmon Cookie Cabin. Their chocolate chip cookies are legendary.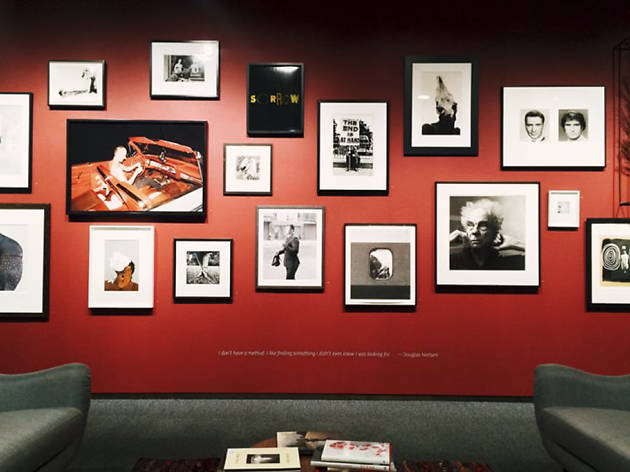 Photograph: Courtesy Yelp/Center for Creative Photography
5. Center for Creative Photography
What is it: The Center for Creative Photography (CCP) was co-founded by legendary landscape artist Ansel Adams in 1975 to permanently house his photographs.
Why go: Free to the public, the CCP is home to more archives and individual works by 20th-century North American photographers than any other museum in the nation. Rotating exhibitions are displayed year-round, but the public can request viewings from the extensive archives of over fifty photographers including works by Lola Alvarez Bravo and Edward Weston.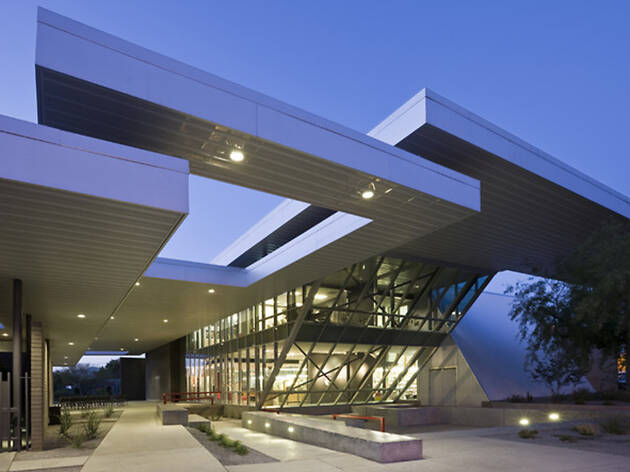 6. University of Arizona Poetry Center
What is it: A living archive that houses one of the largest collections of poetry in the country.
Why go: Take in the beautiful architecture and browse the library, engage with an art exhibit or attend a literary event. Founded in 1960 and in its new building since 2007, the Poetry Center's collection holds over 75,000 items, including books, anthologies, literary journals, chapbooks, photographs and critical works by poets. The Poetry Center regularly hosts readings with award-winning and emerging artists.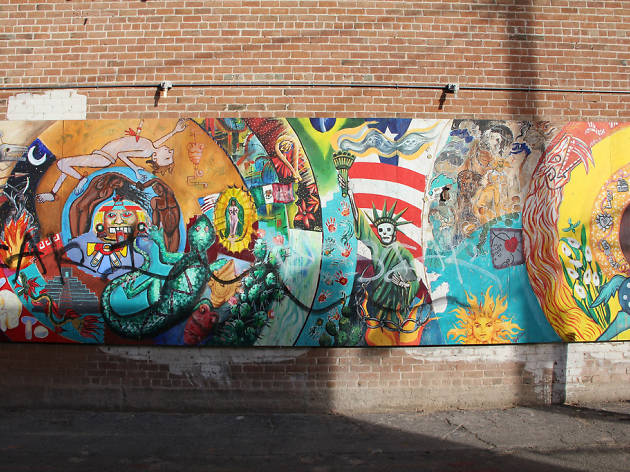 Photograph: Courtesy CC/Flickr/Alyson Hurt
What is it: Everyone will tell you that Tucson is a breeding ground for artists. One way this characteristic manifests itself is through a landscape of public art found in the city. Within just a few blocks, you can see muralist Joe Pagac's 130-feet-wide and 30-feet-tall epoch of a cowboy and senorita riding bikes with javelina and jackrabbits. Also notice Rock Martinez's Goddess of Agave, where agave and prickly pear bloom from and around a haloed deity. Also check out the Rattlesnake bridge, an Instagrammer's dream locale.
Why go: This is an Instagram favorite. Go take some pictures next to the Rattlesnake bridge.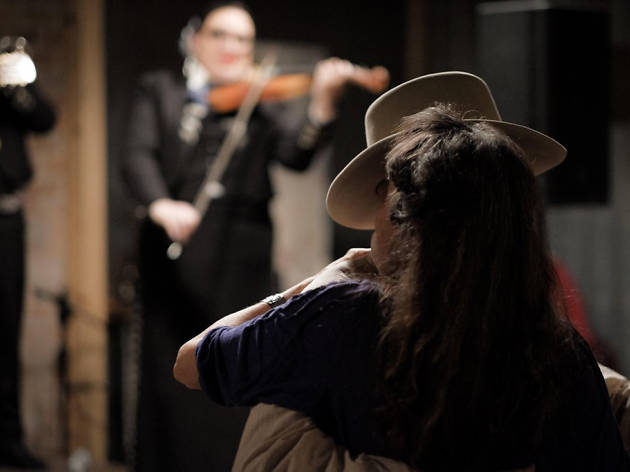 Photograph: Courtesy Yelp/Exo Roast Co.
What is it: Tucsonans are serious about their coffee and Exo Roast Co. serves an oh-so-amazing cup.
Why go: Exo Roast Co. curates a variety of coffee beans from all over the world and roasts them on site—which also serves as a meeting space and workspace for many locals. The staff hosts coffee cupping events, community forums and, at night, they open up as a bar and listening room for local and traveling bands. Try the spicy and sweet iced Chiltipin cold brew, which blends chocolate, coffee and chiltepin pepper harvested in Mexico.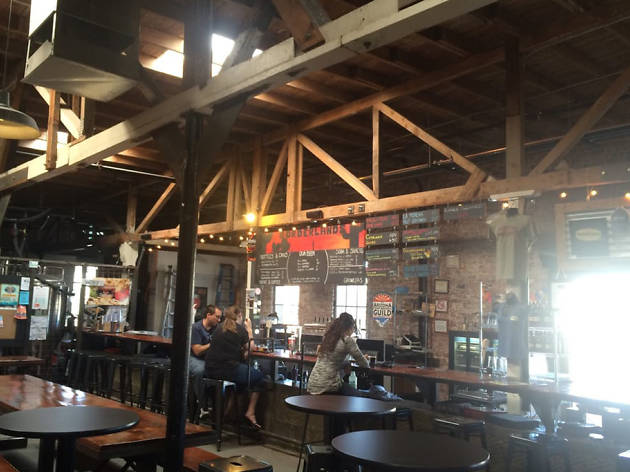 Photograph: Courtesy Yelp/Alexander M.
What is it: Tucson is home to over a dozen craft breweries—in other words, it's a beer enthusiast's paradise. We suggest visiting Borderlands Brewing, housed in what was an old train depot for produce, and tasting their chocolate beer.
Why go: Did you not read? Chocolate beer! May we also suggest you head to Crooked Tooth Brewing Company and sip on their full moon brew—made under the last full moon—while you practice yoga, have fun on trivia nights or just listen to tunes by local musicians.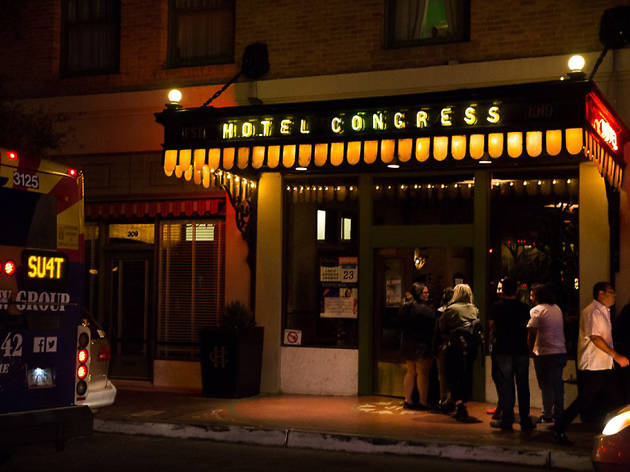 Photograph: Courtesy Yelp/Mimi D.
What is it: Tucson is home to a vibrant music scene that features local, national and international acts. The historic Hotel Congress is one of the many places to catch these awesome performances.
Why go: Inside the lobby of Hotel Congress is the live studio for Tucson's beloved community radio station KXCI—turn the dial to 91.3 to tune in. Other live music venues include the Rialto Theatre, a former Vaudeville theater, and art-deco beauty Fox Tucson Theatre.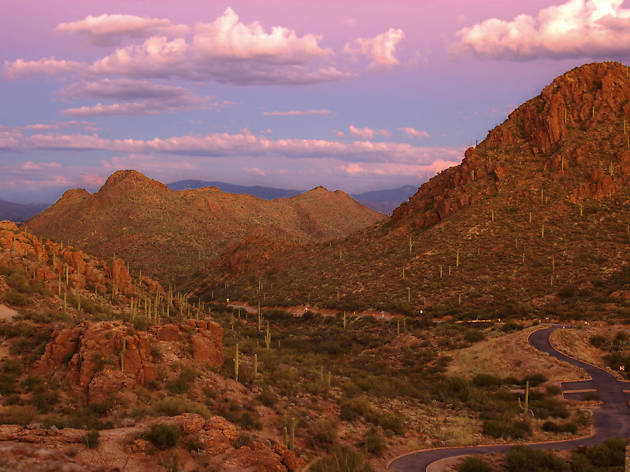 Photograph: Courtesy CC/Flickr/drewgram
What is it: Elevated at 3,169 feet, Gates Pass is a mountain pass overlook at the crest of the Tucson mountains.
Why go: Pack yourself a picnic and head out of the city. Tucson is known for its sunsets, which paint the sky in broad strokes of violet, rust and rose. Gates Pass, looking west over the valley, is a favorite place to witness the magic unfold.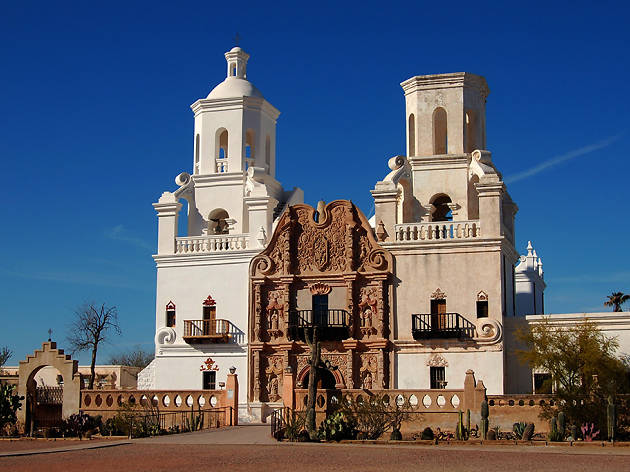 Photograph: Courtesy CC/Flickr/JR P.
12. Mission San Xavier del Bac
What is it: In the Santa Cruz valley south of Tucson, on the Native American Tohono O'odham tribe's land is the famous "White Dove of the Desert." Founded by Jesuit missionary and explorer Father Eusebio Francisco Kino in 1700, the restored white walls of the church's parapets, dome and body stand like paper cut-outs against the bright blue of the sky.
Why go: Built between 1783 and 1797 by the Franciscan Fathers Juan Bautista and Juan Bautista Llorens, the building is a fine example of Mission architecture, a blend of Moorish, Byzantine and late Mexican Renaissance styles. You might be struck at the asymmetrical towers, one unfinished. Some say this was done to avoid paying taxes on the building since it was never technically "finished." After exploring the church and small museum, you can feast on fry breads offered by members of the Tohono O'odham outside.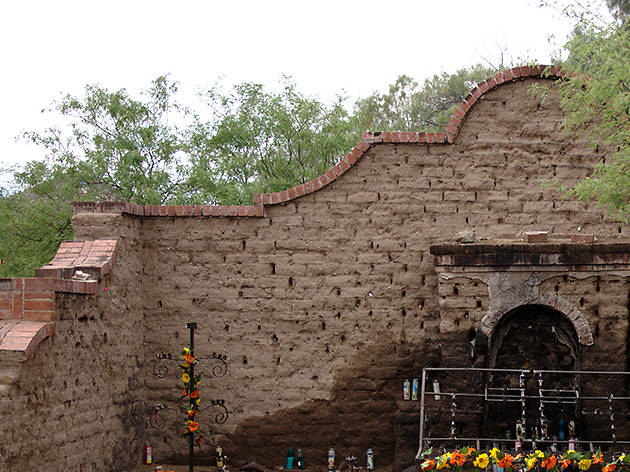 Photograph: Courtesy CC/Flickr/midwinter
What is it: Known to locals as the "Wishing Shrine," legend has it that El Tiradito (located at 400 South Main Avenue) is the grave of a young sheepherder named Juan who was murdered as a result of a love triangle back in the 1870s. Meaning "the castaway," El Tiradito is said to be the only shrine in the country that is dedicated not to a saint or religious leader but to, as the plaque reads, "a sinner buried in unconsecrated ground."
Why go: People visit to say prayers, light candles and leave a "milagro" (a small religious charm). Legend says that if your candle is still burning come morning, whatever you prayed for will come to pass.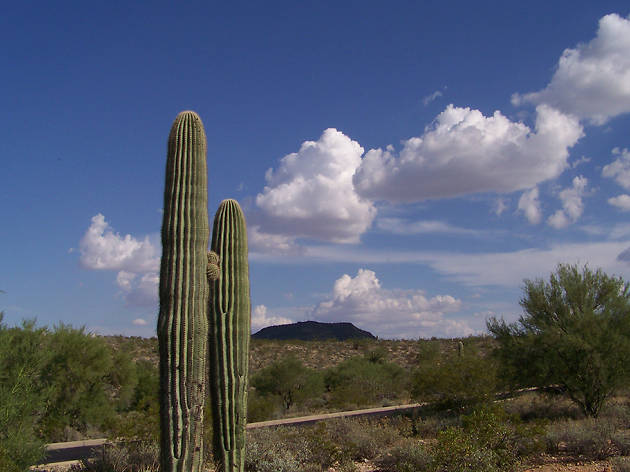 Photograph: Courtesy CC/Flickr/dimitri_66
What is it: Just a few miles outside of downtown, Tumamoc Hill is a popular hiking site with a paved trail. The top affords spectacular views of the city but walking the hill is not for the faint of heart—the sloping road gains 600 feet in just 1.5 miles, making it a popular spot for Tucsonans to get some cardio in.
Why go: In addition to being a popular hiking spot, Tumamoc Hill is an 860-acre ecological reserve, owned and operated by the University of Arizona College of Science. The hill is an active research center where scientists work to better understand the Sonoran Desert specifically and desert environments in general.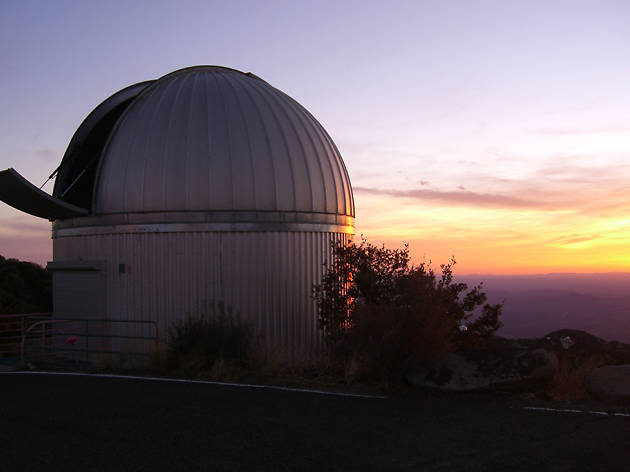 Photograph: Courtesy CC/Flickr/James Jones
15. Kitt Peak National Observatory
What is it: Located 55 miles southwest of Tucson, Kitt Peak is a United States astronomical observatory. Founded in 1958, it houses the most varied collection of astronomical instruments in the northern hemisphere.
Why go: Kitt Peak hosts nighttime programs where you can observe planets, nebulae, galaxies, stars and other cosmic matter through telescopes. The programs are popular so make a reservation in advance.
Hungry for must-try eats in town?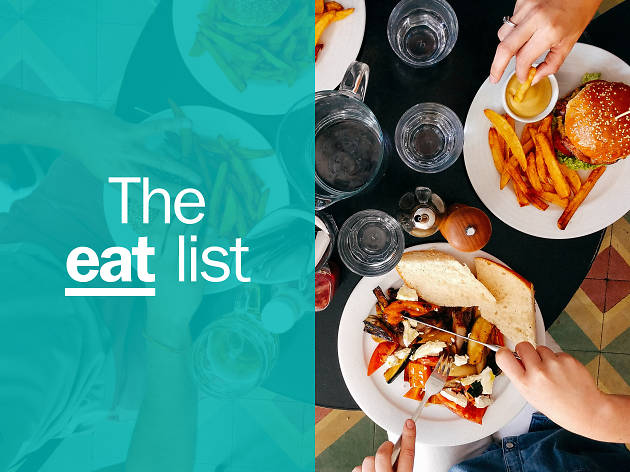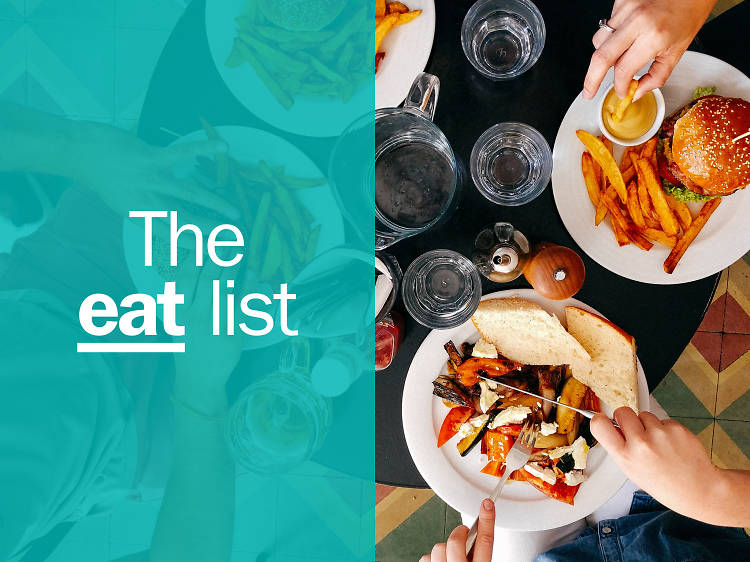 From taquerias to historic cafes to burger and pizza joints, these top restaurants in Tucson are serving up everything you're craving and more.
Best selling Time Out Offers