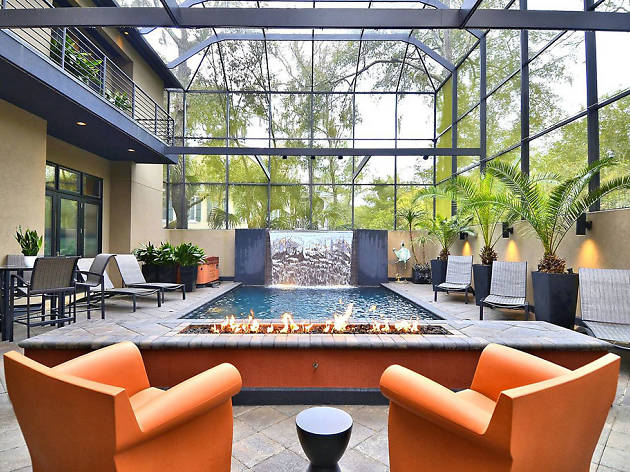 These Airbnbs with crazy amenities are calling your name around the country
Book a stay at each one of these Airbnbs with crazy amenities, including zoos and water parks. Yes, you read that right.
These days, Airbnb offers a ton of customized vacation experiences. Whether you're looking to lay down your head in a cozy wintertime getaway, an authentic cabin or one of the quirkiest Airbnbs in America, there's a place just for you and your needs. But the site's most compelling offering is the opportunity to stay in a tricked-out, luxury rental. You can live like an eccentric billionaire for a weekend. From a sprawling desert hideaway with three types of sports courts to a mountain cabin with a private zoo, here are a whole lot of Airbnb properties boasting crazy amenities to rent out all across the country.
Airbnbs with crazy amenities
Photograph: Airbnb
Luxury villa with bowling alley in Four Corners, FL
At around $1,800, a night in this Four Corners luxury home doesn't come cheap. But the sprawling property includes ten bedrooms so, if you split it among 24 guests, the price really isn't so bad. What's more, your dollars grant you access to an insane amount of amenities spread across 15,000 square feet: an indoor, two-lane bowling alley; a game room with a pool table, air hockey, foosball and a bar; a home cinema with a 150-inch screen and surround sound that seats nine; a spa room with a sunken spa, lounge, sauna and steam room; and a private gym with treadmill, rowing machine, cross-trainer and HDTV. Convinced yet? We thought so. From $1,858 per night
Photograph: Airbnb
Six bedroom resort with water park in Anaheim
This fully renovated resort home gleams with shiny-and-new touches including modern, stainless steel appliances in the chef's kitchen and flat screen TVs in every room. A wall-mounted iPad controls every aspect of the 21st-century house, from the lighting to the sound system. But the crown jewel of the property is the outdoor water park, anchored by a heated pool and jacuzzi and jazzed up with a water mushroom, water jets and indigo-glow lighting for nighttime cavorting. The home is a blast for kids as well as adults—and it doesn't hurt that it's within walking distance of Disneyland. From $256 per night
Photograph: Airbnb
Luxurious mansion with tennis court in Las Vegas
Located just five miles from the Vegas Strip, this luxurious five-bedroom home sleeps up to 16 guests and is the perfect spot for a group trip to Sin City. The sleek, uncluttered space boasts fun touches like a pool table, poker room and "high end bidets" in the four bathrooms. The outdoor space is clearly the star of the property, a one-acre lot featuring a dual-purpose basketball and tennis court; a mini-golf course; and a heated pool and bubbly jacuzzi surrounded by plenty of plush seating. From $682 per night
Photograph: Airbnb
Lake George cabin with private beach in Lake George, NY
While this Lake George cabin is decidedly less luxurious than other possible lodgings—cozy is a better way to describe it—it does offer one incredibly attractive perk: access to a private beach where guests can suntan, swim and launch small watercraft like canoes and rowboats. Back at the wood-paneled, 1950s cabin, settle into the plush leather couch and armchairs for a read or nap; do some grilling on the patio; and toast up some s'mores over the fire pit at night. From $150 per night
Photograph: Airbnb
Poconos cabin with zoo in Newfoundland, PA
This three-bedroom, two-bathroom cabin in the Pocono Mountains is a dream for nature lovers: set on a private lake that allows fishing, it's surrounded by 80 acres of countryside. Boasting two grills, a gazebo that seats 20, basketball and volleyball courts and a treehouse, the major perk of this property is undoubtedly its rambling zoo: fenced-in areas across the acreage house llamas, pheasants, deer, peacocks, emus, ducks, ostriches, goats, sheep, rabbits, swans, mules and more. Farm-fresh eggs, plucked daily from the on-site chicken coop, are free for all guests. From $251 per night
Photograph: Airbnb
Golf and country club home in Volcano, HI
For a jaunt away from the contiguous states, this luxury rental located on the island of Hawaii is a tempting choice for up to six guests. Clean, modern and full of natural light, the duplex boasts vaulted ceilings, hardwood floors and a wood-burning fireplace in the living room. The master bedroom has two balconies, as well as a private bathroom with a jacuzzi and walk-in shower. Located on a golf course, the links are clearly the major selling point for golf lovers, and all Airbnb guests receive a 40 percent discount to play 18 holes. From $120 per night
Photograph: Airbnb
Private guest suite with sauna in Colorado Springs
This cozy, colorfully decorated two-bedroom suite on Colorado's Front Range is a modest spot, with a bare-bones kitchen (expect a microwave and a mini-fridge) and a treadmill for working out. But guests will also have access to the apartment's truly special offering: a private infrared sauna that soothes muscles after a long day of hiking nearby trails in Arapaho and Gunnison National Forests. Otherwise, guests can explore the quaint town of Manitou Springs, home to creekside restaurants, quirky art galleries and fun boutique shops. From $89 per night
Photograph: Airbnb
This two-level, five-bedroom home sleeps up to 16 guests, all of whom can delight in "The Big Top's" fun amenities: "The Midway," a rec room featuring a foosball table, a player piano, a card table and a Nintendo Wii; a grand kitchen with new appliances; and a huge wooden deck boasting a top-of-the-line gas BBQ and fabulous views of the Cascade Mountains. Centrally located, the house is walking distance from downtown Seattle's extensive offerings of restaurants, markets and parks. From $216 per night
Photograph: Airbnb
Music Row recording studio in Nashville
Musicians, take note: you can combine work with play at this one-bedroom Music Row apartment. Head to Nashville to get inspired by the vibrant music scene, then hole up in this rental that's equipped with a small recording studio boasting professional keyboard, mixer, microphone pre-amp and more. Located in the heart of Nashville's music-making district, packed with label offices, radio stations and recording studios, the apartment is walking distance from iconic live music venues including the Station Inn, Mercy Lounge and Bobby's Idle Hour Tavern. From $85 per night
Photograph: Airbnb
Paradise in the Desert in Paradise Valley, AZ
This stunning Paradise Valley property boasts an impressive list of amenities: a catfish-stocked lake with its own waterfall and stream; a saltwater pool; a koi pond; bocce, basketball and volleyball courts; a pool table; a workout room; and a 60-inch flat screen television. With five bedrooms and five bathrooms, the sprawling 1960s ranch home can accommodate up to 10 guests. Gather your friends and family together to take advantage of the poolside BBQ, relaxing gazebo area and much more, and pony up an additional $50 per day, if you like, to heat the luxurious saltwater pool. From $776 per night
Show more