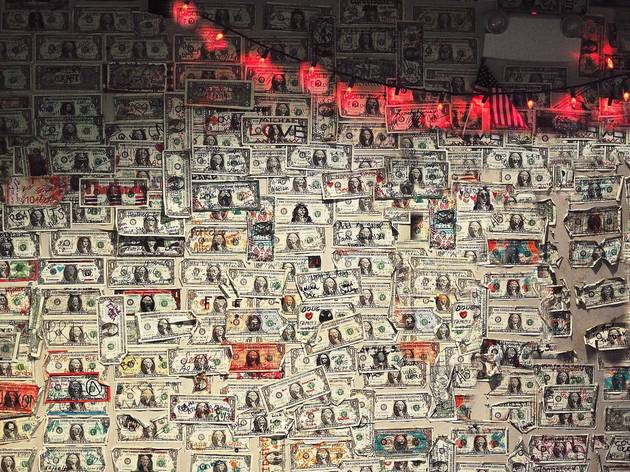 A Georgia bar owner pulls $3,714 from walls to support her staff
This coastal bar used its unusual decor to put money in the pockets of out-of-work employees.
Posted: Tuesday April 14 2020, 9:32am
Before it was forced to temporarily shutter last month due to the state's stay-at-home order, the Sand Bar in coastal Tybee Island, Georgia, was the kind of easy-breezy watering hole that served Jello shots and Cincinnati-style cheese coneys in a space that was wallpapered in signed dollar bills.
For years, patrons would make their mark on the bar by scribbling across George Washington's face and stapling the bills to the bar's walls and ceiling. After sending her bartenders home and closing up shop, it didn't take long for owner Jennifer Knox to realize that she could use the venue's signature decor to help support her staff.
"We looked around and we were like, 'We have money on the walls, we have time on our hands,' and we just felt this sense of urgency to get these dollars down and into the hands of people who need it," Knox told Savannah's Fox 28.
With five volunteers working for three days, Knox was able to remove $3,714 from the walls and ceiling of the Sand Bar. She used the money and some additional community donations to financially support a handful of the establishment's regular bartenders and musicians.
"It was an easy decision—we didn't think twice," Knox said in the news segment.
Most popular on Time Out
- Take a guided meditation class with actual sheep right now
- You can now name the first baby sloth born at the Virginia Zoo
- Here is what people have been asking Google this week
- Learn how to draw with Faber-Castell, maker of the world's best artist pencils
- Chrissy Teigen dropped her recipe for chocolate orange rice pudding and it's the comfort food we all deserve
Share the story