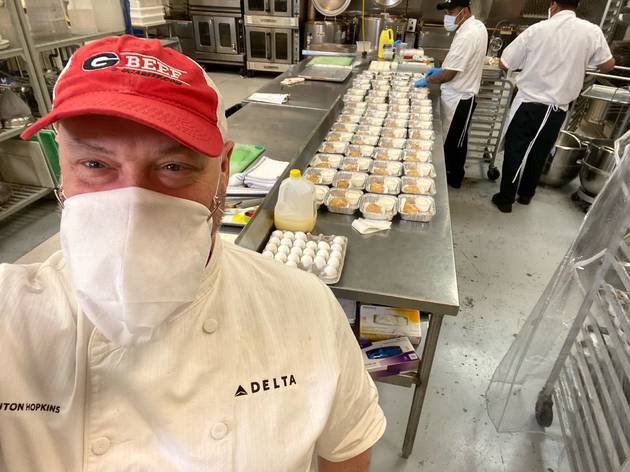 Clap it up for Delta: the airline is giving away 200,000 pounds of food to those in need
Go, Delta, go!
Posted: Wednesday April 8 2020, 11:10am
Acts of kindness have taken center stage as the world deals with the coronavirus.
Airlines, clearly greatly affected by travel restrictions, are forced to cut service and readjust their in-flight offerings. Overall, companies are getting creative, finding ways to give back and make use of the tools at their disposal.
After implementing no-fee rebookings through 2022, Delta revealed that, given a recent move to only serve essential foods and beverages on board and in Delta Sky Clubs, they are left with over 200,000 pounds of perishable and non-perishable goods. Just this week, the company announced that it will donate the surplus food to "hospitals, community food banks and other organizations around the world to support people in need as well as those working tirelessly on the front lines of the COVID-19 pandemic." Talk about paying it forward.
In their official announcement, the company listed some of the communities that they're hoping to help. From Philadelphia's SodexoMAGIC (which helped donate over 500 pounds of food to a local Feeding America food bank) to award-winning Atlanta chef Linton Hopkins (whose team is delivering over 5,000 meals per week to first responders at Emory University Hospital and beyond), Delta is partnering with a variety of organizations all around the country to make a difference.
Let's clap it up for Delta and vow to find our own ways to help those in need during these uncertain times.
Most popular on Time Out
- HBO is offering 500 free hours of TV and movies to kill your quarantine boredom
- This nifty NASA tool shows you the photo of space it took on your birthday
- U.S. airlines are now required to refund your cancelled ticket and not just offer a travel voucher
- Delta announces no-fee rebookings through 2022
- Films that were supposed to screen at SXSW will be on Amazon Prime for free
Share the story