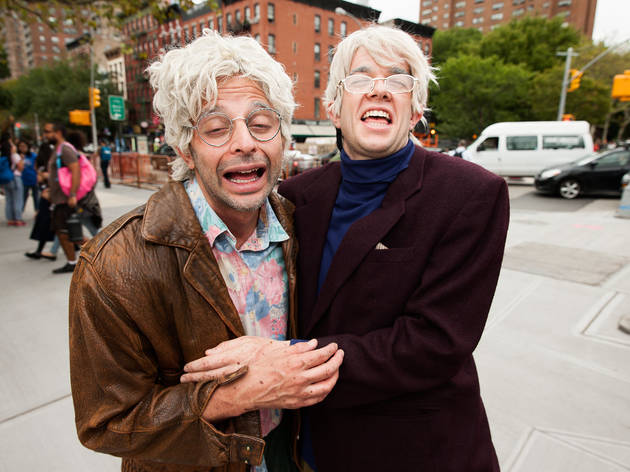 John Mulaney and Nick Kroll's Oh, Hello podcast says (oh) hello to the world tomorrow
The first episode of Oh, Hello: the P'dcast premieres Friday, April 3.
Posted: Thursday April 2 2020, 4:27pm
In 2016, we had the pleasure—nay, honor—of having Gil Faizon (played by Nick Kroll) and George St. Geegland (John Mulaney) grace the cover of Time Out New York. (That's a shot from our walk around the Lower East Side with the guys above, just before they complained a lot, then listed their favorite places in NYC.) Back then, the New York curmudgeons were about to bring Oh, Hello to Broadway. Today, we learned that the pair have decided to step up—well, not up, exactly but step…somewhere?—to the world of podcasts. As New Yorkers, they're practicing social distancing and decided to cook up this pod. Here's a preview of the show, which is one of the funniest things we read all day:
"She was the People's Princess, and they were two men who hung out at Duane Reade. But now worlds have collided. From the stars of Oh, Hello on Broadway and the video taped version of Oh, Hello on Broadway comes a podcast on the life and death of Princess Diana.
"It's also a podcast on the life and loves of George St. Geegland (Oh, Hello on Broadway, TED Talk Submission) and Charmed I'm Sure Gil Faizon (Oh, Hello on Broadway, Nestle commercial web-only, can do French accent)."
You can subscribe to Oh, Hello: the P'dcast here and check out a teaser of the show below. Looking for more pods to help fill your days? We've rounded up the best podcasts to listen to right now.
Share the story