The 2020 edition of Candlewood Arts Festival in Borrego Springs, California kicks off for the month of March, featuring its annual weekend offerings of guided bus tours, artist talks, performances and workshops. But the festival's main focus is, as always, its artist commissions, which this year includes outdoor art projects by three Los Angeles artists: Anna Sew Hoy, Nery Gabriel Lemus and Fay Ray. Each installation creates a dramatic contrast with the stark landscape of the Borrego Valley, which is at the western-most end of the Sonoran Desert.
Lemus is a Latino artist who deals with issues of race and family and whose public artworks have included murals and sculptures. Ray's work likewise deals with identity, which often take shape as assemblages resembling ritualistic or talismanic objects that sometimes incorporate natural elements like conch shells and onyx. Hoy is a New Zealand native whose abstract sculptures are often made of fabric or clay—materials usually associated with crafts.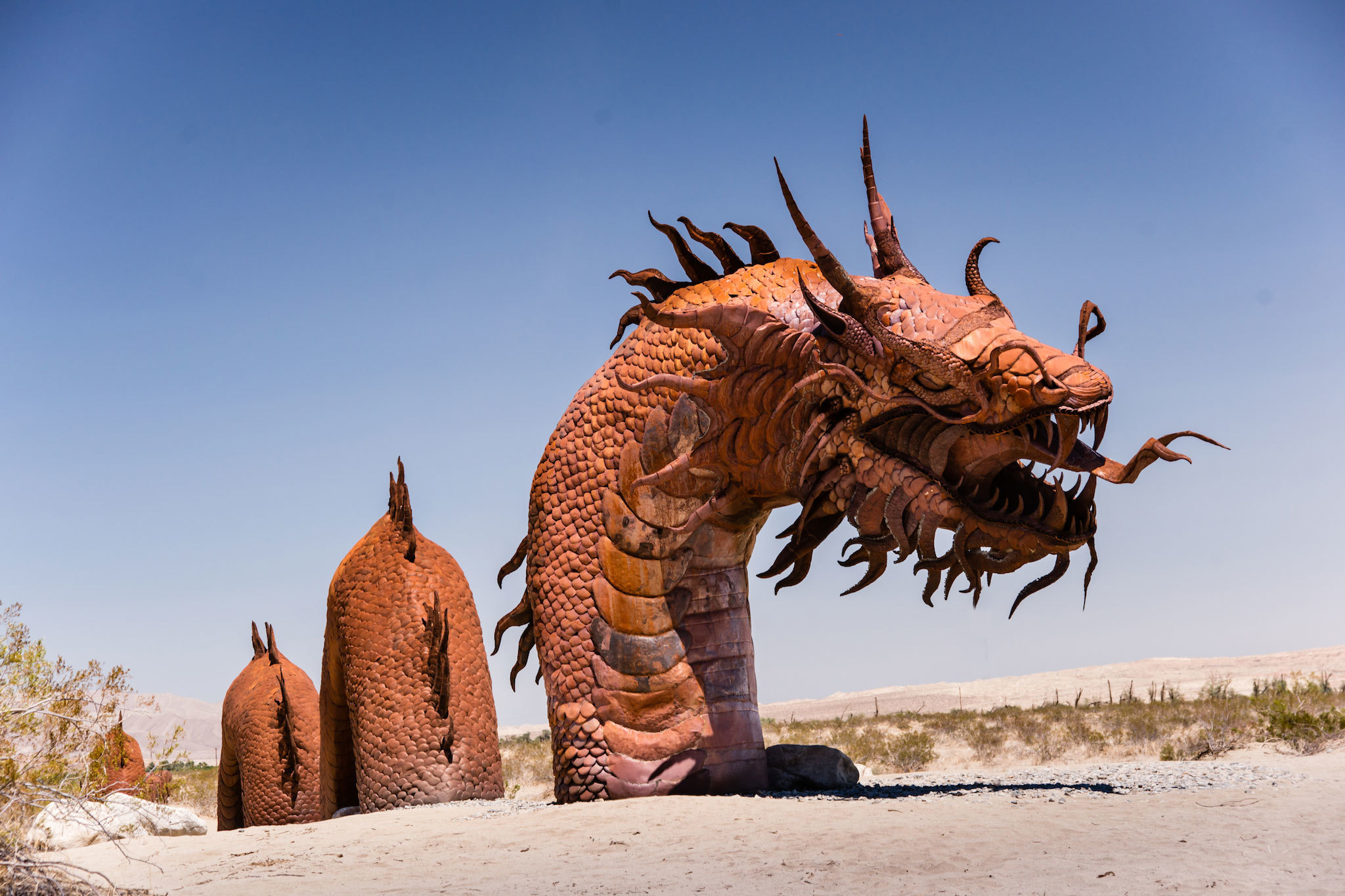 In addition to the general setting, these works are also juxtaposed with another, odder part of the scenery: The more than 130 permanently installed, sheet-metal sculptures by artist Ricard Breceda that cover 10 square miles of a part of Borrego Springs called Galleta Meadows. Breceda sometimes depicts figures (a prospector, a guy going off road in a Jeep), but for the most part, his specialty is rendering animals, some life size, some monumental, that range from ordinary horses to a fantastical 350-foot-long dragon that gives the illusion of snaking in and out of the desert floor. Hoy in particular has engaged her work with Breceda's by covering three of his pieces in hundreds of yards of bright fuchsia satin.
Borrego Springs is located about 90 miles from San Diego, so if you're traveling to or from there, make sure to consult our lists of the best restaurants, bars, beaches and things to do.