Restaurant owners across the country are facing the challenge of a lifetime as they plan to reopen their doors to dine-in guests. Top of mind for most is how to keep diners and staff safe while maintaining social-distancing practices. That translates to reconfiguring tables, being transparent about cleanliness and—in many cases—enlisting a reservation platform to control crowds and limit capacity.
In other words, if you're planning to dine out again in the near future, you're probably going to need a reservation to get in.
"Reservations are going to be more important than ever with limited capacity and spacing requirements," says Nick Kokonas, the founder and CEO of Tock, Inc., a global reservation system that's recently expanded to offer takeout and delivery services. "People are going to want to know their reservation means they are not getting crammed alongside a bunch of other tables. And it's not just restaurants—this will be true for most in-person businesses for the foreseeable future."
Most cities in the U.S. are allowing restaurants to slowly reopen, limiting capacity at first to 25 to 50 percent. With fewer available seats, restaurant owners will have to find new ways to minimize crowds and steady the flow of customers. In California, Gov. Gavin Newsom and the state's Department of Public Health released new guidelines for full-service restaurants to follow upon reopening, including encouraging "reservations to allow for time to disinfect restaurant areas and provide guidance via digital platforms if possible to customers for physical distancing while at the restaurant."
That last bit about digital platforms providing additional guidance to guests before they dine is particularly interesting to Allison Cooke, principal at CORE architecture + design in Washington, D.C. Over the past few months, Cooke and her colleagues have been working with restaurants across the country to creatively reconfigure their spaces to meet new safety requirements.
CORE is encouraging restaurants to leverage tech to limit guest interaction, including taking reservations, placing food orders in advance and paying up front—all of which can be executed through third-party apps. Cooke even suggested that booking platforms could allow guests to build out customizable profiles that detail exactly how they'd like to be interacted with—from server encounters to cutlery presentation.
Having a crystal-clear outlook of service needs could also help restaurant owners keep excess costs and operating expenses down, which will be more important than ever before.
"It has become clear that not just reservations, but technology more broadly, can play a really important role in helping restaurants manage their business operations, deliver safer hospitality, add new revenue streams, and make themselves visible to diners," says Ben Leventhal, the co-founder and CEO of hospitality technology platform Resy.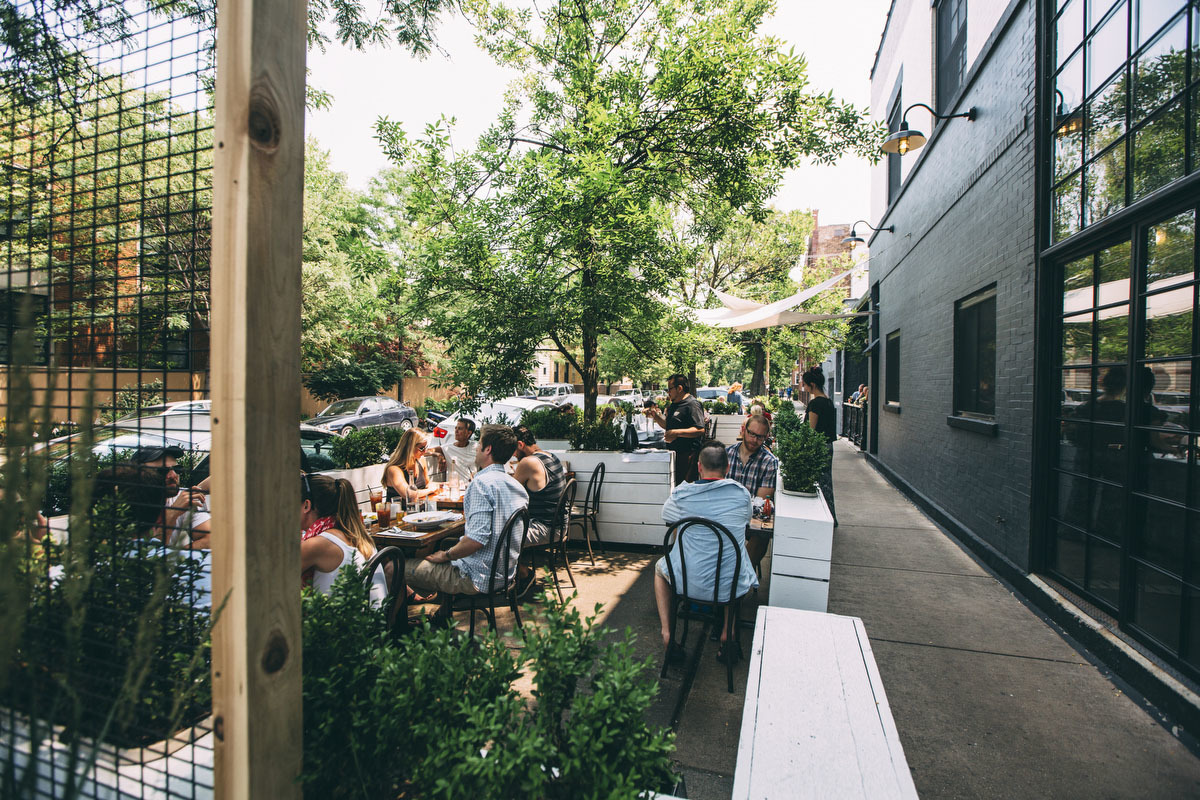 Leventhal tells Time Out that he's seen an uptick in restaurants that didn't previously accept reservations approaching Resy as they plan to reopen—"both as a means to operate more safely and at limited capacity and for more visibility," he notes, adding that Resy will waive 100 percent of its fees for restaurants through the end of the year.
At Chicago's Longman & Eagle, an award-winning restaurant that didn't previously accept reservations, partner Pete Toalson says management is considering all avenues but hasn't yet decided whether or not to institute a booking platform for the first time.
"In terms of reopening to the public, we have been discussing and modeling out a number of scenarios, reservations included, but here in Chicago, we're still waiting on local or state guidance on the ordinances, policies or requirements needed to reopen, so have not been able to finalize anything specific at this point," Toalson says.

In Austin, where restaurants have already started emerging from lockdown, spots like Juliet Italian Kitchen are counting on advance bookings to operate safely. General manager and event coordinator Emily O'Connor says that before the shutdown, Juliet only accepted reservations for its indoor section, with the bar and patio open to walk-in guests. Now, every seat in the house requires a reservation.
"We made this decision because we feel it's the safest way to go about operations for our guests and our staff," O'Connor says. "Reservations also help us regulate the amount of people we have at the restaurant at one time and allow us to ensure we are maintaining social distance."
Thousands of miles away in Copenhagen, three-Michelin-star dining destination Noma will reopen as an outdoor burger and wine bar that no longer accepts reservations, a temporary switch before the staff can get back up to speed. "Come as you are, there are no reservations, we are open for everyone," the announcement reads.
Over the coming weeks and months, restaurants and bars around the globe will have a laundry list of tough decisions to make when it comes to reopening responsibly—and reservations are just one item on the docket. Still, what was once considered a pesky formality of dining out could soon become more commonplace than ever before as restaurant owners are charged with upholding social distancing guidelines in their establishments. If there's one certainty in the post-lockdown dining landscape, it's that things will look and feel different as restaurants settle into their new normal.
Most popular on Time Out
- Brace yourselves for the return of the drive-in movie theater
- US-based airlines will resume operating international flights as early as next month
- You can send a free pint of ice cream to anyone you want to right now
- Online party games to play remotely with friends
- You can play Cards Against Humanity online for free