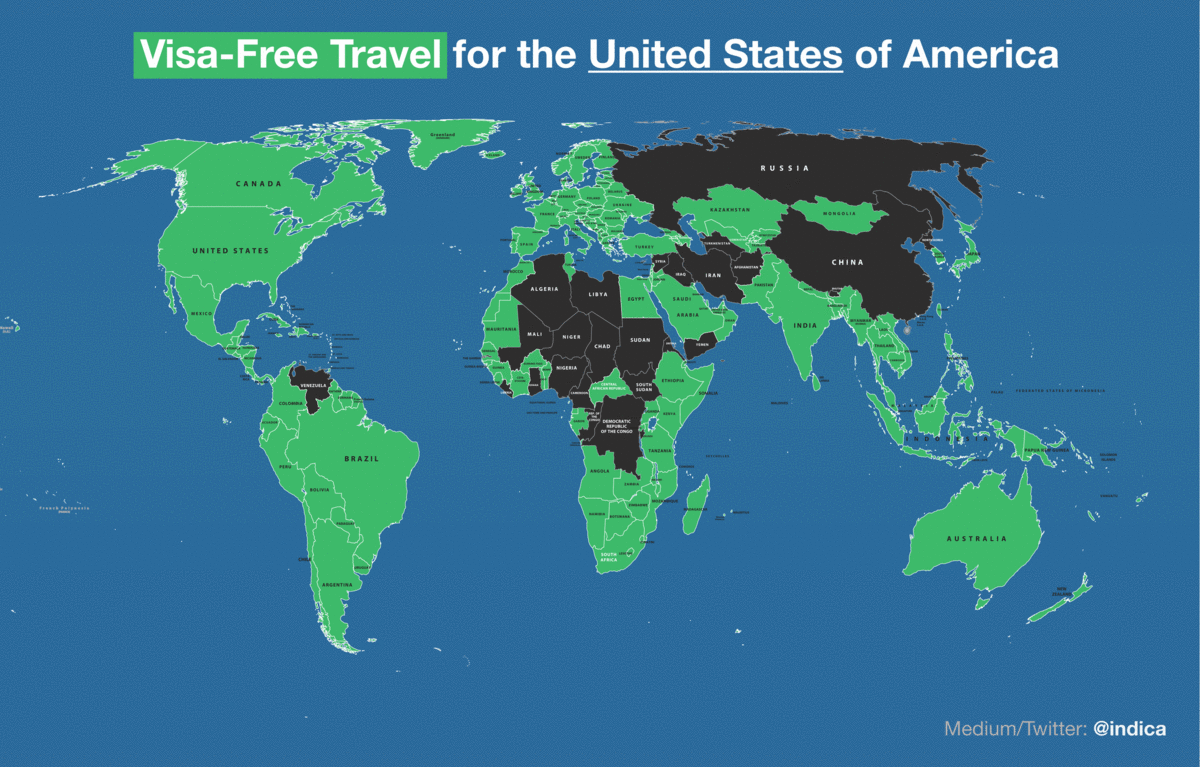 It is one thing to browse through a list of destinations currently open to American travelers—albeit following restrictions, of course. But it is another (more visually striking) thing to glance at that same information on a map that illustrates in stark colors what visa-free travel for U.S. passport holders looked like pre- and post-COVID-19 pandemic.
That map is exactly what Twitter user @indica has created based on a New York Times article dissecting where, exactly, a U.S. passport will grant one access to. "Americans have gone from having access to most of the world to being banned from most of it," writes the user in an accompanying post about his map on Medium.
Right above, notice the two iterations of his work. In both cases, countries colored green are ones permitting Americans access. The difference between the maps—which @indica dubbed, respectively, "visa-free travel for the Plague States of America" and "visa-free travel for the United States of America—" is pretty substantial and borderline... depressing?
Of course, things are changing. Just yesterday, Croatia announced that it will break with its fellow European nations and re-open for tourism from all around the world (including the Untied States!) this month. Needless to say, we advise all travelers to be extra-careful and take the necessary precautions before embarking on a (much-needed) vacation overseas.
Most popular on Time Out
- Barbados wants you to move there and work remotely for a year
- This real-time map from Harvard tracks county-by-county COVID-19 updates
- These US states require you to quarantine or present a negative test when visiting
- Best US road trips for epic drives
- Here is a list of destinations that will be open to US travelers this summer