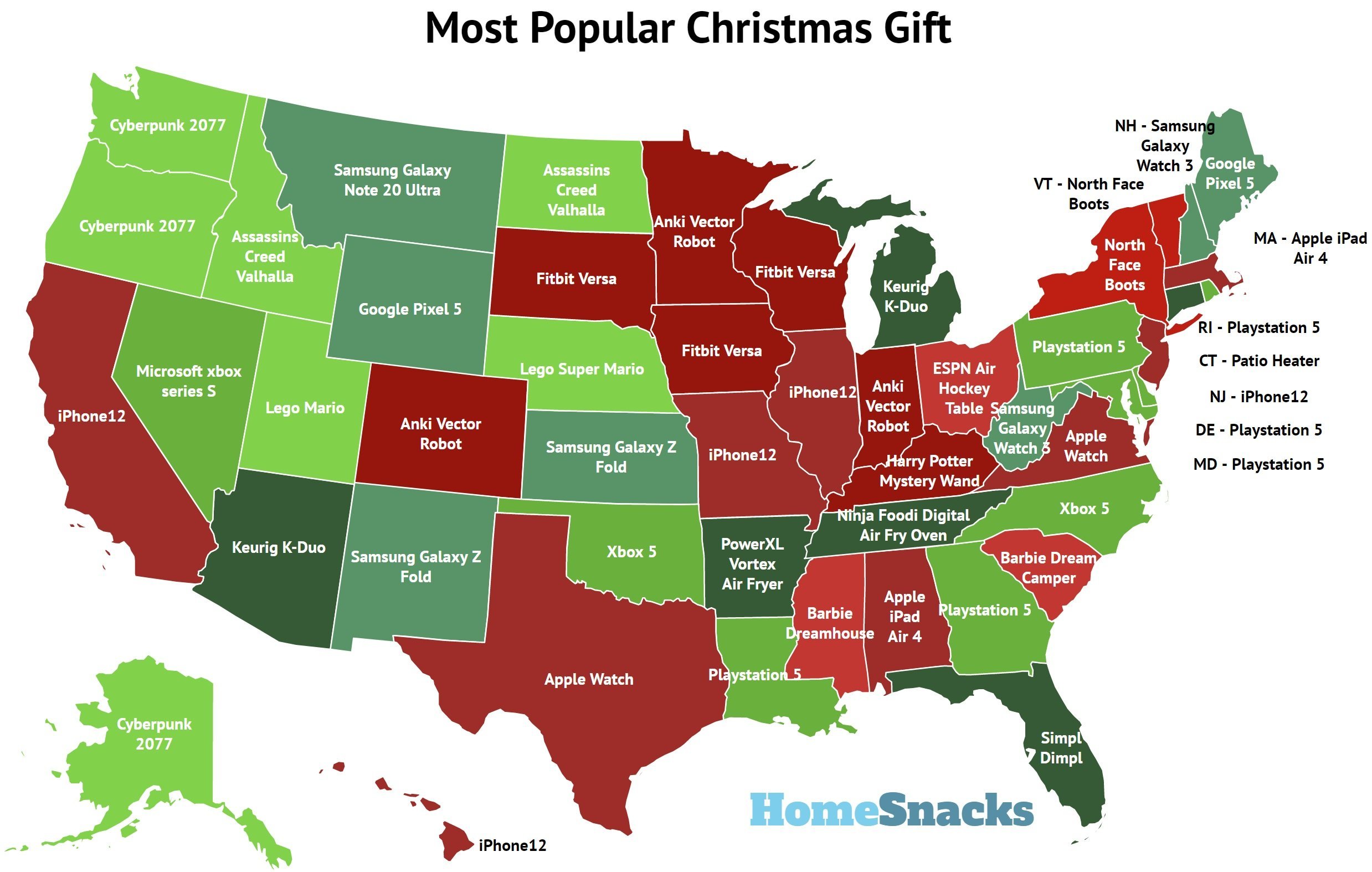 If you're still looking for Christmas gift inspiration, you've come to the right place. Research company HomeSnacks analyzed Google Shopping and Google Trends data to populate a map that highlights the most sought-after holiday gift in each state.
RECOMMENDED: This company will pay you $1,000 to binge-watch 8 road-trip movies
Although certain selections are unsurprising—everybody loves tablets and smartphones, of course—other ideas are pretty out there. People in Connecticut, for example, really want patio heaters while folks in Arkansas and Tennessee are looking for air fryers. Perhaps most interestingly, New Yorkers and Vermonters are opting for clothes, specifically asking for North Face boots. It's about to get frigidly cold out, after all.
Overall, inland states tend to be more traditional than coastal ones, asking for toys over tech. If buying a present for someone in Mississippi or South Carolina, opt for a Barbie. If your loved ones happen to be in Kentucky, on the other hand, you might want to indulge their love for all things Harry Potter and buy some mystery wands. Yes, that's really what they're asking for.
Above, we reproduce the company's map and, below, find a state-by-state breakdown. Feeling inspired yet?
Alabama: Apple Ipad Air 4
Alaska: Cyberpunk 2077
Arizona: Keurig K-Duo
Arkansas: Powerxl Vortex Air Fryer
California: Iphone12
Colorado: Anki Vector Robot
Connecticut: Patio Heater
Delaware: Playstation 5
Florida: Simpl Dimpl
Georgia: Playstation 5
Hawaii: Iphone12
Idaho: Assassins Creed Valhalla
Illinois: Iphone12
Indiana: Anki Vector Robot
Iowa: Fitbit Versa
Kansas: Samsung Galaxy Z Fold
Kentucky: Harry Potter Mystery Wand
Louisiana: Playstation 5
Maine: Google Pixel 5
Maryland: Playstation 5
Massachusetts: Apple Ipad Air 4
Michigan: Keurig K-Duo
Minnesota: Anki Vector Robot
Mississippi: Barbie Dreamhouse
Missouri: Iphone12
Montana: Samsung Galaxy Note 20 Ultra
Nebraska: Lego Super Mario
Nevada: Microsoft Xbox Series S
New Hampshire: Samsung Galaxy Watch 3
New Jersey: Iphone12
New Mexico: Samsung Galaxy Z Fold
New York: North Face Boots
North Carolina: Xbox 5
North Dakota: Assassins Creed Valhalla
Ohio: ESPN Air Hockey Table
Oklahoma: Xbox 5
Oregon: Cyberpunk 2077
Pennsylvania: Playstation 5
Rhode Island: Playstation 5
South Carolina: Barbie Dream Camper
South Dakota: Fitbit Versa
Tennessee: Ninja Foodi Digital Air Fry Oven
Texas: Apple Watch
Utah: Lego Mario
Vermont: North Face Boots
Virginia: Apple Watch
Washington: Cyberpunk 2077
West Virginia: Samsung Galaxy Watch 3
Wisconsin: Fitbit Versa
Wyoming: Google Pixel 5
Most popular on Time Out
- This map highlights the most popular Christmas treat in each state
- Both Delta and United announced they will permanently get rid of international change fees
- Travel restrictions between the United States, Canada and Mexico have just been extended through January 21, 2021
- These states currently offer COVID-19 testing at the airport
- This map highlights the most popular Christmas recipe in each state