Heads up! We're working hard to be accurate – but these are unusual times, so please always check before heading out.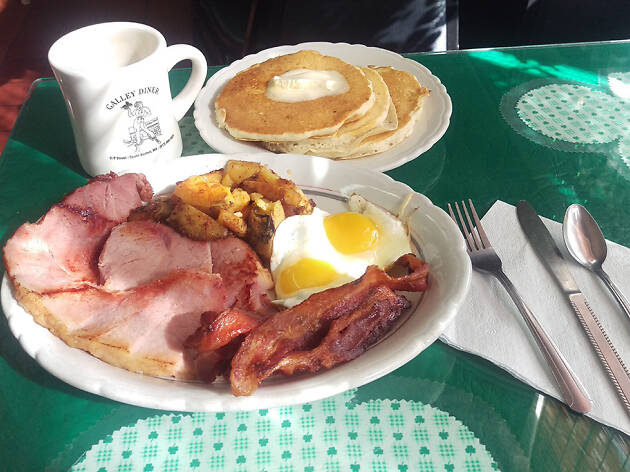 The 20 best diners in America
Dig into luncheonette classics like fries, burgers and milkshakes in comforting settings at the best diners in America
As American as American eating gets, our country's great diners fulfill a very urgent need, providing craveable comfort food at an affordable price and, often, at all hours of the night and day. Choice is the name of the game at our favorite diners: they offer a wide range of fryer and grill-top classics such as the best French fries in America, the best burgers in America and the best pies in America. From a classic New England railcar diner to a steadfast Brooklyn luncheonette, these are the best diners in America.
Best diners in America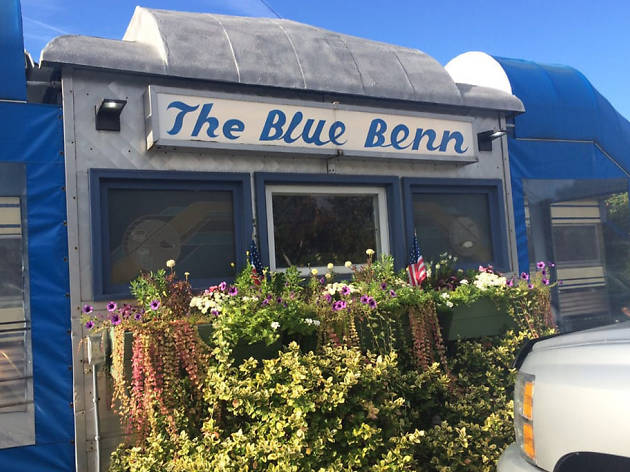 Photograph: Courtesy Yelp/Leslie E.
11. Blue Benn Diner in Bennington, VT
As previously noted, some of the country's best diners are found in college towns, and Bennington's Blue Benn is a noteworthy example. The adorable blue-and-white railcar-style diner was assembled in New Jersey and shipped to town in 1948, and its hot open-faced sandwiches, fryer treats and homey desserts have been favorites ever since. Its roast beef sandwich with mashed potatoes and gravy is a must-order, as is a comforting dessert of pumpkin bread pudding.
Photograph: Courtesy Yelp/Leslie E.
Depending on how you look at it, Daley's restaurant has been around since 1892 or 1937 (the first, the original opening date; the second, the current incarnation). Either way, it's one of the oldest restaurants in the city. But there's no time for this homey diner to dwell on the past—the space bustles with a mix of Woodlawn locals and U. of C. students, especially in the mornings, when they gather for the ethereal Belgian waffles (offered with a side of juicy chicken wings), hearty Denver omelettes and warm, buttery biscuits.
A Southie favorite for over 20 years, this bare-bones diner might not look like much, but its plates are craveable, solid examples of classic diner cooking. Of the served-all-day breakfast, the corned beef hash is the obvious star—crispy on the outside and creamy on the inside, it's served up on a monster platter alongside two eggs, home fries and toast for just $8.95. Also look for anything made with linguica, the Portuguese sausage popularized by Massachusetts' large expat population—we're partial to the fluffy linguica omelette with cheese.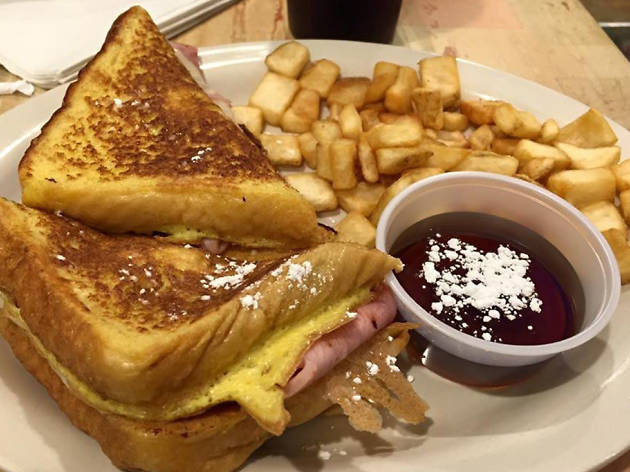 Photograph: Courtesy Yelp/TR B.
14. The Echo in Cincinnati, OH
Open since 1945, this Cincinnati staple has been a favorite of factory workers and brunchers alike for more than six decades. Specializing in stick-to-your-ribs classics like corned beef hash, hot griddled sandwiches and Cincinnati chili, the Echo also boasts a roster of impressive homemade pies such as cherry, pumpkin and chocolate cream. We love the breakfast menu's dedicated "Hangover Helper" section, where our favorite dish is the alcohol-soaking Hot Mess: a massive pile of salty home fries layered with scrambled eggs, bacon and sausage, and smothered with sausage gravy and melted cheese.
Photograph: Courtesy Yelp/TR B.
This welcoming Belltown spot hits all the right notes of a cozy setting, with excellent service and craveable diner fare. Its all-day breakfast features a meaty roast beef hash, a creamy plate of biscuits and gravy and plate-sized Swedish-style pancakes; at lunch, look for an indulgent bacon mac and cheese and a killer meatloaf sandwich piled with mozzarella and onions and served on griddled sourdough.
You'd think Union Square was Las Vegas with all the late-night spots over there—and since there are two Lori's Diner locations, obviously things are busy. The style of these diners is inspired by the 1950s, with a classic look that will have you humming along to Chubby Checker while seated in your shiny cherry red booth and surrounded by memorabilia, like an Edsel (no joke). Expect the usual lineup of breakfast plates (the corned beef hash is excellent), burgers and thick milkshakes. After last call, there's quite the crowd of buzzed diners, from locals to partying tourists.
This iconic West Village diner—trussed with the traditional trappings of vinyl-padded booths and counter seating—offers American standards 24 hours a day. The menu is long and varied, filled with the requisite Belgian waffles, triple-decker sandwiches and deluxe burger platters. And if there's any doubt of its greasy-spoon leanings, your omelette order arrives still in the frying pan.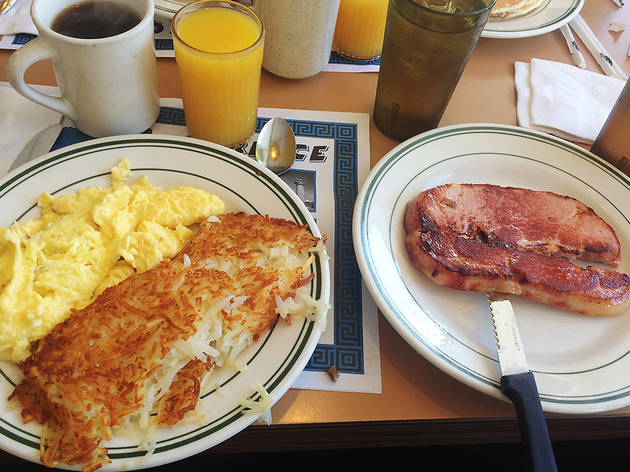 Photograph: Courtesy CC/Flickr/Pellejo
The sign outside declares that Jimmy's is "Your Friendly Neighborhood Eatery," and it's one of the few places left in the city where you can spend $5 on breakfast and have some silver left over. It's not in the most fashionable area and you'll need a car to get there, but this greasy spoon knows how to pack in the patrons.
A Denver mini-chain that's beloved for its Western-style takes on classic diner fare, served up in a warm, family-friendly atmosphere. In the Mile High City, Mexican-influenced plates are where it's at, and Sam's offers no shortage of them: try the face-sized Kitchen Sink burrito stuffed with eggs, bacon, ham, sausage, cheddar and smothered in green pork chili; the excellent huevos rancheros, and the delicious chorizo tacos filled with chorizo-egg scramble and piled with crispy home fries.
This spacious diner is a Houston favorite, setting itself apart with a voluminous menu of perfectly executed diner classics ranging from savory (patty melts, steak and eggs) to sweet (Belgian waffles, French toast). Texas-style dishes are the way to go here: think fried catfish and grits, fluffy Ranchero omelettes and chicken-fried steak smothered in cream gravy.