Where to eat the best brunch in Vancouver
These local spots serving the best brunch in Vancouver might just prove that the city is a "brunchy" place after all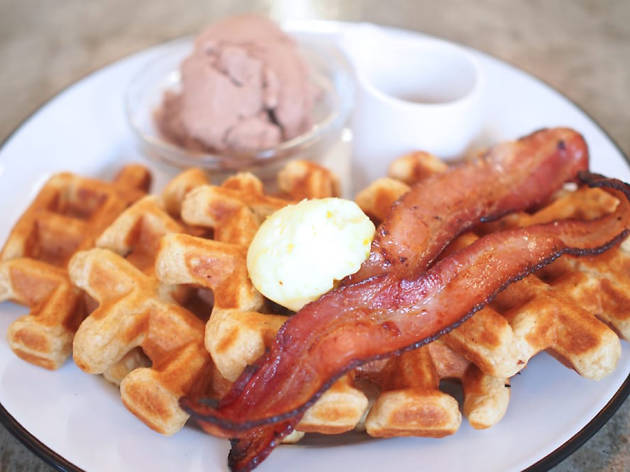 Vancouver isn't the brunch-iest of cities. Many Vancouverites instead prefer to grab a kale smoothie and whole-grain, probiotic, vegan, organic protein bar at a casual restaurant or cafe before climbing the Grouse Grind, biking the Seawall, getting out on the water or tackling the many sights, attractions and things to do in Vancouver. Maybe they'll stop in for a coffee afterwards, perhaps sneaking a pastry as a reward for all those calories burned?
A few spots will have Vancouverites lining up for brunch, at least when friends are in town and a late-breakfast craving kicks in on the weekends, and our list of spots to eat the best brunch in Vancouver attempts to put them all in one place.
Best brunch in Vancouver
1
Photograph: Courtesy Yelp/Lynn S.
What is it: This is known as one of Vancouver's very best brunch spots (the line-ups prove it) and it features Belgian waffles and Mediterranean-inspired dishes for breakfast, lunch and brunch. Everything is "crafted with love" and made with local ingredients.
Why go: You'll eat food that feeds the soul here. We suggest you order the Harissa burger, made with harissa-spiced beef on grilled pita with fried eggs, hummus, baba ganoush and preserved lemon.
Price: Pricey
2
Photograph: Courtesy Yelp/selina L.
What is it: Comfort food for breakfast, brunch, lunch and dinner is served amongst vintage toys, collectables and eclectic art.
Why go: This is a brunch institution in the Kitsilano neighbourhood of Vancouver that happens to be a favourite among kids as well.
Price: Average
3
Photograph: Courtesy Yelp/Stephanie T.
What is it: A popular spot, often with a line outside to show for it, for all-day breakfast in the slowly-turning-hip Hastings-Sunrise neighbourhood. Lunch and dinner are served all day as well.
Why go: For diner basics and classics done very well. One thing you're sure to love: pulled pork pancakes complete with Jack Daniel's maple syrup.
Price: Average
4
Photograph: Courtesy Yelp/Jacqueline C.
What is it: Downtown all-day breakfast and lunch spot also serving BELTCH sandwiches. That would be bacon, egg, lettuce, tomato, cheese and ham.
Why go: You've always wanted to try green eggs and ham, haven't you? Same goes for red velvet pancakes.
Price: Average
5
Photograph: Courtesy Yelp/NienTzu C.
What is it: Honey Salt serves brunch on weekends. Dine on local seasonal ingredients in a casually-sophisticated restaurant near the downtown side of the Cambie Bridge. Restaurateur Elizabeth Blau's son, Cole, was instrumental in creating the kids' menu.
Why go: Feel Vangroovy (Vancouver-groovy, get that?) at the juice bar or taste food inspired by the entire world, including poke and Quebeçoise tourtiere.
Price: Pricey
6
Photograph: Courtesy Yelp/Tuc Craft Kitchen
What is it: A very popular farm-to-table restaurant that serves brunch on Fridays and Sundays.
Why go: Sometimes you need a proper weekend brunch on a Friday, especially when there is a dish called waffles and whateva on the menu (blueberry waffles with rum caramel and chocolate chips). Also opt for the chicken and waffles dish, shrimp and grits, plus mimosas and three kinds of Bloody Caesar (the Canadian version of the Bloody Mary, made with clamato juice).
Price: Average
7
Photograph: Courtesy Yelp/Sherine K.
What is it: A breakfast and lunch spot near Kits Beach, open every day save Christmas.
Why go: All kinds of eggs Benedict with fab hollandaise are served here, plus omelettes and sweet dishes. What else could you ever want from brunch?
Price: Average
8
Photograph: Courtesy Yelp/Lucia L.
What is it: Decadently simple fine dining in Gastown, featuring local ingredients. This spot is great for dinner… but surprisingly awesome for brunch as well.
Why go: Doughnuts with caramel sauce. Start off with one of those and follow that up with the exceptional brunch fare (poutine, hash, Benedicts and more). Or just order more doughnuts.
Price: Pricey
9
Photograph: Courtesy Yelp/Stephanie K.
What is it: Located inside boutique hotel The Douglas, this seafood restaurant serves a very fine Sunday brunch.
Why go: A DJ spins tunes over a brunch that includes a special bar for build-your-own Caesars and Marys. Brunch features a wagyu breakfast burger, eggs Benedict, dim sum and a sushi bar. Save room to order just about everything on the brunch dessert menu.
Price: Pricey
10
Photograph: Courtesy Yelp/Cibo Trattoria
What is it: This downtown eatery is warm and welcoming even on the coldest of days… and serves an awesome brunch.
Why go: If Italians had brunch, they'd indulge in the kind of food offered at Cibo Trattoria—think pizzetta, frittata, burrata with pesto, pancetta Benedict and focaccia French toast with mascarpone.
Price: Pricey
11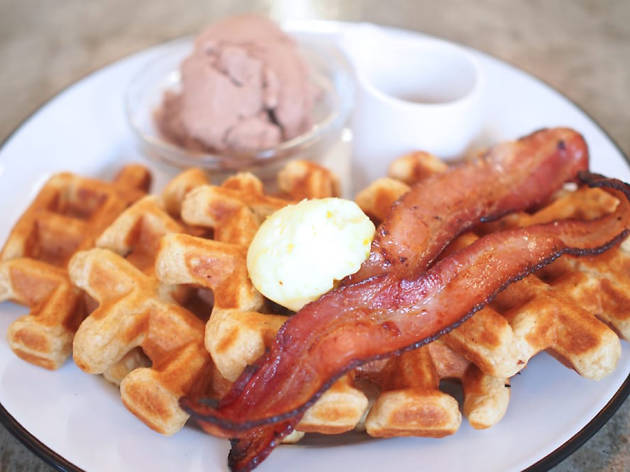 Photograph: Courtesy Yelp/Rick C.
What is it: Not just a brewery, this local destination also serves pretty solid brunch fare.
Why go: Imagine devouring waffles in the same space you've enjoyed a beer tasting? It doesn't get better than that. Also order the simply toast with jam and the avocado toast, made with sourdough from Nelson the Seagull.
Price: Average
12
What is it: A 16-seat café almost under the Granville Street Bridge with some of the best croissants this side of Montreal. Can't get a seat? There are plenty of parks nearby.
Why go: To indulge in light brunch of 49th Parallel coffee with some pastries. Have a croissant, of course (try the rhubarb version during the spring). If you're lucky enough to see the passionfruit tart, buy it all. Someone already ate it? The lemon tart is a very fine substitute.
Price: Bargain
13
Photograph: Courtesy Yelp/Derek L.
What is it: A small natural foods café in Kits open 24-7, except Christmas Day.
Why go: Need breakfast early? Service here starts at 6am with dragon bowls, egg dishes, crepes and pancakes with maple syrup or organic blueberry syrup. Menus switch to lunch/dinner at 11:30am on weekdays and 1pm on weekends.
Price: Average
Planning a trip to Vancouver?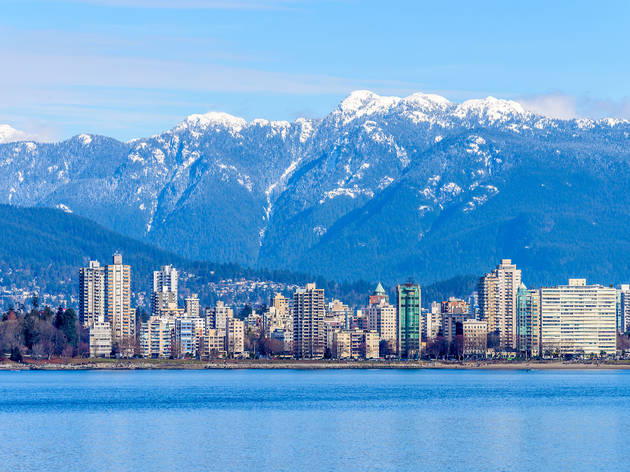 Whether it's a strenuous hike up Grouse Grind or a relaxed stroll on cherry tree-lined streets, the city has loads to offer. Fuel up with a proper brunch or a hearty meal and then get ready to tackle our list of the very best things to do in Vancouver.