Heads up! We're working hard to be accurate – but these are unusual times, so please always check before heading out.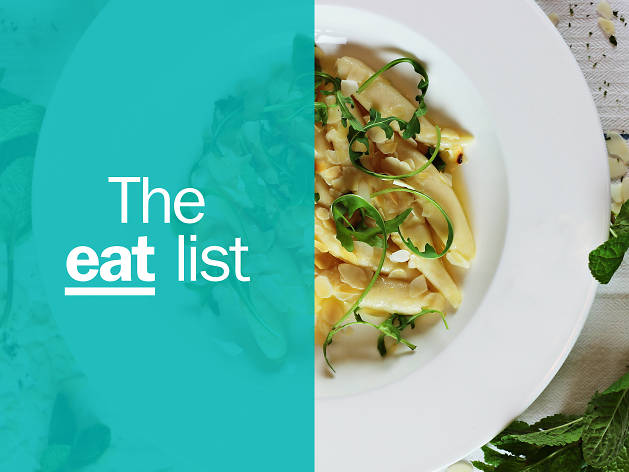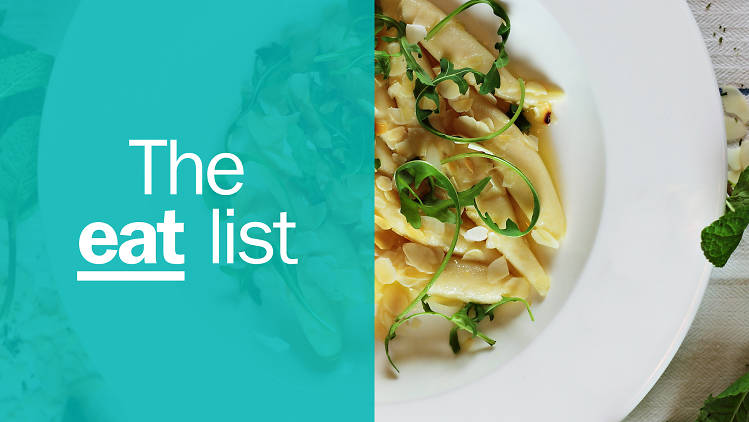 The 21 best restaurants in Victoria
Variety is the name of the game here: the best restaurants in Victoria serve a whole lot of different cuisines
Victoria's restaurants are, in a single word, diverse. Wide-ranging in style, price and culinary tradition, they're at their best when showcasing regional seafood, local produce and each chef's creativity. From traditional favourites like fish and chips to high-end fusion featuring Humboldt squid and nettle foam, dining in Victoria reflects the kind of commitment to fresh, local and sustainable food that's pretty much a lifestyle around these parts. The city's Asian communities are represented by numerous spots for sushi, noodles and curry, while local microbrewery offerings bubble from the taps pretty much everywhere. Food trucks fill in the gaps, typically gathering at locations like the Royal BC Museum (on our list of best things to do in town) and Camosun College for on-the-go eats like gourmet risotto balls, grilled cheese and Buddha bowls. Without further ado, here are the best restaurants in Victoria.
Best restaurants in Victoria
Photograph: Courtesy Yelp/Fu Y.
What is it: A famed pillar of Italian cuisine in the heart of Victoria, it's the perfect spot to enjoy traditional dishes at a more than fair price. First opened in 1979, this quaint foodie hub was recently renovated with a lot of care to maintain the cheerful ambience.
Why go: Go early for happy hour or brave the hangry but patient lineup for live klezmer, jazz and gypsy swing to accompany dishes with names like meat John Doe and the prawn broker. Got a friend who can't get enough? Drop some dough on a Pagliacci's gift card and help everyone you know get their pasta fix. Leave the diet at home—carbs and legendary cheesecake are best enjoyed with red wine.
Price: Average
Photograph: Courtesy Yelp/Kimberly S.
What is it: A deceptively casual oceanfront cottage, with expansive herb and edible blossom gardens, and views of the waters where divers and fishers seek out the day's catch. The menu here changes daily, based on what's ripe in the garden or fresh at local farms.
Why go: About an hour's drive from downtown Victoria, this romantic destination is worth every minute of winding highway. Have afternoon tea on the lawn or make a night of it and stay in the guesthouse after dinner and wake to sea breezes and freshly baked pastries in the morning.
Price: Blowout
Photograph: Courtesy Yelp/Jen C.
What is it: Fine dining restaurant with exposed brick walls, shiny lamps and a tasting menu that features wine pairings and a fusion of local west coast ingredients and French inspired preparations.
Why go: One of the hottest spots to open in 2017, Saveur is off the beaten track on the north end of downtown. Extensive development in the area is bound to bring full reservation lists in the coming year. Try the halibut cheek with nettle veloute and puffed wheat berries or the beef strip loin with bone marrow marshmallow (really). They also serve a range of local beer and cider and specially formulated cocktails which delivery a great boozy punch.
Price: Pricey to blowout
Photograph: Courtesy Yelp/Menbow Ramen Bar
What is it: Tokyo-style dining in a modest little restaurant with a relaxed atmosphere. It's not huge, but it's comfortable, and the bowls of steaming ramen are satisfyingly sizeable.
Why go: The tonkotsu (pork) and tori (chicken) broths, plus a tomato-based vegetarian version, are all must-tries. The service is prompt and welcoming. Not to mention the Sapporo they have on-tap. What more could want?
Price: Bargain
Photograph: Courtesy Yelp/Little Jumbo
What is it: Although the entry may be a little reminiscent of a dentists office (and we all know how much a visit there is), step a little further and you'll discover a speakeasy-style eatery that serves up delectable cocktail and tapas pairings.
Why go: Handcrafted, creative cocktails, made with locally sourced artisanal ingredients. But the real bar star? An absinthe fountain that brings libations to a new level. Explored the drinks menu and now ready for some fancy foodie accompaniments? Sink your teeth into some opulent truffle fries or a summer berry pavlova.
Price: Average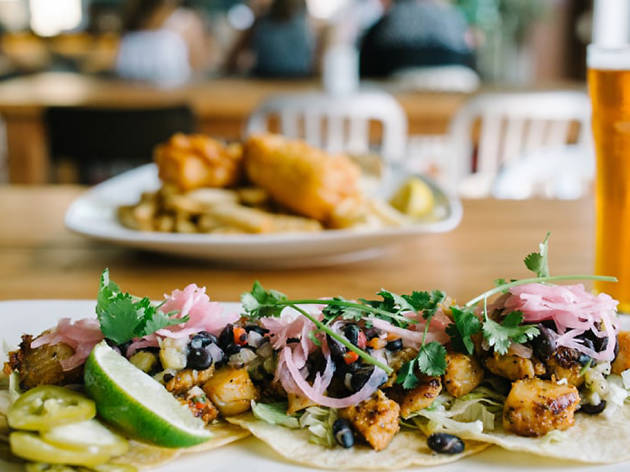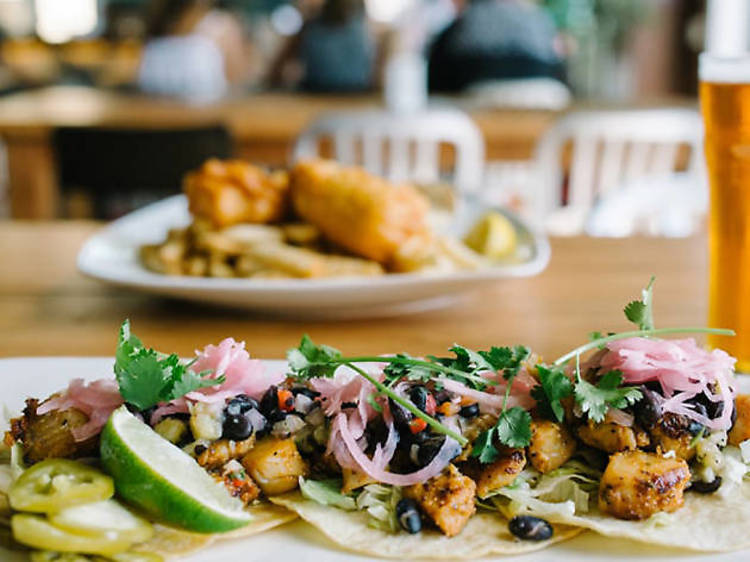 Photograph: Courtesy Yelp/10 Acres
What is it: A major complex that includes The Kitchen, a fine dining restaurant, The Commons, for awesome cocktails and oysters, and The Bistro, for some morning-after brunch. If the ingredients aren't grown on their own nearby organic farm, they're caught by local fishers or raised by local farmers.
Why go: To have well-prepared, fresh food. Seasonal tasting menus give you the best of what's new, from berries to spot prawns. Locally brewed beers, French press coffees and handmade gelato round out a virtuous meal indeed.
Price: Average to pricey
Photograph: Courtesy Yelp/Anna N.
What is it: Breakfast and brunch are huge in Victoria, and brick-walled, coffee-scented Jam wins for its all-day egg-stravaganzas. Only problem is, every other early-rising hipster in town is in line ahead of you—and the venue doesn't take reservations. But, once you get in, creative cocktails like the Madras mimosa and the bacon-garnished Bourbonator Caesar soothe the sting.
Why go: Hangovers have been rumoured to be cured by Jam's naan breakfast burrito, and the chicken-and-waffles theme carries over to Benedicts and French toast.
Price: Average
Photograph: Courtesy Yelp/Graham M.
What is it: Date night in Victoria can often mean a stroll to the funky residential neighbourhood of Fernwood, a play at the Belfry Theatre, prefaced or finished with a reservation at Stage Wine Bar. Small plates like langos (fried potato bread) soak up the libations, or larger dishes like smoked salmon poke or bison sirloin with blackberry sauce offer something meatier to discuss.
Why go: After the play lets out, debrief with fellow theatregoers over a glass of wine from the extensive list—Stage stays open past 10pm on Friday and Saturday nights.
Price: Average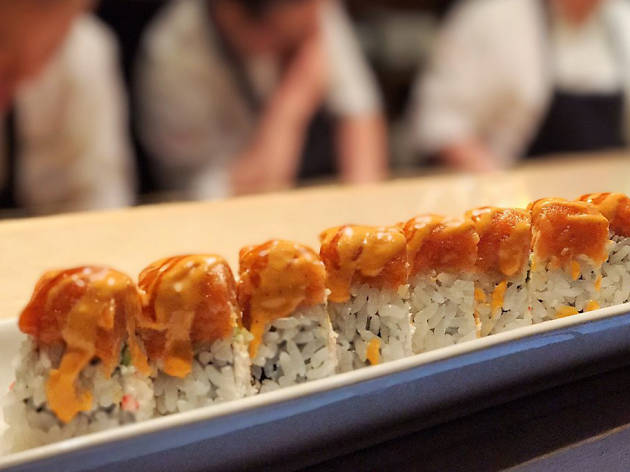 Photograph: Courtesy Yelp/Julia K.
What is it: Japanese tapas translate to an izakaya-style restaurant with craziness like the "avovado" (tempura-fried whole avocado) and sushi silliness like the Victorian secret and yoga flame rolls. Don't let the names fool you—the food is spectacular.
Why go: If you can get a reservation or a table, you have to go, because they're hard to come by. It's worth it to say you tried the tamago spam musubi (Hawaiians would understand) or the maguro eruption—marinated tuna you sizzle yourself on a hot stone.
Price: Average
Photograph: Courtesy Yelp/Natasha P.
What is it: Fish and chips on the dock isn't anything unusual in Victoria, but this wharfside chippy does one better with Oceanwise seafood, served in tempura batter, hand-rolled tacos or in buns. Salmon, tuna, oysters and cod are all represented in the fried firmament here—it's no wonder lineups wind along the wharf like so many sea serpents.
Why go: Where the heck else can you try the fusion delight that is jerk fish poutine? A Quebec-inspired combination of west coast fish in Jamaican jerk sauce served over fries, it's best eaten while gazing meaningfully at hungry harbor seals just off shore.
Price: Bargain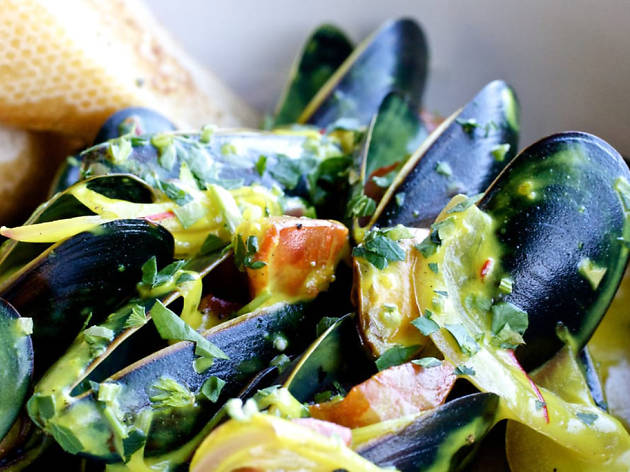 Photograph: Courtesy Yelp/Glo
What is it: Happy hour meets golden hour at this waterfront hotspot. Offering capacious seating both indoors and out, this place boasts a nightclub feel even in the daytime. Fresh seafood, flatbread pizzas and a wide selection of burgers, sliders and sandwiches make this a casual favourite for gatherings of loud friends.
Why go: The waterfront patio catches the sunset warmth, with a view of both scenic and working harbours to enliven happy hour. Comfy furniture and patio heaters ensure the party carries on well past dusk.
Price: Average
Photograph: Courtesy Yelp/Rich F.
What is it: An Italian inspired eatery where the surroundings evoke the aesthetics of a cozy Tuscan countryside inn. Think decorative wooden furniture, ambient fairy lights, and paintwork with rich blue, yellow and red hues.
Why go: The small, neatly created menu varies from season to season, as new fruits and veggies appear in the surrounding area. The farmed and fished goods also change, meaning the à la carte offerings are always fresh and local. If you can't decide, opt for half-sized portions or alternatively, if your hunger knows no bounds, try a family-style meal. But the best thing? Café Brio has almost 300 different wines on offer, which the sommeliers can talk you through and advise on.
Price: Average to pricey
Photograph: Courtesy Yelp/Jay S.
13. Restaurant at Point No Point Resort
What is it: Upscale-rustic west coast resort featuring a small but exquisite dining room. Lunch is first-come, first-served, with dishes like yam and black bean croquettes or seafood pasta, while dinner offers a small selection of main courses (think salmon, roast chicken and steak) and a handful of well-considered appetizers.
Why go: Worth the hour-plus trek from the city, this is the ideal spot to unwind after a day of hiking west coast beaches (reserve in advance). Most tables offer a view of the ocean and the staff will provide you with binoculars so you can determine whether that's a seal or a shipwreck out there in the waves.
Price: Average to pricey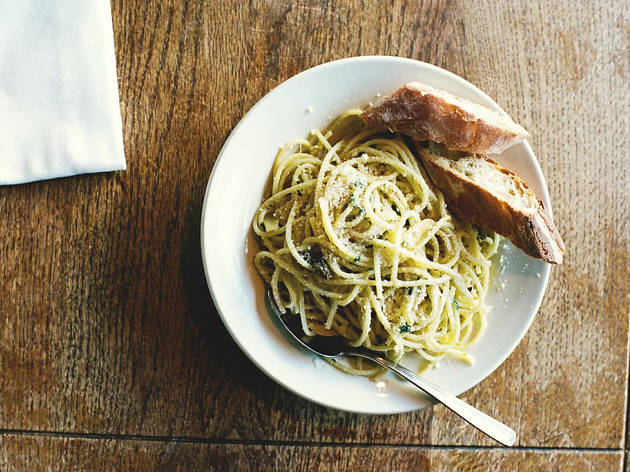 Photograph: Courtesy Yelp/Zambri's
What is it: Ever since siblings Peter and Jo Zambri opened this local, Italian-inspired hotspot back in 1999, the local culinary scene has been considering it a mainstay. The pasta is the superstar, with fresh noodles accompanied by classic sauce pairings—think peas and gorgonzola—while the mains include locally raised pork and chicken.
Why go: It's almost always possible to get a seat at the bar, although the stylish big room does fill up fast, especially on weekends. In addition to the great food, make sure to try the house gin and tonic—every single ingredient used in the cocktail is made from scratch!
Price: Pricey
Photograph: Courtesy Yelp/Tine H.
What is it: Named after the old school building in which it's housed, this downtown eatery takes French cuisine and turns it into something uniquely west coast by following a seasonal approach—the menu is small and based mainly on local ingredient availability.
Why go: The fancy but casual atmosphere lets you feel at home. They don't take reservations so show up early or stroll nearby Chinatown while you wait to be called for a table.
Price: Pricey
Photograph: Courtesy Yelp/Ferris Oyster Bar
What is it: The chance to enjoy three different restaurants
in one: a seafood eatery in a heritage building offers fine dining, a casual oyster bar with an excellent summer patio, and a tapas and wine bar—if you can't find a table at one, chances are good the other venues will be able to accommodate you.
Why go: Fresh oysters served by candlelight with champagne in the upstairs dining room. If the aphrodisiac powers of this favourite local shellfish are true, you're in for a hell of a romantic night.
Price: Average to pricey
Photograph: Courtesy Tripadvisor/The Livet
What is it: A slick hipster joint serving grilled asparagus and raw salmon as well as legendary charcuteries, The Livet is known for its atmosphere and rooftop patio as much as it is known for the incredible food presented. Enjoy small-plate dishes, ideal for pre-theatre snacking, and entrées that are basically creative takes on local favourites like octopus and lamb.
Why go: Prove your meat-loving mettle with the 32-ounce Tomahawk steak, a dubiously named but massive cut of strip loin. You might not manage to down it and the duck fat potatoes it comes with—but for those who love a challenge, this is a good one.
Price: Pricey
Photograph: Courtesy Yelp/Joe C.
What is it: Organic, vegan, gluten-free and, darn it all, so freakin' good for you, you won't be able to figure out how it manages to taste so good and be healthy at the same time. Try the quinoa bowls topped with fresh veggies and sauces or the wild nettle tart with red onion jam.
Why go: Atone for your gastronomic excess with what Be Love calls "pure nourishment"—it's so health, infused with west coast goodness and locally grown produce that you'll radiate wellbeing, or at least self-righteousness, all over your yoga mat.
Price: Pricey
Photograph: Courtesy Yelp/Green Cuisine
What is it: This Victoria original, located in historic Market Square, offers vegetarian and vegan dishes made fresh on premise. Mainstays like rice and salad are always on offer, while specials change daily, giving you a reason to return again and again.
Why go: Pay by weight means you can be as indulgent or as frugal as you like. But don't miss out on the desserts, like the lemon cheesecake or house-made gelato. In-house made tempeh and tofu are packaged to go, as well. If you're one to jump on health-food trend trains, you can also order a refreshing kombucha with an organic soda shot.
Price: Bargain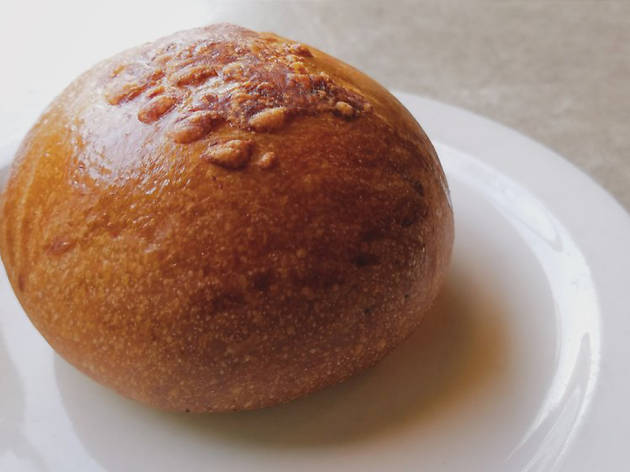 Photograph: Courtesy Yelp/Elaine Y.
What is it: Named after a blue neon sign that says "Sally" (still seen close to the café's original location on Douglas Street), this café has been a local favourite lunch spot for more than 25 years. A Sally bun is a Chinese steam-bun taken to a whole other level: slightly sweet dough stuffed with fillings like curried chicken, mushroom or bacon, cream cheese and artichoke. These tasty hand-held lunches are best scarfed down on the go.
Why go: Sally buns are the perfect snack for a picnic or plane ride. Go after 4pm for two-for-one prices. Make sure not to miss out on the massive cinnamon buns.
Price: Bargain
Photograph: Courtesy Yelp/John P.
21. J&J Wonton Noodle House
What is it: A fuss-free night out that's perfect for last-minute dinner plans, not to mention great Chinese food. J&J doesn't deliver and they don't take reservations, so you can always get a seat, even if you have to wait a few minutes for it.
Why go: Located on the eastside of Chinatown, this family-vibe restaurant offers up classic dishes like spicy Sichuan-style chicken and ginger fried tofu. The decor is a bit bare, but that's reflected in the price. Anyway, who needs upmarket wallpaper and white linen tablecloths when the food's this good and you can watch it being made through a window into the kitchen?
Price: Average
Discover Time Out Market: the best of the city under one roof
Planning out your days in Victoria?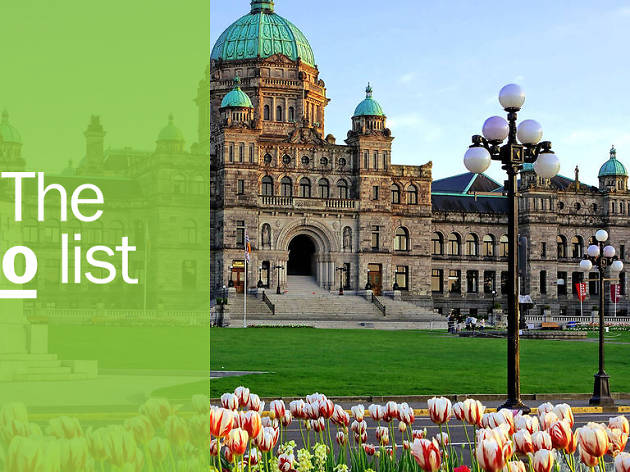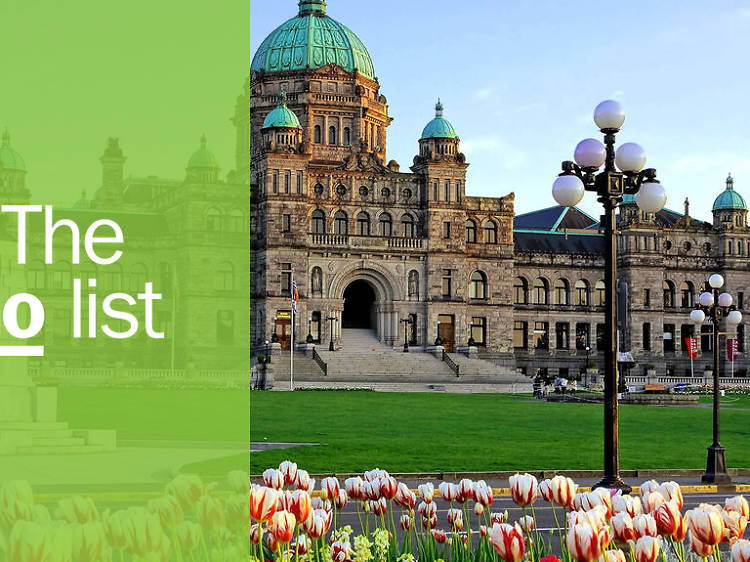 Experience all the very best things to do in Victoria, from a visit to manicured parks and excellent brewpubs to national historic sites and, of course, a lot of eating within the best restaurants in town.