Hotels
Your guide to the best hotels in Washington, DC, and travel to and from the city
Most popular DC hotels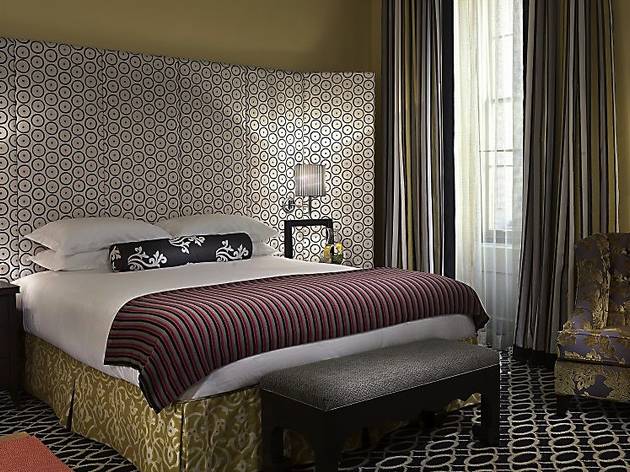 Monaco
The Monaco makes the most of its grand setting—an imposing neo-classical building that was once the main Post Office sorting office. The unusual premises mean irregular shapes, high ceilings and features such as cornicing add an extra touch of originality to the guestrooms, where dramatic furnishings such as black and white print headboards and curtains, with circles and stripes, add further individuality. It's not at the expense of comfort, however: furnishings are top of the range, bathrooms well appointed and rooms come with CD players and HD TVs. The large lobby/lounge is a stunner: painted a vivid kelly green and furnished with statement pieces, some modern classics, others one-off whimsical designs, that come together to create a gracious whole. There's a complimentary wine hour in the evening. The Monaco is the flagship property of the Kimpton group, which has several hotels in DC and Northern Virginia. Its conversion into a hotel was one step in the process of the regeneration of Downtown.
Check prices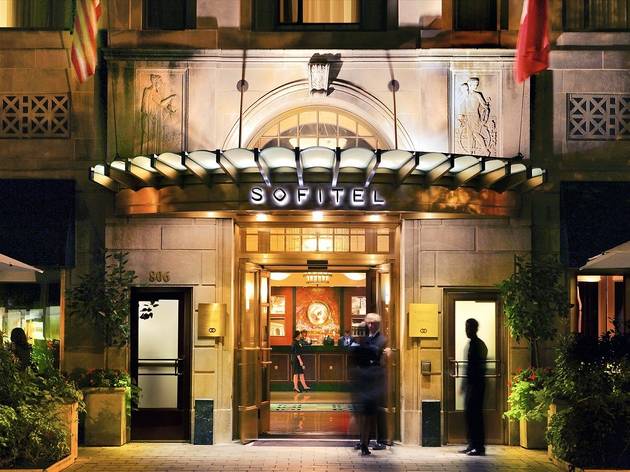 Sofitel Lafayette Square
From the outside, the Sofitel looks like a typical big-city American hotel, but there's a clue to some subtle differences: a French flag flying alongside the Stars and Stripes. Inside, contemporary artworks lift the traditional look of the wood-paneled lobby. Rooms also have good, vibrant pictures livening up neutral, comfortable, upscale decor and furnishings. European-style duvets are a welcome continental touch. TVs are high-definition, and marble bathrooms have separate bathtubs and glass-enclosed showers. There's more French influence in the ICI Urban Bistro, where morning coffee comes in a French press (cafetière), and breakfast orders come with a croissant and a pain au chocolat as well as bread. Both the sophisticated Le Bar and the bistro have outside space, which is at a premium in this area. Many of the staff are French too. Vive la différence!
Check prices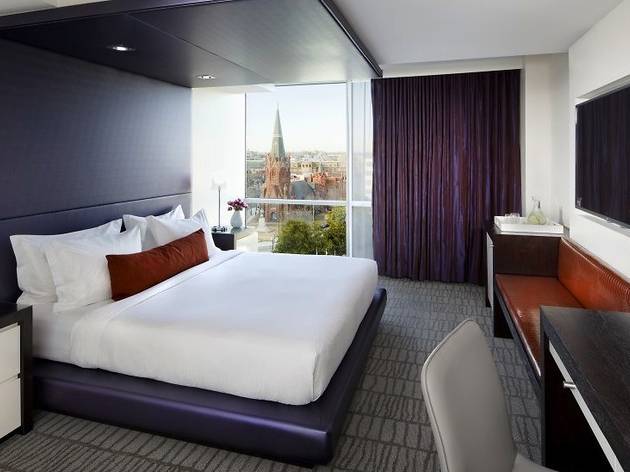 Donovan House
This contemporary hotel features guestrooms in purples and browns with hanging egg chairs, cylindrical-shaped showers and iPod docking stations. Floor- to-ceiling windows overlook Thomas Circle. The best views, however, are found people-watching on the ground-floor Asian fusion restaurant, Zentan, or at the rooftop bar, with outdoor fireplace and pool.
Check prices
Cheap hotels in DC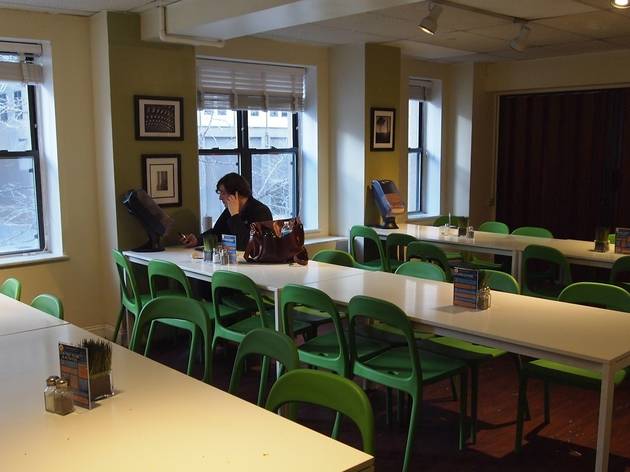 Hostelling International Washington, DC
A top-notch, dirt-cheap hostel close to the Metro and Downtown Washington, Hostelling International offers 250 beds divided between singles and doubles and larger dorm-style single-sex rooms or "family" rooms of four-, six-, eight- and ten-bed configurations. Private rooms sleep two hostellers in twin beds. Most have shared bathrooms, but there are a limited number with en suite bathrooms. You can reserve online for a $5 discount—you'll have to forgo the breakfast, but you won't miss it. Kitchens, lockers, a new games room and a laundry (self-service) are all at your disposal during your stay, and the staff arrange group walking tours and theater outings. Most importantly, there is no lock-out time. We recommend booking well in advance, because large groups often take up most of the beds. Non-members of Hostelling International are subject to a temporary membership fee of $3 per person.
Check prices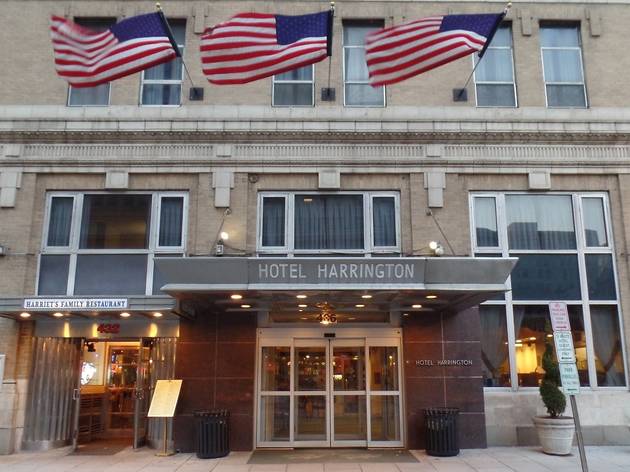 Hotel Harrington
The Hotel Harrington is a family-owned budget hotel, plain and simple. The lobby and rooms are clean but outdated, the staff welcoming and helpful. People choose to stay here for two reasons: price and location. The hotel is surrounded by a neighborhood where you'll never get bored, and the Smithsonian museums and the Mall are also within easy reach. Family rooms sleep up to six people, and the hotel has a self-service laundry.
Check prices
Luxury hotels in DC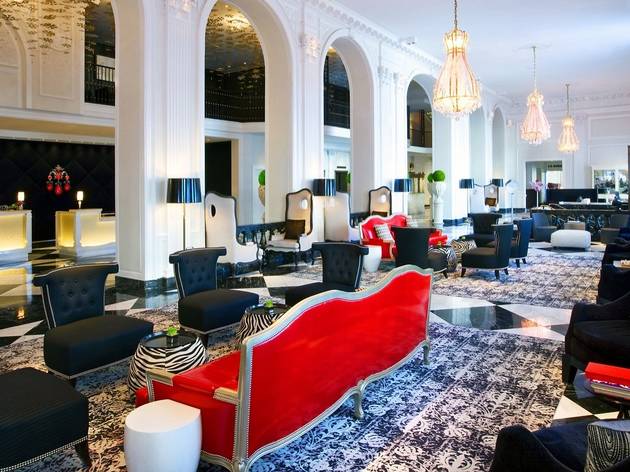 W Hotel
The venerable old Hotel Washington has had the W treatment, and it's every bit as fabulous as you might imagine. Key historical fittings remain in the lobby, like the old check-in/cash desk, original stucco and chandeliers, incorporated into a reborn and slightly fantastical "living room". There's a touch of Alice in Wonderland in the check-in desks that are upside-down tables and the big chairs on small rugs. There's a riff on buttoned-down DC masculine power going on, too, with clubby pinstriped chairs meeting their match in hot-red vinyl couches, while big black lamps drip with crystal drops. Upstairs, rooms and suites have all the style and comfort you would expect. For something truly spectacular, the Extreme Wow Suite channels the Oval Office with curved walls and strong, masculine colors, while the Marvelous Suite has an ethereal palette of pales. All rooms have waterfall showers, and iPod docks are among the amenities. The Bliss spa is, well, blissful, and Jean-Georges Vongerichten's J&G Steakhouse, with chef Philippe Reininger at the helm, delivers a melding of classic steak and fish and clean, modish flavors in surroundings of simple elegance. (Michelle Obama has eaten here with friends.)
Check prices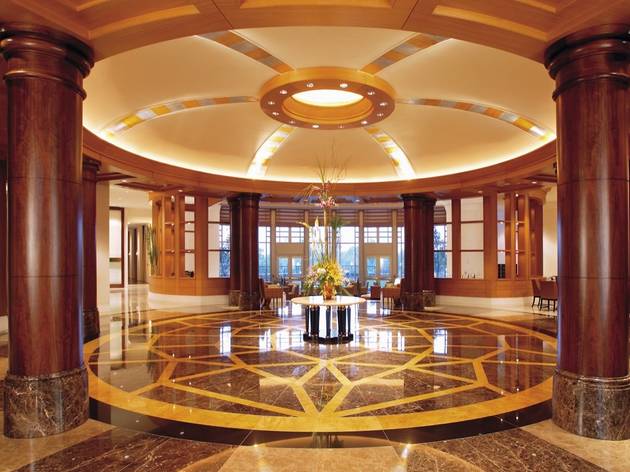 Mandarin Oriental
Many Washingtonians raised an eyebrow when the Mandarin chose a spot surrounded by government office buildings and a seafood market for its 400-room hotel. But managers at the international chain saw potential in the site—which, in fairness, is actually only a few blocks from the Mall and two Metro stations—and went about proving that location isn't everything. The hotel is sumptuous in every detail, from the gorgeous spa, indoor pool and top-notch restaurant to the bed linens and bathroom toiletries. Some rooms have views of monuments and the Tidal Basin.