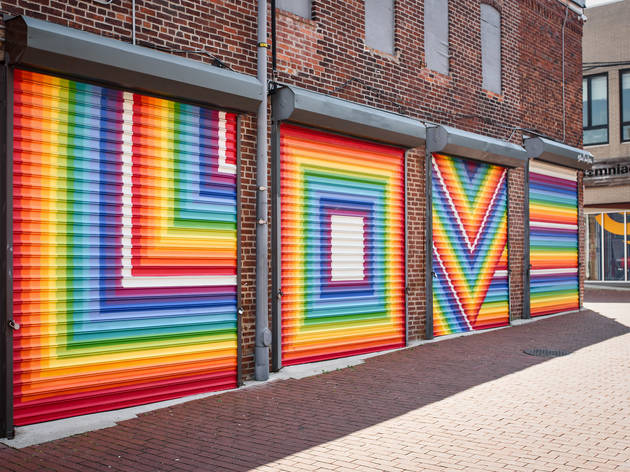 The 19 most Instagrammable places in DC
From under-the-radar spots loved by locals to renowned landmarks, here are the most Instagrammable places in DC
A picture is worth a thousand words—but an even better picture is worth a thousand Instagram followers. Boost your social media coolness by posting pics of these very snappable sights and attractions in Washington DC. From some of the capital's most popular monuments to under-the-radar restaurants and neighborhoods, here are the most Instagrammable places in D.C. The best part? Most of these are completely free to visit.
RECOMMENDED: The best things to do in DC
Most Instagrammable places in DC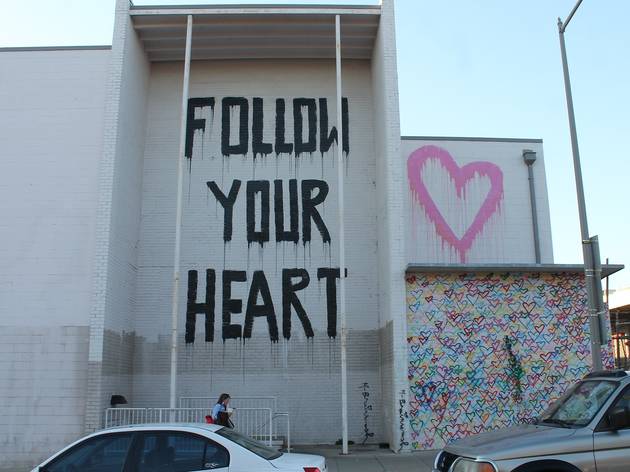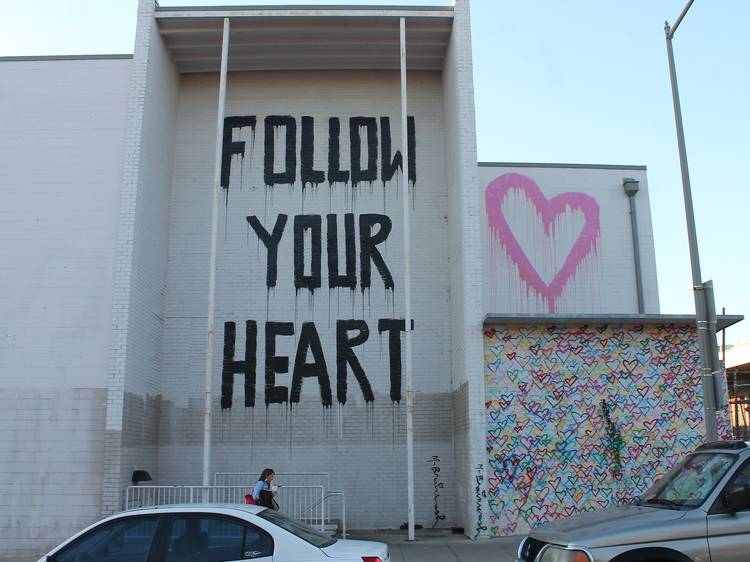 Photograph: Flickr/Elvert Barnes
1. Union Market heart wall
This wall of multicolored hearts is so cheerful, it would probably outshine a rainbow. Created by Los Angeles-based street artist Mr. Brainwash, the mural has served as the backdrop for countless wedding proposals, photoshoots and fun-looking snaps.
Photograph: Courtesy CityCenterDC
The sleek shopping destination pulls out over-the-top decorations to celebrate each change of the season. This past winter, for example, CityCenter twinkled with hundreds of miniature lights that embraced the holiday season. As the weather turned warmer, the new spring decor included thousands of pink kites that make for an eye-catching photo background.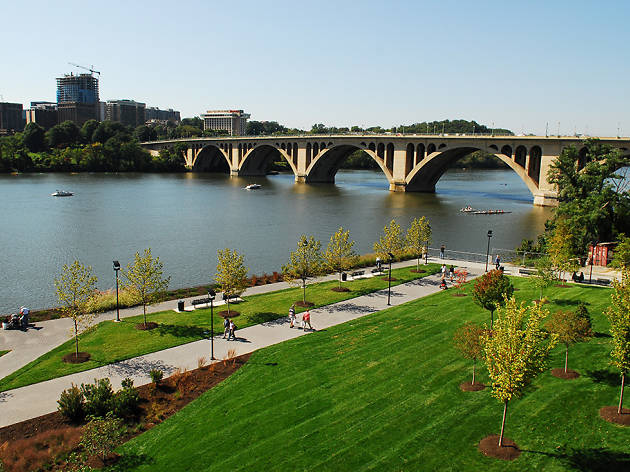 Photograph: Courtesy Georgetown Waterfront Park
As Washington D.C.'s oldest neighborhood, Georgetown is full of historic architecture, including the signature multi-colored row houses that line its streets. Mix that with cobblestone streets, quaint sidewalk cafes and the Chesapeake & Ohio Canal and you're likely to run out of storage space after taking endless pictures.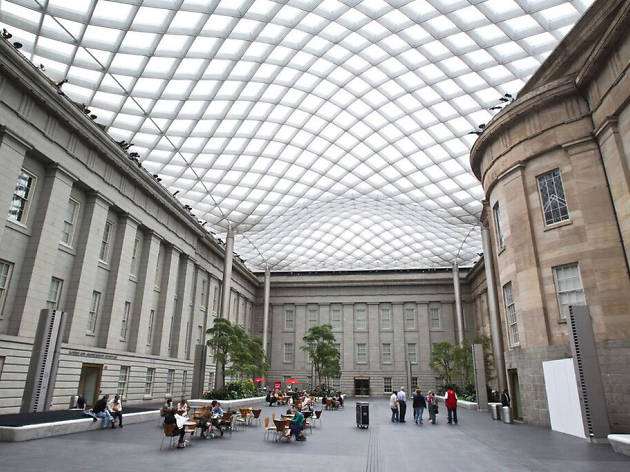 Photograph: National Portrait Gallery
Grand, flooded with light and great for people-watching, the Kogod Courtyard is absolutely a must-visit and an expected inclusion on our list. Attached to the National Portrait Gallery and Smithsonian American Art Museum, it's a popular respite—with a ceiling made entirely of glass!—for exhausted museum-goers and locals in the know who need to take a break.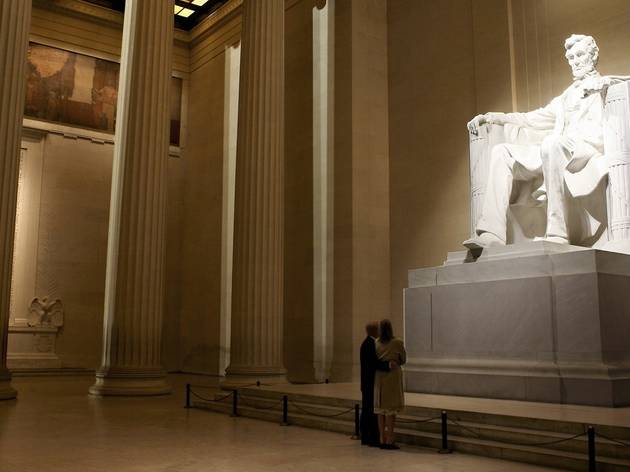 © Elan Fleisher
No matter how many times you've visited D.C. or how long you've called it home, you will never get sick of taking selfies with Abe. Bonus points: From the steps of this stoic monument, you can enjoy seeing the city from a whole lot of different vantage points. May we suggest taking a straight shot of the Washington Monument and the Reflecting Pool?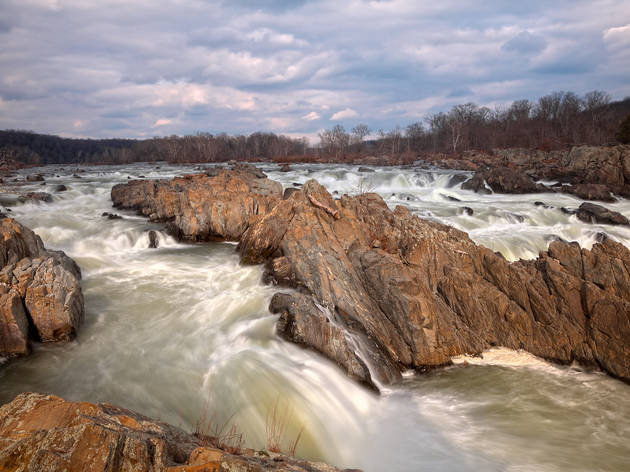 Photograph: Flickr/Nicolas Raymond
6. Great Falls Park, Virginia
Less than an hour-long drive outside of D.C., travelers will stumble upon this gorgeous hiker haven. In addition to nature trails galore, find craggy waterways and scenic overlooks. Although breathtaking throughout the entire year, the area becomes particularly picturesque during the fall, when the beautiful foliage needs no filter.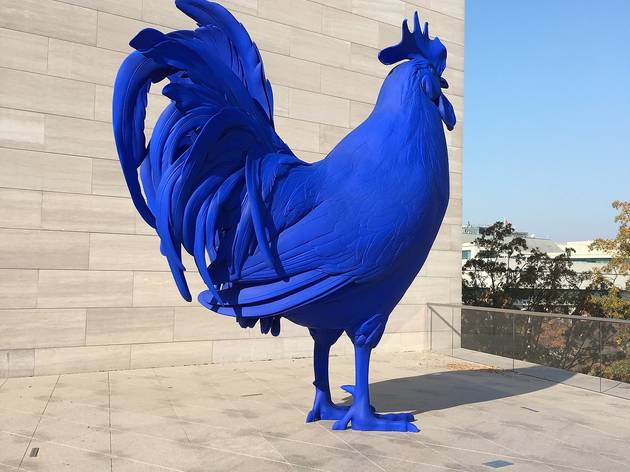 Photograph: Flickr/Wendy Harman
7. Katharina Fritsch's "Hahn/Cock"
A recent addition to the National Gallery of Art, Katharina Fritsch's "Hahn/Cock" sculpture is a striking backdrop for any shot. The bright blue, 15-foot rooster is perched on the roof of the gallery and can even be gazed at from the street below. Keep in mind, though, that the nearer you are to the sculpture, the more exciting the picture.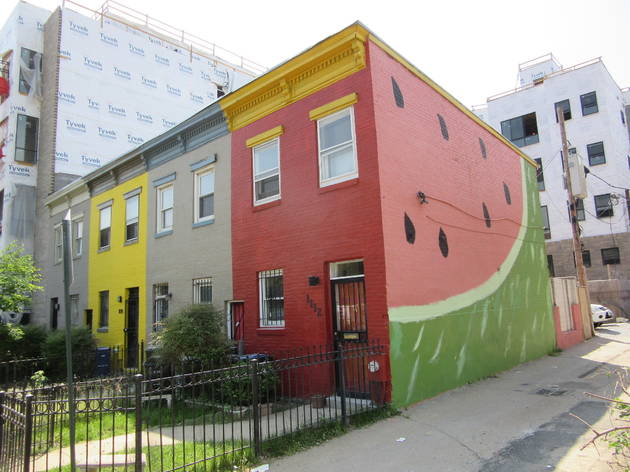 Photograph: Flickr/Elvert Barnes
Legend has it that a paint job gone wrong is responsible for the huge painting of a watermelon on the side of this house in the Shaw neighborhood. Stare at the property from the front and marvel at the fact that the perfect photo is just a few steps to the right.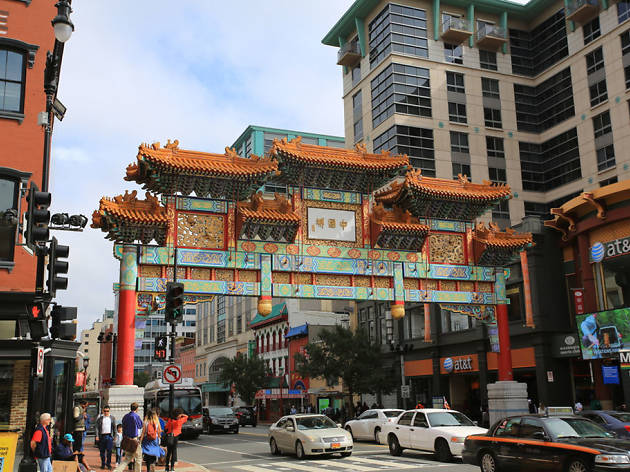 Photograph: Shutterstock/Lewis Tse Pui Lung
This colorful, intricate symbol of harmony marks the entrance to Chinatown. Beyond it, find some of the city's best take-out joints and restaurants (we're particularly fond of Daikaya) so, after taking some pictures, make sure to wander the streets in search of hand-pulled noodles and soup dumplings.
Photograph: Scott Suchman
10. The John F. Kennedy Center for the Performing Arts
There is basically no way to take a bad picture of the acclaimed cultural center. Inside, a towering ceiling and white columns are offset by a bright red carpet. The exterior of the sprawling building is supported by delicate pillars, all right below a huge rooftop that offers a one-of-a-kind view of the Potomac River.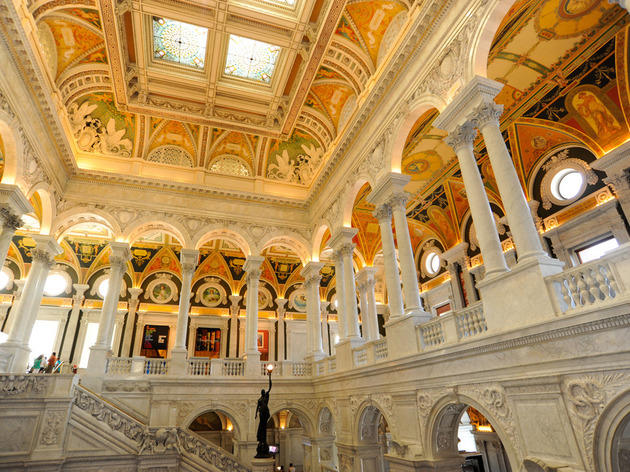 Photograph: Shutterstock
11. Library of Congress, Thomas Jefferson Building
There's symbolism lurking on almost every surface of the Library of Congress, which was decorated by nearly 50 different artists and houses a rich variety of photographic vignettes. You don't have to be a bookworm to appreciate the nods to some of the world's most influential authors and thinkers, including the various quotes from the likes of Cervantes and Hugo that adorn the Great Hall.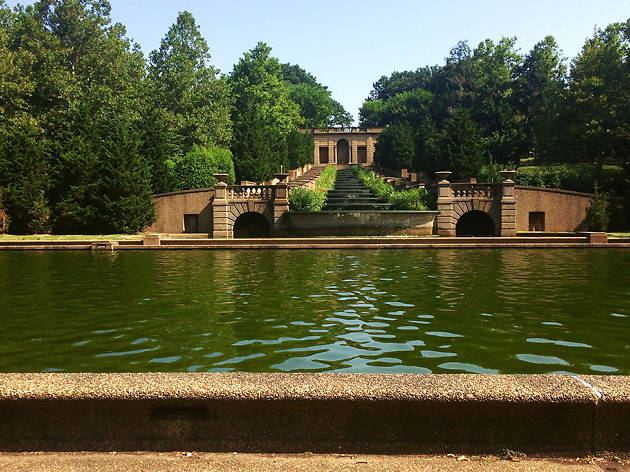 Photograph: Flickr/justinschuck
Pick a spot, any spot, within this Mount Pleasant park and you'll be in a prime shot-snapping position. On the lower level, a magnificent set of stairs frames a cascading fountain, while the upper portion of the area is home to a Joan of Arc statue. On Sundays, the drum circle draws all sorts of characters, so the people watching isn't bad, either.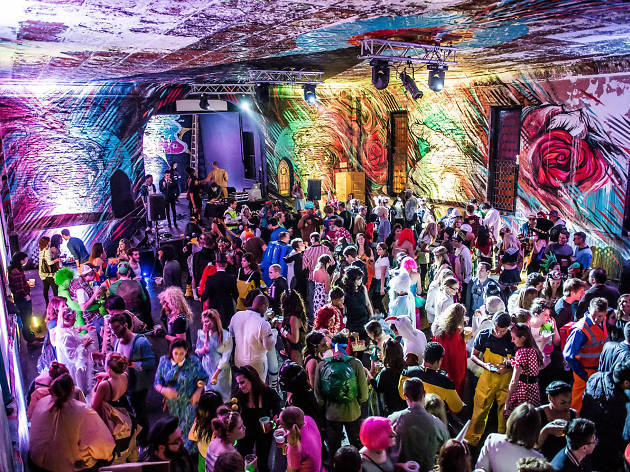 Photograph: asicophoto/Joy Asico
What was once a church that sat vacant for over 20 years is today a technicolored event space and community center. Covered in a remarkably eye-catching neon color pattern on the outside, courtesy of Georgia-based artist Hense, the inside of the venue is just as striking, making it the perfect subject for a photoshoot to be posted on Instagram.
Organized? Ha. Visually appealing? You bet. Though you're not likely to immediately find what you're looking for in Capitol Hill Books' disheveled stacks, you'll at least have a lot of fun looking. The used book store opened back in 1991 and is still the ideal respite from the city's hustle and bustle during weekends.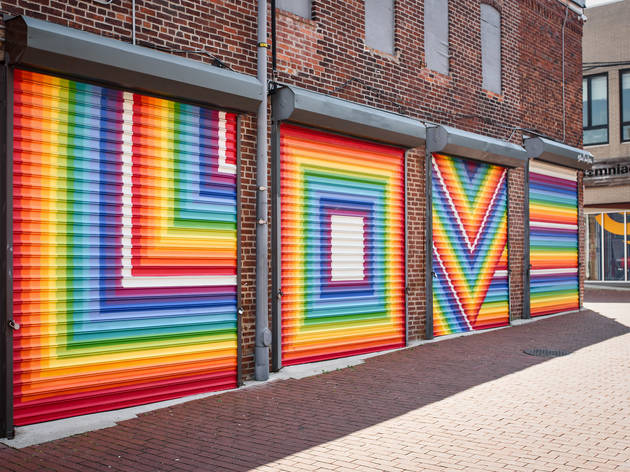 Photograph: Flickr/Geoff Livingston
Find colorful murals in Blagden Alley—a hidden enclave in Shaw—splashed on nearly every surface. We're partial to the smile-inducing "LOVE" by Lisa Marie Thalhammer. The letters are painted in rainbow bright colors and serve as a good reminder that, after all, "love is all you need."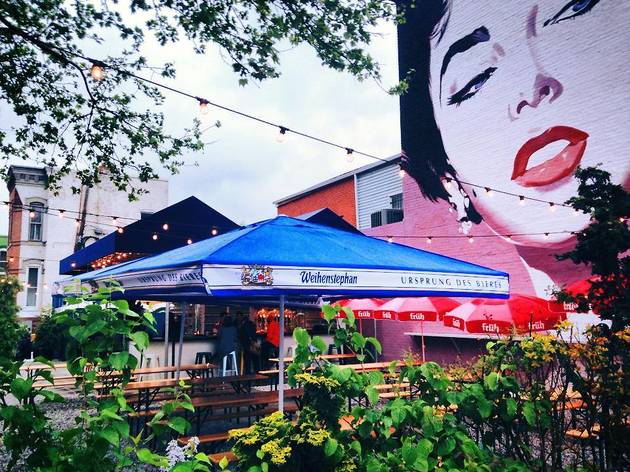 Photograph: Courtesy Dacha Beer Garden
When you've had all the beer you could ever dream of at Dacha Beer Garden, pose for a photo in front of the 50-foot mural by artist Byron Peck of the one and only Elizabeth Taylor giving the side eye. The work anchors the alfresco beer hall and honors Taylor's donation to the Whitman-Walker health clinic in the Shaw neighborhood.
This futuristic art space in Southwest DC hosts rotating exhibits that immerse visitors in a different world. Digitized images of falling leaves, cherry blossoms or undulating water are projected on the walls. The best part: They respond to your every move. This calls for a Boomerang to be posted on social media.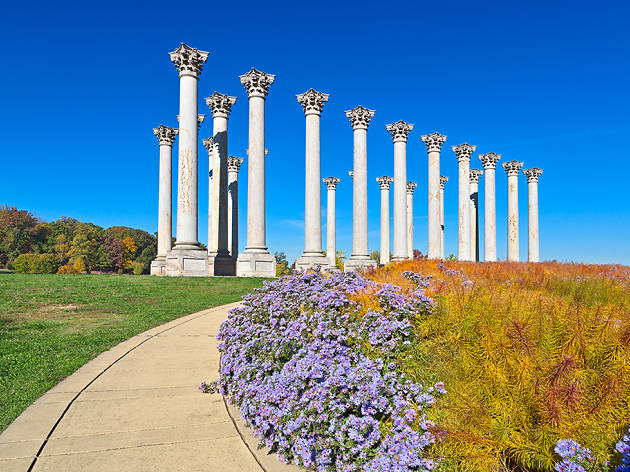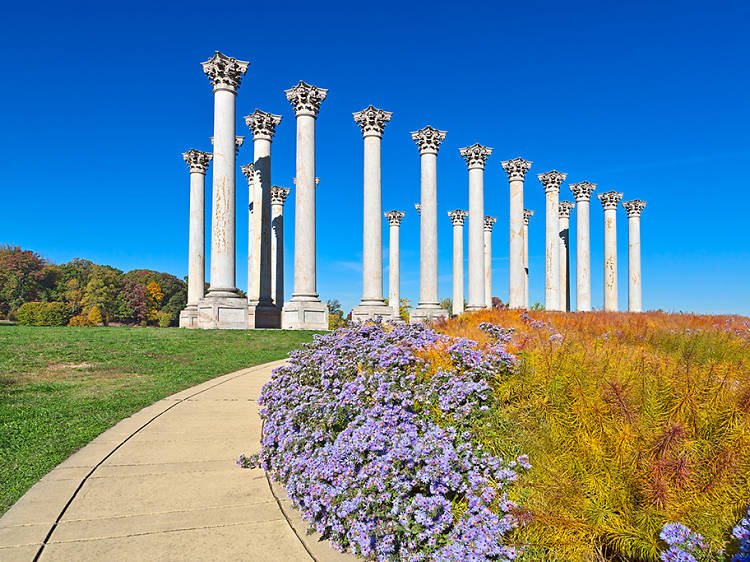 Photograph: Flickr/nicolasraymond
18. The Capitol Columns at the Arboretum
In the middle of a field within the National Arboretum stands a stark and jarring sight: 22 massive Corinthian-inspired columns. They once supported the U.S. Capitol, until they became too fragile to withhold the weight and were eventually replaced by replicas. The originals have found permanent residence at the Arboretum and across our social media feeds.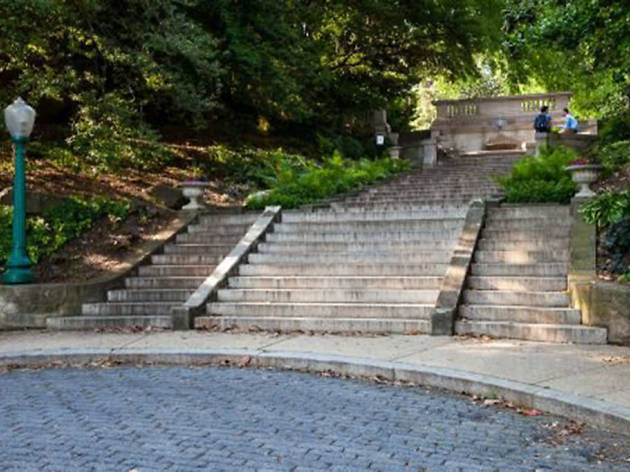 Photograph: Barrett Doherty
Constructed in 1911 within the city's picturesque Kalorama neighborhood, the Spanish Steps are a multi-tiered marvel that has served as the setting for countless proposals, photo shoots and picnics. Also boasting a fountain, the impressive staircase is flanked by magnolia trees and other blossoming foliage.
Find a pretty cocktail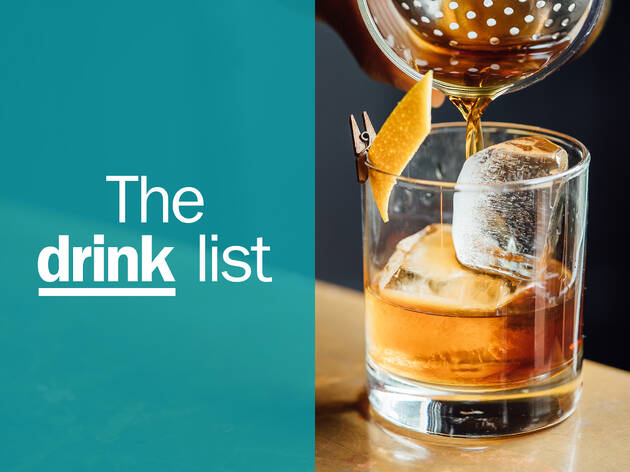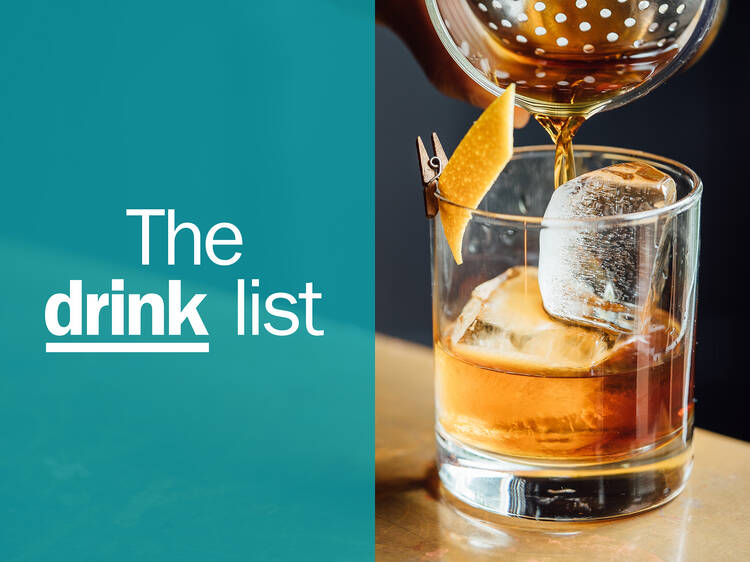 These days, the best bars in DC are even more popular destinations than usual.