The 17 best restaurants in York
Visitors have always flocked to York for the history but now they're staying for the food scene at these restaurants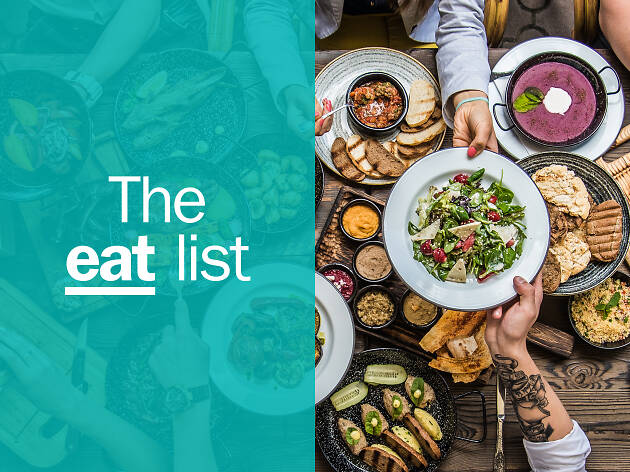 Visit Castlegate for bistros and modern restaurants right next to the castle (a can't-miss thing to do in York), stop for lunch on Fossgate and Walmgate, or go to Bishopthorpe Road or Gillygate for good restaurants away from the crowds. Spark:York and Shambles markets are burgeoning street food hubs and Micklegate has been revitalised as York's new foodie epicentre for independents.
Best restaurants in York
1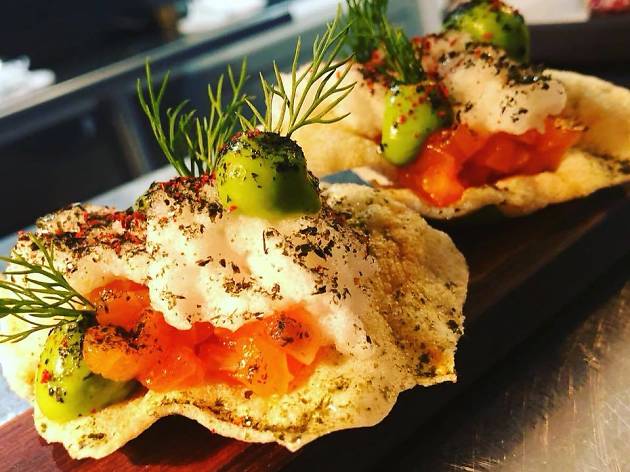 Photograph: Skosh
What is it? Take a seat at the swish stainless steel bar (if there's space) and watch as the chefs create dishes with influences from across the globe. From the Middle East to Spain, Japan to the US, this place takes world cuisine and runs with it. Insiders tip: Skosh is most famous for its buttermilk fried chicken thighs with aerated hollandaise, so we recommend ordering two portions.
Why go? For a small plates restaurant making a big impact.
Price: Average-pricey
2
Photograph: Le Cochon Aveugle
What is it? There's no menu here, per se – just tell the restaurant about any dietary requirements you have and then enjoy as you're served up an impressive four- or eight-course meal. Menus change depending on seasonality, but the black pudding macaron is a signature. Plus, if you're thirsty, visit sister venue and natural wine bar Cave du Cochon, down the road. It'll all go down easy. High-end.
Why go? If you like surprises.
Price: Pricey
3
Photograph: El Piano
What is it? El Piano grows its own herbs, recycles on site and aims to cook with ingredients sourced from within 30 miles. But not only is the place eco-conscious, but meals are personalisable, too. Create your own combo of a main, fritter and side salad to eat in the Mediterranean-style courtyard and trust us – the portion sizes are anything but small.
Why go? If you like your dinner with a healthy serving of sustainability.
Price: Average
4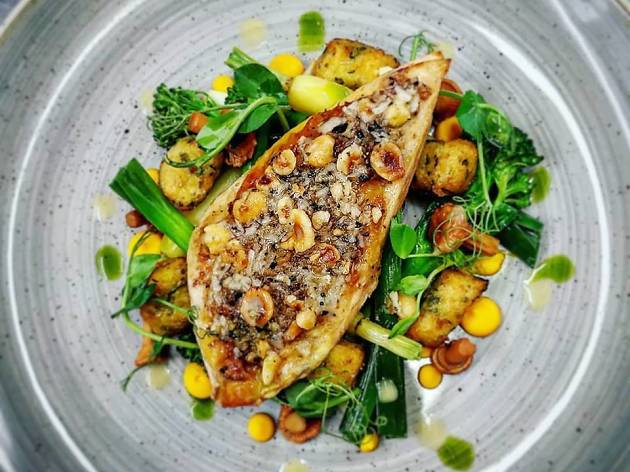 Photograph: Melton's
What is it? Run by Chef Michael Hjort and his wife Lucy, Melton's is an intimate restaurant serving high-end European food. Chef Michael trained with the Rouxs, so his cooking is refined yet down-to-earth. If you get menu panic when faced with too many delicious options, go for the five-course tasting menu for the best seasonal dishes.
Why go? Birthday? Date night? Just because? Find any reason you can to visit York's renowned restaurant.
Price: Pricey-blowout
5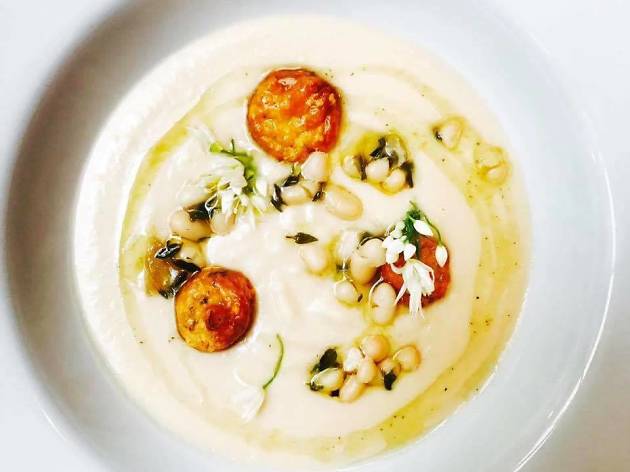 Photograph: Rattle Owl
What is it? Lovingly restored with glass ceilings and the remains of a Roman road in the cellar, Rattle Owl is a charming neighbourhood restaurant. Head chef Jamie Hall is Michelin-trained and plates food with everyone's favourite aesthetic foodie phenomenon – edible flowers. The seasonal menu features Yorkshire asparagus and east-coast crab. Visit Owlet microshop next door for organic wine and local beers.
Why go? To treat your date to dinner in a Grade II-listed building.
Price: Average-pricey
What is it? Run by Argentinian Florencia Clifford and her farmer husband Hugo, Partisan serves international food like Peruvian-style ceviche, Persian breakfast eggs and beef bibimbap. It's furnished by an antiques dealer and everything you see is for sale, which means the decor changes subtly each visit. Dinner is served three nights a week. Mid-range.
Why go? For an elegant lunch spot with good coffee and gorgeous interiors.
Price: Average
7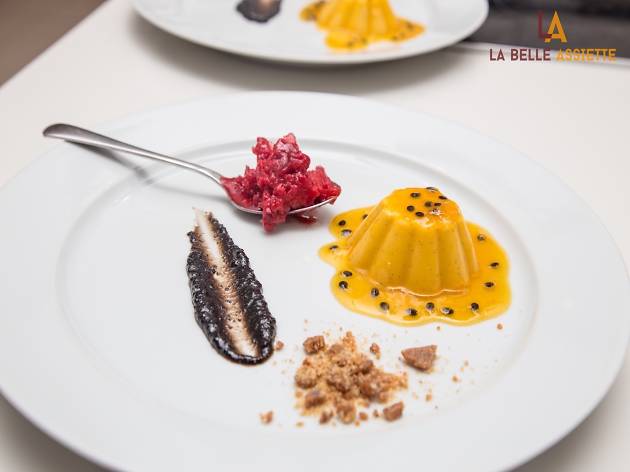 Photograph: Anthony Fitzgerald Photography
What is it? You'll make new friends around the communal table at this four-course feast that takes place three times a month in Sara's beautiful Victorian house, just a napkin's throw from York Minster. Sara is a chef, cookery teacher and 2011 'MasterChef' finalist who makes simple, elegant Italian food.
Why go? To experience Sara Danesin's Italian supper club surrounded by locals.
Price: Pricey-blowout
What is it? Behind a traditional lattice window there's a funky café with wooden interiors and epic trays of pulled pork and beef brisket on the tables. Source's menu covers American-style cornbread, nachos, and fried chicken, as well as Mediterranean halloumi, lentil salads and risottos. Don't miss out on the bread from Bluebird Bakery.
Why go? To meet friends and stuff yourself with nachos in a popular local restaurant.
Price: Average
9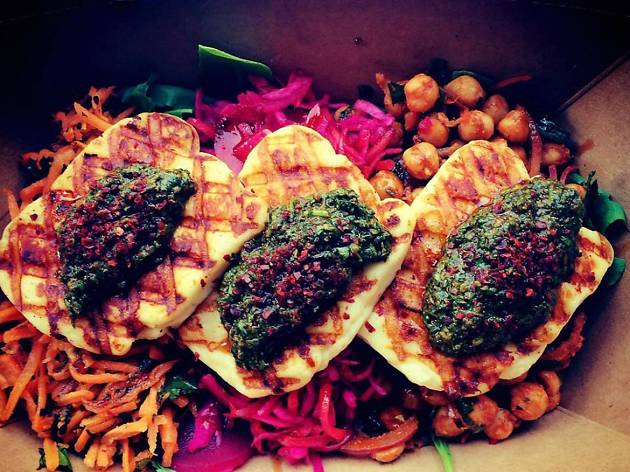 Photograph: Los Moros
What is it? York's historic market is crammed with arts, crafts and – most importantly – food. Los Moros is the one with the queues. Sole trader Tarik serves up Levantine street food, including handmade Merguez sausages, Persian saffron chicken wraps and Yorkshire halloumi with chermoula. And there's free mint tea with every meal.
Why go? For post-shopping food at Shambles Market.
Price: Bargain
10
Photograph: Eszter Takacs
What is it? Hungarian patisserie chef Eszter Takacs, who trades under the name Shutishuti, is yet to have her own shop, but you can catch her regular pop-ups at Kiosk Café on Fossgate. Gorgeous seasonal bakes include cherry blossom macarons, Strensall fermented honey pastries and the fluffiest lemon drizzle to capture any sweet tooth.
Why go? For sweet treats.
Price: Average
11
Photograph: Krep
What is it? Spark:York is conurbation of Lego-brick-style containers that brighten up Piccadilly, just across the river from York Castle. Krep serves buckwheat flour crêpes stuffed with breakfast ingredients, drizzled with chocolate or as classic galettes complete with a melted cheddar twist. Gluten-free and vegan options are available.
Why go? To eat in a progressive food and arts centre that only hosts business with a social purpose at heart.
Price: Budget
What is it? Excellent bistro food piles out of this tiny kitchen on Gillygate next to York Minster. Fill your boots with a pre-tourist-trail fry-up, including bubble and squeak, or recover from your day's sightseeing with a dinner of confit duck leg or Roman gnocchi.
Why go? To eat with the locals at one of York's most popular lunch spots.
Price: Average
13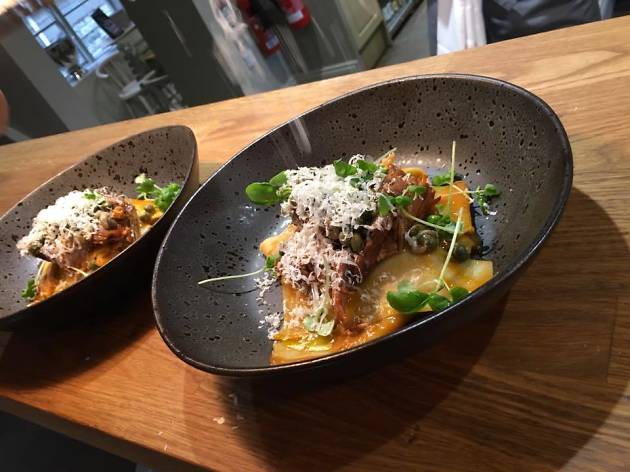 Photograph: Mannion & Co
What is it? Originally a fruit and veg shop, Mannion's is now a no-reservations café and deli with queues out the door. Portions are generous so order one of the ginormous platters to share. All bread is made in house and the Welsh rarebit is a cheesy revelation.
Why go? To rest your feet in a rustic-chic café with French- and Italian-style food.
Price: Average
14
What is it? Authentic Indian street food comes to York at this colourful restaurant on Cumberland Street. Embodying the spirit of Goa's seafood shacks, Keralan toddy shops and street-side hawkers, the menu includes golgappa crispy puri puffs, railway potato curry and creamy jhingha prawn curry. The Yorkshire cheese naan is something else.
Why go? To impress a first date with contemporary Indian cooking.
Price: Average
15
Photograph: Pairings Wine Bar
What is it? Pairings is a relaxed wine bar with impressive sharing boards, charcuterie platters and small plates to match the accessible wine flights and list. Spanish small plates include whole basil burrata, Ibérico Bellota ham and a cheeseboard. Save room for the chocolate and wine pairing for dessert. Mid-range.
Why go? For the wine. And the food.
Price: Average
16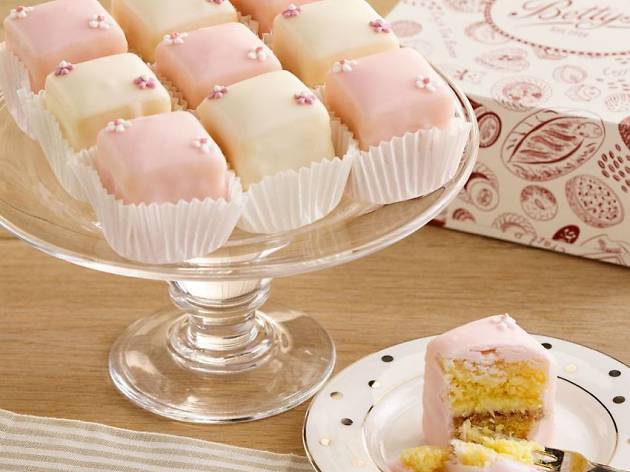 Photograph: Betty's Fondant
What is it? Famous for its afternoon tea, Betty's café on Stonegate has a cute shop selling loose-leaf tea and gift cakes on antique dressers on the ground floor and a cosy tea room up the winding stairs. Perfect for a round of classic English sandwiches.
Why go? Because it's not a trip to York without a trip to Betty's.
Price: Average
17
Photograph: The Press Kitchen
What is it? Serving breakfast, lunch and dinner, this colourful restaurant on Walmgate has a distinctly Italian feel with homemade pasta, feta-stuffed Romero peppers and chicken or vegetarian cacciatore. If you order food, don't forget to use your free token on the vinyl jukebox.
Why go? For Italian delights at a friendly café and restaurant.
Price: Average
Discover Time Out Market: the best of the city under one roof
Want to make the most of your trip?
Quaint, pretty and filled with medieval streets, centuries-old fortifications and one behemoth of a cathedral, it's not hard to see why flocks of visitors from across the world venture this far north to check out all the great things to do in York.