London's best bars and pubs with open fires
Find the best pubs and bars in the capital that are perfect for a warming winter drink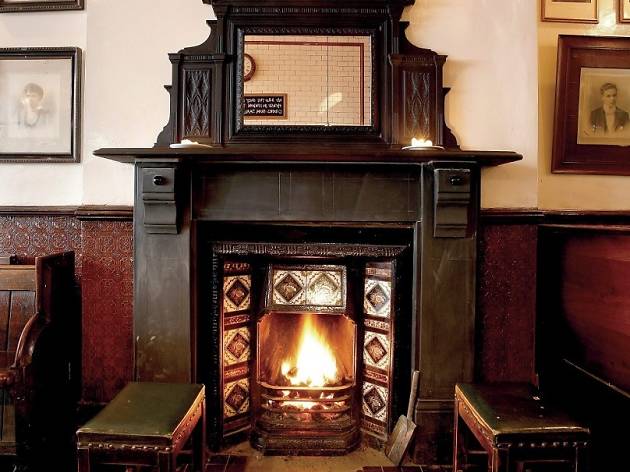 Whether it's in a trendy gastropub, a hip new bar or an old man's pub, there's an open fire waiting for you somewhere this winter. The pubs with wood fires have that authentic touch, but gas fires are equally warming. Check out our guide to London's best pubs and bars with open fires. Think we've missed any great pubs and bars with open fires? Use the comments box below or tweet your suggestions.
Pubs and bars with gas fires
The main room might seem soulless when empty, but this vast Balham institution attracts a diverse crowd in droves. There's a canopy-covered back yard and three further bars, with a gas fire to provide a warm glow.
Read more
There's a lot to like amid the noise (aural and visual) in this pub, not least the most interesting selection of beers and spirits in the area, including Budvar Dark, Paulaner and guest ales such as Pedigree, served in dimpled pint mugs and warmed by a total of three toasty fires.
Read more
There's a proper community vibe here with old blokes propping up the bar alongside market geezers and tattooed foreign exchange students. This is nonetheless a pub where old-fashioned manners and old-school decor rules – small rooms, crowded tables, pub-industry memorabilia and a couple of open gas fires which look so real that people chuck paper on them.
Read more
Situated by a desolate stretch of the canal after which it's named, this Fuller's pub comes as something of a welcome surprise. The interior is both light and airy, but also cosy – fireside sofas and a snug bar await at the bottom of the spiral staircase.
Book now
Read more
More of a pub with food than a gastropub, the Rose has seen a few name-changes over the years, including the Legless Ladder and, most recently, the Fulham Tup. The muted walls are dotted with prints of ladies in various states of undress (more tasteful than it sounds). Candles twinkle and locals lounge on church pews and leather sofas. Eat, drink and get cosy on one of the armchairs surrounding the fire.
Book now
Read more
In this grand old building at the north end of Green Lanes you barely have to share bar staff: it's absolutely massive. You may have to fight for those fireside armchairs, though! Taxidermy cases and ornate cornicing decorate the central, beer-focused bar, a jukebox plays music in the main room and a projector plays sport in the second.
Read more
This old boozer oozes battered character: hand-painted Sistine-esque friezes, dripping candles and weird papier-mâché oddities hanging from the ceiling. Clientele is an eclectic mix of older regulars and the Primrose Hill set and there's a roaring yet pretend fire in the back room.
Read more
The bar area, which is separate from the restaurant, has a sloping wood-panelled ceiling and a minimalist decor making it look a bit like a trendy Alpine ski lodge. Add the warming gas fire and a sprinkling of live music and you have a pleasing canalside escape in view of the longboats moored along the banks.
Book now
Read more
Find more great pubs in London
Find more bars for a cosy night
Do you like having to yell at your friends when you go out drinking together? Fine, it's your shout. We like to cater for everybody, so we've put together a list of ten places where talking is easier – ideal for those quiet catch-ups or maybe even date night.
Read more