London's best bars and pubs with open fires
Find the best pubs with fires in the capital, perfect for a warming winter drink or a cosy catch-up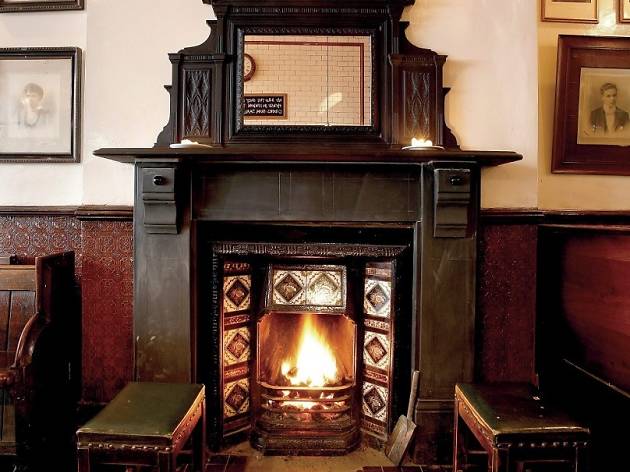 Whether it's in a trendy gastropub, a hip new bar or an old man's pub, there's an open fire waiting for you somewhere this winter. Pubs with wood fires have that authentic touch, but gas fires are equally warming. You'll find them all in our guide to London's best pubs with fires – get down early to guarantee the warmest armchair or sofa spot.
The best pubs with fires in central London
The best pubs with fires in north London
The best pubs with fires in east London
The best pubs with fires in south London
The best pubs with fires in west London
This popular Hammersmith gastropub reopened in July 2014 and continues to keep punters cosy with its open fire in the winter months. They've added a gastropub menu and a friendly cat roams the pub for even more of the cosy factor.
In a villagey spot (known locally as Brackenbury) you'll find this handsome Victorian pub offering plenty of room for drinking as well as dining. It feels all the more like a proper boozer thanks to its wood-panelled bar, faded carpets and a roaring fire.
The Brickie is rightly famous for its ever-changing selection of British real ales. When the nights draw in, it's the cosy atmosphere and the roaring fire that entices. Once you've warmed up, you can even have a go at a game of bar skittles.
This warming gastropub in – you guessed it – Ealing serves comforting food in a smart-casual setting complete with a fire. A circle of short leather armchairs curve round the fireplace, chopped logs are stacked up by its side and a series of taxidermy animal heads are mounted on the wall above for a bit of countryside chic in the capital.
Book now
More of a pub with food than a gastropub, the Rose has seen a few name-changes over the years, including the Legless Ladder and, most recently, the Fulham Tup. The muted walls are dotted with prints of ladies in various states of undress (more tasteful than it sounds). Candles twinkle and locals lounge on church pews and leather sofas. Eat, drink and get cosy on one of the armchairs surrounding the fire.
Book now
Situated by a desolate stretch of the canal after which it's named, this Fuller's pub comes as something of a welcome surprise. The interior is both light and airy, but also cosy – fireside sofas and a snug bar await at the bottom of the spiral staircase.
Book now
"This Jan/Feb experience our pop-up 'Winterlog Cabin'. Get cosy and enjoy a three-course culinary delight. Book tickets now via our website."
The bar area, which is separate from the restaurant, has a sloping wood-panelled ceiling and a minimalist decor making it look a bit like a trendy Alpine ski lodge. Add the warming gas fire and a sprinkling of live music and you have a pleasing canalside escape in view of the longboats moored along the banks.
Book now
Find more bars for a cosy night
Do you like having to yell at your friends when you go out drinking together? Fine, it's your shout. We like to cater for everybody, so we've put together a list of ten places where talking is easier – ideal for those quiet catch-ups or maybe even date night.