Christmas sandwiches ranked worst to best
Like it or not, lunchtime is about to get a whole lot more festive. Here's our run-down of the Yuletide sarnies to savour and swerve
We bloody love Christmas sandwiches. So we assembled an eight-person panel, blind tested all of the high-street Xmas sangers we could lay our hands on and then promptly wished we hadn't. Particularly because one of them bafflingly contains chocolate spread and another seems to think that coleslaw is the ultimate Boxing Day treat (it isn't). Still, here's the ultimate guide to 2015's Christmas sandwiches.
RECOMMENDED: For more festive fun read our guide to Christmas in London
28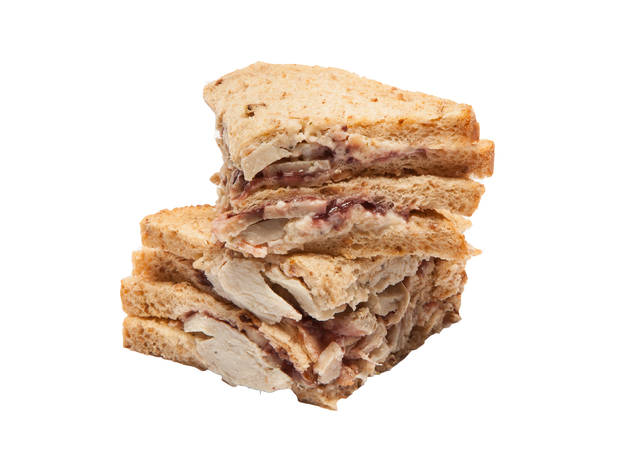 Tesco: Turkey and trimmings
£2.20
Did this turkey come from an actual animal? Or is it a thin sliver of white Play-Doh bashed flat by a malevolent prankster? Hard to say. Very hard indeed.
27
Waitrose: Christmas wensleydale with spiced chutney
£2.25
Imagine if you put a couple of minced pies and a celery stick into your back pocket, sprinkled some cottage cheese in there, then sat down hard. The resultant sloppy, fruity mulch (and inexplicable celery) is what passes for a filling in this atrocious sarnie.
26
Waitrose: Heston's barbecue pulled pork and mustard slaw
£2.25
We know that Heston's meant to be the mad hatter of cookery, but this appalling excuse for an Xmas butty is just mad. It contains so little actual pulled pork that the contents are less a filling than a stain on the bread – and who thinks that pulled pork's festive anyway? Bauble-bearded hipsters, that's who.
25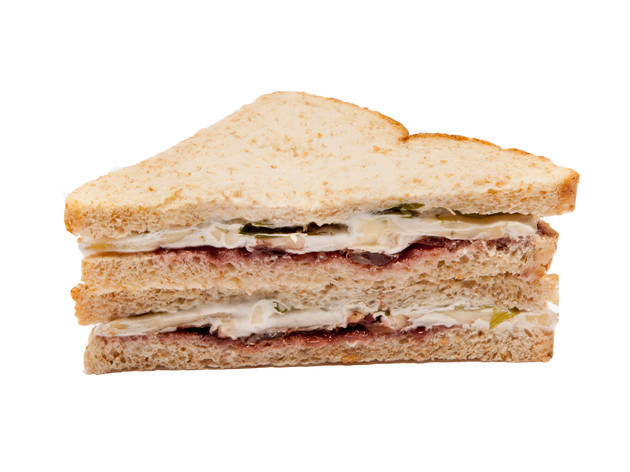 Marks & Spencer: Brie and grape
£3
It's not just any sandwich – it's an M&S balls-up of a sandwich. The brie is a slimy, flavourless disaster and the 'grape' tastes like Vaseline that's been polluted by Vimto. No wait, that's not fair. It actually tastes like paint. Yuck.
24
Sainsbury's: Boxing Day sandwich
£2.50
Ah, Boxing Day: the annual day of coleslaw and thin, sweaty slices of cheddar, right? Nah, didn't think so. Every year this miserable confection of turkey, cheese and grated brassica baffles us more. Often to the point of nausea.
23
Waitrose: Christmas signature spice ham and chutney
£2.43
On paper, a chutney and ham combo could be a delicious mouthful of Christmas. But seeing as the dominant ingredient in this sanger is cucumber, it winds up being about as festive as the Easter bunny. Not a great sandwich, not a dreadful sandwich, but definitely not a particularly Christmassy one.
22
Greggs: Festive wrap
£2.75
One of the best things about wraps is that they are unlikely to shatter as you bite into them. Not so this gum-lacerating effort, which is meant to be served hot, but turned up at the Time Out office nuked to within an inch of its life. Still, the filling's alright.
21
Eat: Festive roast roots bloomer
£3.79
An unholy amalgamation of charcoal-streaked carrot, pumpkin seeds, cranberry sauce, spinach and what is either cous cous or sand or stuffing so bad it could make an adult human cry. Christmas must really suck for vegetarians.
20
Waitrose: LoveLife turkey cranberry and bacon
£2.06
Fine. Perfectly fine. Essentially the sandwich equivalent of being given a toiletries set. It's basic, it's uninspired, but it does a decent enough job.
19
Boots: brie and cranberry
£2.50
There could be more brie. The cranberry could be a bit less tangy. But then again, you could just try buying your Xmas sarnie somewhere more exciting than Boots if you want it to be brilliant.
18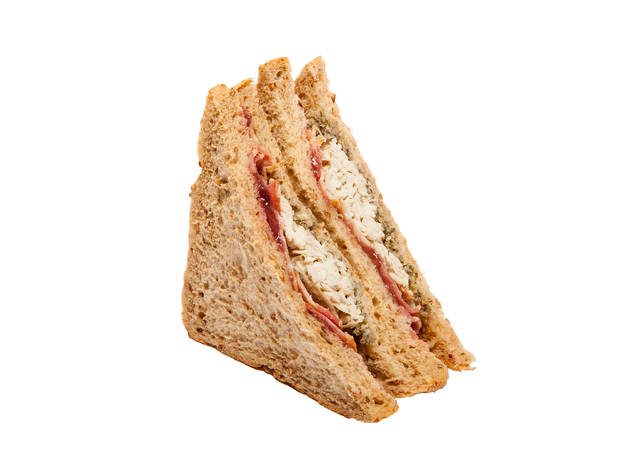 Marks & Spencer: Turkey feast
£3.60
Given that M&S also does a version that's packed full of sausages and which is approximately 300 percent more delicious, we're not really sure why this sandwich exists. Middle of the road.
17
Greggs: Christmas lunch sandwich
£2.75
The Queen's Speech of Xmas sarnies: sounds like it could be alright, but quickly reveals itself to be a bit dry. And in need of a good stuffing. We're just talking about the sandwich there, obviously *shudder*.
16
Leon: Christmas wrap
£5.25
This stuffing-heavy hot wrap isn't bad at all, but languishes in mid-table for two reasons. Firstly, one of our panel marked it down after biting into a humungous bit of gristle. Secondly, the price. Just look at it. You could get an entire Secret Santa gift for that. One that doesn't contain the slightest bit of gristle.
15
Boots: Turkey and bacon
£2.75
Uses spinach for texture, the turkey's actually pretty decent quality and… well, that's probably the end of the distinctive things you can say about this bog-standard leftovers sandwich. Not awful, not great.
14
Waitrose: Christmas ham and chilli-lilli
£2.30
First things, first: if there's chilli in this sandwich's piccalilli, then it's in quantities only detectable by a microscope. That said, it's a tangy, enjoyable companion to lovely fat hunks of ham hock. Unfortunately, a slightly underwhelming amount of filling and bread so spongy you could use it at bath-time means that overall, it's a bit ho-hum.
13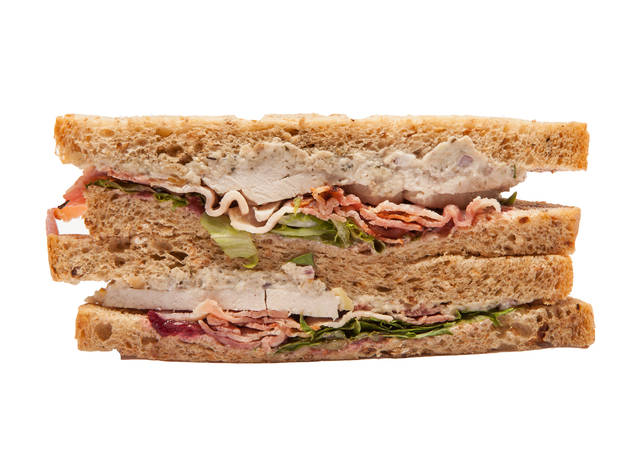 Sainsbury's: Turkey feast wedge sandwich
£2.50
Executive summary: it's okay. It's not gonna have us tearing round the house screaming with joy, but it's fine. Well, except that there's a weirdly potpourri-like quality to the stuffing's sage content. But you know: 'tis the season to forgive and forget and all that.
12
Pod: Christmas feast baguette
£3.50
Nice high-class baguette, but ultimately let down by the overwhelming flavour of Paxo-tastic stuffing. For £3.50, there are better Christmas baguettes out there.
11
Tesco: Chocolate and cherry
£1.80
The only way that this maverick combo of chocolate spread and cherry jam would normally pass your lips in a festive context is shortly after uttering the words: 'Oh shit, I forgot to go shopping!' It's fine (if you like eating like a stoned student). But, erm, seriously Tesco: what the hell? Also, you know the expression: 'They're passing around a shit sandwich and we've all gotta take a bite'? Try not to think about that when eating this.
10
Crussh: Christmas lunch sandwich
£3.75
If this was a Christmas TV drama, the turkey would be a bit-part, playing second fiddle to the lead roles of Mr Curious Avocado and Ms Beetroot Surprise. It would probably also be called 'Dude, This Is Fine, But Is it Really A Christmas Sandwich?'
9
Crussh: Festive turkey, bacon and Somerset brie toastie
£4.25
A hot cheesy mess of liquid brie, smoky bacon and a wedge of turkey. What's not to like? Actually, very little. Very little at all.
8
Eat: Festive full works rustic baguette
£3.89
This one tops the standard Xmas turkey sanger with slices of thick ham. It's like Boxing Day in a sandwich: but with less being pissed off by your family. It's meaty, it's delicious, it's pretty damned good. It's also exactly the same as Eat's other festive offering: the festive full works bloomer – bar the bread.
7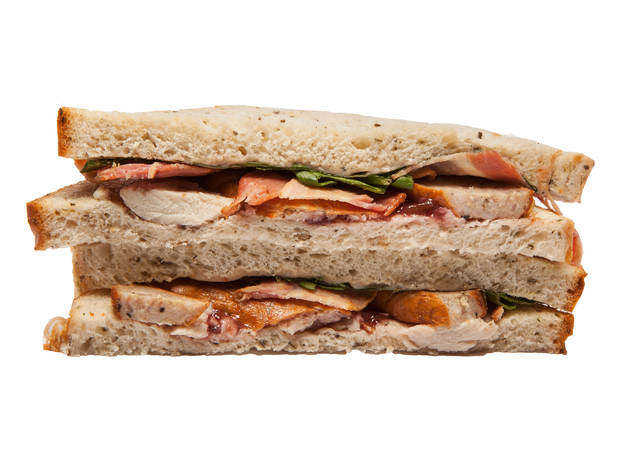 Marks & Spencer: Turkey and pigs in blankets
£3.30
Sausages in a Christmas sandwich are rare. And it's even rarer that they're such fat chunks of primo banger that they'd give a chipolata an inadequacy complex. Sadly, the turkey and the stuffing let the porky bits down. Still the best sausage-based Xmas sandwich, though.
6
Pret A Manger: Brie and cranberry on stone-baked baguette
£3.45
Why does EVERYONE seem to think brie belongs in an Xmas sandwich? Are we missing something? Is everyone else spending December 25 roasting French cheese, slathering it with cranberry jelly, then serving it alongside the sprouts? No idea. But as cheesey festive specials go, this is the best one out there. Pistachios even lurk within, adding welcome crunch.
5
Pret A Manger: Veggie Christmas lunch sandwich
£3.25
Christmas lunch ain't typically the finest meal in a vegetarian's calendar, but Pret definitely does its best to sex it up. The cranberry, spinach and roast butternut squash team up with a chunky nut pesto to make this a real Tchaikovsky of a sandwich: nutcracker-tastic.
4
Pret A Manger: Beef Wellington on stone-baked baguette
£3.99
Beef Wellington? For Christmas? We like it! This Pret newbie is the biggest development in the Xmas sandwich world since someone first decided to mass-market leftover butties. And if it had enough beef inside to not feel a tad sparse in terms of filling, it could've been a serious contender.
3
Eat: Festive full works bloomer
£4.49
Meat, meat and more meat. A tad heavy on the sickly cranberry, but it's hard to argue with a sanger that's so densely packed with carnivorous goodness that there's almost more meat than bread. Mostly filler, all killer.
2
Paul: Dinde de Noel
£4.50
In case you're not tipped off by the £4.50 price tag and a name that sounds like something Poirot would shout when angry, this is one posh sandwich. It's an unusual pairing of turkey and horseradish mayo and comes in a baguette brilliantly studded with cranberries. Encore, sil vous plait!
1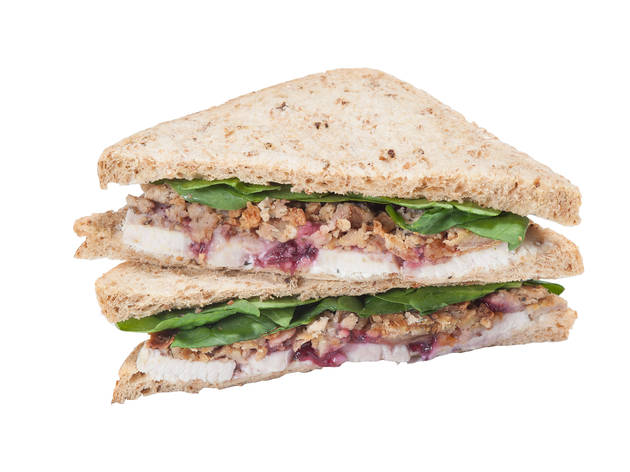 Pret A Manger: Christmas lunch
£3.60
It's the Father Christmas of sandwiches. The undisputed monarch of bread-based turkey treats. There's a staggering amount of high-quality ingredients packed into this bad boy, but for us, it's the fried onion bits that really make it stand out. Will it ever be beaten? Not this year, it won't.
Read even more on festive food
Remember that time we ranked all 32 Pret-A-Manger sandwiches from worst to best? It was a big day for the internet, but this pioneering piece of journalism didn't pass without upset. Among the major complaints was that we'd left out the Christmas specials, a concern voiced by people who'd clearly put no thought towards the logistics of taste-testing a Christmas sandwich in the middle of bloody spring. Well, today we're putting that oversight right, by rating not only Pret's seasonal sarnies, but all their other festive foodstuffs, too.
Read more