The 100 best hotels in London
Check out the best places to check in with our guide to the best hotels in London. From cheap hostels to the finest luxury and five-star hotels, London has a room to suit everyone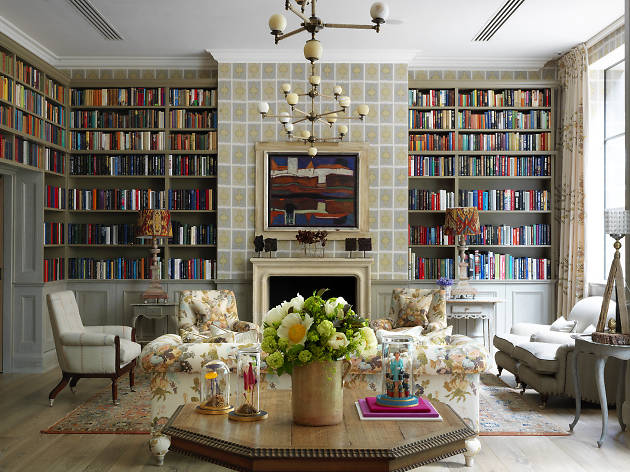 What makes a great hotel? In coming up with this list of the 100 best hotels in London, we considered a heady mix of factors – from definables like design, location, service, amenities, architecture, and value for money, to less tangible elements like ambience, history and the character of the reception cat. Then we factored in what we think Time Out readers would want from a hotel – whether a five-star in Mayfair, a budget option near the Eurostar, a chic cheap hotel in Camberwell or a Bloomsbury-era B&B minutes from the British Museum. So, a definitive list of the best hotels in London with something for everyone? We think so.
100 best hotels in London: top ten
1
What to say about this London icon? It starts on floor 34 with a spacious foyer and restaurant and the kind of luxe, cosmopolitan neutral looks you'd expect, and extends up to floor 52, which houses western Europe's highest swimming pool, a fitness room and a bar. In between, guest rooms have wraparound floor-to-ceiling windows (even in the bathrooms) and are furnished in glamorous Asian-international-contemporary style with luxury materials – think marble and silk. As though acknowledging it's all about the views, they all have binoculars.
Book now
2
From its Mayfair location to its clientele list, Claridge's is sheer class and, with its signature art deco redesign, still simply dazzling. It begins with the OTT Dale Chihuly chandelier in the sumptuous foyer and doesn't let up, from Simon Rogan's Michelin-starred Fera restaurant through the discreet bar to the deco- or Victorian-style rooms.
Book now
3
Unsurprisingly, Sir Terence Conran's intimate Boundary puts design to the fore, right from its rooftop bar to its restaurants and 17 rooms. Each of the latter contains a handmade bed, classic furniture and original art, and larger rooms and suites are themed around famous designers or design movements, including Charles and Ray Eames and Eileen Grey. Our favourite? The Heath Robinson room, decorated with sketches of hilariously complex machines.
4
Anouska Hempel's row of Bayswater townhouses is all sleek lines and a zen-like monochrome feel, with an Asian influence in rooms divided by slatted sliding screens for windows, wardrobes and bathrooms. The large terrace running along the front of the building, with trees planted for an arbour-like effect, is a big summer asset.
Book now
5
In keeping with its Park Lane location, the Dorchester is the bee's knees, from its thoroughly, opulently classical interior and grand lobby to its first-class restaurants employing some 90 chefs. A cutting-edge attitude encompasses state-of-the-art mod cons and a magnificent spa complete with glittering tearoom: the Spatisserie.
Book now
6
This positively palatial London institution is the place to head if you like the idea of a world where jeans and trainers are banned and jackets must be worn by gentlemen when dining. Its opulence isn't for everyone, and neither are its prices, but if you fancy being a brief interloper, book well in advance and pack your gladrags for an elegant afternoon tea at the Palm Court or dinner at the Michelin-starred Ritz Restaurant, a riot of murals, ceiling frescoes, statues and drapes.
Book now
7
Kit Kemp has teamed her trademark bold colours with antique and distressed furniture to create this grandly proportioned Firmdale complex of hotel, apartments and cluster of shops around a courtyard that's great for warm days – as is the secret rooftop garden. On cold ones, the basement bowling alley is a nice alternative to the attractions of Piccadilly Circus.
9
This Holborn offshoot of Hoxton Shoreditch is at least as good as Sinclair Beecham's original, and better-placed for central London major sights like the British Museum. Rooms come in a range of sizes, from Roomy down to Shoebox, which you might get for less than £90 all-in on a Sunday.
Book now
10
Soho House's London stayover perfectly captures the atmosphere of Shoreditch with its fun and slightly retro design. Rooms decked out in pastel-coloured tongue-and-groove feel fresh and a bit like beach huts; perfect for the excellent rooftop pool in the members' club next door and the holiday vibe throughout. If you crave more space, High Road House in Chiswick, also owned by Soho House and sharing its ethos and style, has 14 bedrooms from less than £100 for a double room.
100 best hotels in London: 11-20
100 best hotels in London: 21-30
100 best hotels in London: 31-40
100 best hotels in London: 41-50
100 best hotels in London: 51-60
100 best hotels in London: 61-70
100 best hotels in London: 71-80
100 best hotels in London: 81-90
100 best hotels in London: 91-100
Find more hotel inspiration in London
Choosing the best romantic hotels in London was never going to be an easy task. We defy anyone to walk across Waterloo Bridge with your beloved by your side and not feel your heart glowing. The city really is one of the best places on earth to be loved up, especially if you pick a hotel where there's champagne on arrival, breakfast is served in bed and the views will make your hearts soar.