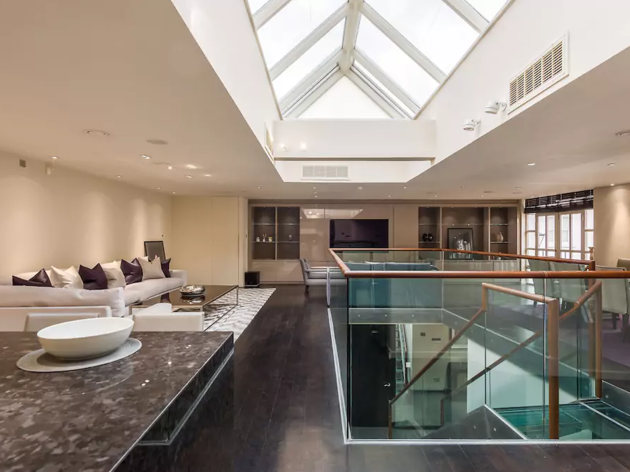 The best Airbnbs in London
Need a place to stay in London? We've done all the searching and scrolling so you don't have to
London is an amazing city with many wonderful characteristics, but being cheap ain't one of them. So if you're thinking of spending a few nights in the Big Smoke, you should definitely give Airbnb a look – chances are it'll be a damn sight cheaper than a hotel or B&B, especially if you're going with a big group. Whether you want to stay by the theatres and attractions of the West End, or out in the flourishing hipsterland that is the East End, we've rounded up the best of the best Airbnbs in London for you to take a butcher's hook at (that's Cockney rhyming slang for 'look', btw).
Note: please check the latest travel guidance before booking your trip
RECOMMENDED: The best family-friendly hotels in London
London's best Airbnbs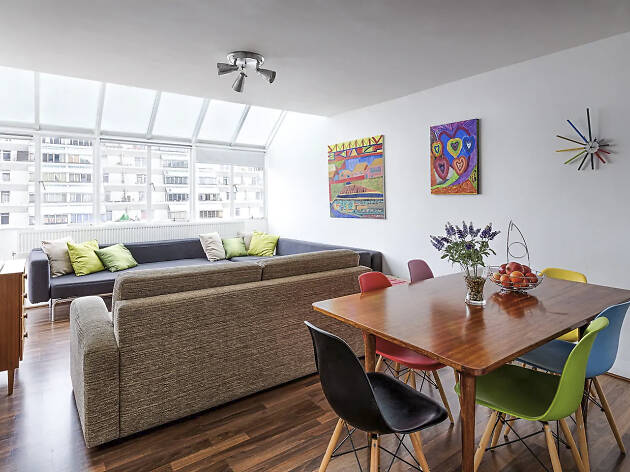 © Airbnb
1. Stay in a piece of history in Russell Square
Any history buff or those with an eye for brutalist architecture will jump at the chance to kip in this Grade II-listed building, which was designed by Patrick Hodgkinson in the late '60s. Otherwise known as the Brunswick Centre, this angular structure juts out over the streets of Bloomsbury on one side, whilst overlooking its own collection of shops and restaurants on the other. It's within walking distance of the British Museum, too, not to mention the West End. And with the ability to sleep up to 11 people, it's a top spot for larger parties.
© Airbnb
2. Classical grandeur in Knightsbridge
Fancy something a little on the posher side? Check out this two-bed place in west London's Knightsbridge: it's so polished you might even describe it as palatial. Better still, it's located just behind the world-famous Harrods, should you fancy a bit of high-end retail therapy.
3. Have the Olympics on your doorstep in Stratford
Since the Olympic Games were hosted here in 2012, Stratford has undergone some major regeneration. Thankfully, it still retains the charm that the artists and OG Londoners brought to it, but now there's also an enormous shopping centre, the best swimming pool you can get and acres of landscaped greenery to relish, which you can do perfectly from the floor-to-ceiling corner window of this flat. Sitting right beside the canal, you get views of the water, nature and the Olympic stadium. Plus it's decked out as boho-chic and can sleep up to four guests.
4. A quiet apartment in Piccadilly Circus
This one's definitely worth checking out for the convenience of location. It's in Piccadilly Circus, which means you're walking distance from the shops of Regent Street and Oxford Street, the theatres of the West End, and Buckingham Palace. Even better, despite being in the thick of it, it's pretty quiet and secluded. (Bet you never thought you'd find that in central).
© Airbnb
5. Quirky apartment in Covent Garden
The ease with which you can get to the theatre district, shops, restaurants, bars and museums from this place is probably the biggest selling point. But it'll also suit a quirky bunch of mates perfectly. It sleeps five and is decorated with eclectic colours and furnishings. Plus there's a cute little balcony.
© Airbnb
6. Luxury yacht moored in east London
All aboard the party boat! This luxury yacht is moored in Canary Wharf – perfect for easy access to The O2 – and, while it's extremely pricey, it holds up to 15 people so you can split the costs. The city break to end all city breaks, right?
7. Swanky house in Kensington
A one-bedroom flat that's very well sunned, this Kensington flat is bright and contemporary. And given just how swish and luxurious it looks in these pictures, curling up with a book sounds absolutely dreamy. But what else would you expect from a bad in this well-heeled part of town?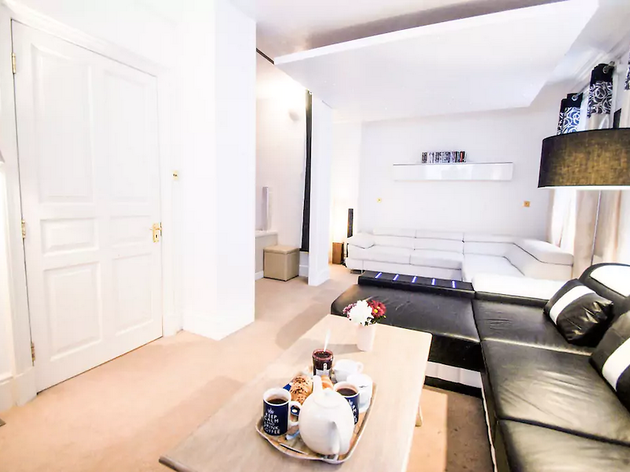 © Airbnb
8. Humungous six-floor house in central
To say this place is kitted out to the max is a bit of an understatement. Not only does it accomodate up to 30 people across six floors and seven bedrooms, but it's also got a vintage games arcade, a poker table and a jacuzzi. You may well end up not setting foot outside…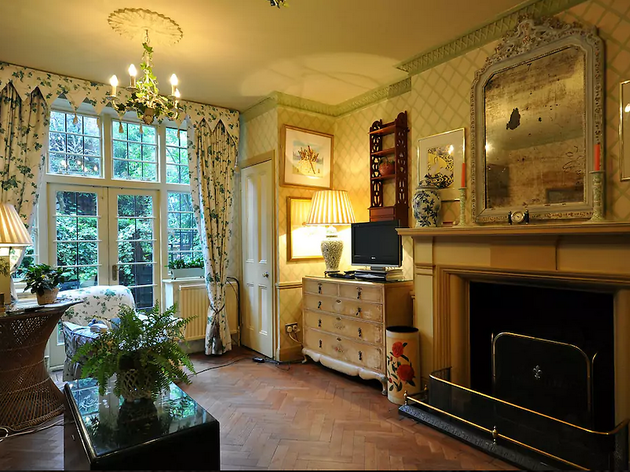 © Airbnb
9. Old-school Chelsea pad
This house, on a famous street near the riverside in Chelsea, is everything you'd expect of a charming, genteel period property in London. The boutiques and restaurants of Kings Road are a short stroll away, while Battersea Park is just on the other side of the river.