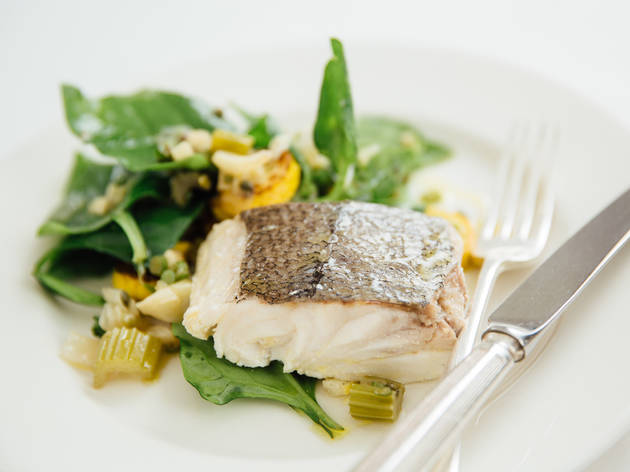 1/4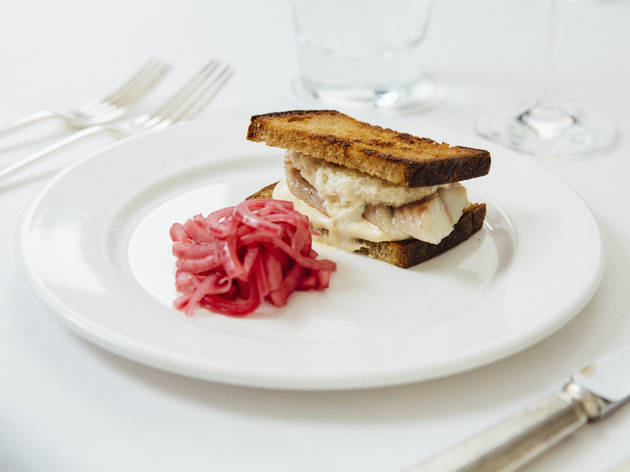 2/4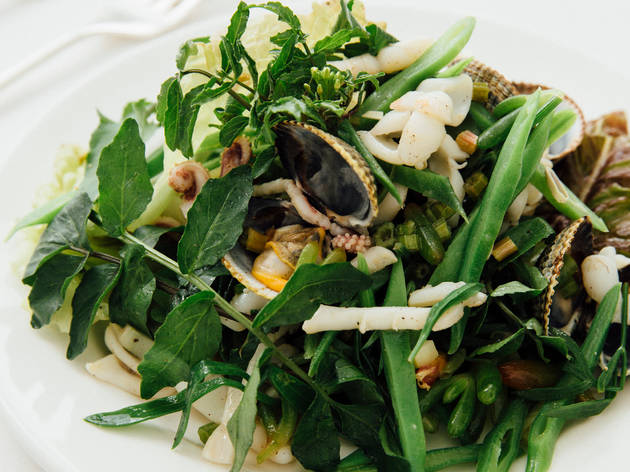 3/4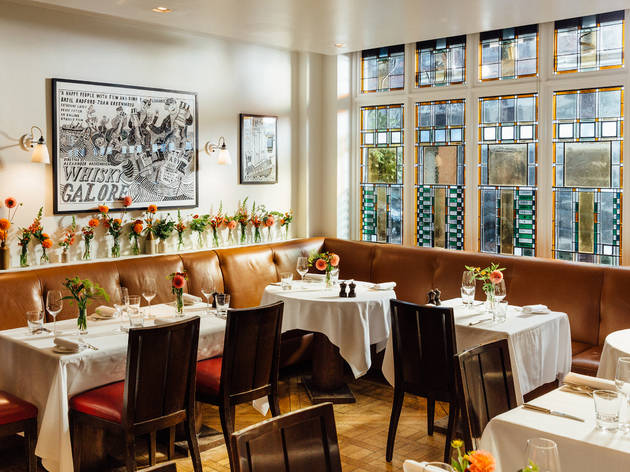 4/4
Time Out says
An upmarket all-day British restaurant.
Quo Vadis – a bona-fide Soho institution – is less than ten years from its centenary. And as part of its recent ninetieth birthday celebrations, the old girl has had a bit of a spruce up. The fact that renovations were made to make more space for celebrated tapas bar Barrafina next door (also owned by Sam and Eddie Hart) does slightly detract from this very smart restaurant's own achievements, though. The room is now definitively petite, filling up at peak times with the same old confidence and old-school Soho characters. The familiar stained-glass windows – a QV calling card – maintain the chic levels. Service is as sharp as ever, if perhaps a little impersonal.
British standards from the kitchen are still given modern flourishes and QV fans will be relieved to see old favourites like the smoked eel sarnie and a 'pie of the day' still on the menu. A gamey pheasant pie with lashings of silky mash on the side was perfect comfort food and plenty to share between two. A crab and fennel salad was coated in a fresh vinaigrette and came with generous helpings of crab meat. Skate cheeks were great for snacking on the side; piping hot little bundles of flesh coated in breadcrumbs, these are surely QV's answer to the croquetas being devoured next door. I'm looking forward to the big 100.
Details
Address:
26-29 Dean Street
London
W1D 3LL

Transport:
Tube: Leicester Square, Piccadilly Circus or Tottenham Court Road
Do you own this business?
Rating Breakdown
5 star:

4

4 star:

2

3 star:

1

2 star:

0

1 star:

1
My wife and I have visited this restaurant 3 times now and I'm comfortable in recommending it to just about anyone. This is the type of spot you go on a date night in that you can dress a little fancy, have a cocktail, a few apps and a great meal.
You can then follow up your course with a delightful dessert from a menu that changes weekly at least.
You'll leave feeling full and very satisfied as a foodie who's found a spot with creative dishes, good service and a great ambiance.
I had the most wonderful birthday dinner at Quo Vadis (June 2014).
The atmosphere and décor of the restaurant set the tone for the evening, and to some extent the food itself - intimate but bustling, smart but relaxed, simple but also full of character.
All of the food at Quo Vadis is highly seasonal, and the daily menu is just wonderful to read, with charming illustrations breaking up the usual monotony of trying to pick what to eat.
We started with an aperitif - I had a dirty martini, which was very well made.
I started the meal with the crab mayonnaise - not something I would usually order, but I did my research before dining and was assured it was a sure bet. And it was delicious - a generous serving of crab - perfectly prepared (I felt very pleased not to have done any of the work myself!) - with luscious mayonnaise served on the side, a lemon to squeeze, and some delicate, crisped toasts, which allowed for generous pilings of the DIY crab mayonnaise mixture.
I moved onto a delightful brill dish - perfectly cooked brill, a zingy gremolata, utterly delicious olive oil mash, and a nice addition of some fried artichokes. This was just a joy to eat.
For dessert, I had the St Emilion au Chocolat - given how rich it was, this was an ambitious undertaking after the two previous courses, but it was really very lovely - bitter chocolate abound, balanced by a sweet almondy-macaroony base. It's entirely understandable that this is on the menu most of the time!
The wine selection is good, providing choice to suit all budgets. Our server was knowledgeable about the range also, and provided some helpful guidance. Overall, the service was attentive, though it did take a little while to pay the bill.
If it's not already obvious, I will definitely be returning! A lovely place, with lovely drinks, lovely staff, and lovely food.
Keen-eyed folk about town strolling along Dean Street these days from the Shaftesbury Avenue end can't fail to notice the miscellany of eateries adorning its sides. What folk may not recognise, at first glance that is, is the quality of these establishments and the height of regard they are held in by the Londoners who frequent them. This stretch of soho it appears, is the place to be if you want to make your mark at the moment; Ducksoup, Soho Joe, Groucho Club, Tonkotsu, Dean St Town House and even the crustacea of the now Burger & Lobster empire have clawed their way onto the scene over the last year. The well-established Berwick Street Market 'Pizza Pilgrims' are now pioneering their way into number eleven in order to make even more dough on Dean Street in the near future too. This vibrant, varied new gastronomic scene is the essence of Soho today; unique, diverse, (largely) independent restaurants offering fresh, unpretentious market fare at unarguably brilliant customer-friendly prices. The Soho 'institutions' of a time gone by will surely be swallowed-up by this tsunami of fashionable food, wouldn't you think? Look at L'Escargot – alas more L'Escargone these days. My tips to successfully traverse the path through the delicious Dean Street gauntlet? Follow the bright red neon star in the sky; when it eventually reads "Quo Vadis" you can relax; you have reached your destination institution. A venue which, since its opening almost one hundred years ago, has probably never faced such stiff competition all on one street as it does today. The Hart brothers took on this strained establishment, struggling without a clear message back in 2008. Three years later, they hit the jackpot by installing the brilliantly effervescent Scotsman, Jeremy Lee as the driving force in the kitchen. The man himself greeted our party as we crossed the threshold into the wonderful art deco foyer before leading us to the bar for an essential pre prandial cocktail or two - he must have done his homework on us. The dining room is modest; sharp-edged and clean, scattered with chunky earthenware pots and flower arrangements, kissed by oodles of natural light flooding onto the linen through the immaculate 1920's stained glass windows that look out onto the street. The menu card itself is a delight to peruse; it even seemed to know that it was a 'dazzling' 25 degrees outside. Nice touch. This single sheet is an achievement in itself, comprising as it does the menu for the whole day. A dazzling three course set lunch/ pre theatre for £20 certainly cannot be argued with. Single oysters, sandwiches, hot plates of the day and seasonal salads form a delightful doughnut around the day's menu in the centre. The advertised Edouardini cocktail: campari, vodka, lemon juice and soda provided a perfectly sharp, negroni-like thirst quencher to get things going before the starters arrived. A warm salad of sardine, samphire, seaweed, green beans and mint was a summer showcase of Lee's gentle style; beautifully fresh, seasonal and well textured. The squid, bean and tomato dish struck similarly sunny notes with my fellow diners. A hake, a hake, my kingdom for a hake! It was a real joy to have this wonderful creature come out as a main course. It is a fish which is still not recognised enough by the British palate. The spaniards however are laughing, since we export most of it to the continent. A butch fillet, surrounded by a crab bisque, flavoured with fennel, tomato, and a big unexpected ballsy kick of chilli was undoubtedly the winner on the day. Those two dishes alone perfectly demonstrate the skill and versatility of Lee's cooking. It would be easy to slip into the all too common vacuous narrative of the 'letting the flavours speak for themselves' and 'simple ingredients, done well' nonsense that we hear all the time these days. It would be a shame to tarnish Quo Vadis with these worn out clichés. Lee's cooking has a pair of cojones on it - and it's not afraid to show it. That's the difference; making an unashamedly classic, cool message become not only contemporary but necessary at the same time among its up and coming, soon to be prestigious neighbours. This reinvention of Quo Vadis has taken the crown of the Soho dining scene and is here to stay. Long may the Queen of Dean Street reign over us.
My part of four visited Quo Vadis on October 22nd 2012. We all agreed that it was quite simply the best meal we have eaten in ages (and we are all well-season and well-sossled veterans of the London restaurant scene).We were welcomed by the most delightful front of house, the smiling staff were attentive (but not overly so) and the food was excellent. We booked immediately for a second visit without hesitation and can't wait to return. Perry Le Dain
What could possibly go wrong when you go for the safe choice of ordering a steak? A lot apparently. Dinner started well with the crab soup - smooth flavoursome and fresh, served with crispy toast which went together really well. Then we ordered the medium rare rib of beeef for two. It came on a wooden serving plate, chargrilled to the extent of being burnt on one side and clearly completely overcooked. I kindly imformed the waiter about my slight disappointmtent, and he quickly brought me another one, yet still burnt and overcooked. As a paying customer, I felt rightfully so to ask the chef to re-do the order, but only further disappointed when the response I got was for the second time was "sorry, that's cooked medium rare". After 10 minutes of chewing throught the dry piece of meat whilst having to cut off half of the inedible burnt bits, I paid the bill and probably wont't be back anytime soon.
I visited not long after the start of the Jeremy Lee reign - lovely ambiance and gracious service. We were by far the youngest and scruffiest clientele, our fellow diners (almost without exception) being suited and booted types. Great place to people watch! We spotted Greg Davies, Ralph Fiennes and Suggs. Dinner came in at approximately £50 per head including drinks and service, but the main menu and bar menu are backed up by a very affordable 'theatre set' at £17.50 for two courses and £20 for three. The food was very good but was a little let-down by an Oyster which had become tangled up with bits of Oyster shell and over-liberal use of coarse salt; there's over-seasoned, then there's nearly inedible. Some of the vegetables with our squid starter were very near the latter. The potted beef, however, was perfectly balanced and the tranche of Brill only just opaque, as it should be.