The 100 best restaurants in London
Feast your eyes on the best restaurants in London, from seasoned stalwarts never falling out of fashion to tasty newcomers doing bold new things in the kitchen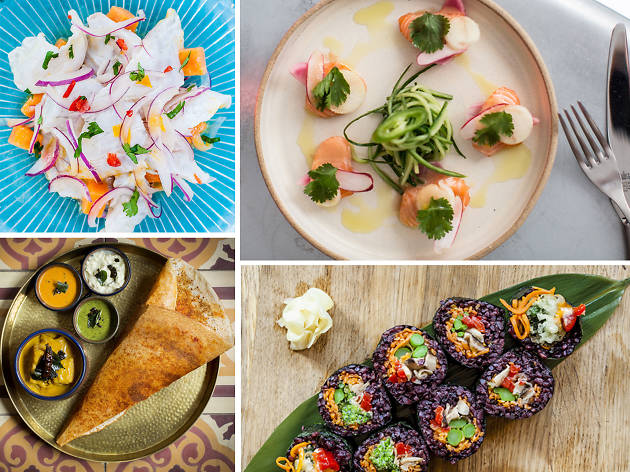 Setting the criteria for our annual list of the 100 best restaurants in London was the easy bit. Anywhere we felt compelled to revisit again and again was instantly in. The Time Out Food & Drink team spend the whole year independently visiting the newest joints in town and revisiting the greats, so our critics know which restaurants truly deserve their place in our annual top 100. Nevertheless, we fretted, we sweated, we chewed on toothpicks while dramatically shortening shortlists with a big red marker. Until, at last, we had London's best restaurants, ranked in order of greatness.
So in the list below – surely the ultimate guide to the best restaurants in London – you'll find it all: zeitgeist-defining celebrity haunts, the best new restaurants in London, Michelin star restaurants with starched linen napkins and restaurants serving down-to-earth cheap eats. What they all have in common is that they serve some of the best dishes in London at fair prices, with service befitting the setting. In short, if you're looking for a great meal, you've come to the right place.
100 best restaurants in London: 100-91
100 best restaurants in London: 90-81
100 best restaurants in London: 80-71
100 best restaurants in London: 70-61
100 best restaurants in London: 60-51
100 best restaurants in London: 50-41
100 best restaurants in London: 40-31
100 best restaurants in London: 30-21
100 best restaurants in London: 20-11
100 best restaurants in London: top ten
How many have you eaten at?
We can all be a bit competitive when it comes to dining out in London. That's why we've assembled a checklist for you to work out just how many of London's best restaurants you've been to. Take the test and share your score to see if you're the king or queen of London's dining scene.
Read more
Sponsored listing
28°-50° Wine Workshop & Kitchen
The three outposts of 28°-50° share a similar wine list, a French-inspired menu and a bright, on-the-ball attitude, but there the resemblance ends. Fetter Lane is a basement with a French country-kitchen vibe, while Marylebone is a shiny new corner conversion, all glass and zinc with wraparound windows and a central bar. The menu offers predictable platters and pâtés, plus a handful of more involved main courses and grill dishes. The standard is high, give or take the odd stumble (a few unnecessary relishes and flourishes, and a curio of an aubergine main dish whose miso and charred-skin flavours weren't made for wine-pairing). We particularly rate the grilled meats; the unctuously simple ox cheek braised in red wine; the thin and crispy fries; and the notably generous prawn cocktail starter. The wine list is a thing of joy, offering upwards of 30 varied and delicious wines from on-song suppliers, many of them small producers, plus a changing themed selection. It's well worth exploring: order 75ml glasses and follow the young staff's enthusiastic advice. The crowd is smart, with seats at the V-shaped bar attracting plenty of solo customers and shoppers on a quick break. 
"'Winter special'. Aberdeen angus rib-eye steak or seared yellowfin tuna, chips or a salad and a glass of wine, £21.50. Available noon-close."
Marylebone
Online booking