Maximum strength
We double-dog dare you to hit these pulverizing New York City gyms. We did.
By James Y. Lee Thu Apr 30 2009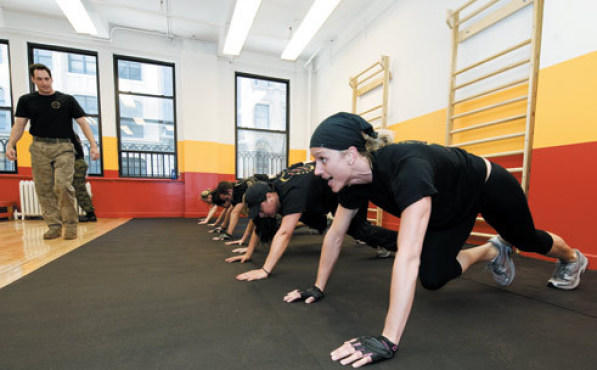 Velocity Sports Performance

"Have you ever thrown up after a workout?" asks Lily Panchasarp, who works in Velocity's marketing development, right before I head into class. It's not what you'd call an auspicious beginning, although it does mentally prepare me a little bit for what I'm about to go through. Velocity has helped NFL players, Olympic fencers and other athletes bring their A-game to every competition. The instructors are athletes too: Our instructor, Bryan Jackson, an ex-pro European soccer player, took us through 35 minutes of light warm-ups, including footwork training, sprints and numerous stretches that opened up our groins—presumably so he could kick us in the balls the remaining 60 minutes. We were then made to do reps of box jumps, Bulgarian split squats and Spider-Man crawls...while pulling an 85-pound sled. Afterward, I was slammed with two leg cramps, and I passed out in the lobby's massage chair while trying to recover. "This is my seventh time here," sympathized Will Rivera, 28, from Washington Heights. "The first three times, I threw up." 133 E 58th St between Park and Lexington Aves, sixth floor (212-593-3278, velocitysp.com). Times vary, $75 a session.
Barf-o-meter: 6/6
An alternative for wusses: Sports Conditioning at New York Sports Club (various locations, visit mysportsclubs.com for info).
Gleason's Gym

I have the eye of the tiger—but the arms and legs of a gazelle. So reasonably, I expected to be knocked out in the first round at the historic training grounds for boxing greats such as "Raging Bull" Jake LaMotta and Muhammad Ali. I was partnered with "Country" James Thornwell, a wise-crackin' 67-year-old from East New York, who has been coaching face-punchers—including Heavyweight World Champ "Terrible" Tim Witherspoon—for 30 years. Country wrapped my hands and showed me proper fisticuffs techniques, replacing my previous fighting style—hair pulling, eye gouging and screaming—with upper cuts, jabs and hooks. We worked on my footwork, and Thornwell had me tackle the bags as I floated like a butterfly and stung like, well, an angrier butterfly. After demonstrating my slo-mo speed-bag skills and working on my (fl)abs, I was sweating a decent amount. Luckily, my training was mostly focused on form rather than knocking me down to the canvas. 77 Front St between Main and Washington Sts, Dumbo, Brooklyn (718-797-2872). Times vary, $30 a session.
Barf-o-meter: 5/6
An alternative for wusses: Wii boxing game at Gravity Fitness 119 W 56th St between Sixth and Seventh Aves (212-708-7340, parkermeridian.com/gravity).
Warrior Fitness

Hitting the snooze button is all the exercise I normally get at the ungodly hour of 5am. I made an exception to be drafted into this psychotic boot camp run by drill sergeants Alex Fell and Ruben Belliard, two real-life Marines. Their military background shows: Our class was screamed at—they stopped just short of calling us maggots—and made to drop and give 'em 20. They have a shockingly impressive retention rate of 80 percent—about 200 to 250 members (the majority of which are female!). I felt like I was trying to catch my breath for the entire high-intensity hour, as we yelled out the rep count for leg lifts, jumping jacks, push-ups, squats, laps, multiple runs up the building's flights of stairs and visits to their obstacle course. After the punishing code-red workout, I realized I couldn't handle the truth: The girls were tougher than me. 29 W 35th St between Fifth and Sixth Aves, third floor (212-967-7977, warriorfitnessbootcamp.com). Times vary, plans from $500 to $1,500.
Barf-o-meter: 6/6
An alternative for wusses: The circuit for ladies at Curves 36 W 34th St between Fifth and Sixth Aves (212-564-8436, curves.com)
CrossFit South Brooklyn

UFC fighters, SWAT members, FBI agents, Marines—the toughest have all gotten an ass-whupping through this cultlike workout movement. Every day's ball-busting workouts are listed online and on-site, each focusing on turning you into "the quintessential athlete: equal parts gymnast, Olympic weight lifter and sprinter." Visiting the Brooklyn gym—a huge loft with a gigantic cage for pull-ups—feels like walking onto the set of The Silence of the Lambs. The whiteboard showed me the day's menu: five power cleans (a weight-lifting exercise) at 155 pounds, and 50 pull-ups! Trainer David Osorio, 24, spends the first half of the class working on technique, then he starts the clock for my Workout of the Day. Thankfully, CrossFit rarely lasts longer than 30 minutes; unfortunately, each minute feels like an eternity. I'll admit, Osorio watered down the workout for me (even with the help I couldn't finish my pull-ups), but I was floored afterward and created what they call a "sweat angel," a common decorative motif at CrossFit. 227 Fourth Ave between President and Union Sts, Park Slope, Brooklyn, second floor (973-610-3628, crossfitbrooklyn.typepad.com). Times vary; $20 a class; free beginner class Mon, Thu 7pm; Sat, Sun 1pm.
Barf-o-meter: 6/6
An alternative for wusses: The judgment-free zone at Planet Fitness (various locations throughout the outer boroughs, visit planetfitness.com for info).
See more in Spas & Sport