Weird fitness classes in NYC everyone should try at least once
Add spice to your calorie burn with one of these whimsical and weird fitness classes in NYC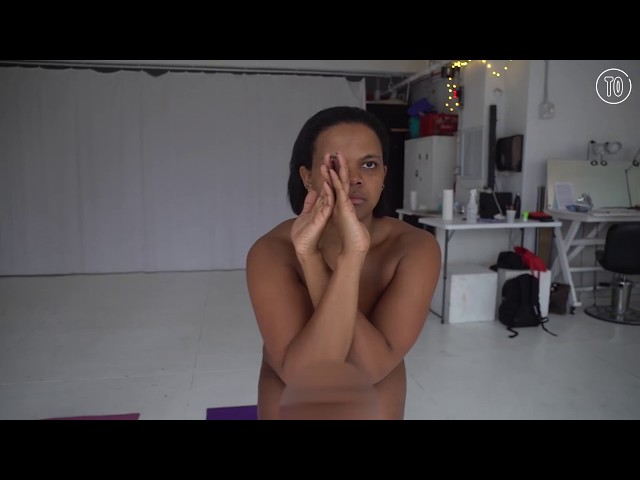 It's time to kick your routine up a notch with one of these weird fitness classes in NYC. Why squander your free time in the usual yoga and spinning classes in NYC when you could be learning to juggle or shaking your booty in a twerking workshop? You'll have to leave behind the typical gyms and health clubs and start checking out boutique studios to find the truly unique offerings, but trust us, it's well worth venturing outside your comfort zone. So pump up your playlist of the 50 best workout songs and get ready to sweat!
RECOMMENDED: Full guide to fitness classes in NYC
Weird fitness classes in NYC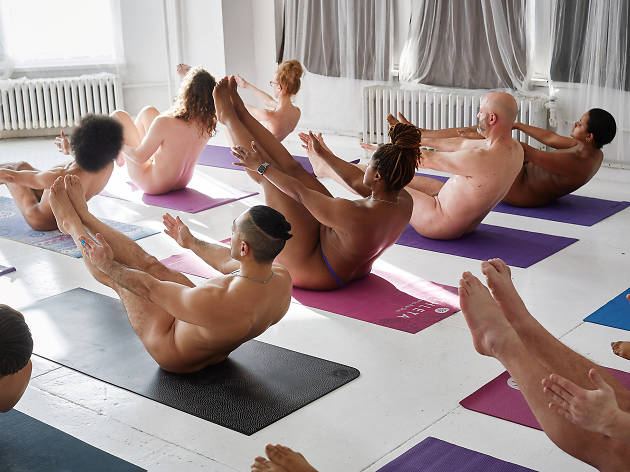 Photograph: Courtesy Naked in Motion
Naked! Yoga at Naked in Motion
Leave your clothes—and inhibitions—at the door and perfect your down dog in your birthday suit at this gathering of free spirits (and nudists). These yoga and Pilates sessions focus on body acceptance as you twist and contort while surrounded by unclothed practitioners of all shapes, sizes, ages and genders. It may be a bit jarring at first to work on aligning your chakras in the buff, but just think how much easier it will be to double-check your form! You definitely won't get away with a curved plank in this class. $15–$25
Photograph: Courtesy Rogue Alliance
Illuminated Stage Combat at Rogue Alliance
This Star Wars fan group regularly hosts Illuminated Stage Combat workshops, which—in this highly litigious society—we hesitate to describe in greater detail. But you get it, right? (Lightsabers.) At one of the group's regular sessions, you can pick up stage-combat performance techniques—hand-to-hand and skills with swords, staffs and other weapons (lightsabers)—as you develop a unique fight performance utilizing one of "science fiction's most famous swords." (It's lightsabers, people, come on.) Free
Photograph: Courtesy The Muse / Andrew T. Foster
Just think, after one of these intensive workouts, that person who always wants to show others they can do a handstand when they're drunk could be you! But you should know, it takes a lot of muscle—including your core and delts—to successfully do this seemingly simple maneuver. This workshop not only teaches you how to invert yourself but also how to get strong enough to walk on your hands. The extra-ambitious handstand trainees in the class can even try to do a handstand on someone else's hands. Now that's going to get you all the likes on Instagram. $25
Photograph: Courtesy Sword Class NYC
Spear and Pole Weapons at Sword Class NYC
Which of these is more impressive: "I'm going on a light jog tonight" or "I'm currently training to defeat my enemies by mastering the ancient art of spear battle"? Learn the basics of fighting with the quarterstaff, halberd and short spear in this introductory course, and if you want to improve your fighting skills even more, sign up for the next level: an advanced sparring session during which you face off against your fellow students. Gauntlet, thrown. $10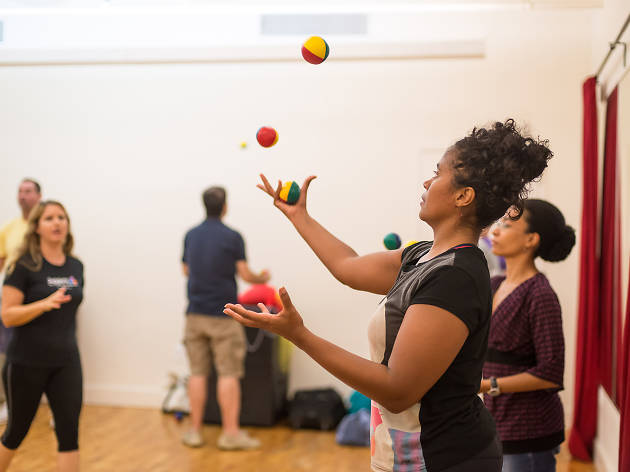 Photograph: Courtesy Juggle Fit
Learn to Juggle at JuggleFit
Have you always nurtured a secret dream to run away and join the circus? Well, here's your chance (for an hour at least). You'll gain some serious ball-throwing skills in this hourlong class that also promises to burn some major calories. Best of all, you're guaranteed to learn how to simultaneously keep as many as three balls (or scarves) in the air after just one session. That definitely seems like something you could add to your dating-app profile (not to mention it's a nifty new party trick). $20
Prefer lounging in your apartment and playing video games to hitting the treadmill? This should finally motivate you to get off the couch. AG6 is the first workout in North America to utilize cutting-edge PRAMA technology, which basically means you run around a room and hit light-up buttons while the floor responds to your movements. The high-intensity, circuit-based training encourages you to explore an 1,800-square-foot facility, step on interactive tiles and bounce balls off the walls—generally giving you the feeling that you're exercising inside of a video game. But luckily, the workout you get is all real. $15–$300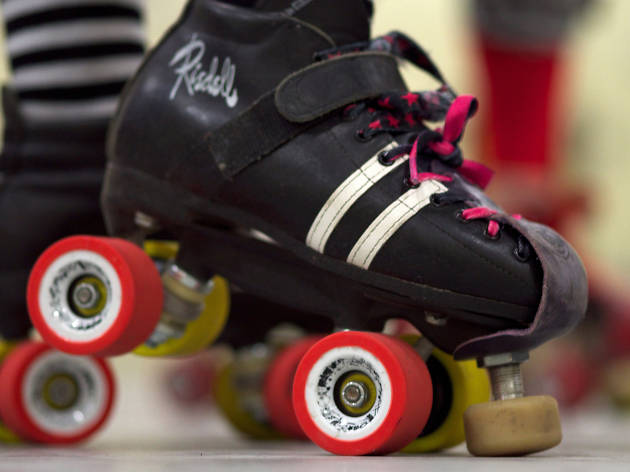 Photograph: Courtesy CC/Flickr/David Bedard
Skaterobics at St. John's Recreation Center
Wheels up, y'all! Kick it like you did in grade school at this two-hour low-impact workout, in which you spend the entire time on skates. Each Skaterobics class is broken down into three components: a "basic" portion for learning the fundamentals; a "fitness" section in which you burn roughly 600 calories while working on balance and coordination; and a final "dance" portion that has you put your new skills to good use and break it down to some jams, classic roller-rink–style. After one session, you should be 100 percent Xanadu-ready. NYC Parks Dept membership required: $25–$150/year, children under 18 free.
Photograph: Courtesy CC/Flickr/David Bedard
Photograph: Courtesy Coursehorse
Shimmy and shake to the rhythms of Bollywood in this heart-pumping dance workout at BollyX. Even if you don't have any experience with choreography, you're sure to have a good time grooving to the heart-pumping beats. Knowing the steps isn't as important as getting your body moving, anyway. $20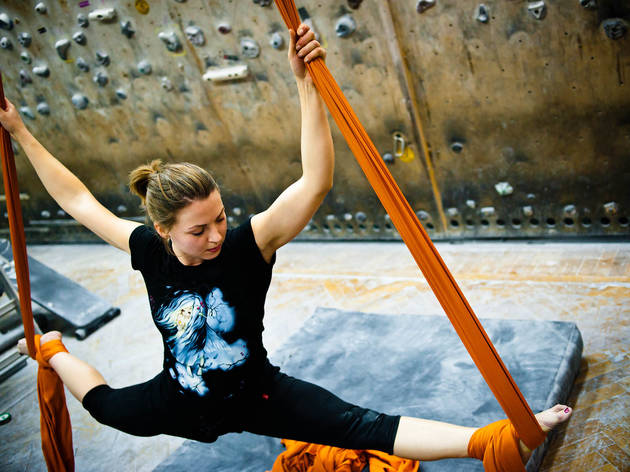 Photograph: Courtesy CC/Flickr/Dominik Kapusta
Multi-Apparatus Intro to Aerial at The Muse
While the aerial yoga craze was sweeping the fitness world, the professional acrobats and aerialists at the Muse were busy doing the real stunts. You'll learn to soar through the air on aparatuses like the silks, rope or lyra, and look like a total badass while you're at it. $39
Photograph: Courtesy CC/Flickr/Dominik Kapusta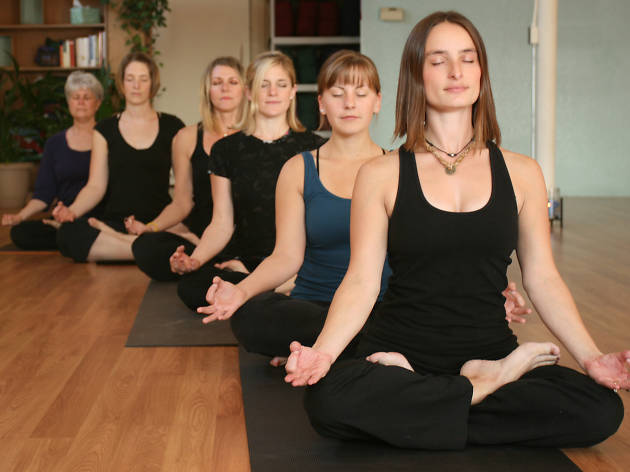 Photograph: Courtesy CC/Flickr/Andrea Parrish - Geyer
Candlelight Kundalini at Human@Ease
Quiet the mind and body in a soothing yoga and meditation class lit by candles. Kundalini yoga moves more slowly and mindfully than a typical vinyasa flow, so it's the perfect way to unwind after a long day. The warm light from the tapers spread around the room only amps up the relaxing vibes. $10
Photograph: Courtesy CC/Flickr/Andrea Parrish - Geyer
Show more
Looking for more classes in NYC?
Things to do, Classes and workshops
Yes, it's the city that never cooks, but a small kitchen is no excuse for being clueless when it comes to baking healthy desserts or cooking pasta