Best of 2013: Best concerts in NYC
Time Out New York writers single out their most memorable gigs of the year
By Time Out editors Tue Dec 17 2013
Well, that's a wrap, folks—the year in live music has come and gone. And Time Out New York staffers were there to take in, if not all of it, a nice, wide swath of shows, from snazzy, big-room pop gigs to esoteric improv hangs and cutting-edge indie-pop blowouts. Here, in chronological order, are the ten gigs that moved us most—featuring Nina Nastasia, Paul Motian and Belle and Sebastian. Enjoy, and we'll see you out there in 2014.
Photograph: Alan Nahigian
A Tribute to Paul Motian
Symphony Space; Mar 22

Every mini set was a highlight at this round-robin convocation, which found master improvisers uniting to honor one of the true greats of NYC jazz. Billy Hart and Andrew Cyrille's thunderous yet sensitive drum duo; the Bad Plus's craggily exuberant team-up with Ravi Coltrane, Joe Lovano and Bill Frisell; and Masabumi Kikuchi's specter of a piano solo all embodied Motian's strange magnetism without mimicking his moves.—Hank Shteamer
---
You might also like
---
Read more music features
The composer talks about life after Lou Reed, her history in the record business—and her upcoming shows at the BAM.
The minimalist composer talks about the early days—and his new collaboration with Radiohead guitarist Jonny Greenwood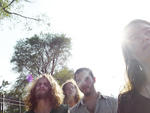 The polarizing local black-metal innovators reconvene, older and wiser, as a brutally effective quartet
See more in Music