40 things to do indoors
What to do when it's raining, snowing or stifling hot in NYC: score cheap drinks, play games, get cultured and more.
By Edited by Jonathan Shannon Fri Jun 22 2012
---
Play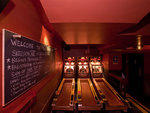 This Skee-Ball-themed bar in Williamsburg is a haven for kitschy, nostalgia-driven boozing. The beer offerings skew cheap and cheerful, with five standard taps supplemented by 17 canned brews kept in ice-filled coolers behind the bar. Three-buck Genesee Cream Ale replaces PBR as the cheapo suds of choice, and a $4 beer-and-hot-dog combo serves as the snack of champions. Divey decor reflects the owners' commitment to the game—the bar is constructed from old Skee-Ball machine parts, and a TV up front plays a live feed of the action on the three ramps in the back ($1 per game).
318 Grand St between Havemeyer St and Marcy Ave, Willamsburg, Brooklyn
More info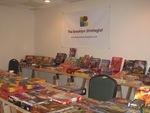 Brooklyn Strategist
Wet weekends were made for board games, and this Brooklyn haunt boasts 150 of them, including rare and out-of-print diversions such as Machiavelli, Yacht Race and the original Railroad Tycoon. Healthy homemade snacks, including bittersweet chocolate chip cookies with sea salt ($3), will sustain you while you outmaneuver the Austro-Hungarian empire in an epic game of Diplomacy.
333 Court St between Sackett and Union Sts, Carroll Gardens, Brooklyn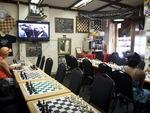 Village Chess Shop
When the weather won't let you hustle tourists at the boards in Washington Square Park, for $5 per hour perfect your strategy at this always-open spot, which feels more like a private club for checkmate-minded individuals than a hobby store. Bring your favorite competitor or play against one of the store's ready-made opponents: the VCS attendants. If you find yourself in a Maroczy Bind, spend $1 for a bit of liquid strategy in the form of coffee, hot chocolate, tea or soda, or take a break at one of the store's nonchess tables, which accommodate backgammon, Go, cards or cribbage matches.
230 Thompson St between Bleecker and W 3rd Sts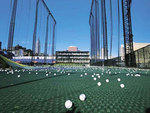 There are other venues to perfect your swing away from the elements in New York, but this West Side complex doesn't require membership: Casual golfers can whack a few balls when the mood takes them from one of the 52 stalls over four floors. Come during off-peak hours (6:30am-4pm, 10pm-midnight Mon-Fri; 9am-9pm Sat; 9am-6pm Sun) to get a better bang for your buck (147 balls for $25, as opposed to 90 during peak hours). The simulators ($45 an hour) allow you to compete in 51 virtual championship courses while supping on pizza and beer from Chelsea Brewery Company downstairs.
Chelsea Piers, Pier 59, 18th St at the Hudson River
Book online
The owners of Williamsburg's Barcade have cornered the leisure-time market with this eight-lane bowling alley that looks straight out of early 1980s Milwaukee. Locals toss frames, then retreat to the lounge decorated with bowling trophies and ancient beer signs to drown their seven-ten-split sorrows. A dozen killer microbrews on tap include spicy Allagash White poured by the pint ($6) or pitcher ($21).
200 N 14th St between Wythe Ave and Berry St, Williamsburg, Brooklyn
More info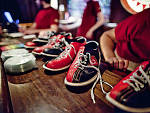 Price band: 2/4
Critics choice
If you're in the mood to throw some rocks, gorge on comfort food and take in a show, this Williamsburg favorite is for you. The renovated warehouse boasts 18 lanes and on-site Blue Ribbon, so you can put your name down to roll and pass the time tackling a fried chicken platter ($22-$69). More often than not, you'll be able to catch an affordable set after your frames from a band or DJ.
61 Wythe Ave at North 11th St, Williamsburg, Brooklyn
More info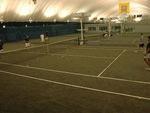 This tennis venue boasts ten full indoor doubles courts and two singles courts. Keeping your tennis whites dry will cost you, though—fees for nonmembers run from $72-$110 per court per hour.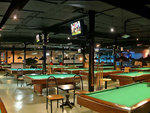 Park Slope's cavernous underground pool hall is Brooklyn's upscale answer to Amsterdam Billiards (110 E 11th St at Fourth Ave; 212-995-0333, amsterdambilliardclub.com). Teens, twosomes and grizzled gents take to the six Ping-Pong tables, two bowling lanes and 30 pool tables. Bring a friend or try to single out a weak opponent to challenge for a plate of spicy chicken wings ($9-$16) or any one of the 24 draft brews (Blue Moon and Chimay make appearances).
308 Flatbush Ave at Seventh Ave, Park Slope, Brooklyn
More info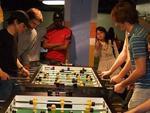 When the weather turns nasty, hunker down underground. You can kill many an hour at this cheap, scruffy and jovial spot playing pool, Ping-Pong and shuffleboard ($5.50--$6.50 per person, per hour), foosball ($1 per game) and chess ($1 for unlimited play). Once you've exhausted those options—and yourself—flop onto one of the comfy worn couches and nod along to that night's jazz band.
75 Christopher St between Seventh Ave South and Bleecker St
More info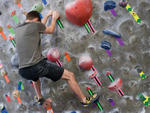 Ever wanted to climb the Brooklyn Bridge? Play it safe and mount the 30-foot replica of one of the bridge's towers at this three-year-old rock-climbing gym. With more than 22,000 square feet of bouldering and climbing walls to scale, even Spider-Man wouldn't get bored. Introductory classes ($45-$75) are offered several times a day for aspiring Peter Parkers.
575 Degraw St at Third Ave, Gowanus, Brookyn
More info
---
You might also like
---