The best outdoor art in NYC this summer
Check out our recommendations for the absolute best outdoor art to see around New York City this summer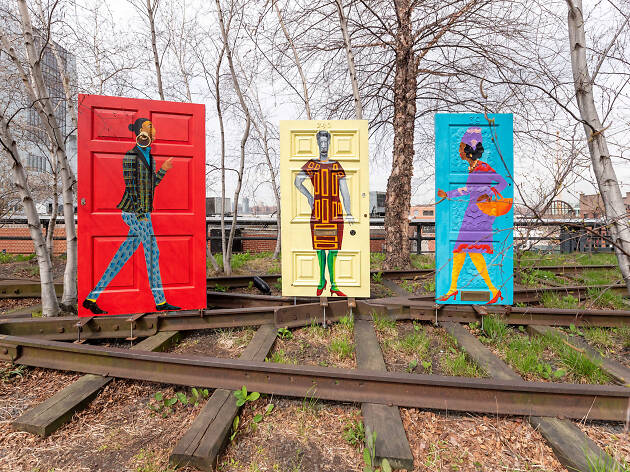 Outdoor art is a year-round thing in New York City, but there's no question that it's easier to enjoy in warm weather. As it happens, warm weather is here and public art projects are everywhere, from art museums such as The Met and the Whitney to green spaces such as Central Park and Madison Square Park. If you want to know where to find the best of them, look no further than our guide to the best outdoor art in NYC this summer.
RECOMMENDED: Full guide to the best things to do in summer in NYC
Best outdoor art in NYC this summer
1
Photograph: Hyla Skopitz
Alicja Kwade, "ParaPivot"
This installation for The Met's rooftop garden by artist Alicja Kwade is literally out of this world: It's a model of the Solar System rendered as a group of nine stone spheres balanced on what can only be described as a giant jungle gym. Kwade, a Polish artist who calls Berlin home, is known for elegant sculptures that meditate on the relationship between subjectivity and space, which is to say how we use the evidence of our own eyes as a means of making sense of the world—and how unreliable those attempts often turn out to be. For her piece at The Met, titled ParaPivot, Kwade uses a cosmic metaphor to make this point, depicting the planets as stationary objects that are only set into motion by the change in your perspective as you move around the work. Especially cool is the way ParaPivot frames NYC's skyline by, say shoving a big ball of rock into your view as you look at Billionaires' Row from a particular angle. The smoothly polished stones are sourced from nine different countries, ranging from Brazil to Norway, and their variations in color suggest the atmospheres of our celestial neighbors, as well as Earth's own blue-marble appearance.
The Metropolitan Museum Of Art, through Oct 27
2
Photograph: Courtesy Madison Square Park Conservancy
Leonardo Drew, "City in the Grass"
Roughly textured abstract assemblage is the specialty of mid-career artist Leonardo Drew and he remains true to form is his project for Madison Square Park. Representing his most ambitious effort yet, the installation takes shape as a panoramic city model made largely of pieces of wood collaged together to form buildings and streets. Undulating across the park's lawn, City in the Grass transforms into aerial map that gives viewer the sense of bestriding an urban landscape like a colossus.
Madison Square Park, through Dec 15
3
Photograph: Nicholas Knight, courtesy Public Art Fund, NY
Harold Ancart, "Subliminal Standard"
People are usually discouraged from touching art or getting to too close it, especially if the piece in question is a painting. However, this outdoor art project consists of an abstract mural that not only allows you to touch it, but to slam a rubber ball against it. Subliminal Standard consists of the aforementioned painting on a freestanding, 16-foot-high concrete wall that serves as a playable handball court. It's the brainchild of Brooklyn-based, Belgian-born artist Harold Ancart, who took his inspiration from NYC's many outdoor handball courts. The installation is painted in the blue and red standard colors used to delineate areas of play, while it's overall funky look is meant to suggest years of wear and tear.
Cadman Plaza Park, Brooklyn, through Mar 1
4
Photograph: Timothy Schenck, courtesy the High Line
The phrase en plain air is French for outdoors, but in 19th-century art it was also a used to describe painters who took their easels out in the open to render landscapes. Generally associated with Impressionism, painting en plain air was largely made possible by the invention of pigments that were pre-mixed and packaged in tubes, something that wasn't available before the 1800s. The terms has been adopted as the title for The High Line's group showing of commissioned works, each literally taking the idea of painting out of doors through installation by eight artists: Ei Arakawa, Firelei Báez, Daniel Buren, Sam Falls, Lubaina Himid, Lara Schnitger, Ryan Sullivan and Vivian Suter. Each offers a unique take on the notion.
The High Line, various locations, through Mar 2020
5
Photograph: Timothy Schenck, courtesy the High Line
Ruth Ewan, "Silent Agitator"
The work of Scottish artist Ruth Ewan explores the history of revolutionary and activist movements and their connection to certain places and times. For her High Line commission, she reaches back to the Industrial Workers of the World (IWW) and the early labor movement in the United States during World War I. The piece reprises an illustration for an IWW poster in three-dimensional form, which, like the original, takes form as a clock with letters spelling out the words ORGANIZATION on the dial. Ewan also includes the caption for the IWW image, which reads, "What time is it? Time to organize." Standing out from the surrounding luxury residencies created for the One Percent, Silent Agitator recalls a period when dreams for an egalitarian society still seemed plausible.
The High Line at 24th St, through Mar 2020
6
Photograph: Courtesy the High Line
Simone Leigh, "Brick House"
A 16-foot-tall bronze bust of a black woman, Simone Leigh's sculpture represents the inaugural commission for the High Line's new public art venue, the Plinth, located next to Hudson Yards. It takes it title from the 1977 Motown hit by the Commodores, and portrays its subject as a monumental head crowned by an Afro wreathed in braids atop a domed-shaped body. Leigh's piece focuses on the intersectionality of feminism and African-American identity, and how both relate to idea of home as the ultimate foundation for both political and economic power. In this respect, Brick House salutes the strength and fortitude of African-American women in the face of adversity throughout American history, from slavery to the Black Lives Matter protests of today.
The High Line Plinth, Tenth Ave at W 33rd St,
through Sept 2020
7
Photograph: Christopher Stach, © 2018 Morgan Art Foundation/Artists Rights Society (ARS), New York, courtesy Kasmin Gallery
Robert Indiana's LOVE series is among the most enduring icons of '60s Pop Art, second only, perhaps, to Andy Warhol's Campbells Soup cans. Rather than being an appropriation of some sort of product, brand or image, however, LOVE is a graphic invention by Indiana, who originally created the design in 1965 for the Museum of Modern Art's annual Christmas card. Using a bold serif font, Indiana stacked LOVE's first two letters atop its last two, with the O insouciantly tilted to one side. The work became his signature, and in 1970, he made the first of many LOVE sculptures. The three versions installed on the rooftop sculpture garden of Kasmin Gallery's High Line adjacent location offer a multilingual twist, with iterations of the word in Hebrew (AHAVA) and Spanish (AMOR) as well as in English.
Paul Kasmin Sculpture Garden, 509 W 27th St, ongoing
8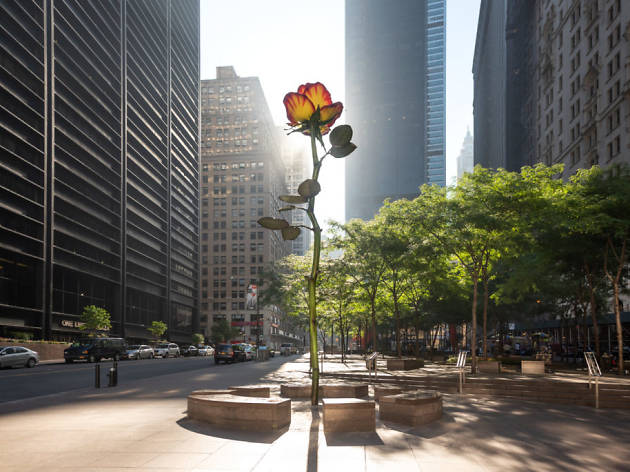 Photograph: Timothy Schenck, Courtesy Galerie Buchholz, Berlin/Cologne/New York
Weighing in at 1,000 pounds, Isa Genzken's Rose III was unveiled on the seventh anniversary of Occupy Wall Street's takeover of Zuccotti Park. Genzken works in a wide range of mediums, and giant flowers have been a recurring theme for her: A similar rose sculpture was installed on the New Museum's facade from 2010 to 2013, while a pair of gargantuan white orchids (rising to 28 and 34 feet respectively) stood at Doris C. Freedman Plaza in front of Central Park during the spring and summer of 2016. As for Rose III, it remains on long term view.
Zuccotti Park, ongoing
Check out this week's top art shows
Check out our suggestions for the best art exhibitions you don't want to miss, including gallery openings and more
GYG New York City Activities Widget