The best outdoor art in NYC this fall
Check out our recommendations for the absolute best outdoor art to see around New York City this fall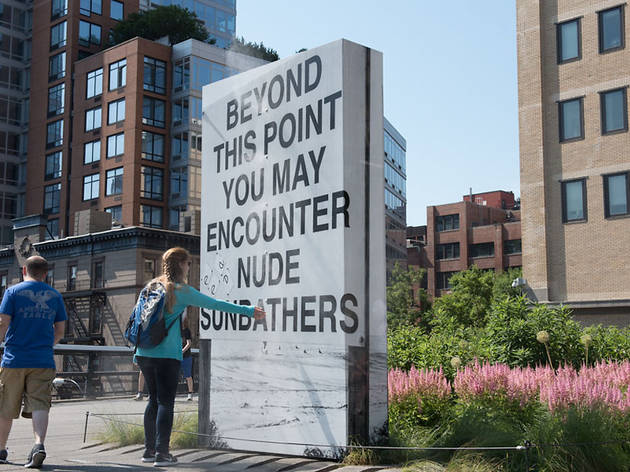 Usually you associate outdoor art with spring and summer because, well, that's when you're outdoors a lot. But the fact is, cooler weather doesn't mean that there isn't a lot of cool outdoor art to see. The truth is, when it comes to outdoor art, this time of year is just as busy as the warmer months, with plenty of projects around the city from Central Park and Harlem to Brooklyn and Queens. Here are some must-see examples—at art museums, NYC parks and well known New York attractions—that will put an extra snap in the air.
RECOMMENDED: Full guide to the best things to do in the fall in NYC
Best outdoor art in NYC this fall
Rachel Whiteread, Cabin
The British sculptor's latest ghostly structure—made with her patented method of casting the interior volumes of rooms or houses to create the impression of turning space inside out—is set to be a permanent landmark atop the Hills, Governors Island's 70-foot high landscaped lookout offering spectacular views of New York Harbor and the skyline. Set against the same vista, Whiteread's piece serves as a rustic counterpoint to the city beyond. The Hills on Governors Island. Open now; permanent exhibition.

Photograph: Courtesy Timothy Schenk
Martin Puryear, Big Bling
Madison Square Park goes all in on bling thanks to this public art project created by renowned sculptor Martin Puryear. Soaring 40 feet in height, the piece's multitiered wooden structure may remind you at first of the Cyclone at Coney Island, but the massive gold-leaf shackle crowning the piece suggests a dangling earring turned upside down. Part animal, part abstract sculpture and part sylvan meditation, Big Bling shines at the park until early next year. 23rd to 26th Sts between Fifth and Madison Aves. Through January 8; free.

Photograph: Jamie Stukenberg
David Shrigley, MEMORIAL
Brit artist David Shrigley's project for Central Park offers a heavyweight solution to keeping track of your shopping list: Carve it into a 17-foot-high slab of granite. The piece is located at the Doris C. Freedman Plaza near the southeastern entrance to the park and looks sort of like the monolith in 2001: A Space Odyssey, except for the items written on—bananas, paper towels, shower gel, Nutella, tampons, etc. A bit of a joke, The work enshrines a mundane routine as an imposing public monument. Doris C. Freeman Plaza, E 60th St at Fifth Ave. Through Feb 12.

Photograph: Jason Wyche; courtesy the artist and Anton Kern Gallery; New York

Talk about a tree grows in Brooklyn: A miniature redwood forest has sprouted at Brooklyn's Metrotech Commons courtesy artist Spencer Finch. Partnering with the Save the Redwoods League, Finch has created a 1:100 scale version of a section of the Redwood National Park in California, complete with surrounding topography. MetroTech Commons, between Jay St and Flatbush Ave at Myrtle Ave, Brooklyn. Through Mar 11.
Read more
A tribute to one of the county's best (and reliably intense) actors is on view in Queens as part of Socrates Sculpture Park's "Emerging Artist Fellowship Exhibition," which is displaying the work of 15 young artists at different locations in the park until March 13. Zanisnik's piece consists of a number of concrete cast busts of the distinctive actor, along with a comic displayed nearby that depicts the Queens native's history in the neighborhood. Socrates Sculpture Park, 32-01 Vernon Blvd, Queens. Through Mar 13.

Photograph: Socrates Sculpture Park

Read more
Kathryn Andrews, Sunbathers I & II
"Beyond This Point You May Encounter Nude Sunbathers," cautions a text silkscreened in big block letters onto a towering box-like structure. The warning is part of two public sculptures installed on The High Line by Kathryn Andrews. The other features a photo of an ice cream cone pictured on a second monolith next to a actual fan duct set into the same structure. Both images allude to summer fun, but according to the artist, they represent "new narratives where viewers are invited to rethink the images' content in relation to their own bodies." The High Line at W 18th St. Through Mar 31.

Photograph: Courtesy David Kordansky Gallery

Barbara Kruger, Untitled (Blind Idealism Is…)
Kruger is known for text-based installations that critique culture and power though a combination of bold typography and sharply-worded phrases. The one here is borrowed from Frantz Fanon (1925–1961), the Afro-Caribbean philosopher and Marxist revolutionary whose writings galvanized national liberation movements in the post-colonial era. Re-purposed for this hand-painted mural, the quote sounds a warning against the dangers of zealotry. High Line, West 22rd and Tenth Avenue. Through March 2017.

Photograph: Courtesy Timothy Schenk/Friends of the High Line
Nari Ward, Smart Tree
A childhood memory of seeing an abandoned car with a tree growing out of it in his father's yard provides the inspiration to this comical meditation on recycling and the power of nature to reclaim the environment. A supposedly eco-friendly Smart Car is raised here on concrete blocks and clad in treads from old tires, as a sapling grows through its sun roof—a clever play on park in both the automotive and green sense of the word. High Line, West 23rd and Tenth Avenue. Through March 2017.

Photograph: Courtesy Timothy Schenk/Friends of the High Line
Scharf has painted his signature cartoon faces on a brick column overlooking the East River, creating a whimsical street-art totem in the bargain. East River Waterfront Esplande at E 116th St. Through June 21.

Photograph: Friends of the East River Esplanade

Read more
A little corner of Zimbabwe has landed in Marcus Garvey Park in the form of three imbas, or kitchen huts native to the region. As welcoming as they appear, these huts, created in collaboration with architect Maxwell Mutanda, are actually closed forms that can't be entered. According to the artist, they're meant to celebrate the "expansiveness of the African diaspora," while also evoking the "experience of living outside the place considered home." Marcus Garvey Park 18 Mt Morris Park W. Through July 25.

Photograph: Liz Gwinn

Read more
Check out this week's top art shows
Check out our suggestions for the best art exhibitions you don't want to miss, including gallery openings and more
Read more