The best outdoor art in NYC this fall and winter
Check out our recommendations for the absolute best outdoor art to see around New York City this fall and winter
New York City is full of incredible art but you don't have to go to a museum to catch it all. Sculptures, murals, and photographs can be found in its parks, sidewalks and on its buildings!
Locations such as the High Line, Central Park, the Metropolitan Museum Of Art, Cadman Plaza in Brooklyn and Socrates Sculpture Park in Queens and other NYC locales all have a wide variety of pieces awaiting you, from huge pyramid-esque sculptures to eye-popping murals.
Best of all, it costs you nothing to pay a visit. Below, find the best outdoor art in NYC this fall and winter.
RECOMMENDED: The best art shows and exhibits in NYC
Best outdoor art in NYC
"Monuments Now" features a trio of artists—Jeffrey Gibson, Paul Ramírez Jonas and Xaviera Simmons—presenting large-scale objects that take the premise literally.
Gibson's piece, for example, consists of 40ft x 40ft plywood ziggurat inspired by the pre-Columbian earthen mounds created by indigenous people in the Mississippi Valley during the 13th century. It will be covered in a skein of brightly-colored geometric patterns.
Ramírez Jonas, meanwhile, is creating a functional community grill in the form of towering obelisk.
Finally, Simmons's boxlike cenotaph frames texts culled from historical documents related to racial disenfranchisement.
At Socrates Sculpture Park, 32-01 Vernon Boulevard, through March 2021.
The installation called Doggy Bags is comprised of six huge dogs: Maisy, a pug; Stanley, a basset hound; Spicy, a chihuahua; Harriet, an English bulldog; Gomer, a bull mastiff; and Daphne, a vizsla.
New York artist Will Kurtz used recycled single-use plastic bags (remember that ban from earlier this year?) and duct tape placed on steel armatures to create the dogs, which are four times bigger than the breeds' actual sizes. Each sculpture has its own unique characteristics and personality based on the breed of dog.
A bonus to the installation is a "bark run" for actual dogs and their owners between 40th and 41st streets.
At Broadway, between 38th and 40th streets, through November 20, 2020.
Consisting of three oversized doors that stand ajar, the work, titled Doors for Doris, is meant to be passed through by those entering and exiting the park. Each door is made of marble remnants that artist Sam Moyer collected from around the city and inlaid into poured concrete.
Each door is reminiscent of the rotating doors of NYC's buildings and is framed by a towering Bluestone structure that was cut from a quarry in New York. They range in height from 11 to 15 feet and together span more than 30 feet across the plaza.
New York City's five boroughs will be home to more than 60 incredible photography exhibits this fall as part of the annual Photoville Festival.
Usually taking place just in Brooklyn Bridge Park for two weeks each year (around the corner from Time Out Market New York!), Photoville will now also be taking over Astoria Park, Chelsea Park, Jackie Robinson Park, St. Nicholas Park, Soundview Park, Travers Park, Van Cortlandt Park, and the South Beach Promenade among other public spaces across two months.
Highlights include portraits of NYC's spring graduates in Pandemic Class of 2020 by Elias Williams, a series of photographs documenting the stories of 10 NYC-based Asian Americans who experienced racism during the pandemic called Asian Americans on Race and The Pandemic by Haruka Sakaguchi; a documentary series about the indie wrestling scene in the South Bronx called Bronx Wrestling by Sofie Vasquez; a photo series by the Schomburg Center for Research in Black Culture inspired by Ross Gay's poem A Small Needful Fact and Stevie Wonder's album, Journey Through the Secret Life of Plants; La Vida en Loisaida by Destiny Mata, who took portraits of longtime residents of the Lower East Side; Q100, a series of photographs by Salvador Espinoza, who took photos along the bus line to Rikers Island; and We Women, a traveling nationwide exhibit coming in 2021 in which women and non-binary artists look at critical issues through photo-based community engagement projects.
At various locations through November 29, 2020.
Artists Gillie and Marc Schattner created a massive gorilla sculpture for Hudson Yards' Bella Abzug Park. The work, titled King Nyani (Swahili for gorilla) will be able to impressively fit two to three humans inside its hand. It's part of the artists' ongoing Love The Last series which brings depictions of endangered species to urban areas.
The 4,766-pound sculpture is meant to raise awareness about the critically endangered species, and isn't actually the first work by the Schattners to attempt such a goal! Previously, the duo installed a massive rhino sculpture in Astor Place titled The Last Three which depicted, you guessed it, the last three northern white rhinoceroses on the planet.
At Hudson Yards' Bella Abzug Park through May 2021.
Photograph: Courtesy Just_a_Spectator
6. Un75 "Zero Hunger" Mural
A few blocks away from the UN Headquarters, a mural by street artist Emmanuel Jarus raises awareness on food insecurity and will reflect on a world where everyone has access to the food they need and the United Nations' vision of zero hunger by 2030.
Street Art for Mankind is curating huge murals around the world, with prominent artists and has a free App "Behind the Wall" that enables the public to scan the mural to hear the UN75 stories and engage with the art even from home.
At 243 East 44th Street.
Rockefeller Center has been transformed into a free public sculpture park with artwork inspired by nature for the second iteration of the Frieze Sculpture installation.
Leading international artists Ghada Amer, Beatriz Cortez, Andy Goldsworthy, Lena Henke, Camille Henrot and Thaddeus Mosley created large-scale works for the plaza. The pieces are inspired by the area's natural materials of earth, rock, and plants and by the 50th anniversary of Earth Day. (That was the original date when Frieze Sculpture at Rockefeller Center was scheduled to debut.)
On through October 2, 2020.
Raul Ayala, a visual artist and educator, is leading this season's community mural in collaboration with ten Groundswell youth artists. Their vision is a backdrop of symbols, letters and numbers with distinct characters sketched underneath.
See it at 76 E. Houston St.
Photograph: Courtesy High Line Art
9. "Brick House" by Simone Leigh
A 16-foot-tall bronze bust of a black woman, Simone Leigh's sculpture represents the inaugural commission for the High Line's new public art venue, the Plinth, located next to Hudson Yards. It takes its title from the 1977 Motown hit by the Commodores and portrays its subject as a monumental head crowned by an Afro wreathed in braids atop a domed-shaped body. Leigh's piece focuses on the intersectionality of feminism and African-American identity, and how both relate to the idea of home as the ultimate foundation for both political and economic power. In this respect, Brick House salutes the strength and fortitude of African-American women in the face of adversity throughout American history, from slavery to the Black Lives Matter protests of today.
On at the High Line Plinth, Tenth Ave at W 33rd Street through Spring 2021.

Photograph: Christopher Stach, © 2018 Morgan Art Foundation/Artists Rights Society (ARS), New York, courtesy Kasmin Gallery
10. "LOVE" by Robert Indiana
Robert Indiana's LOVE series is among the most enduring icons of '60s Pop Art, second only, perhaps, to Andy Warhol's Campbells Soup cans. Rather than being an appropriation of some sort of product, brand or image, however, LOVE is a graphic invention by Indiana, who originally created the design in 1965 for the Museum of Modern Art's annual Christmas card. Using a bold serif font, Indiana stacked LOVE's first two letters atop its last two, with the O insouciantly tilted to one side. The work became his signature, and in 1970, he made the first of many LOVE sculptures. The three versions installed on the rooftop sculpture garden of Kasmin Gallery's High Line adjacent location offer a multilingual twist, with iterations of the word in Hebrew (AHAVA) and Spanish (AMOR) as well as in English.
See it at the Paul Kasmin Sculpture Garden at 509 W 27th Street.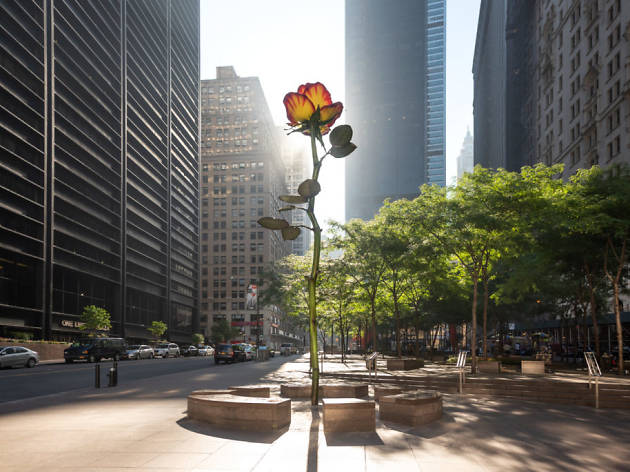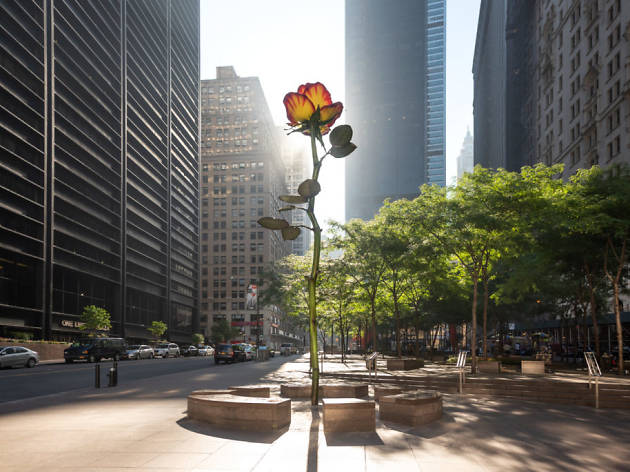 Photograph: Timothy Schenck, Courtesy Galerie Buchholz, Berlin/Cologne/New York
11. "Rose III" by Isa Genzken
Weighing in at 1,000 pounds, Isa Genzken's Rose III was unveiled on the seventh anniversary of Occupy Wall Street's takeover of Zuccotti Park. Genzken works in a wide range of mediums, and giant flowers have been a recurring theme for her: A similar rose sculpture was installed on the New Museum's facade from 2010 to 2013, while a pair of gargantuan white orchids (rising to 28 and 34 feet respectively) stood at Doris C. Freedman Plaza in front of Central Park during the spring and summer of 2016. As for Rose III, it remains on long term view.
See it at Zuccotti Park.
For the first-ever facade commission at the Met, Mutu fills the niches flanking the museum's entrance with four monumental bronzes that put an Afro-futuristic spin on a classical architectural feature known as a caryatid, a column or pillar that takes the form of an allegorical female figure.
See it at the Met Museum on Fifth Avenue through November 1.
Check out this week's top art shows
Check out our suggestions for the best art exhibitions you don't want to miss, including recently opened shows and more