The best outdoor art in NYC this winter
Check out our recommendations for the absolute best outdoor art to see around New York City this winter
Sure it's winter, and it's cold outside, but you don't see New York's offerings of outdoor art heading to the Bahamas, do you? So why not to bundle up and take in all of the public sculpture and installations New York City has to offer? There's are plenty to see, from Central Park to Flushing Meadows–Corona Park, Queens. To find out where, check out our guide to the must-see outdoor artworks this winter—at NYC parks and well-known New York attractions—to help your warm your spirit.
RECOMMENDED: Full guide to the best things to do in winter in NYC
Best outdoor art in NYC this winter
1
Ai Weiwei, Gilded Cage
Famed Chinese dissident artist Ai Weiwei has taken over New York City outdoor art scene in a big way. For his citywide project, "Good Fences Make Good Neighbors," he's positioned some 300 pieces—banners, street barriers and other installations—across the five boroughs. His theme: How resurgent nationalists in Europe and the United States are attempting to reinforce national borders at the expense of refugees trying to escape poverty and war. A case in point: Ai's Gilded Cage, located at the entrance to Central Park. One of several monumental structures involved the project, it takes the form of a golden birdcage that evokes the luxury of it Fifth Avenue environs. But it's also a huge prison cell that invites visitors to enter and imagine the stress of confinement. Central Park. Through Feb 11.
2
Ai Weiwei, Arch
Another major component of Ai Weiwei's "Good Fences Make Good Neighbors" consists of a 37-foot-tall steel filling the interior of the Washington Square Arch while echoing its form. Though it also resembles a cage, the piece has a passage shaped like two figures coming together as one—an arch within the arch with an interior clad in undulating stainless steel. Washington Square Park. Through Feb 11.
3
Ai Weiwei, Circle Fence
Ai Weiwei's 1,000-foot-long Circle Fence uses a series of metal frames connected by netting to create a boundary around The Unisphere from the 1964 World's Fair, a landmark meant to symbolize the hope for world unity. Once again, Circle Fence alludes to the attempts by various Nationalist movements to cramp that dream, but the netting provides hammock-like seating that allows visitors places to sit or lie down. Flushing Meadows–Corona Park, Queens. Through Feb 11.
4
The Socrates Sculpture Park Annual
This yearly round-up of up-and-coming sculptors working en plein air is basically the Whitney Biennial of outdoor art. This year's addition feature 15 artists working in a diverse range of mediums. Among the highlights: Joe Bochynski's buried Presidential Seal; Tanda Francis's monumental head, emerging from a pool of water; and Wang Xu's gentle giant (pictured), listening to the call of nature. Socrates Sculpture Park, Long Island City, Queens. Through Mar 11.
5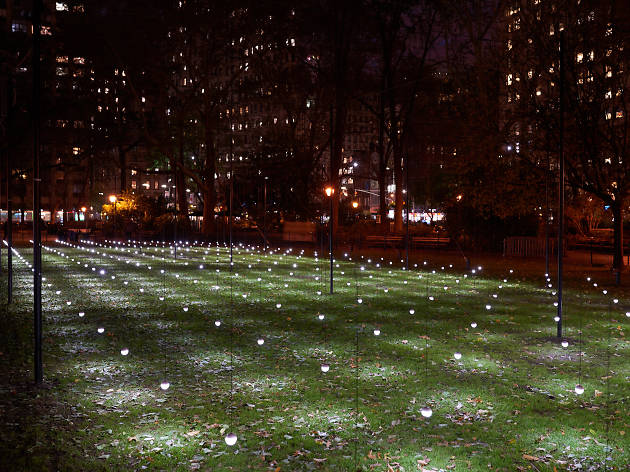 Erwin Redl, Whiteout
Looking like something out of Star Wars, Erwin Redl's project for Madison Square Park is made up of hundreds of transparent globes illuminated by white LED lights. The spheres are suspended two feet off the ground and are programmed to flutter in a trippy, wavelike pattern. Madison Square Park. Through Mar 25.
6
Do Ho Suh, 95 Horatio Street
The history of the Meatpacking District is revisited in this trompe l'oeil mural by Korean artist Do Ho Suh. Located across the street from the Whitney, the piece—which depicts a rail tunnel plowing through the building on which the scene is hung—explores the High Line's past, when it used to continue downtown past its current terminus just outside of the museum. 95 Horatio St. Ongoing.
7
Dale Chihuly, Rose Crystal Tower
For this 31-foot-high vertical structure colored pink, the famed glass artist eschewed his signature medium, creating the piece instead out of chunks of transparent polymer. Union Square Park. Through Oct 5, 2018
8
Joy Brown on Broadway
Nine larger-than-life abstract bronze nudes are chilling out in as many spots along the Broadway Malls, courtesy Joy Brown, a sculptor who grew up in Japan—an experience that no doubt accounts for her work's stylistic affinity for that country's serene minimalist aesthetic. Her figures exhibit no sign outward signs of gender, identity or emotion as they sit, stand or recline amidst the traffic on the Upper West Side like monumental symbols of shared humanity. Broadway Malls, 72nd to 166th Sts. Through Feb 2018.
9
Leonard Ursachi, What a Wonderful World
While this woven-basket, egg-shaped version of the globe suggests a paean to world peace, the concrete slit in the piece indicates that it is another in a series of sculptures based on fortified military bunkers by this Romanian-born Brooklyn artist, whose works are tied to memories of his Cold-War childhood under a Communist dictatorship. Tribeca Park (nycgovparks.org). Through May 15.
10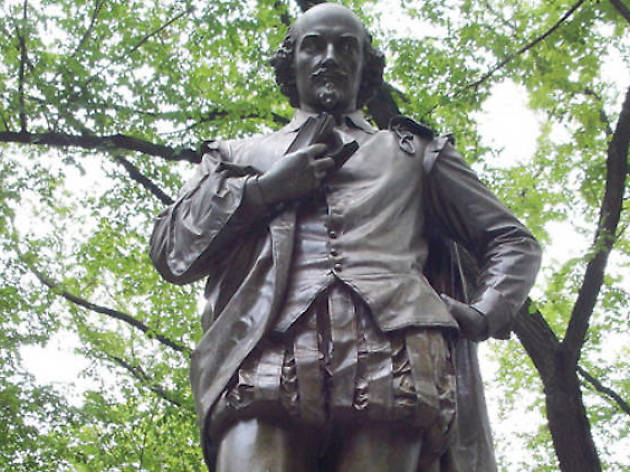 Talking Statues
New York Talking Statues employs mobile technology to enable you to listen to the backstories of historical personages immortalized in bronze or stone around our fair city. William Shakespeare, Gertrud Stein, George Washington, Frederick Douglass and Abraham Lincoln are among the figures whose tales are narrated by actors. Various Locations citywide (newyorktalkingstatues.com). Through Jan 12.
11
Spencer Finch, Lost Man Creek
A small taste of the forest primeval can be found in Brooklyn's Metro Tech Commons courtesy Spencer Finch and his latest project: A grove of miniature redwood trees that's a 1:100 scale model of the 790-acre Redwood National Park in California. Finch's redwoods measure one to four feet, compared to the 98 to 380 feet typical of a mature redwood. Metro Tech Commons, Brooklyn (212-980-4575, publicartfund.org). Through Mar 11.
12
"Mutations"
A dozen installations by as many artists are being brought together in this open-air group exhibition that explores the relationship between man and nature in the age of climate change and biotechnology. The High Line (212-206-9922, thehighline.org). Through March 2018.
13
Henry Taylor, the floaters
The artist poses as a chill dude in this self-portrait by Los Angeles painter Henry Taylor, who pictures himself wearing shades while drifting in a pool at a friend's house in Palm Springs, California. The High Line at W 22nd St (212-206-9922, thehighline.org). Through March 2018.
14
Sheila Hicks, Hop, Skip, Jump, and Fly: Escape From Gravity
Put some fiber art in your diet with this installation of large, colorful spaghetti-like strands of woven yarn, snaking their way around the section of the High Line near the Hudson Yards. The High Line at the Western Rail Yards (212-206-9922, thehighline.org). Through March 2018.
15
Darren Bader, chess: relatives
Artist Darren Bader invites guests to become chess pieces on a large-scale board where players assemble as teams of friends and family ordered by their relationships to one another. The High Line at W 13th St (212-206-9922, thehighline.org). Through April 2018.
16
Patricia Cazorla and Nancy Saleme, Flying High for Equality
Venezuelan artists Patricia Cazorla and Nancy Saleme have created a fanciful flock of colorful oversized sparrows to serve as a reminder of society's ongoing struggle for equality. Joyce Kilmer Park, Bronx (nycgovparks.org). Through June 19.
17
Deborah Kass, OY/YO
Deborah Kass's bold, eight-foot sculpture in yellow was originally unveiled in Brooklyn Bridge Park where it stayed from December 2015 to August 2016. Saluting both Yiddish and Latino cultures, OY/YO is a tried-and-tested crowd-pleaser, and nearly a year after ending its Dumbo sojourn, it's been relocated to Williamsburg where it will remain until next summer. North 5th Street Pier and Park, Brooklyn (nycgovparks). Through July 10.
Check out this week's top art shows
Check out our suggestions for the best art exhibitions you don't want to miss, including gallery openings and more
Read more