The best outdoor art in NYC this summer
Check out our recommendations for the absolute best outdoor art to see around New York City this summer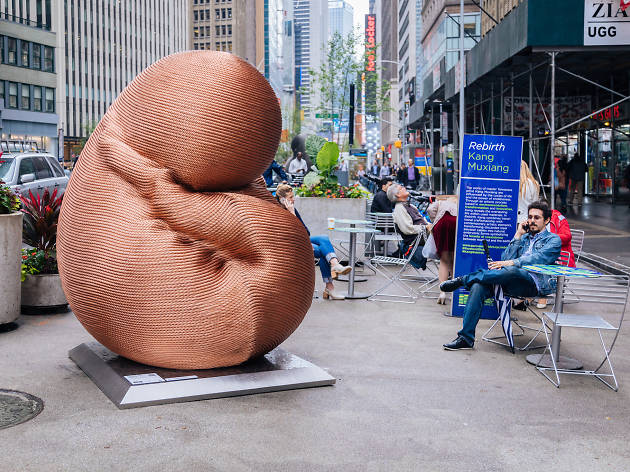 Outdoor art can be found year-round in NYC, but summer is the season when it really begins to pop up around the Five Boroughs, from Central Park and the Flatiron district to Brooklyn and Queens. It's a virtual museum out there, so if looking to find the latest in public sculpture or street art, look no further than our our guide to the best outdoor art this summer.
RECOMMENDED: Full guide to the best things to do in summer in NYC
Best outdoor art in NYC this summer
1
Photograph: Nicholas Knight, courtesy the Artist, Socrates Sculpture Park, Bortolami Gallery and White Cube, London/Hong Kong
Virginia Overton, "Built"
Overton's ensemble of heavy-metal sculptures along the Long Island City waterfront includes a monumental diamond made of steel girders and a pick-up truck with a functional fountain burbling in back. Socrates Sculpture Park, Queens. Through Sept 3.
2
Photograph: Rashmi Gill, © Diana Al-Hadid, courtesy of the artist and Marianne Boesky Gallery, New York
"Diana Al-Hadid: Delirious Matter"
This group of six new sculptures by the Syrian-born Brooklyn artist Diana Al-Hadid represents the artist's first major public art project and features her signature blend of figurative and architectural elements that seem to dissolve into thin air. Made of materials like gypsum and fiberglass, her apparitions draw upon the ancient past for inspiration while evoking a vision that combines sci-fi with spiritualism. Madison Square Park. Through Sept 3.
3
Photograph: Azhar Kotadia, courtesy of the artist
Steinunn Thorarinsdottir, "Armors"
Icelandic artist Thorarinsdottir goes medieval at the Cloisters with her surreal sculptural installation. It features three different pairings of an androgynous figure with a suit of armor from the Metropolitan Museum's collection that had been 3D scanned before it was fabricated in aluminum. The unsuited figure, meanwhile, is made from a body cast of the artist's son wrapped in bandages. Cloisters Lawn, Fort Tyron Park. Through Sept 13.
4
Photograph: Alexandre Ayer
Seven monumental sculptures have taken up residence along Garment District pedestrian plaza in midtown courtesy Taiwanese artist Kang Muxiang, who fashioned the embryonic forms out of recycled elevator cables salvaged from Taipei 101, which is currently the ninth tallest building in the world. Broadway between 36th and 39th Sts. Through Sept 15.
5
Photograph: Jason Wyche, courtesy Public Art Fund, NY and James Cohan Gallery, NY
"Yinka Shonibare MBE: Wind Sculpture (SG) I"
British-Nigerian artist Shonibare is adding additional color to Central Park with an undulating Fiberglass sculpture covered in bold shapes sporting a palette of bright hues. According to the artist, the scheme is inspired by the beaches near his childhood home in Lagos, Nigeria, but they also recall the batik fabrics (produced in Indonesia by the Dutch to export to Colonial Africa) that have become signature references in his work. Central Park. Through Oct 14.
6
Photograph: Hyla Skopitz
"The Roof Garden Commission: Huma Bhabha, We Come in Peace"
The handiwork of Huma Bhabha, a Pakistani-American sculptor based in Poughkeepsie, "We Come in Peace" depicts what could be described as a first contact scenario featuring two statues: A standing figure resembling the alien from Predator, and another lying prostrate before it. It's not clear whether the latter is human, since it has a tail and is cloaked in a shroud, but in any case, the ensemble appears on the Met rooftop as if it had just landed from outer space. The Metropolitan Museum of Art. Through Oct 28.
7
Photograph: Courtesy Timothy Schenck
Jacob Hashimoto, "Never Comes Tomorrow" and "The Eclipse"
New York artist Jacob Hashimoto has created two site-specific works on Governors Island: Never Comes Tomorrow, a whimsical outdoor piece installed in the Liggett Hall Archway, and The Eclipse, located inside the Cornelius Chapel. The former is made out of more than a hundred wooden cubes and large steel funnels, while the latter comprises thousands of rice paper kites. Governors Island. Through Oct 31.
8
Photograph: Courtesy Goldman Properties/Zach Hyman
Banksy's mural for the famed Bowery Wall is based on the story of Turkish artist and journalist Zehra Dogan, who was sentenced to jail for painting a picture of a Kurdish city near Turkey's border with Syria, which had been attacked by Turkish security forces. Banksy depicts Dogan's plight as a series of giant black hashmarks, representing her days in prison. Dogan herself is pictured behind bars, while a large projection of her painting shines above the wall. The Houston Bowery Wall, 76 E Houston St. Through fall 2018.
9
Photograph: Courtesy the artist
"Kathy Ruttenberg on Broadway: in dreams awake"
For her first major outdoor art project, artist Kathy Ruttenberg has installed six large scale fantastical sculptures at various spots along Broadway from Lincoln Center to Hamilton Heights. Made from a variety of materials that include, glass mosaic, transparent cast resin and LED, the works portray anthropomorphized animals and trees like something out of Alice In Wonderland. Broadway Malls between W 64th and W 157th Sts. Through February 2019.
10
Photograph: Courtesy the artist, Air de Paris and Friends of the High Line
Dorothy Iannone, "I Lift My Lamp Beside the Golden Door"
Iannone, an American ex-pat artist who lives in Berlin pays homage to the Statue of Liberty, portraying The Lady In The Harbor as a trio of figures rendered in different eye-popping palettes with the titular line—taken from the Emma Lazarus poem engraved on a plaque inside the statue's base—written above them. While Iannone is known for rendering frankly sexual scenes in a style that combines Pop and Folk Art, here, she seems to weigh in on the hotly-debated topic of immigration using unabashedly patriotic imagery. High Line at 22nd St. Through Mar 2019.
11
Photograph: Timothy Schenck
The role of art in defining, creating and using public space is the theme of this group exhibition of outdoor installations commissioned by the Highline. Taking its name from the Ancient Greek term for a civic gathering place, the show features such artists as Maria Thereza Alves, Andrea Bowers and Pope.L, among others. The High Line. Through Mar 2019.
12
Courtesy the artist and Friends of the High Line
Emerging in 1960s Britain during the height of Pop Art, this veteran artist is known for infusing her monumental abstract sculptures with bright colors and cartoonish forms inspired by low-cultural aesthetics. Her work for The Highline is a new iteration of a piece she presented outside the British Pavilion at the 2017 Venice Biennale. The High Line at W 16th St. Through Mar 2019.
Check out this week's top art shows
Check out our suggestions for the best art exhibitions you don't want to miss, including gallery openings and more