The best outdoor art in NYC this fall
Check out our recommendations for the absolute best outdoor art to see around New York City this fall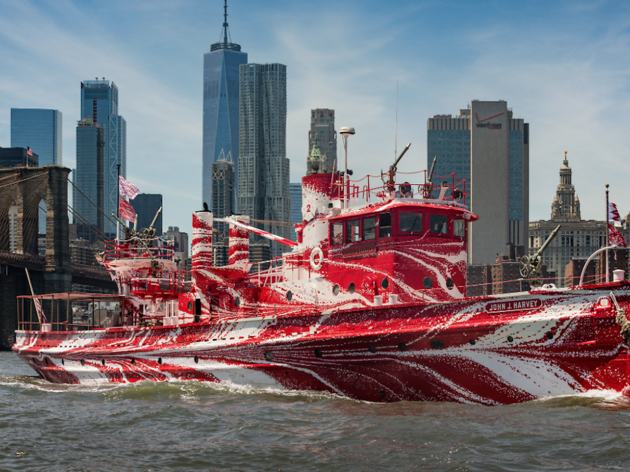 The weather may be getting nippy, but that doesn't mean you have to settle for indoor art viewing at one of NYC's many galleries or museums, such as MoMA, the Guggenheim or The Met. Throw on a coat or sweater and head out into the crisp fall air, where you'll find outdoor art throughout the city. Check out our picks in our guide to the best outdoor art in NYC this fall, and go see them before they're covered in snow.
RECOMMENDED: Full guide to the best things to do in fall in NYC
Best outdoor art in NYC this fall
1
Photograph: Jason Wyche, Courtesy of Public Art Fund, NY
"B. Wurtz: Kitchen Trees"
Known for creating whimsical, spindly assemblages that draw upon the legacies of Marcel Duchamp and Alexander Calder, B. Wurtz ventures into public art for the first time in his 50-year career with this installation of five outdoor sculptures at City Hall Park. Often made out of bits and pieces of wire, fabric wood, buttons and other sorts of detritus, his work frequently assumes plantlike forms, and here, it literally grows to the size of trees: Cobbled out of kitchen utensils, and hung with plastic fruits and vegetables, the pieces rise from 15 to 18 feet in height and span 10 to 12 feet in diameter. City Hall Park, through Dec 7.
2
Photograph: Courtesy the artist
"Kathy Ruttenberg on Broadway: in dreams awake"
For her first major outdoor art project, artist Kathy Ruttenberg has installed six large scale fantastical sculptures at various spots along Broadway from Lincoln Center to Hamilton Heights. Made from a variety of materials that include, glass mosaic, transparent cast resin and LED, the works portray anthropomorphized animals and trees like something out of Alice In Wonderland. Broadway Malls between W 64th and W 157th Sts. Through February 2019.
3
Photograph: Courtesy Socrates Sculpture Park
Socrates Sculpture Park's yearly showcase of emerging talents include outdoor installations that include Antone Konst's sinuous rendering of an itinerate peddler, Uganda artist Leilah Babirye's chainsawed encomium to the LGBTQ community in her home country and Lionel Cruet minimalist cube-cum-musical instrument. Socrates Sculpture Park, through Mar 11.
4
Photograph: Courtesy the artist, Air de Paris and Friends of the High Line
Dorothy Iannone, "I Lift My Lamp Beside the Golden Door"
Iannone, an American ex-pat artist who lives in Berlin pays homage to the Statue of Liberty, portraying The Lady In The Harbor as a trio of figures rendered in different eye-popping palettes with the titular line—taken from the Emma Lazarus poem engraved on a plaque inside the statue's base—written above them. While Iannone is known for rendering frankly sexual scenes in a style that combines Pop and Folk Art, here, she seems to weigh in on the hotly-debated topic of immigration using unabashedly patriotic imagery. High Line at 22nd St. Through Mar 2019.
5
Photograph: Timothy Schenck
The role of art in defining, creating and using public space is the theme of this group exhibition of outdoor installations commissioned by the Highline. Taking its name from the Ancient Greek term for a civic gathering place, the show features such artists as Maria Thereza Alves, Andrea Bowers and Pope.L, among others. The High Line. Through Mar 2019.
6
Courtesy the artist and Friends of the High Line
Emerging in 1960s Britain during the height of Pop Art, this veteran artist is known for infusing her monumental abstract sculptures with bright colors and cartoonish forms inspired by low-cultural aesthetics. Her work for The Highline is a new iteration of a piece she presented outside the British Pavilion at the 2017 Venice Biennale. The High Line at W 16th St. Through Mar 2019.
7
Photograph: Rashmi Gill
"Arlene Shechet: Full Steam Ahead"
For this outdoor installation, the artist is arraying a series of quirky abstract sculptures in porcelain, wood and cast iron around Madison Square Park's central fountain, which has been drained for the occasion. The installation's title is taken from a famous order given by Admiral David Farragut, whose statue stands nearby, at the Battle of Mobile Bay during the Civil War. When his squadron began to withdraw after one of its ships was sunk, he ordered it to reverse course and charge the harbor. "Damn the torpedoes," he said, using period nomenclature for mines, "full speed ahead!" Madison Square Park, through Apr 28.
8
Photograph: Courtesy the artist, NYC Parks
Zaq Landsberg, "Islands of the Unisphere"
Zaq Landsberg's functional sculptures around the Unisphere are more than just places for visitors to take a load off: Each bench replicates (in 1:1 scale) one of the world's seven major islands—New Guinea, Madagascar, Japan, Britain, Cuba, Hispaniola and Ireland—as represented on the massive globe. Flushing Meadows Corona Park, Queens, through June 10.
9
Photograph: Nicholas Knight, courtesy Paula Cooper Gallery and the Public Art Fund
"Tauba Auerbach: Flow Separation"
Developed during World War I to protect ships from U-Boat attacks, "Dazzle" camouflage involved painting vessels with black-and-white stripes connecting to each other at odd angles. The idea was that these patterns would make it hard to determine the heading of a ship when seen through the periscope of an enemy submarine (knowing the direction of a target was crucial to figuring out when and where to launch a torpedo at it). The results of using Dazzle schemes in actual combat were mixed, but their bold geometry attracted the attention of artists at the time, like Picasso. Now, Tauba Auerbach is using the concept as inspiration for her public art project, in which she's painted the historic New York Harbor Fireboat John J. Harvey in her own version of dazzle camouflage. Hudson River Park, Pier 66a, through May 12.
10
Photograph: Courtesy the artist
Rose DeSiano, Absent Monuments
Rose DeSiano installation for the Queens Park named for an early abolitionist comprises a series of mirrored obelisks reflecting the park environs. Each is mounted on blue-and-white tiled bases featuring images related the history of the surrounding area, which was originally settled by the Dutch. Rufus King Park, Queens, through June 30.
11
Photograph: Courtesy the artist
Tanda Francis, "Adorn Me"
Inspired by 13th-century Benin sculpture from Africa, this monumental sculpture by Tanda Francis features back-to-back faces of an imposing woman of color adorned, per the piece's title, by Victorian-era, colonial ornamentation. The work makes reference to the African-American community of Fort Greene, a group that, according to Francis, is generally under-represented. Fort Greene Park, Brooklyn, through Aug 16.
12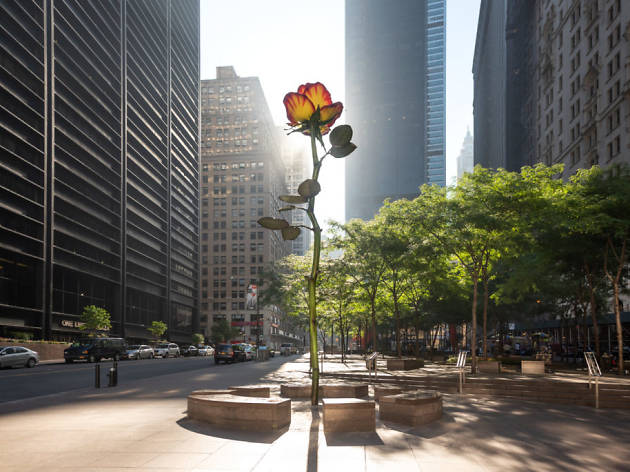 Photograph: Timothy Schenck, Courtesy Galerie Buchholz, Berlin/Cologne/New York
Weighing in at 1,000 pounds, Isa Genzken's Rose III was unveiled on the seventh anniversary of Occupy Wall Street's takeover of Zuccotti Park. Genzken works in a wide range of mediums, and giant flowers have been a recurring theme for her: A similar rose sculpture was installed on the New Museum's facade from 2010 to 2013, while a pair of gargantuan white orchids (rising to 28 and 34 feet respectively) stood at Doris C. Freedman Plaza in front of Central Park during the spring and summer of 2016. As for Rose III, it remains on long term view. Zuccotti Park, ongoing.
Check out this week's top art shows
Check out our suggestions for the best art exhibitions you don't want to miss, including gallery openings and more