Exercise in the water
Best locales for water exercise in pools.
By Celia Shatzman Thu Sep 9 2010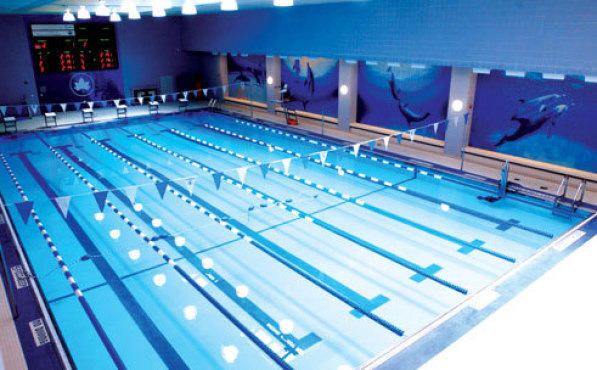 Asphalt Green
Manhattan's only 50-meter Olympic-standard swimming pool has its very own year-round water polo team, AGUA Water Polo (Tue, Thu 9--10pm; intermediate: Sun 5--8pm. $15/practice or Sept--June season fee $525). For those who prefer to simply brush up on their strokes, try a Back Breast and Beyond class, which teaches the backstroke and the breaststroke and an introduction to deep-water swimming (Sat 4:15--5pm; $490, members $420). Freestyle 101 will school you on the basics of breath control, floating, submersion, and kicking and arm movements (Sat 3:30--4:15pm; $490, members $420). 555 E 90th St between York and East End Aves (212-369-8890, asphaltgreen.org)
St. Mary's Recreation Center
Asphalt Green too pricey? Get the most out of your tax dollars with hour-long swim lessons, included in the cost of a $75 annual membership, on Saturdays at 1pm. Call Citywide Aquatics (718-760-6969) to register for the Beginner Level 1 Class for Adults; the next session starts in October. 450 E 145th St at St. Ann's Ave, Bronx (718-760-6969, nycgovparks.org)
Asser Levy Recreation Center
Just $75 a year grants you membership to the indoor pool and entire rec center, including a gym. Try one of the thrice-daily lap swims—morning, afternoon and evening sessions are offered—as well as aqua exercise classes and a variety of swim courses. E 23rd St at FDR Dr (212-447-2020, nycgovparks.org)
Community Center at Stuyvesant High School
Any adult can get a $12 day pass and come here for a dip, a few laps or classes. Burn some calories with Water Aerobics (Wed 7--8pm Thu 16--Nov 17; $150, members $130) or ace laps with Stroke Mechanics sessions (Fri 7--8pm Fri 17--Nov 19; $160, members $130). 345 Chambers St between West Side Hwy and the Hudson River (646-210-4292, communitycenteratstuyvesanthighschool.org)
Manhattan Plaza Health Club
Escape to an urban oasis at this 75-foot atrium pool and deck with a retractable roof—it's even tricked out with tropical plants. Top off the staycation vibe by registering for scuba diving certification with Pan Aqua Diving instructors, or try a class like Aqua Pilates (Fri 2:30--3:15pm) or synchronized swimming (Wed 7:15--8:30pm). 482 W 43rd St at Tenth Ave (212-563-7001, mphc.com). Current promotion: one-year membership $995; day pass (available Mon--Fri) $35.12; day pass when accompanied by a member $15.68.
Chelsea Recreation Center Pool
Check out the mix of activities at this city pool, ranging from lessons for all levels to lap swimming, water aerobics and other exercise classes. Join the gratis learn-to-swim program or the swim team, or put out some cash for the advanced swimming program for adults (ten-week session $55). 430 W 25th St between Ninth and Tenth Aves (212-255-3705, nycgovparks.org)
New York Sports Club (91st St and Third Ave branch)
Both members and nonmembers (for a day rate of $30) can dive right into the chain's water-workout sessions, then stick around to swim laps afterward. Or drop in on a class: The Aqua Workout combines strength and cardio moves for total-body exercise (Mon, Wed, Thu 7--7:55pm; Sat 9--9:55am; Sun 8:30--9:25am). 1637 Third Ave at 91st St (212-987-7200, mysportsclubs.com).