Get arms like Michelle Obama's
RECOMMENDED: Fitness guide to NYC Boxing at Church Street Boxing Gym 25 Park Pl between Broadway and Church St (212-571-1333, churchstreetboxing.com)....
RECOMMENDED: Fitness guide to NYC
Boxing atChurch Street Boxing Gym
25 Park Pl between Broadway and Church St (212-571-1333, churchstreetboxing.com). Unlimited boxing classes begin at $145 (membership fee included). One-time intro class $5; Fri at 4, 5, 6, 7, 8pm.
Length: 55 minutes
Type of activity: boxing
The workout: A raised, regulation-size ring dominates this bare-bones, no-nonsense gym; lined with posters, pictures, and clippings of boxers and fights, the room is right out of a Scorsese or Eastwood flick. Newcomers can sample the $5 Fridays class here (a one-time-only deal), which starts with a cardio warm-up (think jumping jacks), then goes straight into basic footwork—darting front, back, left and right—and instruction on throwing a jab and a cross. Next, hit the bags for some combinations, which are offset by squats and other conditioning work between drills. The hour ends with crunches, push-ups, stretching and other mat work, and finally a review of all your new badass moves. The instructor is patient and thorough, yet the class is so fast-moving you don't have time to realize how tired your arms are. No wonder Rocky was so ripped.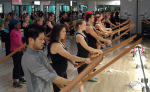 Forza atEquinox
Locations throughout the city, visit equinox.com. Monthly membership $145--$179; initiation fee varies per club.
Length: one hour
Type of activity: cardio
The workout: Forza means "strength and power" in Italian—an apt descriptor for this intense workout that combines two Japanese sword-fighting techniques, kendo and aikijujutsu. The routine was developed to work the body and mind: It begins with 20 minutes of basic cuts with a wooden sword, then escalates into a full-body workout in which you chop, cut and swoop while squatting, twisting and turning. The second half builds on a martial-arts routine, which starts with simple combos then turns complex; this is where the "mind" part comes in. Forza burns up to a whopping 700 calories an hour, and working with the weight of the sword builds lean muscle; the varied movements target each part of the arms, as well as the shoulders and back.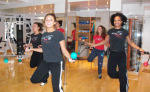 Airopes atSmart Workout
124 E 40th St between Park and Lexington Aves, suite 603 (212-661-1660, smartworkout.net). Monthly memberships start at $145, initiation fee $325. Free pass (available online) provides three free small group classes.
Length: 45 minutes
Type of activity: cardio and resistance
The workout: Smart Workout's space is airy, bright, and thumping with Top 40 and classic pop hits—a fitting setup for a playful class. Airopes are like jump ropes—but without the ropes. Instead, you grab two handles with a small ball attached to each by a cord. Twirling those balls in the air with a motion of the wrist works arm muscles, shoulders and back; reversing direction gives the opposing muscles a turn. After mastering that, you add figure eights to your repertoire, along with side steps, skips and squats to raise your heart rate and target the entire body. You only put down the "ropes" to do curls, tricep presses and other traditional free-weight moves during your cooldown; the end of class brings an abs jolt. Because classes are limited to five people (members make reservations), you can't cheat. But the instructor is sweet and motivating, leaving no time for wondering whether jumping rope was this hard as a kid.
Powerball atCrunch
Locations throughout the city, visit crunch.com. Monthly membership $74.99--$99.99; initiation fee varies. Day pass $35, with member $25. TONY deal: Bring in this article to redeem a free one-week guest pass and one free personal training session.
Length: 30 or 60 minutes
Type of activity: strength training
The workout: The eponymous orb is a translucent inflatable Bosu Ballast Ball filled with glow-in-the-dark sand, and because you're constantly touching it with at least one body part, it serves as a giant, rolling seven-pound free weight. Your link with the ball—rolling it from side to side, raising and lowering it, swinging it in different directions—ensures that you're sculpting every aspect of your arms, along with your upper body and core. (Tossing this thing in the air and swooshing it in a big figure eight is tougher than it sounds.) Need a break? Tough. Your arms get a rest only when you're focusing on other muscle groups, using the ball as a prop in planks and crunches.