Get legs like Natalie Portman's
RECOMMENDED: Fitness guide to NYC Beginner Ballet at the Ailey Extension 405 W 55th St at Ninth Ave (212-405-9500, aileyextension.com). Single class $17,...
RECOMMENDED: Fitness guide to NYC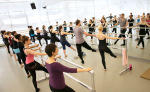 Beginner Ballet at theAiley Extension
405 W 55th St at Ninth Ave (212-405-9500, aileyextension.com). Single class $17, 20-class card $285.
Length: 90 minutes
Type of activity: dance
The workout: Led by the famed Finis Jhung (he also trains dancers in Billy Elliot on Broadway), this coed course focuses on proper technique, posture and balance. Plis (knee bends with feet turned out) and calf raises at the barre are meant to toughen your gams for more advanced ballet work or, if you're a nondancer, to give you muscle tone and core strength. You're likely to notice a few advanced folks around—and that's a good thing. Not only are their bodies inspiring, it's helpful to be able to watch and imitate instead of trying to remember the difference between second and fifth positions yourself. Tip: Arrive at least ten minutes early; limited space on the barre means latecomers sometimes get turned away.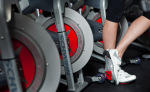 Flywheel Rides at Flywheel Sports
39 W 21st St between Fifth and Sixth Aves (212-242-9433) * Flywheel at the JCC, 334 Amsterdam Ave at 76th St (646-505-4495) * flywheelsports.com. Single class $30, five classes $135, monthly membership $180; Superfly month pass good for use at all locations $325.
Length: 45 minutes
Type of activity: indoor cycling
The workout: This intense cardio routine combines heart-pumping sprints and endurance-targeting climbs. But no matter what orders are shouted by the instructor over Top 40 music, you'll never stop pedaling. Cool clip-in shoes (freebie loans for all participants) and free bottles of water make you feel like a Tour de France champ, and the stadium arrangement of the bikes means that your instructor is always in view to cheer you on. For more motivation, keep your eyes on the TorqBoard, a flat-screen that monitors your progress and lets you compare your ride with others' in class. Sure, you can opt to keep your stats secret, but where's the bloodthirsty fun in that?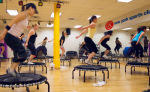 Rebounding atNew York Sports Clubs
34 W 14th St between Fifth and Sixth Aves * 349 E 76th St between First and Second Aves * 2311 Frederick Douglass Blvd (Eighth Ave)at 125th St * mysportsclubs.com. By membership only, prices vary; 30-day pass $30.
Length: 45 minutes
Type of activity: trampolining
The workout: Jumping on a mini trampoline sounds like a fun and fast 45 minutes, but rebounding is harder than it looks. And after ten minutes of "easy" bouncing, my legs were already feeling the burn. The slightly awkward aerobic routine includes moves like "disco," in which you pogo on one leg (difficult if you're new to the sport), and rolling your fists in circles. While it all may feel silly, once you get the hang of it, the leaping, squatting and balancing really do work your quads and calves. Just be careful when you finally get off the trampoline; for the first few moments back on solid ground, your legs will still feel like they're in midair.
Reformer Pilates at Pilates Reforming New York
Locations throughout the city, visit pilatesreformingny.com. Single class $29, packages from $123.25--$261. Intro class free; second class 50% off.
Length: 55 minutes
Type of activity: Pilates
The workout: Pilates Reforming NY touts the benefits of the Reformer, a frightening-looking but ultimately friendly machine that provides both resistance and assistance to help improve the posture of the legs and back, realign the spine and strengthen muscles. The low-impact workout is easy on knees and joints but effective in giving your sticks a good run: "Footwork"—pointing, flexing and rotating against the machine's resistance—helps tone and elongate . Class sizes are kept small (11 max), and the instructor continuously assesses everyone's form. (In beginner classes, instructors also demonstrate the proper moves and explain which muscles you're working.) Hang in there for the "magic circle" exercise, in which you put this bendable plastic circle between your legs and squeeze. The inner-thigh workout is so intense that you may have trouble sitting for a few days. Showing off in shorts, however, will not be a problem.