Where to run: The perfect after-work run/walk
By Tory Hoen Thu Sep 9 2010
---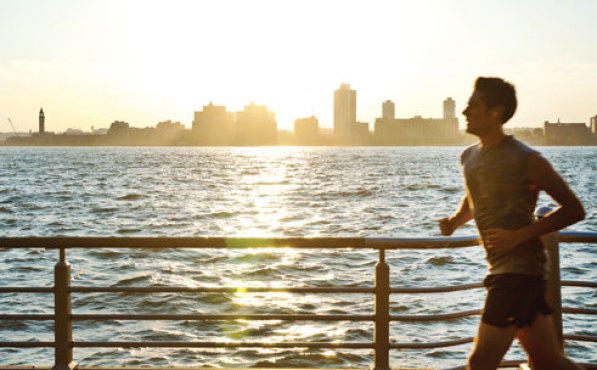 Christopher Bergland has a Guinness World Record for running 153.76 miles on a treadmill in 24 hours, and has claimed multiple triathlon championships—including three editions of the Triple Ironman (a 7.2-mile swim, 336-mile bike ride and 78.6-mile run done consecutively without sleep or rest). He's also the cofounder of City Coach (citycoach.org), a multisport training service. We asked Bergland to design three running—or walking!—routes for TONY readers.
JackRabbit Sports to Joe Coffee
2.88 miles
Try this postoffice and you'll be perfectly positioned to catch the sunset over the Hudson. And the short route can definitely be adapted for walkers. "The key is to keep it brisk," says Bergland. "Engage your upper body by keeping your arms in a running position—with hands above elbows at about a 45-degree bend—and really pumping your arms like pistons on a train."

View Short Run (JackRabbit to Joe Coffee) in a larger map
1. Start at JackRabbit Sports (42 W 14th St between Fifth and Sixth Aves; 212-727-2980, jackrabbitsports.com), a good resource for runners of all levels. If you have time, staffers can film you running on a treadmill and analyze the footage before outfitting you with trainers ($95--$135) that suit your stride.
2. "You may be dodging traffic and tourists along this initial stretch, so go easy and think of it as a warm-up," says Bergland.
3. Pick up the pace on this straightaway. "Use the runners ahead of you as rungs on a ladder." Once you've passed one, set your sights on the next.
4. "If I'm tired here, I look across the river at the LACKAWANNA [a former railway terminal] sign and think of it as negative reinforcement," says Bergland. "Whatever a lackawanna is, I don't want to be it."
5. There are water fountains at the Christopher Street Pier (Hudson River Greenway between Christopher and W 10th Sts, hudsonriverpark.org) if you need to hydrate, but make it quick so you don't lose momentum.
6. There's a lot of "runner's camaraderie"at Washington Square Park (Washington Sq West at 4th St, nycgovparks.org/parks/washingtonsquarepark). "Kick it into high gear and try to outpace someone," says Bergland.
7. Once you pass the park, reduce your pace and cool down on this final stretch.
8. End your run with an espresso at runner-friendly caf Joe (9 E 13th St between Fifth Ave and University Pl; 212-924-7400, joetheartofcoffee.com). Team Joe, consisting primarily of customers who work out together on weekends, organizes two group outings a week. E-mail gabrielle@joenewyork.com for more info.
After-work run/walk | The midlength green run | The NYC marathon-training long run