St. Patrick's Day Parade in NYC guide
Make your plan for the 2020 St. Patrick's Day Parade in NYC with our map and guide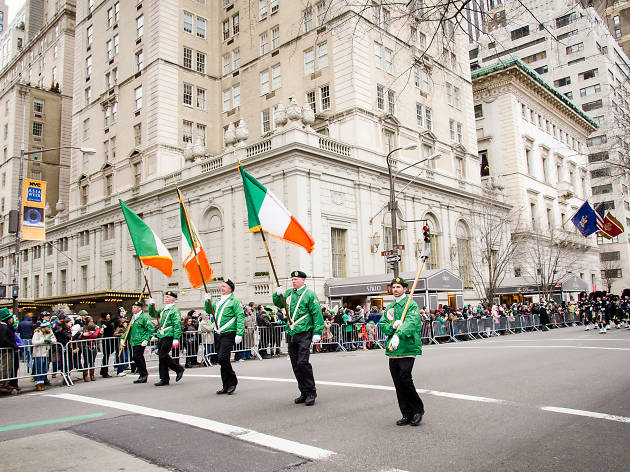 Every year, the St. Patrick's Day Parade turns NYC into a sea of hard-partying shamrocks, but this year's bash has been postponed over the coronavirus pandemic, Governor Andrew Cuomo announced.
"Today I had several conversations with the organizers of the St. Patrick's Day Parade to determine whether the parade should move forward in light of the evolving coronavirus situation and increased case count in the New York City area," Cuomo said in a statement.
"Following those conversations, I recommended and the parade's leadership agreed to postpone this year's parade due to the high density and the large volume of marchers and spectators who attend. While I know the parade organizers did not make this decision lightly, public health experts agree that one of the most effective ways to contain the spread of the virus is to limit large gatherings and close contacts, and I applaud the parade's leadership for working cooperatively with us. While the risk to New Yorkers remains low and we want to avoid social and economic disruptions, we have an obligation to take action to contain the spread of this virus."
This is the first time in the parade's 258-year history that it has been postponed. There was no word yet as to when the celebration would be rescheduled to.
Make sure to check out our other suggestions for great St. Patrick's Day events, too.
RECOMMENDED: See the full St. Patrick's Day in NYC guide
When is the St. Patrick's Day Parade?
The St. Patrick's Day Parade usually takes place the day before St. Patrick's Day on Tuesday, March 17, 2020. The procession starts at 11am and ends around 5pm.
Where is the St. Patrick's Day Parade?
The parade begins at 44th Street, marching up Fifth Avenue—past St. Patrick's Cathedral at 50th Street—all the way to 79th Street. It finishes at the American Irish Historical Society at East 80th Street.
What are the street closures for the St. Patrick's Day Parade?
Vanderbilt Avenue between 43rd and 46th streets
43rd Street between Vanderbilt and Sixth avenues
44th Street between Vanderbilt and Sixth avenues
45th Street between Vanderbilt and Sixth avenues
46th Street between Vanderbilt and Sixth avenues
47th Street between Park and Sixth avenues
48th Street between Park and Sixth avenues
Fifth Avenue between 42nd and 43rd streets
Fifth Avenue between East 86th and 79th streets
79th Street between Park and Fifth avenues
80th Street between Lexington and Fifth avenues
81st Street between Lexington and Fifth avenues
82nd Street between Lexington and Fifth avenues
83rd Street between Lexington and Fifth avenues
84th Street between Madison and Fifth avenues
85th Street between Madison and Fifth avenues
49th Street between Madison Avenue and Rockefeller Plaza
50th Street between Madison Avenue and Rockefeller Plaza
51st Street between Madison Avenue and Rockefeller Plaza
58th Street between Fifth and Sixth avenues
60th Street between Madison and Fifth avenues
62nd Street between Madison and Fifth avenues
63rd Street between Madison and Fifth avenues
64th Street between Park and Fifth avenues
65th Street between Madison and Fifth avenues
71st Street between Madison and Fifth avenues
72nd Street between Madison and Fifth avenues
78th Street between Madison and Fifth avenues
Madison Avenue between 42nd and 86th streets
See the map of the St. Patrick's Day Parade
Archive St. Patrick's Day Parade content