101 things to do in New York City in the fall 2013
Clear your schedule: Our fall calendar of things to do in New York—festivals, parades, shows, new activities and more—will fill your planner through November.
By Time Out editors, edited by Jonathan Shannon Thu Sep 5 2013
71. Watch Steve McQueen's latest, 12 Years a Slave, one of the best things to do in New York this fall
71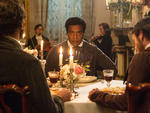 Film: 12 Years a Slave
Having taken on suicide by starvation (Hunger) and sex addiction (Shame), British visual-artist-turned-filmmaker Steve McQueen turns to another s-word: slavery. This adaptation of Solomon Northup's memoirs about being sold to a Southern plantation has an impressive cast—Brad Pitt, Michael Fassbender, Benedict Cumberbatch, Paul Giamatti—but we're betting that it's Chiwetel Ejiofor's name that will be on everybody's list come Oscar time.
The arts group, based out of a stalwart neighborhood hardware store in Williamsburg, throws its fourth annual fund-raiser for its summer show, C.H.A.S. Last year, more than 30 entries—ranging from the skillful to the probably-carved-while-tipsy—vied for the crowd's votes in three categories: Best in Show, Most Creative and A for Effort. Arrive between 6:30 and 8pm to register your effort (free), then grab a beer, hot cider or glühwein from the tent in the store's outdoor garden center while you wait for the ballots to close at 9pm.
73
Food & Drink: NYC Food Film Festival
This cinematic feast takes "dinner and a movie" to the extreme, pairing flicks with first-class food over a five-day festival. Gotham's own Dale Talde (Talde) and Ed Schoenfeld (Red Farm) star in Erik Olsen's short "Dumpling Tales" and will serve Asian snacks during the screening. Visit thefoodfilmfestival.com for details.
Locations, times and prices vary
Wed Oct 23 - Sun Oct 27
Price band: 2/4
Critics choice
In Matthew Bourne's alternative version of the well-known tale, Aurora wakes up to a modern world—and you can almost certainly expect a gothic twist. The British director and choreographer, who has a special talent for twisting the classics—his Swan Lake features a flock of male swans—presents his third work set to Tchaikovsky.
75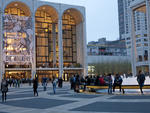 Arts & Culture: White Light Festival
Audiences can vibrate at a higher level during Lincoln Center's fall festival, which explores the spiritual properties of music and art. Video, chamber music and virtual reality combine in Michel van der Aa's Up-close, featuring the Orpheus Chamber Orchestra and members of the International Contemporary Ensemble (Oct 28 at 7:30pm; $35–$55); choreographer Akram Khan performs his dreamy solo show, DESH, which won an Olivier Award (Nov 6, 7 at 7:30pm; $25–$90); filmmaker Philip Gröning gets an inside look at the isolated lives of Carthusian monks in Into Great Silence (Nov 10 at 1:30pm; $15); and the Mark Morris Dance Group performs its critically acclaimed L'Allegro, il Penseroso ed il Moderato, about the transformative power of art (Nov 21–23 at 7:30pm; $40–$125). Various locations at Lincoln Center. Visit whitelightfestival.org for a full schedule.
Various locations at Lincoln Center
Thu Oct 24 - Sat Nov 23
Price band: 1/4
Critics choice
Explore more than 140 of the French couturier's gender-bending, avant-garde pieces, some of which are arguably closer to art than attire. (Admit it: A museum seems a fitting place for Madonna's conical bra and Milla Jovovich's costume from The Fifth Element.) The show also includes photographs taken by artists including Richard Avedon, Andy Warhol and Cindy Sherman, plus Gaultier's very first design from 1971.
Price band: 2/4
Critics choice
Proof that cats really do rule everything around us: After the success of the Internet Cat Video Festival at the Walker Art Center in Minneapolis—two kitty-centric shindigs have taken place there since 2012—its organizers have decided to bring the feline fiesta to Brooklyn. So what can you expect? At this summer's event, a few Internet-famous furballs—including Maru, Lil Bub and Keyboard Cat—were inducted into a kitty Hall of Fame; Grumpy Cat won the Golden Kitty award; and lots of people showed up in cat costumes. So basically, it'll be the best night ever, if you're a cat lady or gent. Dog people, we suggest you steer clear.
Price band: 1/4
Critics choice
The Village Halloween Parade is fun and all, but does it have a plethora of puppies in adorable outfits? For that, you'll have to head to the East Village for this annual dog parade. The getups are remarkably elaborate and conceptual—no surprise given the $4,000 of prizes on offer, including an iPad mini for Best in Show. No pooch? No problem: Grateful Greyhounds, Bide-A-Wee, Friends of Animal Rescue and the Mayor's Alliance for New York City Animals will be on hand with canines that need a loving home. Just remember, a dog's for life, not just for a costume contest.
Price band: 1/4
Critics choice
MoMI mounts an exhibit about the storied studio complex it calls home, which once served as Paramount Pictures' East Coast headquarters and the U.S. Army Pictorial Center. Watch film and television clips produced at Kaufman Astoria Studios—including silent flicks starring Rudolph Valentino, Marx Brothers talkies, Sesame Street and The Cosby Show—and browse artifacts, photos and oral histories of the site.
---
Events calendar for New York City
Celebrate the martyred 3rd-century bishop and patr...

Finally, an ultimate tribute to not just the artis...

A Gentleman's Guide to Love and Murder. Walter Ker...
386

more events »
Time Out videos
---
---