Learn to dance and get fit at these fusion classes
Work your core, get your heart racing and learn to dance at these fusion classes that mix a variety of styles.
By Luisa Rollenhagen Tue Sep 11 2012
If you don't want to be tied down to one type of movement, learn to dance a fusion of styles, and get an energetic workout at these Zumba and Pon de FLO classes. Or for a mixture of ballet, modern dance and acrobatics, try an aerial dance class to improve your core muscles.
RECOMMENDED: Fitness guide to NYC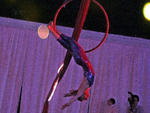 Lyra at Hype Gym
Defy gravity in Heliummm Aerial Dance's entry-level tutorial, where hanging upside down from a suspended hoop using only your legs is just the beginning. Drawing on principles from modern dance, ballet and acrobatics, the routine is packed with twists and turns that build a strong core while simultaneously engaging your biceps and triceps. (All that swinging around strengthens your hamstrings, too.) The class environment is relaxed and friendly, and even absolute newbies will be surprised by what they can achieve in the course of an hour. • 480 Second Ave at 27th St (917-280-2611, heliummm.com). Wed 5:30–6:30pm; trial class $35, single drop-in class $40.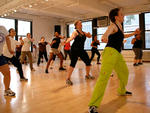 Zumba at M Dance & Fitness
Get your heart rate pumping in this low-pressure, high-energy class, which combines steps from salsa and merengue. Instructor Diana Dove encourages students to move at their own pace, without putting too much emphasis on acing the choreography on the first try. The purpose here is to have a good time, and to get a full-body cardio workout with a focus on hips, abs and butts. You'll be too busy shaking ass to the reggaetón and pop-laced soundtrack to notice that you've been moving for an hour straight—but you'll definitely feel it the next day. • Locations and schedule vary; visit mdancefitness.com for details. Trial class $15, single class $20. Enter the code "TONYFIT" or e-mail tonydeal@mdancefitness.com when booking a single or multiclass package online to receive $10 off through Oct 15; not valid for trial class.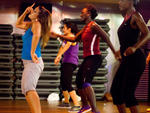 Pon de FLO at Crunch
Instructor Heather Fay's energy is palpable and infectious: As you mimic her jumps, drops, shimmies and shakes, you won't be able to help smiling, even if you fumble the steps. The choreography takes its cues from a medley of Caribbean, hip-hop and reggae styles, so the footwork is fast-paced, but there's enough repetition for the routine to sink in quickly. Since every part of your body is constantly moving, you get the benefits of a cardio workout, plus core conditioning and muscle toning (particularly your abs, glutes and quadriceps). Calming cooldown moves, similar to yoga poses, wrap up the session. • Location and schedule vary; visit crunch.com for details. Nonmember day pass $30, monthly membership $60–$99.
---