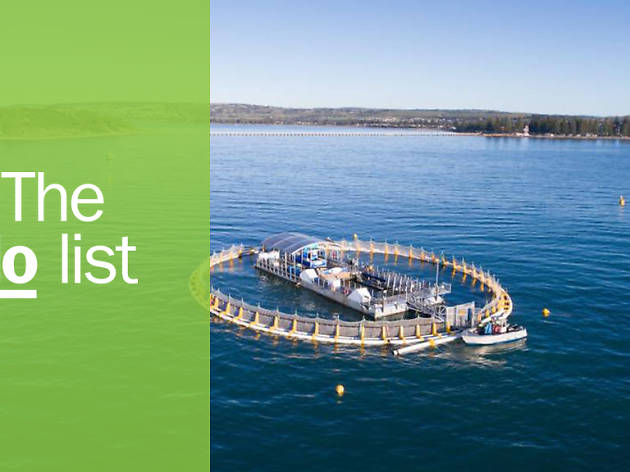 The 9 best things to do in Adelaide
Trying to find things to do in Adelaide? The city is chock full of sublime markets and exciting tours
Looking for the best things to do in Adelaide? South Australia's bustling capital city has much to offer both tourists and locals alike. Whether you're visiting for a quick weekend away or an extended stay, we've rounded up all our favourite activities. From amazing places to eat and drink, to family-friendly strawberry picking, via a quick stop at the zoo. Before stepping out in the city, be sure to check out our selection of the best things to do in Adelaide.
RECOMMENDED: The best hotels in Adelaide.
Done something on this list and loved it? Share it with the hashtag #TimeOutDoList and tag @TimeOutEverywhere.
Find out more about how Time Out selects the very best things to do all over the world.
Best things to do in Adelaide
1. Adelaide Central Market
What is it? Established in 1869, the Adelaide Central Market is the undisputed jewel in the city's produce crown.
Why go? One of the largest undercover markets in the southern hemisphere, it has more than 70 traders from over 40 nationalities under the one roof, selling a whopping one million kilograms of fruit and vegetables every month – not to mention meat, cheese, seafood, coffee, spices and smallgoods. You can't go wrong by just walking in and wandering the aisles, but if you want a true taste of 'The Market' (as the locals call it), book yourself on a guided tour.
What is it? Wander along the edge of the River Torrens in Adelaide's constantly-being-revamped Riverbank precinct and you might spy something strange: a fleet of round, floating vessels with smoke emanating from the middle, manned by people waving tongs. Are they boats? Are they barbecues? Actually they're both, and they're the best idea ever.
Why go? Yes, the BBQ Buoys (see what they did there?) boats combine the tranquility of floating along the river with the joy of a sausage sizzle, with each circular boat kitted out with a gas grill in the centre. The boats range from couple sized right up to a ten-seater, with hourly rentals starting at $150 (for two). BYO food and drink, or choose from a range of local beers, wines and ciders and pre-made 'grazer platters' of South Australian meats and other goodies – and yes, vegetarians are looked after too.
What is it? One of Adelaide's favourite family attractions, the Zoo is home to Australia's only giant pandas – Funi and Wang Wang – which, let's face it, is more than enough reason to visit. (Take our word for it, they're seriously cute.)
Why go? If ogling cuddly, bamboo-eating mammals is a little too tame for you, then check out the 'animal experiences' on offer such as hand-feeding the Sumatran tigers and African lions, giving Brutus the Hippo his daily mouth check, or having breakfast with a Sun Bear. Our pick is the Wild Nights package ($380 for two), in which you and a mate can spend a night glamping on site in a comfortable tent before waking up to breakfast with the Zoo's super-cute red pandas and a guided tour of Fu Ni and Wang Wang's exhibit.
4. Strawberry picking at Beerenberg
What is it? If you've ever eaten breakfast at a fancy hotel or on a Qantas flight you've probably eaten Beerenberg. A South Australian institution, the family-owned company has been making delicious jams at its Adelaide Hills strawberry farm since 1970, and distributing them in cute miniature jars all over the world since the 1980s.
Why go? Although the brand now makes 75 different preserves, its strawberry jam remains the most famous, made fresh from the fruit picked from the farm's strawberry plants in Hahndorf, 30 minutes out of Adelaide (Beerenberg actually means "berry hill" in German). Every year from November to April you can grab a punnet and wander the farm yourself, picking your own fresh berries to take home for just $5 per person and $10.95 per kilo. There's no better way to spend a sunny day than wandering Beerenberg's picturesque strawberry patch, hunting down the perfect luscious berries to eat later.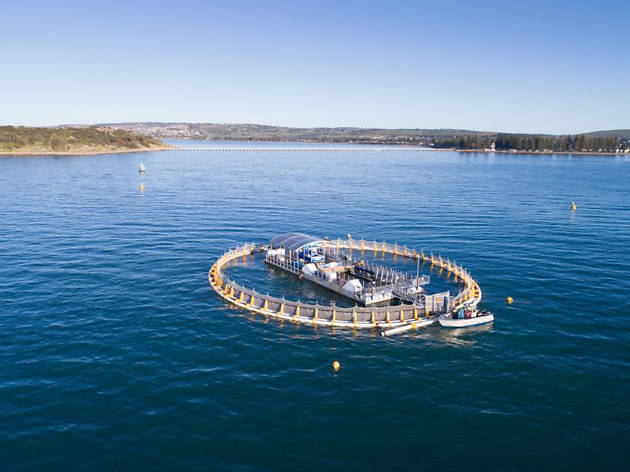 Photograph: Supplied
What is it? One of Adelaide's newest attractions, having opened in August 2017, this unique marine experience lets you swim with Southern Bluefin tuna – dubbed 'the Ferraris of the ocean' – in a specially designed in-sea aquarium on Granite Island, an hour south of Adelaide.
Why go? Departing from the busy tourist hub of Victor Harbor, a quick catamaran ride delivers you to the aquarium where you're fitted out with a wetsuit, mask, booties and gloves before diving into the clear, clean waters of Encounter Bay to experience tuna up to 2.5 metres long whooshing past your body with impressive speed. Those who prefer to stay dry can feed the tuna from the surface, or view the sights from the glass-sided underwater viewing area.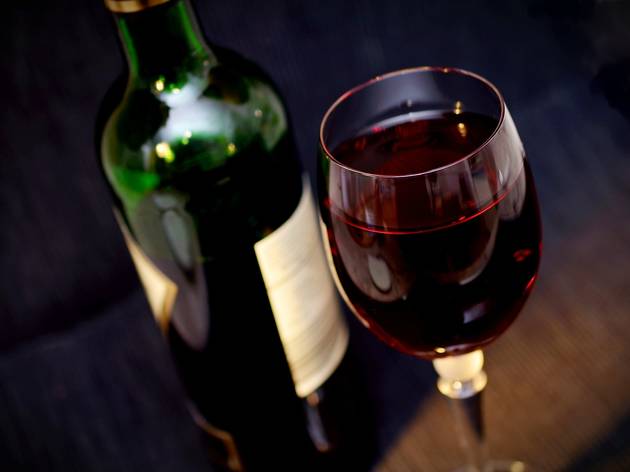 Photograph: Pixabay
What is it? A combined museum, function centre and wine research institute for the University of Adelaide, located near the Adelaide Botanic Gardens.
Why go? Australia's largest wine tasting room, with more than 120 wines to try, is one of the drawcards here. Together with an interactive 'wine discovery journey' that demonstrates the process from grape to bottle, it's the perfect preparation for a trip through South Australia's beautiful winemaking regions. Tours hosted by knowledgable guides cover the role wine has played in the Australian history, the place of Australian wine in the international market, and the relationship between food and wine.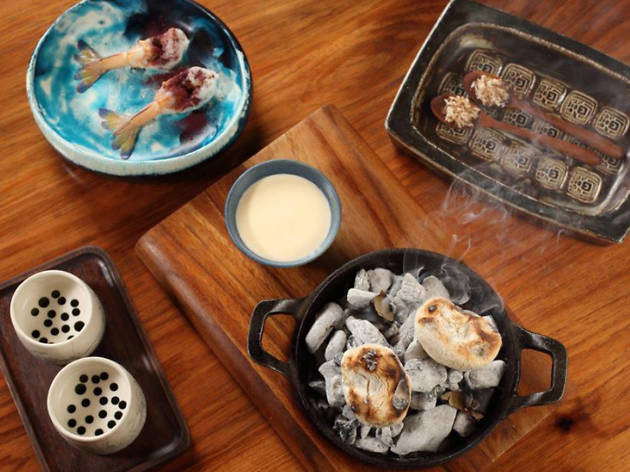 What is it? Seasonal, locally sourced ingredients cooked up in modern Aussie dishes.
Why go? Orana is easily one of Adelaide's best eateries. It may even be among the finest in Australia. A meal here will set you back a fair few bucks (ok, a heap), but it's worth it for the experience as much as the cuisine. First of all, it's hidden up some steps round the back of Bistro Blackwood. Secondly, each dish is a work of art, served variously on marble slabs, woven cradles, cast iron bowls, wooden boards, glass dishes… we could go on, but you'd be better off investigating for yourself. Tasting menus cost $120 per person at lunch and $240 at dinner.
Price: Blowout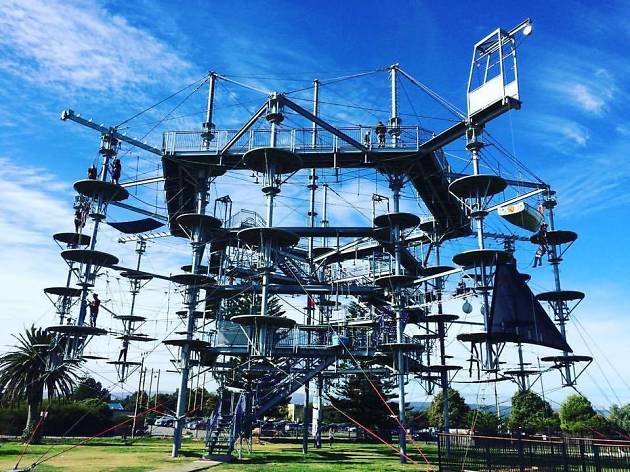 8. MegaAdventure Adelaide
What is it? Play tennis in the sky, ride a BMX bike mid-air, or sit at a sky-high picnic table as part of this unique aerial obstacle course – all while enjoying views of Adelaide.
Why go? The creation of entrepreneur Alex Blyth, who based much of the design on challenges he experienced as part of his training in the British Army, this amazing 26-metre tall playground in West Beach includes more than 70 aerial obstacles in its SkyChallenge including suspension bridges, swings, scramble nets and vertical climbs specifically designed for you to get your Spiderman on. Real risk takers can take a leap of faith from the 18-metre tall MegaJump free-fall simulator, while those with less of a daredevil streak can enjoy the views from the tamer Skywalk.
9. Swim with the dolphins
What is it? The chance to get up close with the dolphins in the cool waters off Glenelg Beach, just 20 minutes from the CBD.
Why go? Temptation Sailing's 17m catamaran was the first vessel in South Australia to be granted a license for dolphin swims; as a result the thousand or so common and bottlenose dolphins in the area now actually come to it and are always eager to play. The company even offers a money back guarantee if they don't show up. Cruises last about 3.5 hours, with swimmers potentially getting over an hour of dolphin interaction. Those who don't want to dip their fins can stay on the boat and watch the action.
Want a taste of the city's finest eats?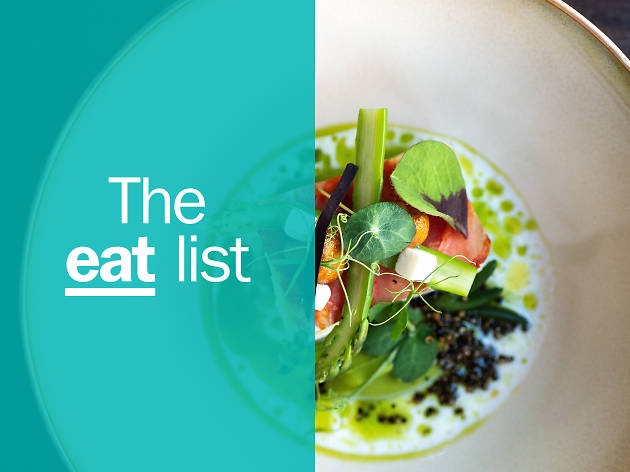 Just like most Australian cities, the Adelaide restaurant experience has been informed by migrant food culture for as long as people have been venturing out to eat and explore the city. No matter what you're craving, find it all and more in our guide to the best restaurants in Adelaide.