The 30 best Amsterdam bars and pubs
It's not all Heineken in the Dutch capital – discover the best places for cocktails, craft ales and wines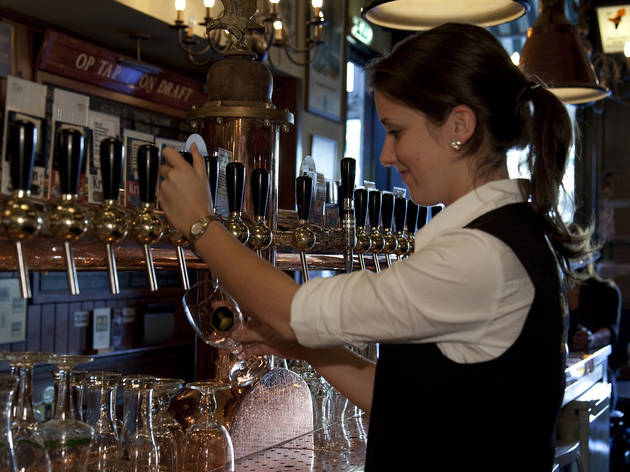 Bars in Amsterdam come in all shapes and sizes. From grand cafés to hole-in-the-wall proeverijen (tasting houses), the café/bar is central to Dutch life. Forget the pub crawl: in Amsterdam you settle in for the night in a neighbourhood establishment that functions as home-from-home, off-site office, canteen, debating society and sometimes even nightclub all rolled into one.
With Heineken's old brewery now a theme park and Amstel having long since moved elsewhere, the two suppliers most associated with the Amsterdam pub scene aren't made here anymore. The brewers that remain, albeit small by comparison, are well worth seeking out, however. A good place to start sampling is the canalside De Bekeerde Suster, situated in a building with a long history of beer making. Amsterdam's oldest operational brewery, the windmill-side Brouwerij 't IJ, opened in 1985 is part of a new wave that has sparked a resurgence in Dutch beer production.
Throughout all of this, the traditional bruin café (brown café) has demonstrated its staying power - hurrah! - with beer being the main tipple of choice. For something stronger, try jenever: jong is like a lighter, more refreshing gin, while oud is darker and fuller flavoured. Among these no-frills, nicotine-stained boozers, you'll also find speciality wine bars where you can quaff in design-sensitive surrounds, and top-flight cocktails mixed by Holland's finest bartenders. Proost!
The best bars and pubs in Amsterdam
This long, low-ceilinged room has the feel of a wine cellar, albeit one with mood lighting and banquettes. There are more than 50 wines available by the glass and 180 by the bottle, and accompanying posh nosh (Asetra caviar, truffle cheese, foie gras). Wine flights are served, assembling the products of particular regions in several samples.
Read more
When the previous owners hung up their pinnies in the '80s after 40 years behind the bar, they sealed up their café, retired upstairs and eventually passed away. Twenty years later, the new owners reopened this ghost bar just as they found it; furniture, photos, billiard room and all. The old-fashioned atmosphere is enhanced by background jazz.
Read more
Not much has changed since 1624 at the oldest bar in town, where builders from the Westerkerk would come to receive their pay after a hard day's graft. Now local workers still come to unwind in unpretentious surroundings, adorned with darts trophies and other bric-a-brac from the bar's long history as a mainstay of the Jordaneese drinking scene, something it remains to this day.
Read more
Definitely the smallest bar in Amsterdam at just a handful of square metres, the Doctor is also one of the oldest, dishing out the cure for whatever ails you since 1798. Centuries of character and all kinds of gewgaws are packed into the highly compact space. Whisky figures large (there's a monthly special) and snacks include smoked osseworst with gherkins.
Read more
The Nine Streets are littered with characterful bars, and this one is a lovely, old-style, tobacco-stained example with an intellectual bent. Once a Provo hangout, now writers, journalists and political groups regularly meet to chew the fat, and it's a nice spot even if you aren't feeling cerebral. On Sunday mornings, it's one of the few places to get breakfast, which makes it popular with the hangover crowd.
Read more
Popular with the neighbourhood's more affluent young people, there's a mod-retro feel here - lacquered walls, 1970s lamps, school chairs - and weekends are livened up with DJs spinning tunes to separate the party animals from the meek and mild. There's a full menu, plus upmarket snacks like mini pizzas and merguez for those hankering for more than just a beer buzz. A trendy place for sure, but one that welcomes newcomers as well as old hands.
Read more
A dirty old rockers bar where musos, journos and everyone else who refuses to grow up gets smashed in one big, sloppy melée. The soundtrack is the entire back-catalogue of classic alternative pop, often from DJs and bands, and sometimes accompanied by (inexpert) dancing. Bliss. At the back is a surprisingly restful terrace where boats can moor when it's time for a break from the canal touring. There's also pool, pinball and a good range of beer.
Read more
So slick a bar comes as a surprise plonked canalside in an unremarkable residential area not far from the Vondelpark. Inside it's all blonde wood, cool, creamy colours and a beautiful crazy-paving floor. Punters are slightly older, style-hungry locals who come for breakfast and stay late for the fashionable menu and inimitable laid-back atmosphere
Read more
Show more
See more great bars and pubs in Amsterdam