The 15 best restaurants in Amsterdam
Think the Netherlands, think stodgy meat and root veg? The very best restaurants in Amsterdam rip up the clichés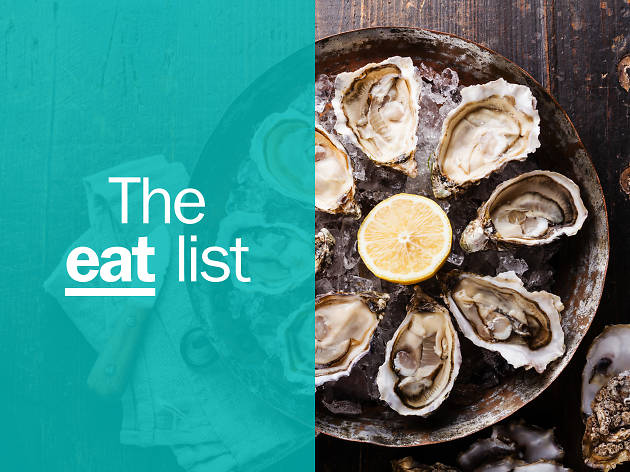 Though Amsterdam doesn't have a particularly distinguished culinary past, the current food scene could rival almost any city in Europe for platefuls of fun, flair and eccentricity. Traditionally centred around meat and root veg, Dutch cooking reflected the nation's Calvinist outlook: functional, austere dishes for ordinary, hard-working folk. But over the past 15 years or so, an inventive wave of Dutch chefs have been updating the classics and mixing things up in the kitchen. Modern trends – brunch, sustainability, photo-friendly pop-ups, menus built around one or two ingredients – have been wholeheartedly embraced. And the city's long-standing multicultural make-up has inspired no end of creativity. The result is a diverse, eclectic array of Amsterdam restaurants that range from neighbourhood bistros to hip globally-inspired hangouts (and cater to just about every culinary desire).
Eaten somewhere on this list and loved it? Share it with the hashtag #TimeOutEatList.
Best restaurants in Amsterdam
1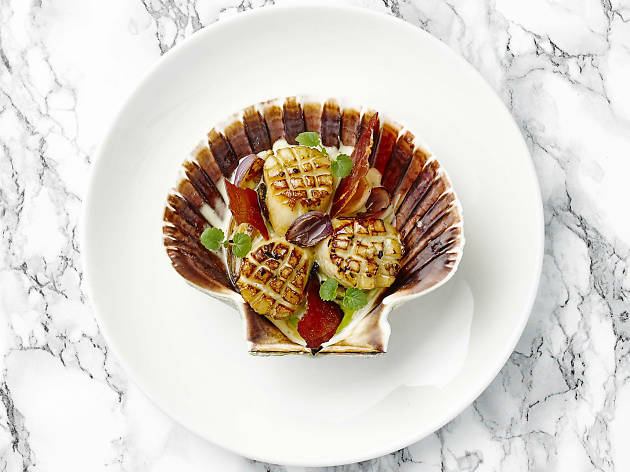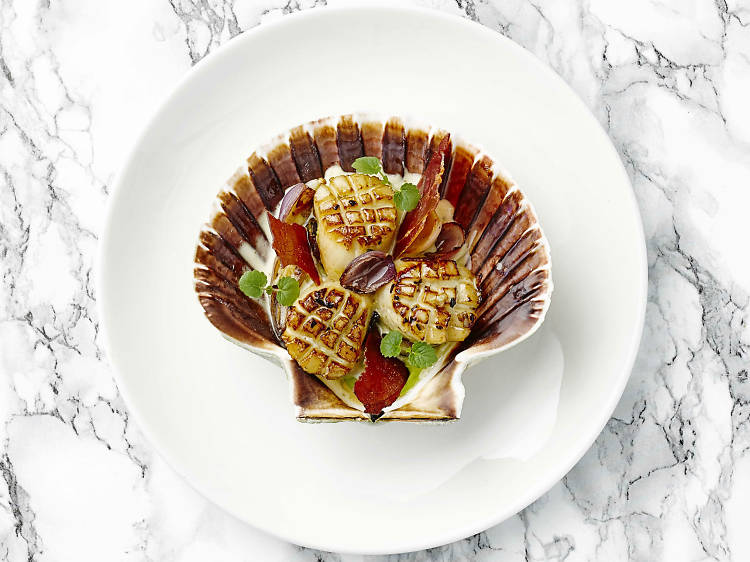 Photograph: Jansz, Pullitzer Amsterdam
Classics with a modern twist are the name of the game in this former apothecary's shop with a canal view. Spread across a number of rooms boasting simple yet tasteful décor, there's an understated elegance to everything here, from the food to the imported marble tabletops. Whether it's the dover sole, hanger steak or lobster risotto, chef Jeroen Robberegt's cooking is robust and flavourful, and while dinner is the real star, they also do a mean lunch and happily cater for kids.
Price: High-end
2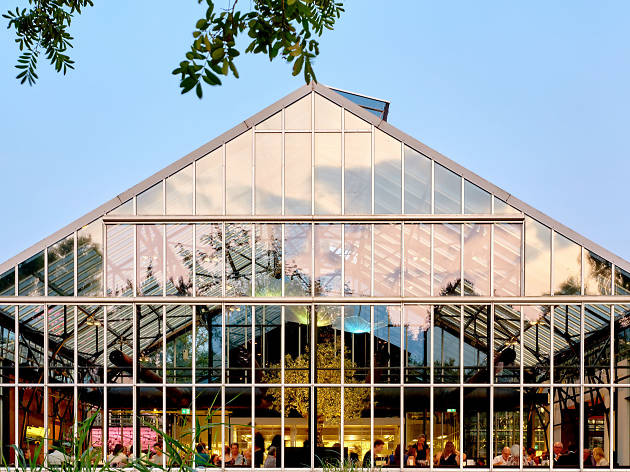 Photograph: Mitchell van Voorbergen
If the finest, freshest produce, beautifully cooked, is what you're after, then a trip to De Kas is a must. Tucked inside a set of greenhouses that date to 1926, they serve a fixed daily menu – you simply choose how many courses you want – prepared with vegetables and herbs grown in their own nursery. Their farm-to-table credentials are impeccable, and the dishes showcase each ingredient at its best.
Price: Blowout
3
Photograph: Sotto Pizza
Surprisingly for a city with so many Italian restaurants, quality pizza used to be something of a rarity. Not any more. Delicate dough with a perfectly charred crust, sauces made with San Marzano tomatoes, and gooey puddles of Buffalo mozzarella have given way to two further branches and membership of the prestigious Associazione Verace Pizza Napoletana – one of only two pizzerias in the country to be accepted. Pizza doesn't get much better than this.
Price: Budget
4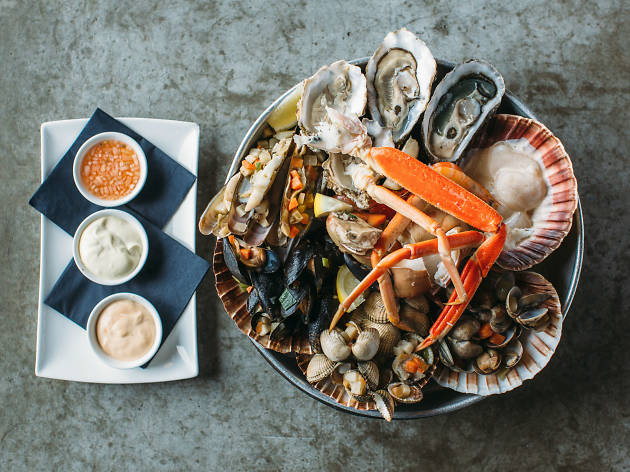 Photograph: Stork, Amsterdam
There are few better places to get stuck into fresh fish and seafood than Stork, a cavernous, south-facing space on the banks of the River IJ. A free ferry shuttles you across the water to Noord and this former factory that now serves up whole lobster, oysters, 'catch of the day' specials and a sumptuous seafood platter. If it's sunny, order some ice-cold white wine, grab a spot on the terrace, and watch the river traffic bustle back and forth.
Price: Mid-range
5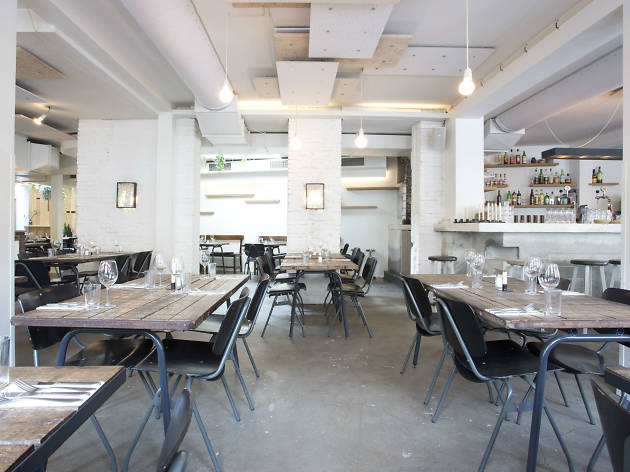 Photograph: Jan Voorkant
The industrial, shabby-chic interior and ever-changing daily menu of modern Dutch cuisine have made the 'Wild Boar' a trendy (and increasingly popular) haunt in Oost. The idea is simple – choose three or four courses, order some wine, and let the kitchen work their magic with fresh, seasonal produce (do try the boar though). And if something a little lighter is required, head next door to their Eetbar, where they offer smaller, individual plates from just €7.
Price: Mid-range
6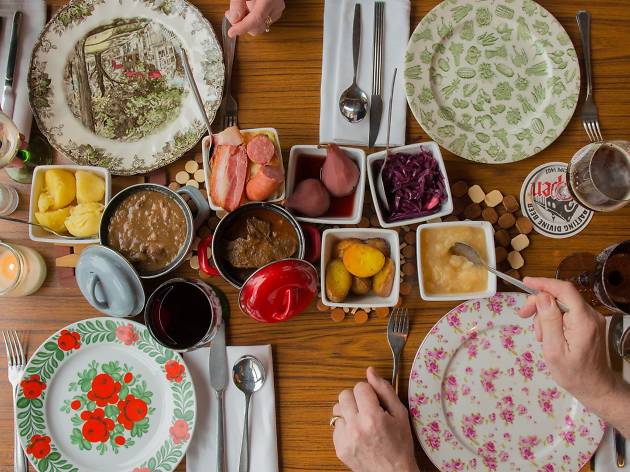 Photograph: Moeders
It's all about the stamppot at 'Mothers', a quirky city-centre restaurant that's decorated with photographs of customers' actual mothers. The closest thing the Dutch have to a national dish, the combination of mashed potato, cabbage, bacon and sausage is quite a plateful, especially when it comes with an extra meatball. There's plenty else to choose from, but bring a hearty appetite and don't bother with starters – portions are huge.
Price: Mid-range
7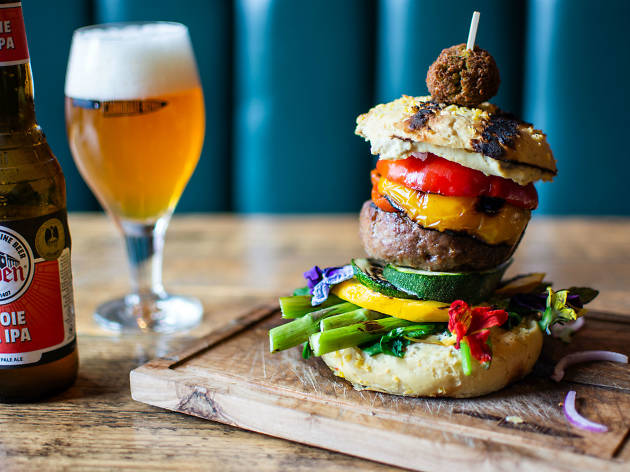 Photograph: Cannibale Royal
Meat lovers rejoice, for this brasserie tucked away at the bottom of De Pijp is a mecca for all things chargrilled. Impeccable burgers – try the house speciality, with added pulled pork – jerk-style roast chicken and the best ribs in town are just some of the delights on offer. Steak lover and hungry? Their 1kg Absurde, which must be ordered 24 hours in advance, has you covered. Their craft beer menu is excellent, too, with a constantly rotating range of local brews on draught.
Price: Mid-range
8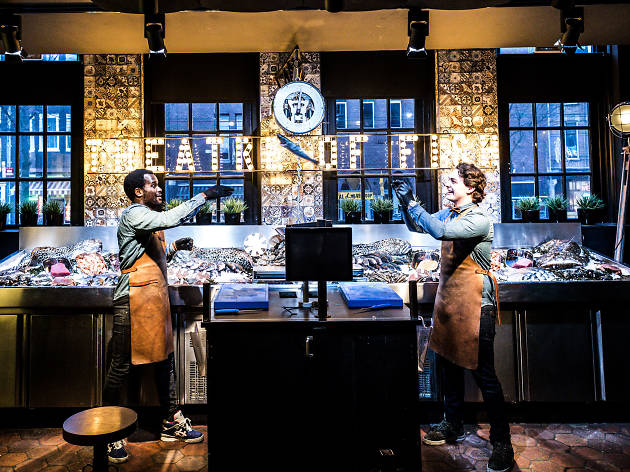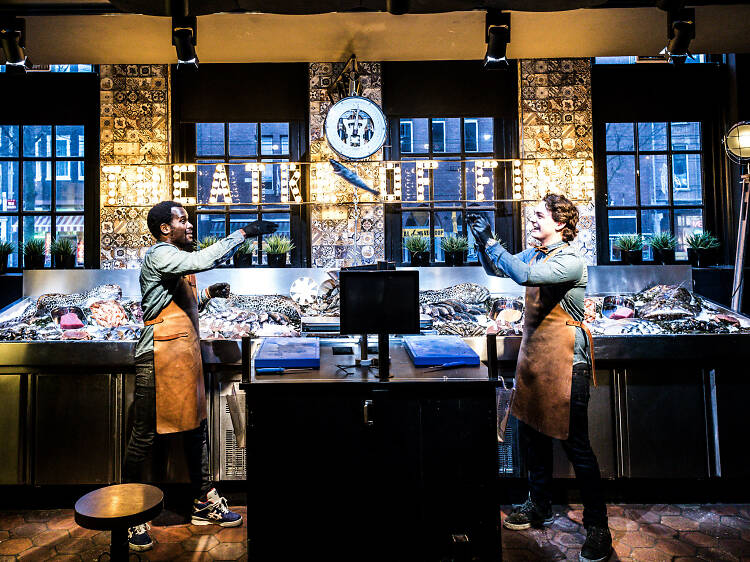 Photograph: Saskia de Wal, courtesy Pesca
Ever been to a self-proclaimed 'theatre of fish'? We're guessing not. But what exactly does that mean? On arrival at Pesca, staff offer a glass of champagne to enjoy while you peruse the day's catch – cod, mussels, octopus, scallops – stylishly laid out on ice. Once you've made your selection, drinks and sides are added, you grab a table and wait for a plate of near-perfectly cooked fish. There's a buzzy, fast-paced atmosphere to complement the food, making it the ideal starting point for a night on the town.
Price: Mid-range
9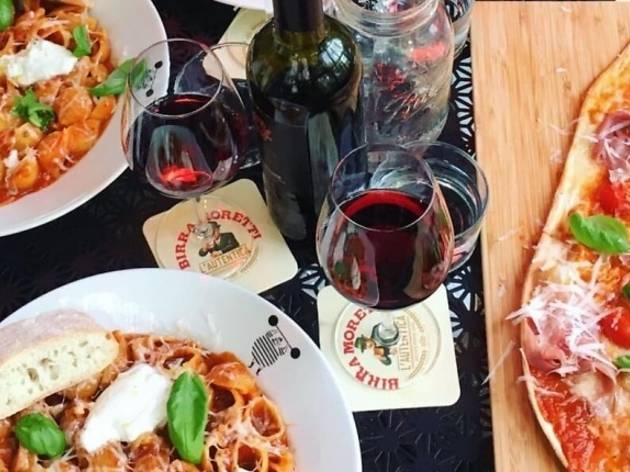 Photograph: Eddy Spaghetti
Forget about the stuffier (and overpriced) Italian restaurants in the city centre and West and head instead to this cosy little diner in Oost. Their pasta menu is short but on point – think linguine all cozze, all'arrabbiata and a succulent lamb ravioli – while the pizzas are thin-crust delights. Do leave space for the homemade tiramisù, and if you're feeling decadent, ask the bartender for a negroni – they serve one of the city's best.
Price: Mid-range
10
Photograph: China Sichuan Restaurant
Ignore its location in the middle of tourist hell – the hordes of Chinese expats gobbling up 'royal fish', kunpao chicken, and Sichuan steamed beef are proof of this restaurant's authenticity. It's small, but open until midnight and diners tend not to linger. In Sichuan cooking, chilli is king, but they've also got plenty of specialities for those not so keen on spice, including a mean Peking duck. Portions are huge and come with mountains of rice, making this a great place for groups.
Price: Mid-range
11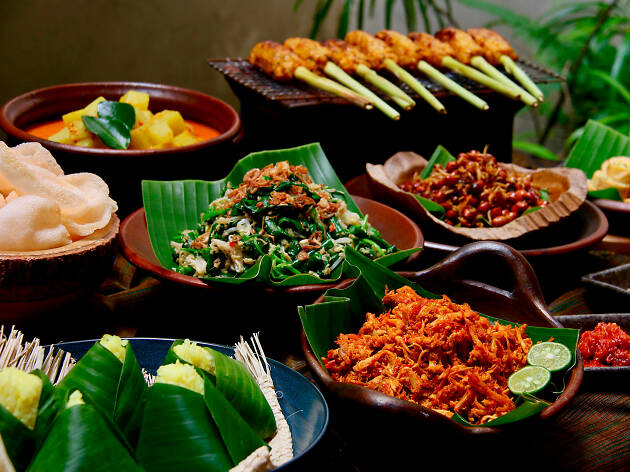 Photograph: Shutterstock
It would be remiss to visit Amsterdam and not experience an Indonesian rijsttafel. Translating as 'rice table', it's a set menu of small, spicy dishes – usually the chef's favourites – designed to showcase the most distinctive flavours and styles of Indonesian cooking, and Tempo Doeloe does one of the best. It's classy yet homely, and the food is excellent. If it's spice you're after, you won't be disappointed. Order the famous rijsttafel istemewa and maybe don't have much the meal before; it's a mountain of food. Booking is essential.
Price: Mid-range
12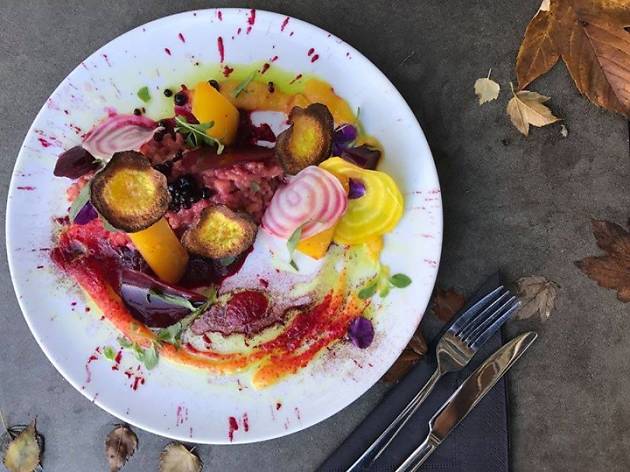 Photograph: Meatless District
Dutch cuisine isn't particularly kind to vegetarians, and vegans even less so. Recently, however, a number of addresses have popped up catering to their needs, and this chic, airy bar-restaurant in Old West is the best of the bunch. With a seasonal menu that's 100 percent vegan – and organic where possible – they're open every day for lunch, light bites and dinner (plus breakfast at weekends).
Price: Mid-range
13
Photograph: Michael Graste
If you're after the very best Amsterdam has to offer, it can currently be found at the Michelin-starred Bridges. Run by Andrès Delpeut – the youngest Dutch chef to ever gain a star – and focusing on fish, you can order à la carte or opt for a tasting menu – there's also a 'chef's table' in the kitchen, seating six, if you want to get up close to the action. The food is spectacular, but has wallet-busting prices to match.
Price: Blowout
14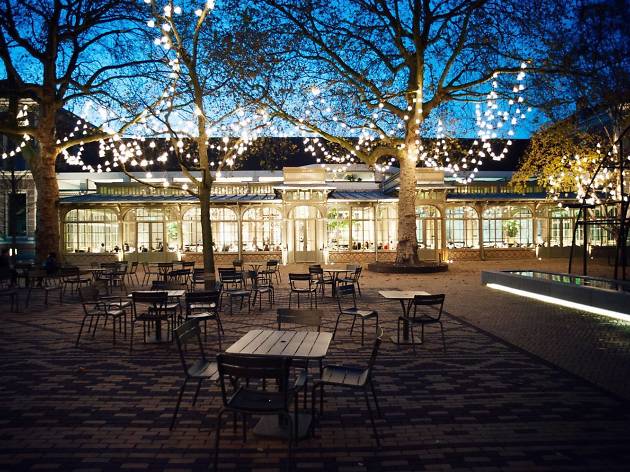 Photograph: Restaurant de Plantage
Right next to the city zoo, this elegant, ultramodern bistro boasts quite the setting. There's a spacious bar area serving ace cocktails and nibbles, while the restaurant proper is housed in a cavernous 19th-century conservatory. Contemporary European dishes – some available in both small and large sizes – sit side by side with sandwiches and lighter lunch plates. If the weather permits, bag a table on the terrace which overlooks part of the zoo and is lit with fairy lights.
Price: Mid-range
15
Photograph: bienchi_yang / Instagram
Those on a budget should head to the 'Yummy Bite', which has been dishing up traditional Dutch cuisine since 1935. The butter-soft beef steak, excellent schnitzel and meatballs cost little more than €10 each, and the portions will not leave you hungry. It's a cosy little place and they don't accept bookings, so come early or be prepared to queue – it's very popular.
Price: Budget
After something lavish? You're in the right place...
It took some time – but brunch is now serious business in Amsterdam, with a huge number of hip, stylish addresses serving up all manner of excellent mid-morning treats all over town. Many of the best joints are to be found in up-and-coming De Pijp and trendy Oost, but the centre and West are also well catered for.