The 10 best beaches in Amsterdam
Just an hour away from the city centre, the best beaches in Amsterdam make for awesome day trip destinations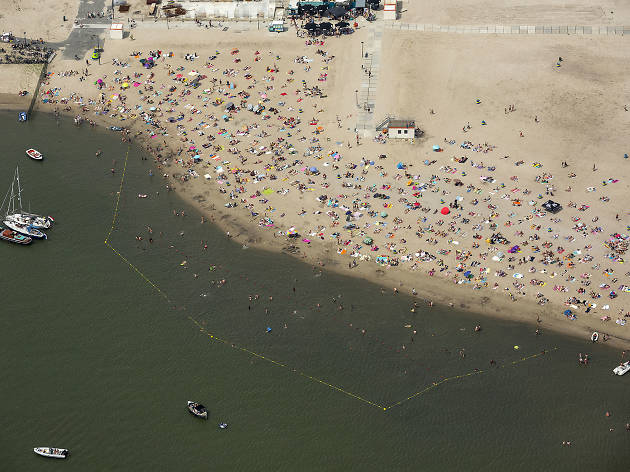 It's true that few people think of the Netherlands when planning a beach holiday. But whether you're just visiting or lucky enough to call this iconic city home, there are plenty of great beaches to cool off—or break a sweat at—in Amsterdam.
With the rugged coastline just an hour away by train, it's easy to take advantage of the sunshine and enjoy a spontaneous day on the sand instead of spending hours in the city's museums, visiting top attractions and coffeeshops (which, to be fair, you should do every once in a while). World-class beach clubs abound, while the North Sea swell ensures ideal conditions for water sports. Closer to the centre, a selection of swimming spots and artificial beaches make for a fun day out (or a quick respite from the summer humidity).
Ladies and gentlemen, here are the very best beaches in Amsterdam.
Best beaches in Amsterdam
1
Photograph: Courtesy Yelp/Roxanne H.
What is it: Over in hip Noord there's NDSM, an industrial hotspot that's home to art exhibitions, cultural happenings and PLLEK restaurant. Locals head here on the weekend to hang at the small beachfront strip and swim in the River IJ.
Why go: You don't have to drag your whole beach kit along to feel the sand between your toes. There's often live music playing and a decent selection of beer and burgers on offer too.
2
Photograph: Courtesy Yelp/Dominik B.
What is it: As far back as 1100, Zandvoort was a fishing port. Later on, it became a popular seaside resort town. These days, it's the destination for relaxing on a sun lounger while sipping on Aperol spritzes.
Why go: Though there's plenty of natural beach to lay a towel down on, the huge variety of beachside bars and restaurants, like the newly opened Hippie Fish and old favourite Safari Lodge, are hard to turn down.
3
Photograph: Courtesy Yelp/Lena S.
What is it: A short trip from Amsterdam's centre, Bloemendaal is the Netherlands' answer to Ibiza. Beach clubs like Woodstock69 and Vroeger offer world-class live music and a fun party atmosphere.
Why go: In a country known for experiencing four seasons in a day, it's nice to know that you can swim in the ocean, bake on the sand and then retreat to a stylish undercover venue should the rain roll through.
4
Photograph: Courtesy Yelp/Philippine W.
What is it: A hip lakeside complex complete with an under-the-radar restaurant, bar, playground and, of course, artificial beach. Expect plenty of events to keep you entertained throughout the summer as well.
Why go: The vibes are always high. Kick back on a day bed sipping rosé, then head to the beer terrace as the sun sets to sample local brews and play ping-pong with your crew.
5
Photograph: Courtesy Yelp/Loraine S.
What is it: Amsterdam's city beach is an artificially-made sandbar on the River IJ. Its small square footage means you'll need to arrive on the early side to nab a good spot.
Why go: Only a short tram ride from Centraal station, and with enough food options to keep you satisfied all day, it's the warm weather go-to for Amsterdammers both permanent and passing through.
6
Photograph: Courtesy Yelp/Miroslava Z.
What is it: The best "surf" beach close to Amsterdam (yes, the Netherlands get surf) also offers the clearest water along the coast. You can sign up for surfing lessons at one of the schools along the beach.
Why go: It's home to one of the best beach clubs, Timboektoe, but also backs onto a charming cultural village where you can enjoy a taste of traditional Dutch life after you conquer the waves.
7
Photograph: Courtesy Yelp/Watersportcentrum Sloterplas
What is it: In the leafy Nieuw-West neighbourhood, Sloterplas lake offers crystal-clear water that's always refreshingly cool. There are also a sailing school and water sports center where you can hire equipment and sign up for lessons.
Why go: It's a quiet, family-friendly beach with both sand and grass. You can also rent chairs and volleyball equipment through the summer. Come here if you're looking for a spot that's decidedly chill.
8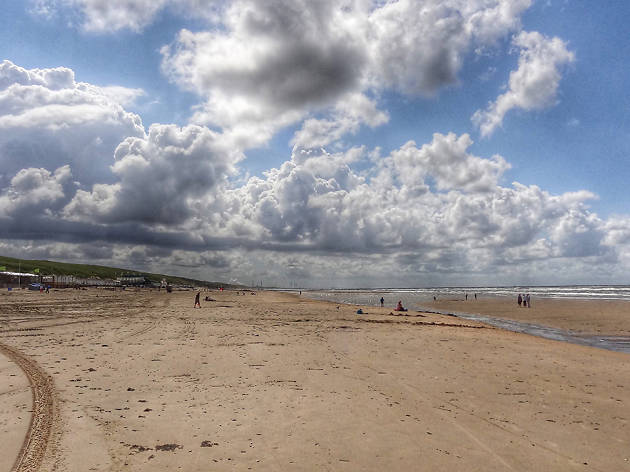 Photograph: Courtesy flick/cc/Tom Jutte
What is it: Unlike most coastal beaches near Amsterdam, Castricum aan zee is without a neighbouring village so it's popular with city dwellers who are perhaps more used to jellyfish ("kwallen") than tourists are.
Why go: Though there are a scattering of clubs to visit along the dunes, this is the beach to hit if you're on the hunt for a more low-key day in the sun.
9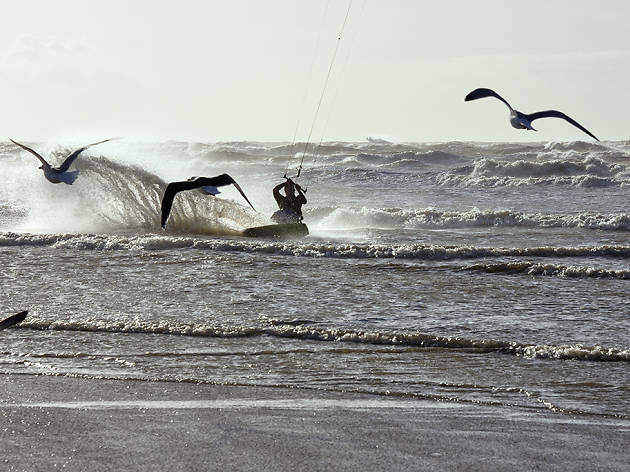 Photograph: Courtesy flickr/cc/Johan Wieland
What is it: Located at the mouth of Amsterdam's River IJ, this beach is a popular water sports destination—from kitesurfing and paddleboarding to blokarting (think go-karting, with a sail, along the sand).
Why go: If laying on the beach with a good book isn't your idea of fun, there's plenty to keep you busy here. Plus, little ones will love watching the giant cruise and cargo ships pass by.
Buitenzwembad Marineterrein
What is it: A while back, the natives sniffed out this off-the-radar place to cool off. Soon enough, the council realised they were onto a good thing and installed floating pontoons, which are now filled with swimmers when the sun is shining.
Why go: Alright, it's not technically a beach—and the council has yet to approve it as an official swimming spot (which means: take a dip at your own risk)—but it's arguably summer's best kept secret.
More outdoors fun in Amsterdam
Many local green spaces are steeped in history: expect to notice sculptures by famous artists adorning a seemingly meaningless patch of grass or beautifully grand windmills looming overhead.