Heads up! We're working hard to be accurate – but these are unusual times, so please always check before heading out.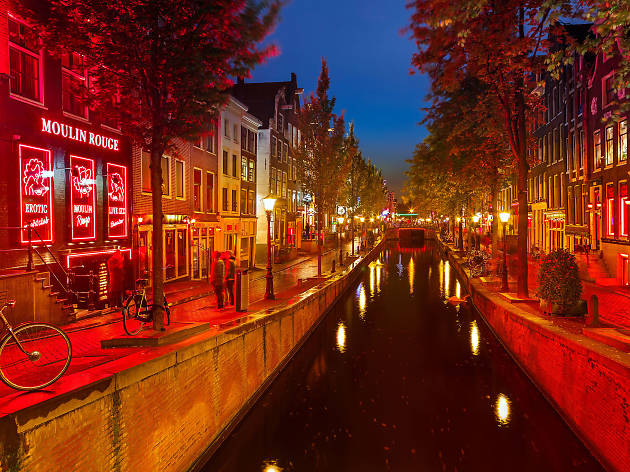 Amsterdam Red Light District: 12 things to do
With sights ranging from a hidden chapel to a museum of weed, the Amsterdam Red Light District is full of contradictions
In spite of its less-than-savoury reputation both at home and abroad, there's a lot more to the Amsterdam Red Light District than just sex, coffeeshops and legions of worse-for-wear tourists. After all, De Wallen is the oldest part of the Dutch capital, and that means it's littered with marvellous sights like the Oude Kerk and the Ons' Lieve Heer op Solder, among the country's most treasured places of worship.
And even if history and churches aren't your thing, the area's also home to an array of trendy contemporary attractions – many much less crowded than you'd expect in such a central location. These include several world-class museums, attractions, forward-thinking art galleries and even an old-school game arcade with a bar. Ready to explore? Our pick of the best things to do in the Red Light District should keep you busy.
RECOMMENDED: Full guide to the best things to do in Amsterdam
Best things to do in Amsterdam Red Light District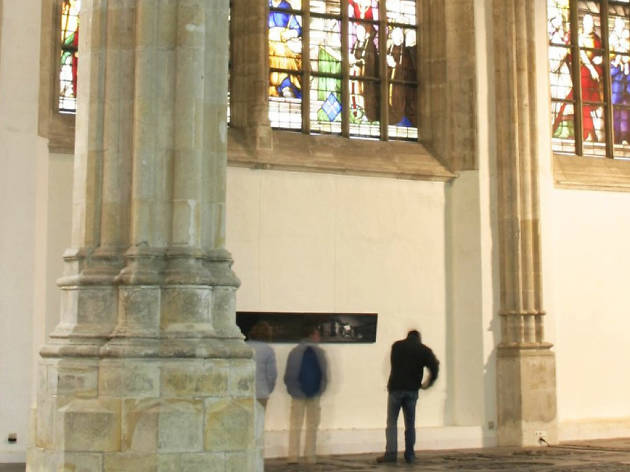 The city's oldest building, Oude Kerk, has played an important role in Amsterdammers' daily life since the 13th century. Built by Catholics then ransacked by Calvinists during the Reformation, the church has experienced more than its fair share of turbulent history over the years. Nowadays, it also serves as a cultural centre and regularly hosts site-specific exhibitions from international artists. Watch your step as you enter: there are around 2,500 gravestones scattered across the church's floor.
Photograph: Courtesy Yelp/Terence G.
Grab a beer and relive the glory days of coin-op video games at this eccentric arcade-slash-bar in the Red Light District. Geared towards grown-up gamers nostalgic for the 16-bit era, TonTon Club Centrum features around 20 classic arcade machines from the 1980s to 1990s, including 'Virtual Fighter' and 'Time Crisis II'. Just remember to take a break every now and then – those pixellated graphics can play havoc on the eyes.
Photograph: Courtesy Yelp/Aurelie T.
Set inside several rooms attached to Oude Kerk, this secluded coffeehouse feels worlds apart from the hubbub of inner Amsterdam. As well as offering peace and quiet in an otherwise hectic neighbourhood, de Koffieschenkerij serves light lunches, fresh coffee and juices from morning until late afternoon. Don't leave without trying the homemade apple pie: it's served with lashings of whipped cream and works wonders alongside a cup of java.
Photograph: Courtesy Yelp/Ann D.
This charitable brewery helps locals facing difficulties in the job market find meaningful employment. Known for its preference for time-honed recipes, Brouwerij de Prael mainly brews traditional styles of beer from the Netherlands or elsewhere in north-western Europe. Its massive tasting room has all the charms of an old-school beer hall, featuring dark wooden furniture, vintage collectibles and a bar fitted with silver fonts. Tread carefully: the beers here are notoriously strong (and moreish).
Home to ancient artefacts ranging from Greek marbles to Egyptian sarcophagi, Allard Pierson Museum must rank among the most well-respected archaeological institutions on the continent. Housed in a suitably magnificent building overlooking Rokin canal, the museum has deep ties to the University of Amsterdam and was named after a local scholar. The museum's permanent display of priceless archaeological finds is brilliant, and it also hosts excellent temporary exhibitions throughout the year.
Explore Amsterdam's turbulent religious heritage at this fascinating museum in the Red Light District. The whole place centres around a clandestine chapel built by an underground Catholic congregation after their religion was outlawed in the 16th century by the Protestant Dutch government. Decorated with pastel pinks and vivid iconography, the chapel appears frozen in time, allowing visitors to fully experience this important chapter of Dutch history.
Photograph: Courtesy Yelp/Coosje K.
7. Hangover Information Centre
Planning to drink a skinful while in Amsterdam but worried about the morning after? Good news: the clever so-and-sos at the Hangover Information Centre have (reportedly) found a remedy for alcohol's dreaded after-effects. Available at HIC's headquarters, this secret formula counteracts chemical imbalances in the body caused by boozing if taken before bedtime. Although it might sound too good to be true, the tonic only costs €5 and could, potentially, save you from a monster hangover. Worth a try, right?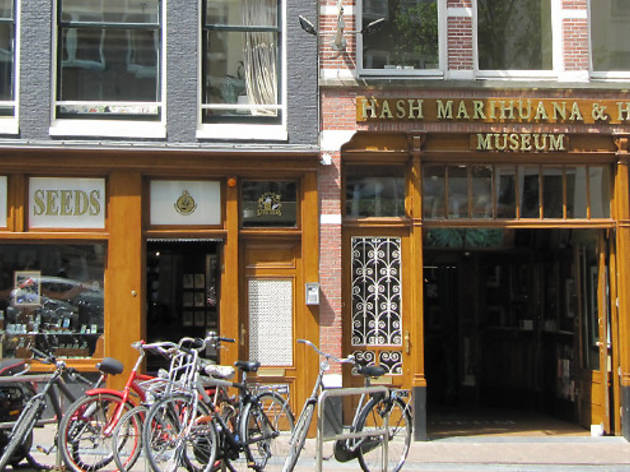 Dedicated to the often overlooked history of cannabis, this museum retraces humanity's relationship with weed from prehistoric times to the present. With highlights ranging from Samurai armour made from hemp to American anti-cannabis propaganda created during the height of Reefer Madness, the museum has plenty to offer seasoned stoners and history buffs alike. The space also hosts regular thought-provoking temporary exhibitions relating to cannabis cultivation, consumption and culture.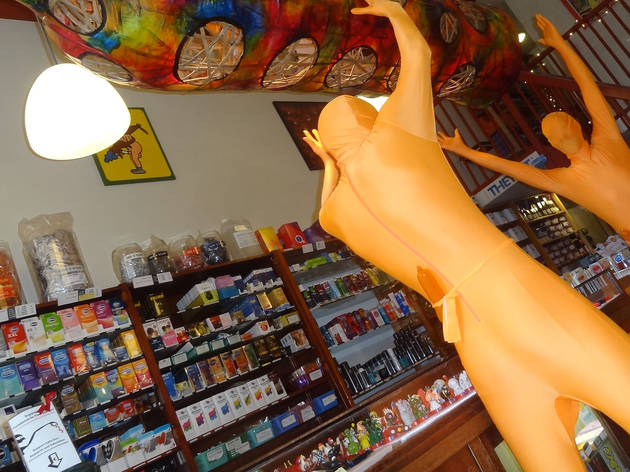 Founded in the 1980s to help promote safe sex during the Aids crisis, Condomerie was the world's first condom specialist store. Besides selling johnnies of all shapes and sizes, the store serves as an information centre for safe sex and offers advice concerning everything from artificial lubrication to personal hygiene. Even though its aims are noble, Condomerie doesn't shy away from humour and stocks a bunch of novelty items emblazoned with cartoon condoms, too.
Vintage treasure hunters may have difficulty leaving this coffee room empty-handed – its wall-spanning collection of gorgeous retro knick-knacks, lampshades and embroideries are mostly for sale. While it certainly isn't the largest spot in central Amsterdam, Latei boasts two cosy floors decorated with shabby-chic furniture and curiosities of all stripes, plus a small terrace with street-side seating. Food-wise, Latei mainly serves light, lunchtime dishes, like sandwiches, soups and cakes made in its tiny on-site kitchen.
With a reputation for promoting innovative, avant-garde theatre, Frascati puts on more than 500 productions each year, welcoming homegrown talent and international troupes alike. As independent Dutch production companies regularly premiere their latest work here, Frascati is among the best places in Amsterdam to discover the local drama, dance and comedy scenes. There's also a two-storey bar that serves light bites and beer brewed in the Benelux region.
A bulwark of Amsterdam's underground scene, this experimental exhibition space was founded by a group of squatters in 1979 who were miffed with the mainstream art world. Although its original occupants are long gone, W139 honours its founders' wishes by giving artists free reign over exhibitions, allowing them to create site-specific pieces and installations that wouldn't be possible anywhere else. Expect avant-garde, politically-conscious art inside.
Feeling peckish? Here's where to fill up...
It took some time – but brunch is now serious business in Amsterdam. As in many of Europe's foodie capitals, a huge number of hip, stylish addresses are serving up all manner of excellent mid-morning treats all over town.
WithLocals Universal Widget