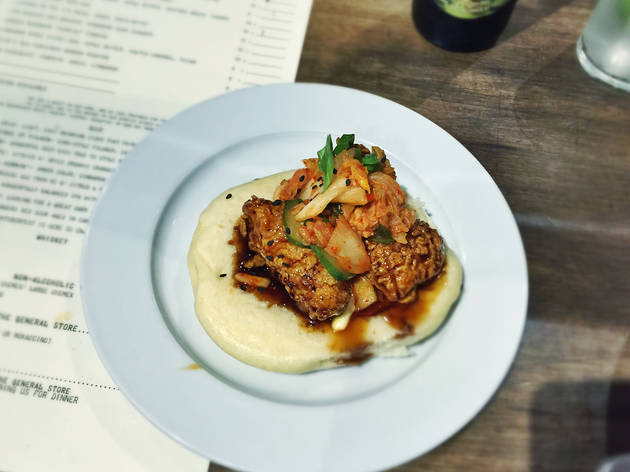 Time Out says
This one's not traditional dim sum, either—in fact, it's not even Asian food (so throw all throw har gow you want at us for including it)—but Gunshow's format is inspired by the serendipity of the Chinese brunch experience. Inside the raw, industrial space, which is dominated by an open kitchen and the restaurant's name splashed in huge letters above that, chefs, including owner, Top Chef veteran and James Beard semifinalist Kevin Gillespie, make the rounds with trays or carts peddling the evening's dishes as they're ready. Small bites come first: perhaps breaded head cheese with mustard and pickles, then salads, followed by larger plates, everything from barbecue to foie gras. (We're dodging those dumplings right about now!) Call the cuisine what you will—you'll definitely call it delicious.
Gunshow says
Chef Kevin Gillespie opened Gunshow in 2013 in the Glenwood Park area of Atlanta. Gillespie creates a home-like atmosphere where guests can eat what they wish as he prepares dishes from refined to rustic and sends them out to the small dining room. Medium-sized plates are delivered as they are ready and offered to the guests who may choose what they'd like.

This unique-to-Atlanta service approach emphasizes the fun, casual and personal atmosphere Gillespie wants to create. The design by the acclaimed team at ai3 has stretched the boundaries of traditional restaurant design and focused on creating a space that has tremendous functionality and openness. The menu will be ever-evolving with wonderfully delicious food that is seasonally rooted, locally focused, and unlimited in its stylistic boundaries. Gunshow is open for dinner Tuesday - Saturday.

For media inquiries, please contact Melissa Libby at melissa@melissalibbypr.com or 404.816.3068.
Details