Everything you need to know about SXSW 2020
Get your SXSW 2020 info here, from badge information and music lineups, to schedules and more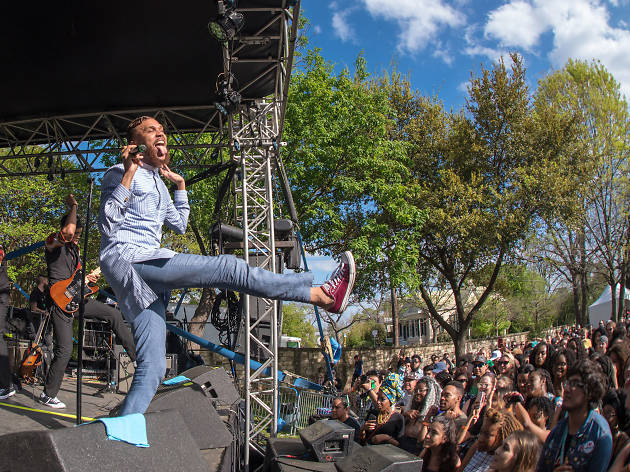 UPDATE: SXSW 2020 has been cancelled due to coronavirus.
What is SXSW?
South by Southwest is an annual smorgasbord of music, film and interactive media held every March in Austin, Texas. Since its start in 1987, SXSW has massively grown in size and length (now running 10 days long), but it has remained a testament to discovering emerging artists and creativity through a live setting. The event is broken down by SXSW Music with 2,000-plus acts performing across the city; SXSW Film (with screenings of anticipated movies, panels and workshops); and the increasingly popular SXSW Interactive which features speakers, panels, and also a pitch competition called SXSW Pitch.
When is SXSW?
The SXSW spans March 13, 2020 through March 22, 2020.
How much are SXSW tickets?
Attendees can purchase several different types of badges: Music Badge (March 16-22) for $1,395, Film Badge (March 13-22) for $1395, Interactive Badge (March 13-21) for $1,395. You can check out their pricier platinum badge here.
What's the SXSW 2020 lineup like?
The lineup includes a diverse slate of musical outfits hailing in from around the planet including TSHA, Jadu Heart, HTRK, Declan J Donovan, ANAVITÓRIA, Martha Wash, Beach Slang, Sega Bodega, Lydia Lunch, Soul Asylum, The Posies, Overcoats among many others. On-the-rise acts we were excited to see on the bill this year include: The Orielles, Pom Poko, Model/ Actriz, Dry Cleaning, Petrol Girls, Purple Pilgrims and Cloud Rat.
Who are the featured keynotes and speakers?
Keynote speakers this year are heavy-hitter names like world-renowned producer Diplo, former United Nations diplomat Gabo Arora, Grammy-winning female duo St. Vincent, Annie Clark & Carrie Brownstein, rapper and producer Curtis "50 Cent" Jackson and and others. Other standout speakers taking stage include NASA's Senior Technologist For Intelligent Flight Systems Danette Allen, Pink Floyd's Roger Waters, composer for the movies "Us" and Get Out" Michael Abels, and screenwriter from The Simpsons Taylor Allen.
Can I go to the festival without a badge?
Sort of! While you'll have to skip out on many sought-after shows, films, and interactive events without snagging an official badge, there are plenty of unofficial shows going on in downtown Austin during the dates of SXSW where you'll definitely be able to hear killer live music and discover up-and-coming acts you may have never heard of. The festival also just announced their outdoor stage lineup which is free and open to the public. Highlights include German folk duo Milky Chance, emerging indie artist Soccer Mommy and Nashville singer-songwriter Margo Price. To keep in the know about free events, parties, day shows while there, also check out this updated website.
Any brand activations you should wait in line for?
Good Morning by milk + honey
As the chaos of a jam-packed festival begins, be sure to stop by P6 patio of The Line Hotel where local spa, milk + honey is hosting some ultra-chill time. Here you'll find yoga, beauty refresher stations, astrology readings and a braid bar. Good Morning will be held at The Line hotel on Friday, March 13, from 8:30 am to 12:30 pm.
The Family Room by Supergoop!
Calling all families and moms: Supergoop's activation this year will be equipped with baby changing stations, freebies of Supergoop sunscreen (to keep you and your little ones safe from strong southern rays), and even a breastfeeding stations for moms who need a peaceful place to nurse mid- festival. The Family Room will be hosted at Austin Convention Center, Room 1, March 13 to the 21, from are 9 am to 6pm.
Virtual Cinema by Bose
With over 25 diverse films on the list for this installation, you have plenty to look forward to. Think: A 360-degree documentary on the aftermath of the Fukushima nuclear disaster. The Virtual Cinema will be open from March 16 to 18, 2020 at JW Marriott's Griffin Hall, from are 11 am to 6 pm.
Anything else to note?
Remember that there's no way you'll be able to hit everything going on during your time as an attendee at SXSW, and that's okay. The point of the festival is to throw yourself into the mix, with a general agenda (like don't choose venues too far away from each other, or show up late to shows that are nearly at their capacity), and stumble into gigs spanning all genres like indie, hip-hop, avant, ambient, singer/songwriter, and folk. After you find out about your new favorite band on the fringe, go grab some free tacos and barbecue to celebrate, and take a breather. Follow @thefreenoms on Instagram or #SXnoms on Twitter, for live updates on free eats and neat events going on throughout the fest.
This festival runs an unpredictable weather season in Austin, pack an umbrella too, because you bet you'll be combatting some lines and it'll be pretty sub-par feeling like a wet dog the rest of the day. Don't bother driving yourself either (because loads of major roads in the city are shut down and parking will be a pain in the arse). Instead, utilized the free circulating SXSW shuttle running between the Austin Convention Center and most SXSW venues (from 9am to 2:30am). As long as you're not intoxicated, you can also scooter around (Lime, Bird, Uber, Lyft). Or, take public transportation with Cap Metro and if you must, rideshare with Uber and Lyft.
Things to do while in Austin